/
Post-vacation travel checklist: What you should do when you come back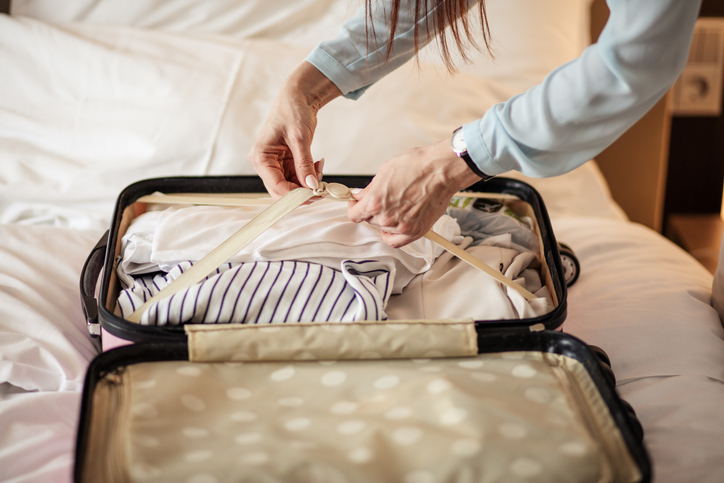 When you come back from a trip, follow this post-vacation travel checklist to help you adjust to everyday life once again.
I know the feelings of coming back from an amazing trip all too well: a mix of disappointment, exhaustion, and even a bit of depression. You probably had a blast during your trip visiting wonderful places, meeting incredible people, and eating delicious food. All of a sudden, you're back home and reality hits – you probably have to work the next day with mind-numbing obligations and those "to do's" have started to pile up. Seriously, the post-trip blues are no joke.
However, it's also nice to come back to the familiarity of your own home, to the usual routines, and enjoy the post-travel activities like making photo albums. If possible, give yourself a buffer day before you go back to work. Trust me, you will need it for getting basic groceries, organizing yourself, and honestly just getting some rest. In my opinion, jetlag is the worst downside of traveling especially if there is a major difference in time zones.
Below is a list of things I always do when I come back from a trip – it's a mix of important to-dos combined with fun post-travel activities to help you properly imprint the best memories of the trip.
Take care of pending to do's
When you come back there are probably bills to pay, lots of mail to go through, and getting the basic groceries. The first step is getting organized by writing a list of everything you need to do – not just that day but for the week. Remember to also check your credit card balance to make sure there aren't any unauthorized charges placed during your trip.
Download your pictures to your PC and an external hard drive
This is one of the first things I do when I return from vacation. Unfortunately in the past, I lost pictures saved on my phone and on my computer when it suddenly stopped working – more than once! I am sure I am not the only one who suffered the consequences of not saving the pictures in more than one place.
I now have an external hard drive to ensure that history doesn't repeat itself. I recommend the Toshiba Canvio Basics 3.0 1 TB portable hard drive – it's compatible with different versions of Windows and a good travel companion.
Take good care of yourself
When we are on vacation, we tend to forget about the healthy habits we follow at home. We might overindulge in restaurants, forget that the gym exists, and not get enough sleep. So when we come back home, it's time to get back on track by:
Drinking lots of liquids: By liquids, I mean water. Not coffee, not tea, not beer, and not sodas… just water. When traveling, drinking water may not always be easy, nor at the front of your mind. Take this time to catch up and give your body a much-needed restart. Drinking plenty of water has numerous benefits, not just keeping you hydrated, but it will regulate your body temperature, transport nutrients to your cells and eliminate waste. As you can see, drinking water is vital; so shoot for no less than 1 ½ liters of water every day.
Restart your exercise routine: When we travel, going to the gym is usually the last priority for many. That's why when you get back home, it's important to start your routine once again. The hardest part is to start, but once you get into the habit, it will be much easier to put on your exercise gear and head to the gym.
Catch up with sleep: If you didn't get enough sleep during your trip, make sure you get around 7-8 hours of sleep every day. Jetlag can put your sleep routine upside down so take some melatonin or ZZZquil during the first days after your trip if you notice you are awake in the middle of the night.
Detox your body: It's time to stop overindulging and start eating homemade meals. Go grocery shopping and pack your cart with a variety of fresh fruits and vegetables. Avoid eating sweets and heavy meals. Another great way to detox that you may not think about is the sauna – regular use of a dry sauna has shown to eliminate toxics and improve heart health.
Go back to your usual skin care routine: Hopefully, you brought all you needed to follow your usual skin care routine during your trip, but if you weren't able to, make sure you go back to using your regular products and give yourself an at home facial for an extra self-care step.
Read blog: 4 travel size skin care products you should always take with you
Add a pin to your travel map
I have a travel map above my desk and one of the most exciting parts when I return from a trip is adding a pin to the destination I just visited. I have to say that the map serves also as a reminder that I still have too many destinations that I want to visit in my lifetime.
There are plenty of options to choose from in Amazon such as the Personalized Push Pin World Travel Map with Black Frame and Pins where you can add your name. It's a bit expensive but totally worth it in my opinion – it will inspire you to go on more trips and have life changing experiences.
Unpack and put things in order
I know this is the last thing you want to do when you come back from your trip, but you should avoid having your suitcase sitting in the middle of your bedroom for days. My husband is quite militant on this and the next day everything is back in its place. You don't have to be like him, but there are a few tips that will reduce stress.
Do laundry, store your suitcases, arrange all your souvenirs – just get it over with as soon as you can. Since this is a pretty boring activity put some fun music in the background to motivate you during the process. If you travelled with a carry-on, like I do, you probably didn't overpack so this will go much faster!
Print your pictures/create a photobook
This is one of my favorite parts when I come back from a trip. Going through the pictures from a recent vacation, helps me revive my favorite memories. I usually select the best quality pictures, print them and put them in a brand new photo album.
I have over 35 photo albums which occupy a lot of space, so I decided to start creating photo books instead. My photo books act like travel journals as I document the best memories and anecdotes of the trip. Otherwise, it's very easy to forget them as time goes by.
I love Snapfish and highly recommend this company both for printing photos and for creating photo books. Products are of great quality and the company offers great customer service. I honestly had only one issue, a book lost in the mail which they replaced for free.
Plan for your next trip
If you are a globetrotter like me (and you probably are if you are reading this blog) start planning your next adventure. I always say the planning portion is half of the fun as the actual trip. Go grab a new travel book, get inspired, and start building your next itinerary.
We are part of several affiliate programs including Amazon and Viator which means that we will earn a small commission at no extra cost to you if you make a purchase through the links included in this post.