/
The best crystals for traveling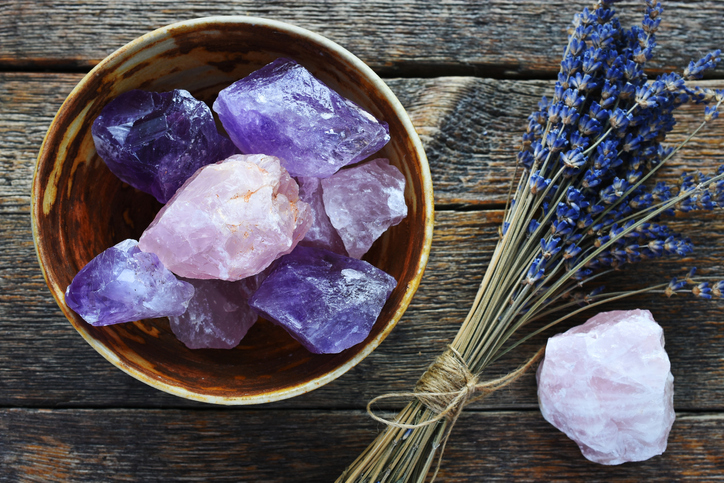 Take a look at a selection of the best crystals for traveling.
I have to confess that I am a crystals newbie. A couple of months ago, I was complaining to a friend about how hard it is for me to get a good night's sleep when she recommended I should try sleeping with a piece of labradorite under my pillow.
At this point I was battling with a few days of poor sleep in a row, so I decided to give it a shot. Whether it worked or it has been a placebo, it didn't matter because I've been sleeping much better ever since. Since then, I have become fascinated by the numerous benefits that crystals can bring to your life and my collection has been expanding at a fast pace.
Taking one (or several) crystals when traveling can help you fight jetlag, help you stay healthy, help manage anxiety and fear, and even make you feel energized. I'm recommending 6 crystals whose properties will make for great travel companions and help you have smooth trip.
Crystals 101
The use of crystals has been around for thousands of years (a recent article by New Scientist claims they have been used over 100,000 years by various peoples), either as ritualistic stones or for their reputation for wellness properties.
There are a lot of different types of crystals, and each one has its own properties to promote physical, mental and spiritual healing. This is achieved by the crystals interacting with chakras or energy points in your body.
Most scientists, however, stipulate the benefits attributed to crystals are a result of a placebo effect. Placebo or not, I believe crystals can be extremely beneficial, and besides, they look really pretty on my nightstand.
Choosing a crystal
You can be drawn to a crystal based on their specific properties or whatever you need help with. However, when choosing a crystal, pick the one that you are most drawn to, even if it's because of the color, appearance, or vibration. Don't overthink and go with your instincts – in the end the crystal might be the one choosing you.
Taking care of your crystals
After you purchase your new crystals, the first thing you should do is clean them. Whether they have picked up negative energy along the way to your mailbox or if you want to just polish the crystal to get it nice and shiny, the effect will be the same.
There are several ways that you can clean them such as putting your crystal under tap water for a minute and then dry it with a cloth; leave them outside under a full moon; and also burn some palo santo or sage and move the crystals slowly through the smoke.
If you leave them outside be careful – some crystals such as the amethyst don't like sunshine and they might lose color if they are exposed to sunlight. If you live in the city where there is a lot of pollution make sure you wipe any particles that might have adhered on the crystal with a cloth.
Tip: When bringing your crystals with you during travel, make sure you wrap them well so that they don't get damaged or scratch each other.
Setting an intention
The next step is to set your intention: What do you want the crystal to help you with? Hold your crystal on your hands and pay attention to how it feels. This energy exchange will help you build a strong energetic connection with your crystal. Now say your intention out loud and remember to also say thank you.
Crystals you should take when traveling
Amethyst
Amethyst is a light to dark purple crystal which can provide several benefits when you are traveling. Firstly, amethyst helps calm overactive minds (like mine!) and is one of the best crystals to help relieve anxiety.
Sometimes traveling isn't always easy, leading to nerves and anxiety. Maybe you don't enjoy flying which brings a good load of anxiety and stress during the flight. Or maybe you feel anxiety due to the unfamiliar trip ahead. This is totally normal, and it often happens to me too.
As you know when we feel stressed or anxious, our immune system gets compromised, leading to a greater risk of getting sick. Amethyst helps quiet down our nervous system which in turn, helps diminish cortisol (the stress hormone) levels and slow down our breathing; the combination of the two will help you feel calmer.
Amethyst can also help you sleep better and fight jetlag as it removes negative energy that might be hampering your sleep.
Garnet
Another crystal which is beneficial for traveling is garnet. Garnet can be a powerful reminder to not hold back from doing anything out of fear of failure. When we travel – especially if we are traveling by ourselves – we might be overcome by irrational fears, which in reality pose little or no threat to us. Garnet can help us focus on the positive aspects while releasing panic, worry, and fear.
Another benefit of garnet is that it improves energy levels, which will help you keep up with the long lists of things to do when we travel abroad. It's such an energizing crystal that it's strongly associated with safes travels and good luck.
Labradorite
Another crystal that can help you fight the dreaded jetlag is labradorite. This gem promotes sleep while acting as a dreamcatcher, helping you avoid nightmares. Because of its protective energy, Labradorite can also attract good luck and help you avoid misfortunes during your trip.
Additionally, Labradorite can help you overcome personal limitations by giving you a boost of confidence to follow your goals and dreams.
Turquoise
Turquoises is often referred as the traveler's stone as it provides protection and promotes safe travels. If you experience sweaty hands and your heart races each time there is turbulence, this stone will help keep your mind at ease by promoting rational thoughts.
Lapis Lazuli
Lapis Lazuli is another great crystal to accompany travelers as it has been found to help relieve anxiety associated with traveling.
If you are someone who is always on the road leading to feelings of rootlessness or isolation, this crystal provides a relief for homesickness and give you a feeling of belonging. Additionally if you experience any form of travel trauma, lapis lazuli can provide strength and courage to overcome this situation.
Rose Quartz
Rose quartz is among the most nurturing crystals helping you be more compassionate and empathetic while on the road. The crystal is known for properties that promote love for yourself and others. Rose quartz can also help you quiet the mind while releasing fears.
We are part of several affiliate programs including Amazon and Viator which means that we will earn a small commission at no extra cost to you if you make a purchase through the links included in this post.