/
Things to do in Badlands National Park, South Dakota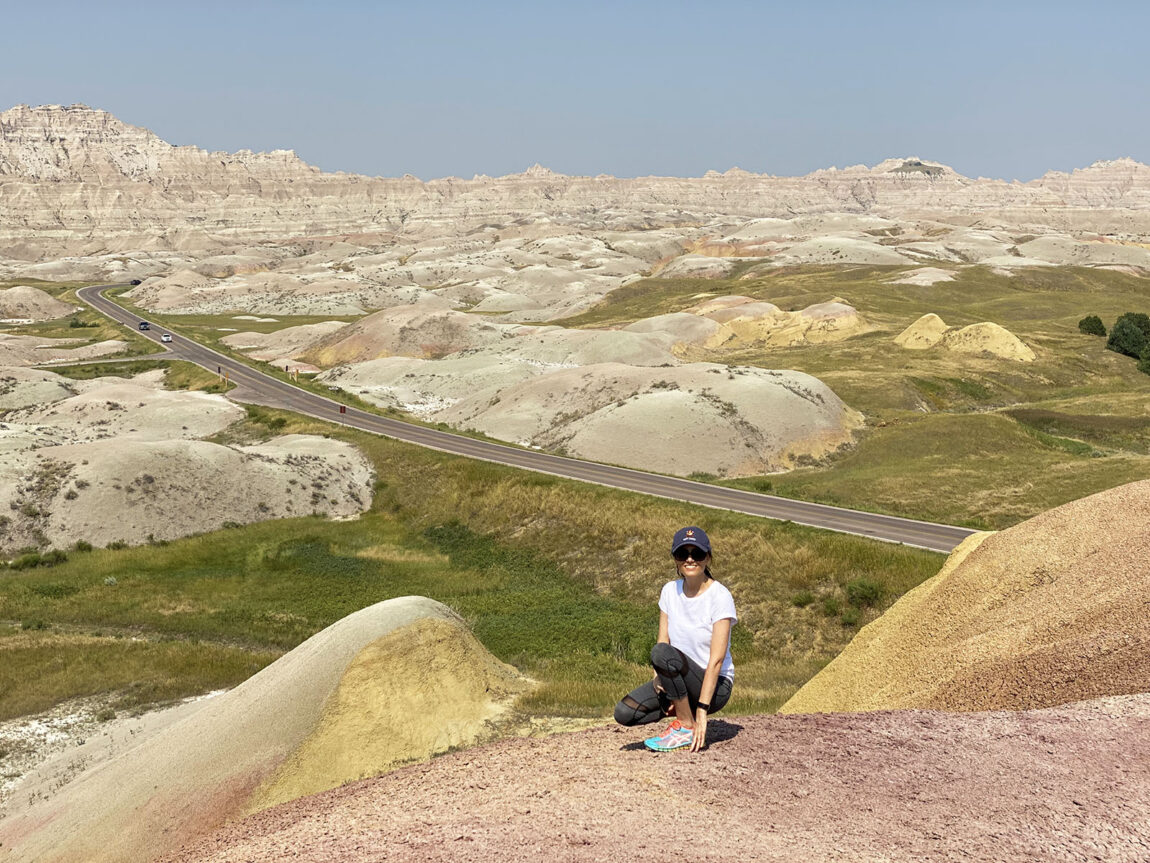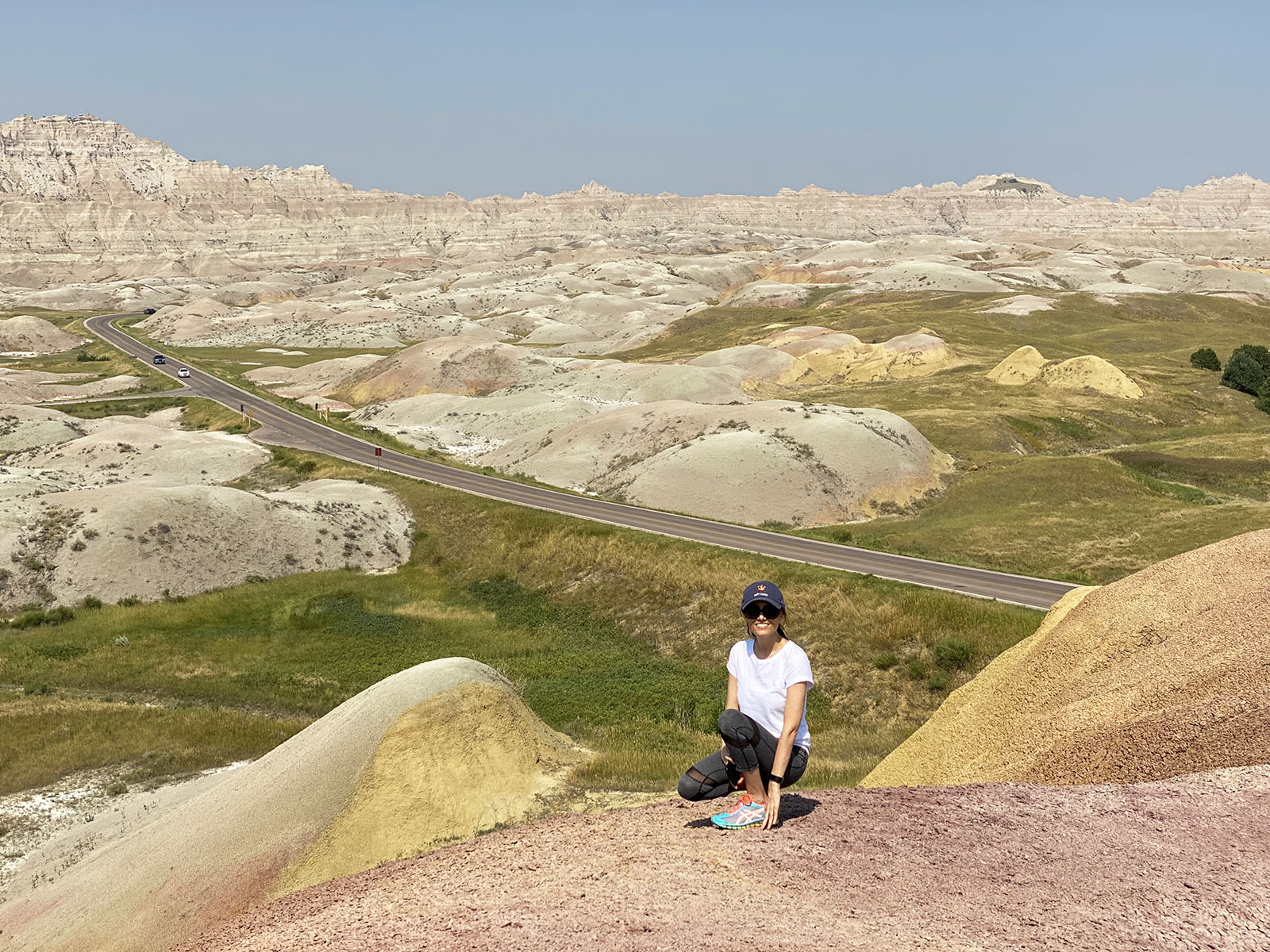 Check out what to do in Badlands National Park. Located in South Dakota, this park gives you a true taste of what natural beauty really is on the Great Plains.
Our trip to South Dakota exceeded all of our expectations. When planning our trip, we had seen beautiful landscapes of the real American West in the pictures, but they did not adequately prepare us for what we experienced. Breathtaking scenery combined with visits from the real locals – the wildlife – made this trip unforgettable. We highly recommend you visit this under-the-radar travel destination, especially those of you coming from overseas.
Visiting Badlands National Park was the highlight of the whole trip, even surpassing the beautiful Custer Park and the Black Hills. Millions of people visit Badlands every year; this national park is most known for its impressive geological formations and collection of animal fossils. Badlands offers 244,000 acres of wilderness where you can witness bighorn sheep, prairie dogs, bison, black-footed ferrets, among many other animals, in their natural habitat. The park is truly a photographer's dream.
This was a last-minute trip and we traveled in August, which means almost unbearable high temperatures and lots of crowds. In order to beat both the heat and crowds, we had to wake up really early to avoid getting cooked by an almost desert sun. Remember, this is part of the Great Plains where temperatures can range from 100 degrees Fahrenheit in the summer to negative 35 in the winter. We ended up relaxing in our hotel during the hottest parts of the day.
However, waking up early and following this routine had a bonus: we had Badlands for ourselves. There was hardly anyone in the early morning or evening, which allowed us to experience the utter silence there is in the park – an experience I won't ever forget.
Entrance fees and opening times
There are plenty of things you can do at Badlands, so if you can, I recommend you spend two days in the park. One day will allow you to stop at the overlooks and do one of the many hikes the park offers. However, if you area able to spend two days, you will have more time and flexibility to do more hikes and go back to your favorite overlooks. We stopped by the overlooks at different times of the day and took in the beauty in the park without having to rush in search for the next picture. Some of the best photos we took all happened at sunset with the park's wildlife.
Note that Badlands is open 24 hours all year round. The entrance to the park costs $30 per vehicle. Because we knew that we were going to visit it several times, we decided to purchase an annual pass which cost us $80. The park is worth every penny and we ended up saving some money with the annual pass.
What should you not miss in Badlands National Park?
The North Unit of the park is the most popular. Here you will find the Badlands Loop Road with several overlooks around the road as well as the Sage Creek Rim Road.
Drive Badlands Loop Road (SD 240):
This is a must do when visiting Badlands National Park. You can access this road by heading south from Interstate 90 via Exit 110 (the town of Wall) or exit 131. The highway 240 loop road is a two-lane paved road so you won't need a 4X4 vehicle; it's an easy drive and the scenery will mesmerize you. This winding road with several sharp turns will allow you to see amazing angles of all the landscapes the park offers throughout the drive so be sure to have your camera ready. Driving the length of the loop road will take you around 1 hour, without stopping. However, it's impossible not to stop, so it will take you longer than that.
Stop by the overlooks:
There are several signs along the way announcing visitors of upcoming overlooks. Overlooks are a fun and convenient way to experience the stark beauty of Badlands National Park since you can get out of your car and enjoy the view; take this chance to go "off the beaten path" and explore more of your surroundings.
Tip: In some of the overlooks, you will be able to walk around and get shots from different perspectives. Don't miss the opportunity to do this but be careful where you step, the terrain might be slippery and please do not get near the edge. Also, the prairie rattlesnake is a common creature of the area, so keep your eyes – and ears – open.
There are 16 amazing overlooks throughout Badlands Loop Road, each with its own unique beauty. Here are a few of my favorites:
Pinnacles overlook: This overlook is the highest elevation in the North Unit and offers magnificent shots, especially in the evening. If you are lucky and it's a clear day you might be able to see the Black Hills casually popping up in the background.
Keep an eye out for wildlife – we saw bighorn sheep and the cutest lamb grazing next to the parking area during our visit. This is one of the most popular overlooks in the loop road so it can get busy if you stop by in the peak hours. It is also a great spot to watch the sunset.
Yellow mounds overlook: This overlook was my favorite – it was hard to believe my eyes when I saw the colors dancing along the different rock formations. Yellow, purple, gray, green and reddish colored mounds were everywhere I looked. We took advantage to explore the area, and walked on top of the mounds which gave us even better views! Watch your step if you do so as it might get slippery. This overlook has a parking lot and provides views of some of the oldest layers in the park.
Conata Basin overlook: This overlook offers magnificent views of Badland's ancient soils – the Yellow mounds and the interior paleosol. At this overlook, there is a bench where you can sit to take in the beauty of the park. Keep in mind this is also one of the classic photos of Badlands as you'll see the mix of the zebra stripped hills mixing with other formations.
Panorama point overlook: The original names for the Badlands by the Lakota was "White River" or "White Hills". This overlook really makes you understand why it was called the White River, as the white colored hills cut across the plains like giant river. It's a stunning view where you can see the red zebra stripes contrasting with the stark white rocks.
Big Badlands overlook: Badlands is full of gorgeous landscapes perfect for photos, but there is one iconic photo that defines the park and this overlook offers it. At this overlook you can view the eastern portion of the Badlands wall and it's just not possible to not be mesmerized by the red stripes of the rocks. This will be the one photo that is most associated with the park – hundreds of red zebra striped hills protruding from the landscape. There is nowhere else in the world to see such a sight; make sure you take this iconic image home with you. I can't tell you how many pictures we ended up taking here – too many to count!
Catch a glimpse of the wildlife:
Sage Creek Rim Road (SD 590) can also be accessed from the Badlands Loop Road –the intersection is located north of the Pinnacles Overlook. This is a dusty road which offers a magnificent opportunity to witness the wildlife of the park. There are 4 overlooks located in this road where you can enjoy wonderful views.
Driving this road would allow you to see all the creatures native to the Great Plains, who are very fortunate to live in such an amazing setting. Look for bison, commonly known as buffalo, and don't be surprised if they spend a long time blocking the road, as they meander along socializing with each other. Please don't get out of your car and just roll your windows down to take pictures.
Bison are fantastic creatures and it's really funny to watch them. You'll see how they interact with one another, but what was funny to us was how they would roll on the ground (like a horse!) or use the posted sings to scratch their backs.
We also had the chance to visit the prairie dogs and their cute "houses"; these areas are called Prairie Dog Towns throughout the plains. Prairie dogs live family style and it's really funny to see how they communicate with each other. Much like a close connected family they go visit each other's dens and chat the day away, or watch the cars go past on the road. It's difficult to get close to them as they might feel frightened and hurry to their "houses".
Take a helicopter ride:
If you want to see Badlands National Park, take the opportunity to enjoy a helicopter ride. Black Hills Aerial Adventures offer flights starting from $49 per person. There are five different rides you can take. Please see all options in this link.
Popular hikes:
There are several hikes available at Badlands National Park. Because of the heat, we only did a couple of hikes. If you are pressed for time, we highly recommend you hike the Notch Trail. It's not difficult and the views throughout the path are amazing! The door and window trails are really short so we recommend you do these as well.
For those hikers with more time, we recommend the castle and the medicine root loop trails. These will cut across the prairie and you will be exposed to the elements. While some experienced hikers we spoke with found this hike to be moderate, we were told for beginners it may be too strenuous and long.
What to bring
There are a few items that we recommend you bring to your visit to Badlands National Park if you are visiting during the summer months.
Hiking shoes: We brought sneakers which were fine for us. But if you are hiking other trails, please bring sturdy shoes. Below are my recommendations
For women: Oboz sawtooth II low b-dry hiking shoe
For men: Oboz sawtooth II low b-dry hiking shoe
Water: A must. Make sure to pack a refillable bottle as you can get water from one of the parks fountains. I recommend the Nomader Collapsible Water Bottle, which rolls up for compact travel.
Sunscreen: There is hardly any shade at the park and in summer, it gets really hot so make sure you protect your skin when visiting the park. I recommend Supergoop! for your face and Coppertone for your body.
Lip balm: Because of the heat I got cracked lips so it was handy to have brought the EOS lip balm to get rid of the uncomfortable feeling that having cracked lips brings along.
Hat: This is an absolute must to protect you from the heat. I recommend you bring along The North Face Washed Norm Hat.
Dramamine: I get vertigo really easily and fortunately I didn't get dizzy when driving the loop road. If you are prone to getting dizzy, bring along Dramamine as there there are several loops and turns throughout the roads.
We are part of several affiliate programs including Amazon and Viator which means that we will earn a small commission at no extra cost to you if you make a purchase through the links included in this blog.