/
Delicate Arch in Moab: Things you should know for an unforgettable hike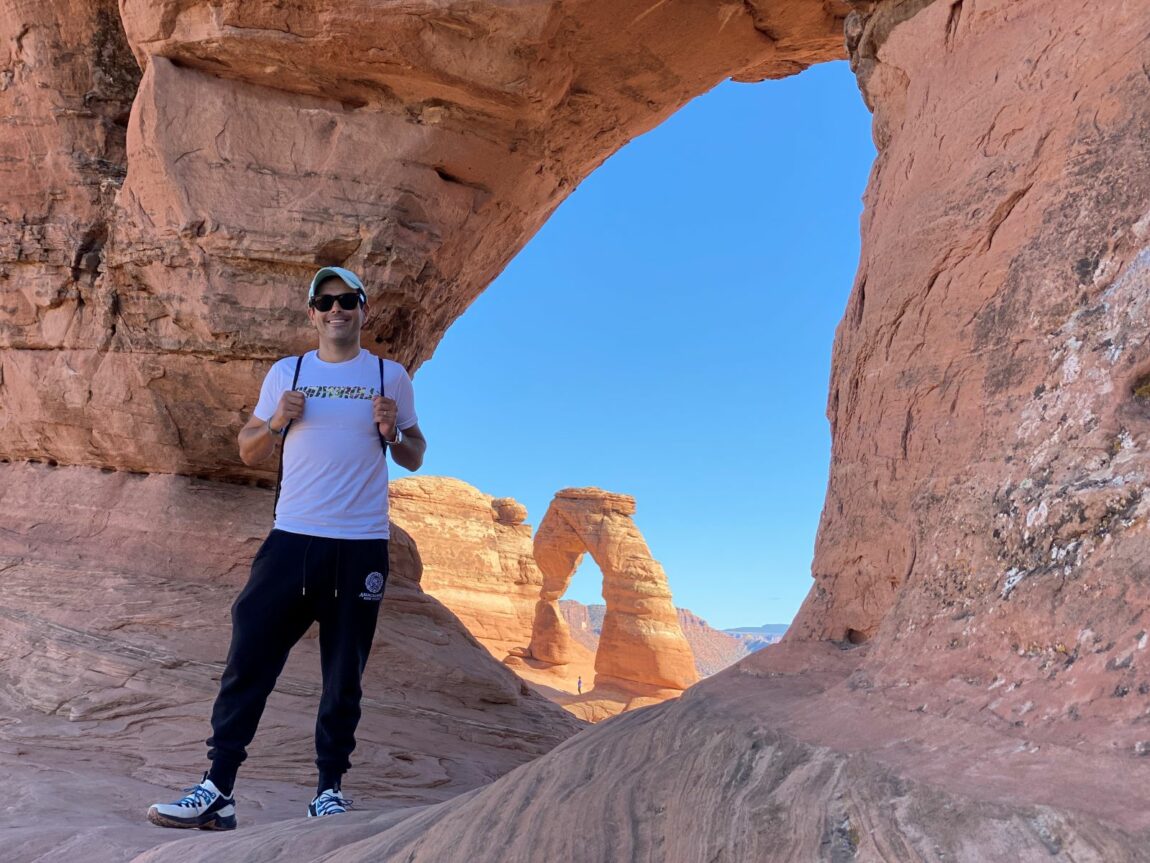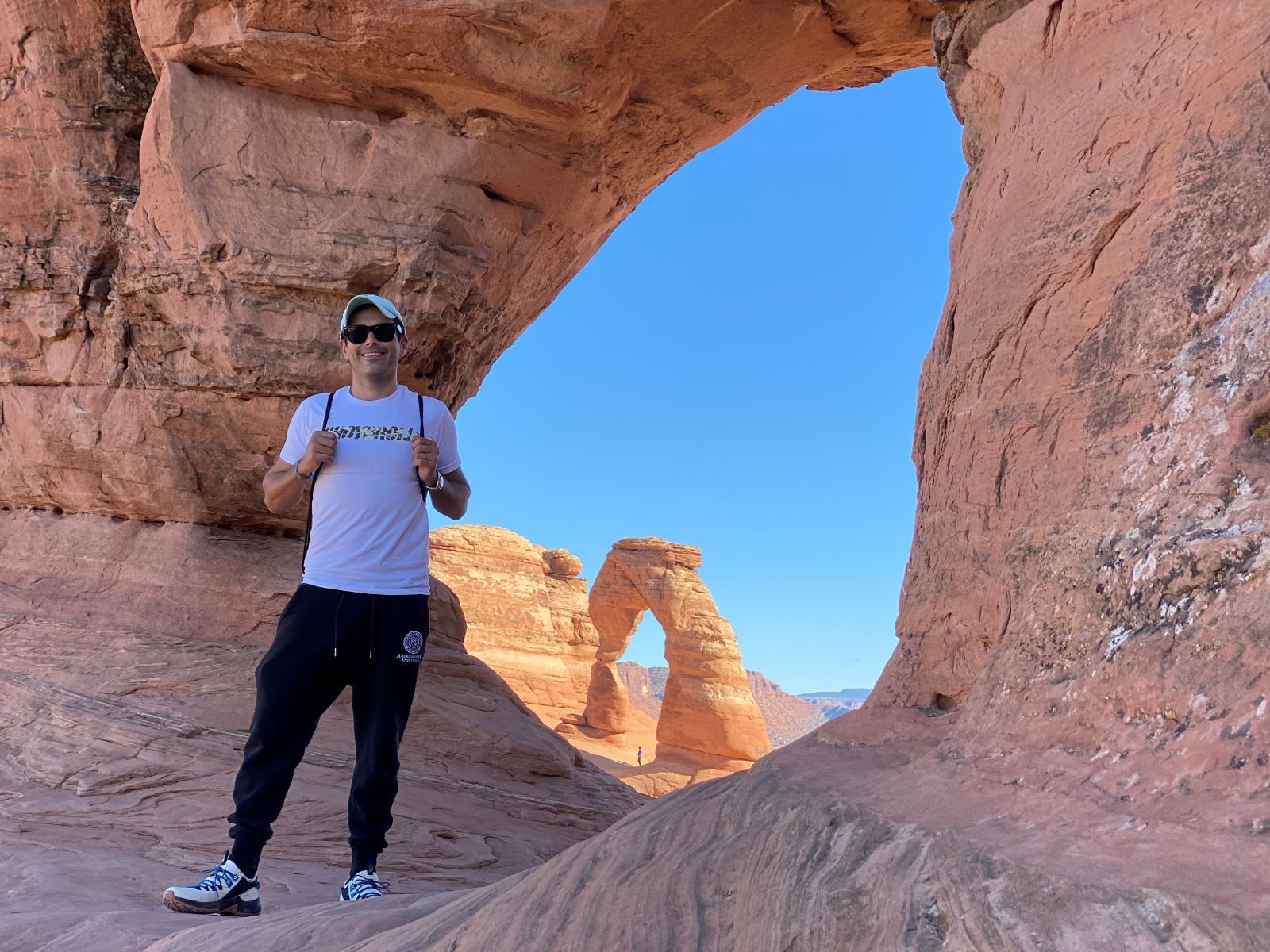 Delicate Arch in Moab: Learn where the best photo spots are, key facts and information about the trail, and tips to make this hike unforgettable.
Delicate Arch – sculpted by rain and the passage of eons – is the largest free-standing arch found in Arches National Park: the light opening of the arch is simply enormous in person, clocking in at 46 feet high and 32 feet wide. This is one of the most recognized geological features in the world, so it's easy to see why people from all over come to Arches to take a peek at this amazing arch.
Formed from the surrounding Entrada Sandstone, Delicate Arch stands unsupported and engulfed within a large natural sandstone bowl which accentuates its grandeur; this arch is the iconic image of Arches National Park. You probably will recognize it immediately as it's constantly used as the promotional image of the park. Don't believe me? Take a look at a Utah license plate or any park social media.
Hiking to Delicate Arch is one of the top things to do when visiting Arches National Park in Moab, Utah so you shouldn't miss it. There is a reason why out of the 2,000 arches found in the park, Delicate Arch is the most renowned.
How long does it take to walk to Delicate Arch?
The trail to Delicate Arch is 3 miles (4.8 kilometers) roundtrip, with a climb of 480 ft (146 m) and follows rocks formed 150 millions of years ago. The round trip to Delicate Arch will take you between 2-3 hours, but it depends on your level of fitness and also how long you will stop for pictures along the way.
Tip: The trail has no shade, some steep climbing, and exposure to drop-offs so make sure you come well-prepared to do this hike.
Is Delicate Arch a hard hike?
The National Park Service describes this hike as difficult. Even though 2-3 hours is not that long for a hike, hiking to Delicate Arch is more strenuous that you might expect. For us, it was quite hard as we had already walked a lot during our visit to Arches National Park, and not to mention we did this in the afternoon after a morning of hiking, so we were tired even before starting this hike.
If your fitness level is average, you will be fine and might only need to take a couple of breaks in between. We witnessed a vast range of age and fitness levels throughout the hike – keep in mind to do the trail at your own pace. Don't let the fact that the hike is marked as strenuous discourage you from visiting Delicate Arch – the tiredness and soreness you might experience afterwards is totally worth it.
How do you get to the trailhead?
To get to the trail, you need to drive 11.7 miles north into the park on the main road until you see the right-hand turn to Delicate Arch and Wolfe Ranch. After turning right, drive for 1.2 miles until you reach the parking area on your left.
Remember this is the most popular arch in the park; this trail can get very busy so the parking lot can fill in quickly. Late afternoon, particular towards sunset, is the busiest time as it attracts photographers to capture the warm light on the arch – it also happens to be the best time of day to visit. If you have the appropriate camera equipment, you may want to take some night photos of the stars. Sunrise is also a great time to visit Delicate Arch as you will see the sun rise behind the arch. However, depending on when the sun rises, you might need to wake up really early.
If you can't find parking, head to the Delicate Arch Viewpoint parking lot. However, by parking here your hiking distance will significantly increase.
Tip: There are bathrooms at the start of the trail, but no drinking water is available – make sure you bring your own, you'll definitely need it along the way.
After parking your car, you will walk past the Wolfe Cabin following an easy walk. Here John Wesley Wolfe and his son Fred settled on the banks of Salt Wash around 1898. Close to the cabin you can also check out pictographs, ancient rock art, created by the Ute people, depicting a hunting scene from the 1700s.
Tip: There is no shade in this trial here so be mindful at what time of the day you decide to head to Delicate Arch. It could get unbearably hot in the summer months.
After passing the Wolfe Cabin, the trail climbs rolling hills and you will start a steep ascent. This is the hardest part of the trail as it seems that you never get to the top of the hills. Don't worry about getting lost, just follow the hundreds of people hiking this trail along with you.
Once you reach the top, the trail will level out to a narrow rock ledge with exposure to some pretty cool heights. Keep an eye open for a small opening -called the Twisted Doughnut – which will give you a first glimpse of delicate arch, and a lowkey awesome photo opportunity as it provides a great frame for Delicate Arch.
Once you turn to the right you will see the amazing Delicate Arch surrounded by a sandstone "bowl". Walk close to the arch, have your photo taken under it and photograph Delicate Arch from different angles along the bowl – don't just take the "typical" photo. Also, don't take pictures and leave; but rather take a seat to take in the magnificent landscape surrounding you. After we took all the pictures we wanted we sat and enjoyed the view for ages.
Can you see Delicate Arch without hiking?
If you can't hike the Delicate Arch trial, don't worry, you can still see it from a distance. The lower Delicate Arch viewpoint is an easy 5-minute walk where you can see Delicate Arch from .75 mile (1.2 kms) away. The upper trail allows you to take a closer look of Delicate Arch from a different angle. It is a longer and moderately strenuous trail which climbs steeply 0.5 mile (0.8 km). Winter Camp Wash – a canyon- separates this area from the arch.
Read blog: Devils Garden Trail in Arches National Park: The best hike in the park
What should you bring along?
Sunscreen: As mentioned earlier, there will not be any shade during the trail to Delicate Arch. Therefore, make sure you protect your skin by wearing a good sunscreen. You already know that I am a fan of Supergoop! a lightweight sunscreen that doesn't clog your pores. Apply Coppertone on your body before the hike as well.
Hat: In addition to making sure you are applying sunscreen, bring along a hat. I personally love The North Face Norm Hat which comes in a variety of colors to choose from.
Water bottle: Trust me, you will get really thirsty during this hike -especially during the hot summer months- so make sure you are well-hydrated. The Nomader Collapsible Water Bottle rolls up for compact travel so it's a perfect companion during hikes.
Comfortable sneakers: if you like to hike, Arches National Park will give you the opportunity to explore several trails. Make sure you bring along protective shoes – there is nothing more uncomfortable than having to walk for miles with blisters in your feet. We recommend The North Face Trail Escape Edge for men and The North Face Women's Hedgehog Fastpack for women.
We are part of several affiliate programs including Viator and Amazon which means that we will earn a small commission at no extra cost to you if you make a purchase through the links included in this post.