/
Little Devils Tower Trail: A must do hike in Custer State Park
If you're looking for a fun hike with little crowds and jaw dropping views, Little Devils Tower can't be beat.
Custer State Park is full of fun hiking trails and even more amazing views. Little Devils Tower does not disappoint and has an option for every experience level. You can have a half day hike that will take you from the start of the trail to the peak or combine it for a full day adventure with Black Elk's Peak. If you are heading to the Cathedral Spires, this is the best option for the hike – especially if you are a casual hiker – and there is only one elevation that is moderately difficult.
Little Devils Tower is a sheer, tall granite rock formation reaching 7,002 ft. in elevation, an impressive height which is mostly an easy hike along the trail. While only 200 feet shorter than Black Elk Peak, Little Devils Tower has an absolute gem for a view: spectacular 360-degree views that rival any others found in the park. When you reach the summit, you'll get views of Cathedral spires, Black Elk's Peak and Harney Peak (the tallest point east of the Rockies until Europe itself).
Hiking the trail:
The trail starts at the Little Devils Tower Trailhead is a short drive from Sylvan Lake on Highway 87, with a parking area conveniently available. Trail #4 leads to the summit of Little Devils Tower, which is the route you want to take if you choose to do the full trail. You'll hike Trail #4 for around 1/2 mile until a fork in the trail – take the one to Little Devils Tower. During the hike you'll come across a few spur trails that leads to overlooks; a couple will have places to rest, including one with a bench with a sensational view.
If you decide to combine the hike with other trails, you generally have two options: Black Elk's Peak or Cathedral Spires. The longer option is to combine the hike with Black Elk's Peak; be prepared for a full day of hiking and an early start. Given our short time in this part of South Dakota, we decided to combine the hike with Cathedral Spires – we highly recommend you do the same.
By taking the trail from Cathedral Spires, you are essentially cutting the hike in half. As you climb to the end of the Spires trail, you'll come across a post signaling a fork in the road; if you take a left you'll be end up on Trail #4 after a short walk, if you take a right you'll end up at the Spires. This shortcut also drops you off really close to an overlook with a bench – do not miss the chance to soak in the view.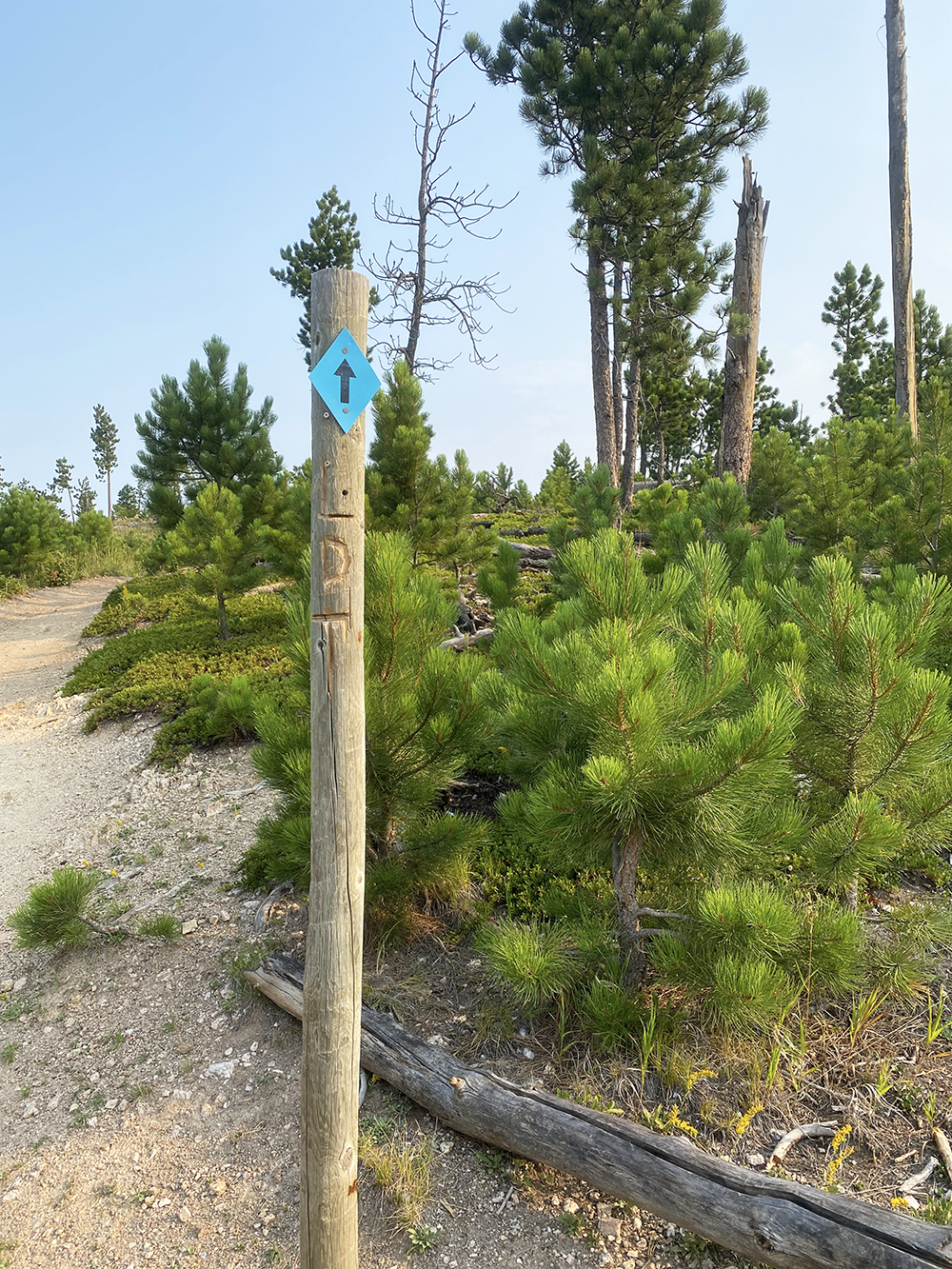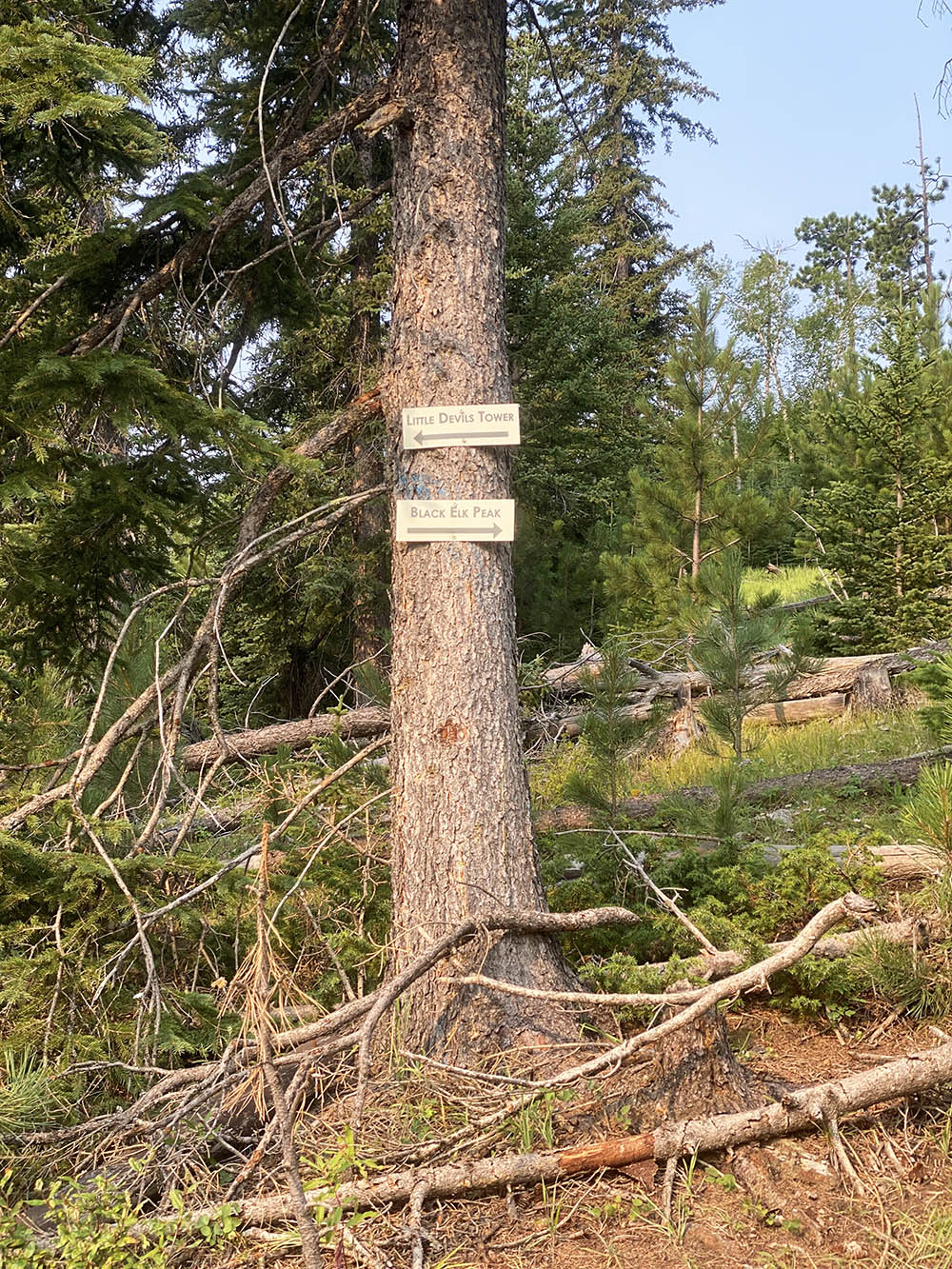 Around a mile into the hike (starting at the beginning of Trail #4), the trail will lead to a large granite crevasse. This is by far the most difficult part of the hike, as you will have to awkwardly climb up and down this steep crevasse to get to the summit. From here it's an easier climb to the best part of the hike – the killer views. You may even get lucky and see mountain goats doing what they do best, climbing the rocks.
Tip: While hiking, you can take some time to explore the Noble Mica Mine or one of the many overlooks. The mine is a short walk from the main trail.
What to bring:
Hiking shoes: Wearing hiking shoes will be really helpful as there are a lot of rocks to climb during this hike. Here are our recommendations:
For women: Oboz sawtooth II low b-dry hiking shoe
For men: Oboz sawtooth II low b-dry hiking shoe
Mosquito repellent: Avoid getting bitten during the hike. The Sawyer Products SP534 Ultra 30% Insect Repellent Lotion, is highly effective against bugs.
Water: The hike will make you really thirsty. Bring along the Nomader Collapsible Water Bottle which rolls up for compact travel.
Sunscreen: Avoid getting a sunburn. We recommend Supergoop! SPF40 for your face and Coppertone for your body.
Fees
A temporary (1-7 days) license is $20 per vehicle. An annual park entrance license is $36 and you can buy a second annual park entrance license for $18.Hours. Note that a National Parks pass will not work as this is a state and not a federal park.
Hours
Custer State Park is open year-round, 24 hours per day.
We are part of several affiliate programs including Amazon and Viator which means that we will earn a small commission at no extra cost to you if you make a purchase through the links included in this post.