/
Things to do in Custer state park, South Dakota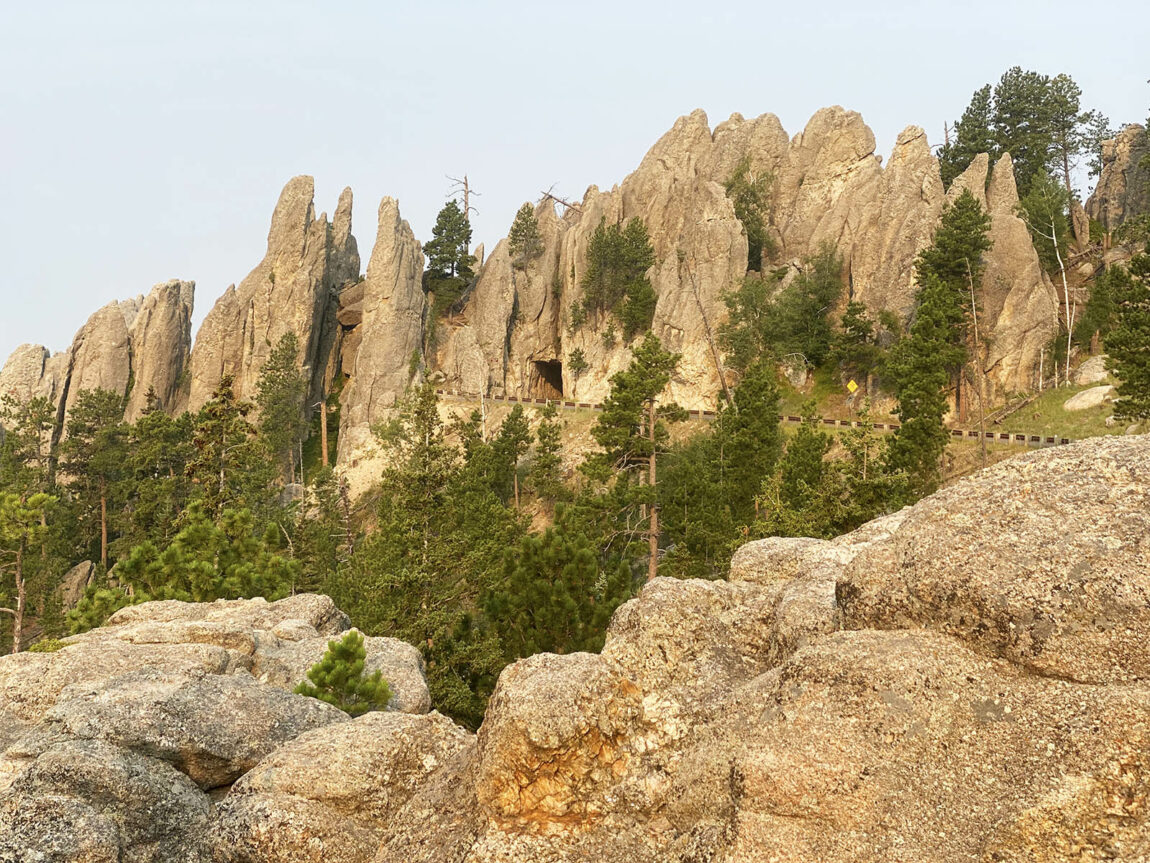 Custer State Park is among South Dakota's must-see places. The park allows you to see an abundance of wildlife living in their natural habitat, be awed by stunning granite formations, experience thrilling scenic drives and amazing hiking trails.
Custer State Park can be enjoyed at any time of the year, but the best months are during the shoulder seasons, so you avoid the worst heat and cold temperatures. In the fall you will have the added benefit of seeing the leaves change color – a magnificent spectacle. We visited during summer, and it was hard to be outside during the peak hours without feeling that we were going to melt at any point due to the heat; weather on the Great Plains can be extreme.
We visited Custer State Park for 2 days. You can definitely see the major attractions in one day, but we preferred to take our time and really enjoy the park's beauty without having to rush. Two days will let you hike a few trails, drive the park's scenic routes, and admire the granite formations from different perspectives.
Below are some of the activities you can do while visiting Custer State Park.
Go hiking
There are over twenty trails to choose from in Custer State Park, all offering amazing views and great photo opportunities. Going hiking will give you a chance to experience the park in a different way and really take in the beauty all around you.
Below are some of our favorites:
Cathedral spires trail: This hike is a must when visiting Custer State Park. Located south of Sylvan Lake on the park's Needless Highway, the Cathedral Spires Trail will offer the chance to marvel at some highly unusual rock formations that will be engraved in your memory. The hike is 2.3 miles round trip and not too difficult.
Read blog: Cathedral Spires Trail: What you should know before you go
Little Devils Tower: This trail is located less than one mile south of the Sylvan Lake General Store on Needles Highway, but it can also be accessed from the Cathedral Spires Trail. This is a very fun hike as in the last half mile you will have to face a steep rocky incline with large granite boulders – the view will blow you away! This hike is 1.5 miles one way and offers magnificent views of the Black Hills.
Read blog: Little Devils Tower Trail: A must do hike in Custer State Park
Sylvan Lakeshore Trail: This trail can be accessed from any portion of Sylvan Lake and offers a great opportunity to stroll around the lake and experience the granite formations from different perspectives. It's a great relaxing trek, and you can dive into the lake to cool down anytime. It's approximately a 1-mile loop and mostly flat hike so don't miss it.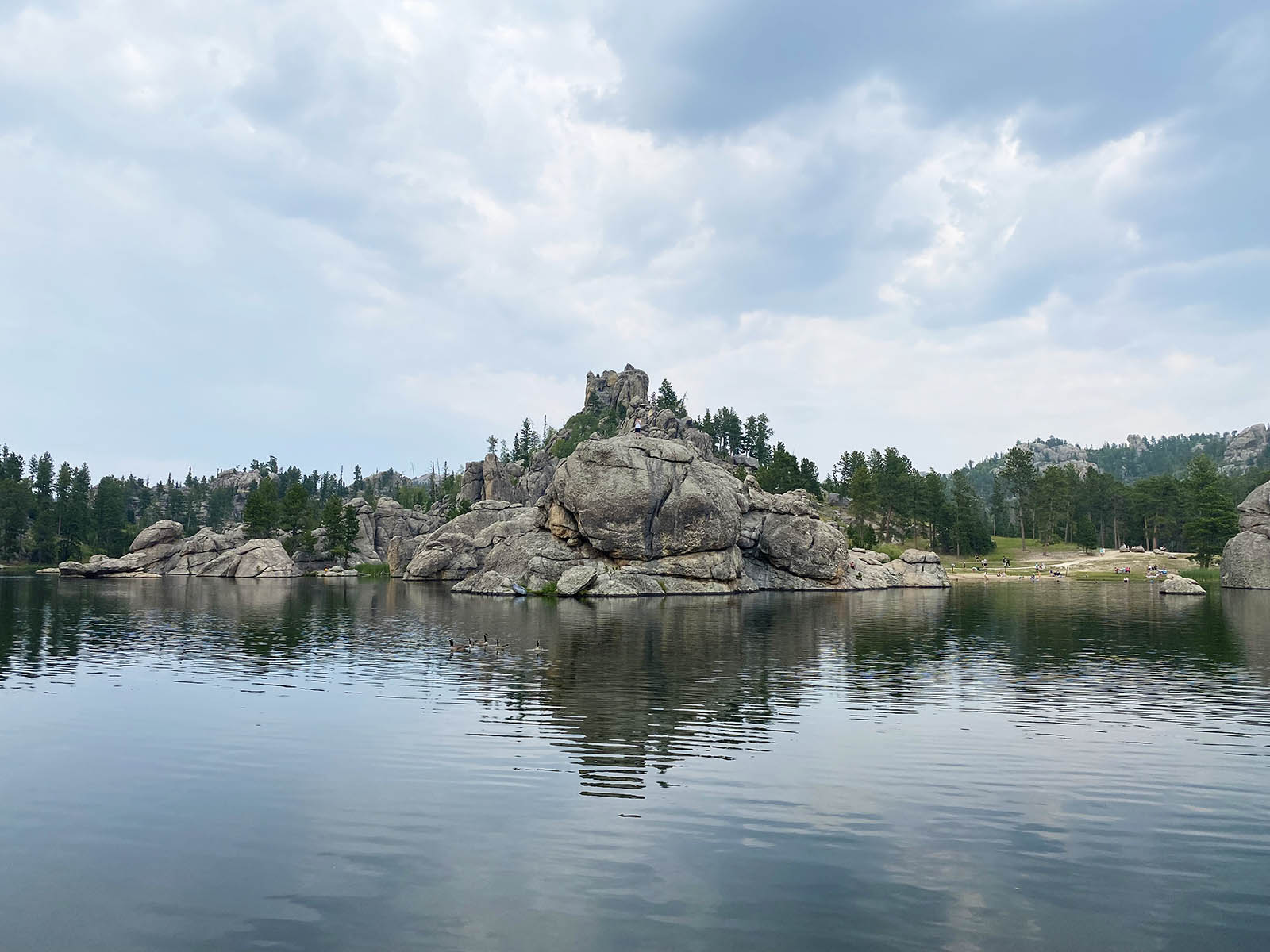 Black Elk Peak Trail: This trail shares the Little Devils Tower Trail and it's a strenuous hike. It's 3.25 miles one way and offers magnificent views of South Dakota, Wyoming, Montana, Nebraska and North Dakota! The peak also features a stone fire tower built in 1938 by the Civilian Conservation Corps, which is easily spotted during the hike.
Drive the park's scenic roads
This park is perfect for those who love to cruise. Explore the park's winding roads including Needles Highway, Iron Mountain Road and the Peter Norbeck Scenic Highway for one of America's unforgettable drives.
Tip: If you are prone to getting dizzy when driving in winding roads bring along Dramamine.
Needles Highway: This must be among the most beautiful highways I have ever driven on. It's a 14-mile road which takes you through forest and majestic mountains in the Black Hills region. It's name, Needles Highway, comes from the gigantic needle-like granite formations that are found all along the highway.
When driving along the highway, stop at the Needles Eye Tunnel. You will see there are a few parking spots available next to the tunnel. Park your car and take the opportunity to photograph Needles Eye – an amazing rock formation that looks like a needle. It's best to photograph Needles Eye in the morning when the sun won't damage your pictures. This spot is also a great area to photograph gorgeous rock formations and see if you can spot mountain goats!
Travel time: 45-60 minutes I Closed in winter I 14 miles
Iron Mountain Road: This winding road runs between Mount Rushmore National Memorial and the junction of US 16A and SD 36. Iron Mountain Road will let you soak in the spectacular black hills scenery, tunnels framing Mount Rushmore and amazing bridges. Consider this the local's scenic route.
Travel time: 45-60 minutes I 18 miles
Wildlife Loop Road: Travel through the grasslands and pine-covered hills where you get the chance to spot the wildlife which lives in Custer State Park. We recommend you drive during the early morning or late afternoon which is when the wildlife is most active. Nearly 1,300 bison wander the park's 71,000 acres, so hopefully you will be able to see the buffalo (we drove the loop road twice and the first time we didn't see any wildlife). Keep in mind that you won't be allowed to get close to them; my husband tried and got yelled at by the park rangers. Bison are fast and dangerous so stay inside your car. Bighorn sheep, pronghorn, deer, elk, coyote, prairie dogs can also be seen while driving the Wildlife Loop Road.
Travel time: 45 minute I Open year round I 18 miles
Peter Norbeck Scenic Highway: This 70-mile byway includes spiraling bridges, thrilling curves and granite tunnels. It has been named one of the 10 Most Outstanding Byways in America and for good reason. Expect the traveling time to be around 2-3 hours. Here you can see some of the most amazing site including the Needles, Mount Rushmore and the Black Hills National Forrest.
Travel time: 2-3 hours I 70-mile
Watch the burros up close
While driving the Wildlife Loop Road, make a stop near the southeastern tip of the road where the burros can be found and will beg for snacks from vehicles. According to the park's rules you are not allowed to feed any wildlife in the park, so understand the potential risks of interactions with the burros. Here you might find a bit of a traffic jams with several cars waiting to admire these wonderful creatures.
Go swimming, boating or fishing
The park is a perfect summer swimming hole; you can swim at any of the park's five lakes: Center Lake, Legion Lake, Stockade Lake, Sylvan Lake and the Game Lodge Pond. Note that no lifeguards are on duty so exercise caution. Also, jumping from cliffs or rocks is strictly prohibited. You can rent a boat to enjoy the peaceful water of the lakes. If you prefer fishing, note that while fishing is allowed anywhere in Custer State Park, you will need to purchase a fishing license.
Experience the buffalo round up
The roundup takes place once a year near the corrals on the Wildlife Loop Road and it's a way to manage the size of the herd while also providing an opportunity to brand and vaccinate the calves. There are two viewing areas for spectators – the north and the south. Reservations are not required. This is a sure way to get your chance to see buffalo up-close.
Entrance fees
A temporary pass allows you to enter the park for 7 consecutive days costs $20 per vehicle. Alternatively you can get an annual park entrance pass for $36.
We are part of several affiliate programs including Amazon and Viator which means that we will earn a small commission at no extra cost to you if you make a purchase through the links included in this post.