/
Things to do in Mykonos island Greece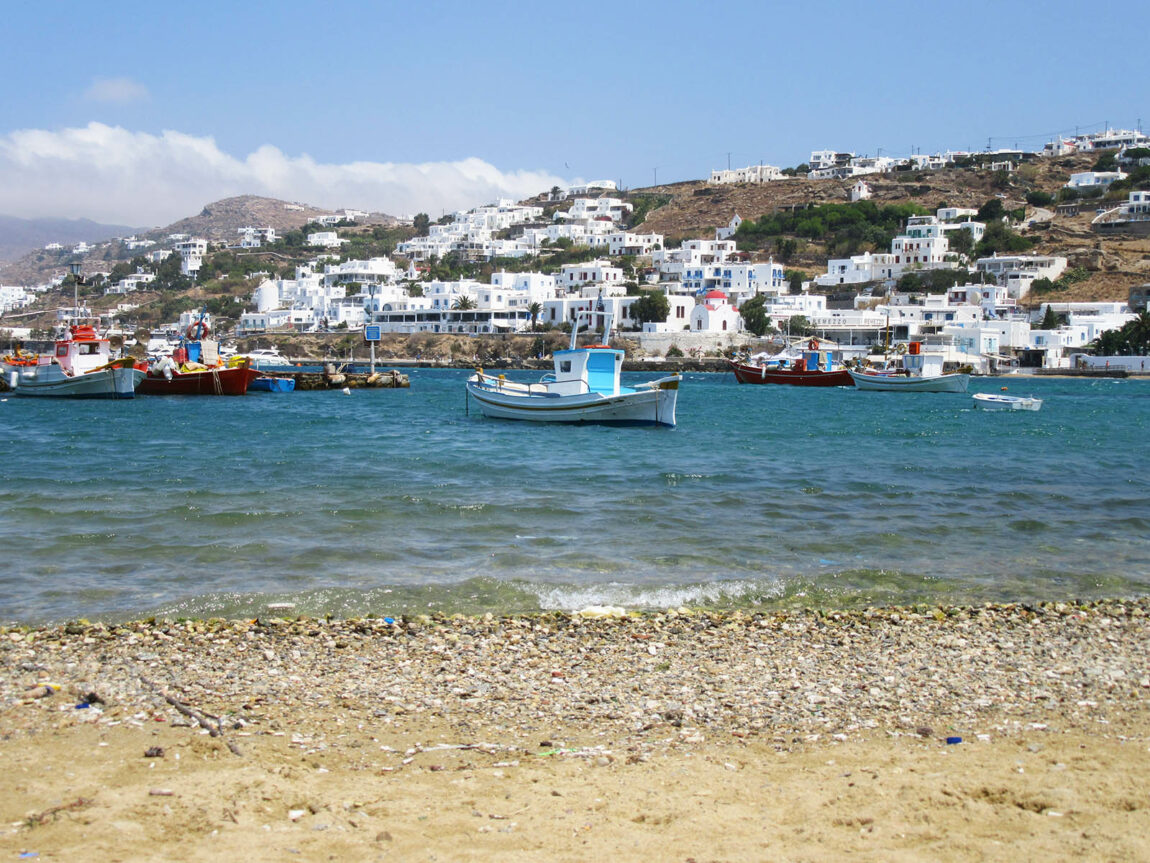 Check out a list of things to do in Mykonos island, Greece. Stunning beaches, charming windmills, and narrow cobbled alleys await you in this Aegean paradise.
Mykonos is one of Greece's many islands – and probably the most famous in modern times for the hip jet set crowd. When we traveled to Greece a few years ago, it was difficult to choose where to go – especially as my husband is obsessed with ancient Greece. Not only did every island looked stunning, but every part of the country was too beautiful to miss. After a lot of discussion, we both decided since it would be our first in the country, Mykonos and Santorini islands had to be our first destinations.
Tip: Getting to Mykonos from Athens is easy. There are two ports (Piraeus and Rafina) where you can take the ferry. It will take you 2.5 hours to reach Mykonos from Rafina by ferry and usually 2-5 hours from Piraeus depending on the ferry route.
According to mythology, and my dorky husband, Mykonos was created from the petrified bodies of giants killed by Hercules – who knew that giants' bones would make such an idyllic island?! Despite the massive size of its corporal creators, Mykonos is a small island making it easy to get around and visit all of the main attractions at a leisurely pace. The island has a length of approximately 14 kilometers across, making it perfect to rent an ATV and explore in a day.
Let me tell you, Mykonos didn't disappoint. My most vivid memories include the turquoise color of the sea; the windmills; the narrow-cobbled paths across the island dotted with sleepy cats; and the white houses that radiate from the stark contrast with their colorful doors. Mykonos may be famous as a party island but its renowned for wonderful beaches and windy days that cool you off in the hot sun. Take your camera with you because you'll want to photograph every corner of this island.
Tip: During summer (especially August), Mykonos gets really crowded so make sure you book your accommodation and transportation far in advance.
What to do: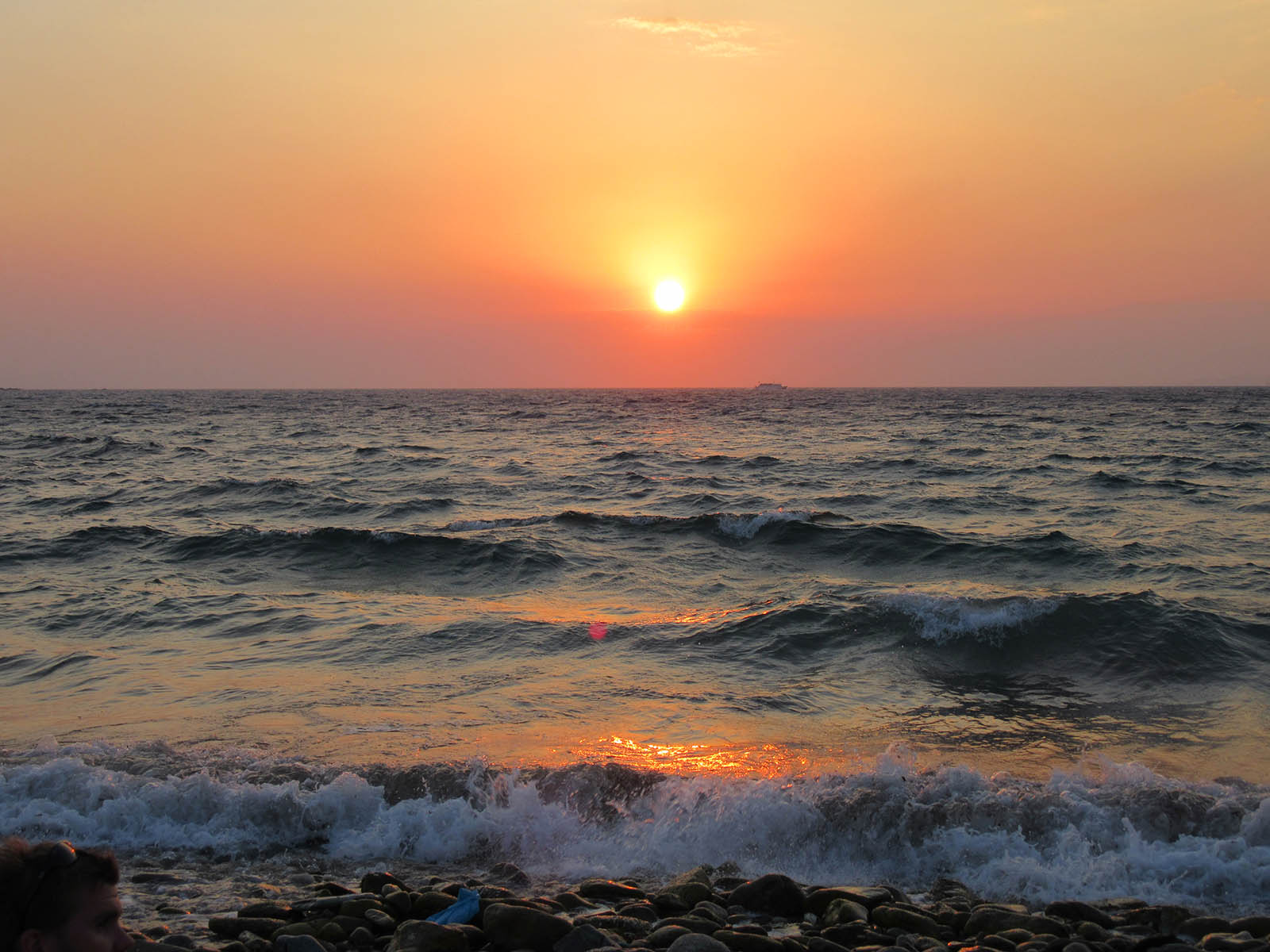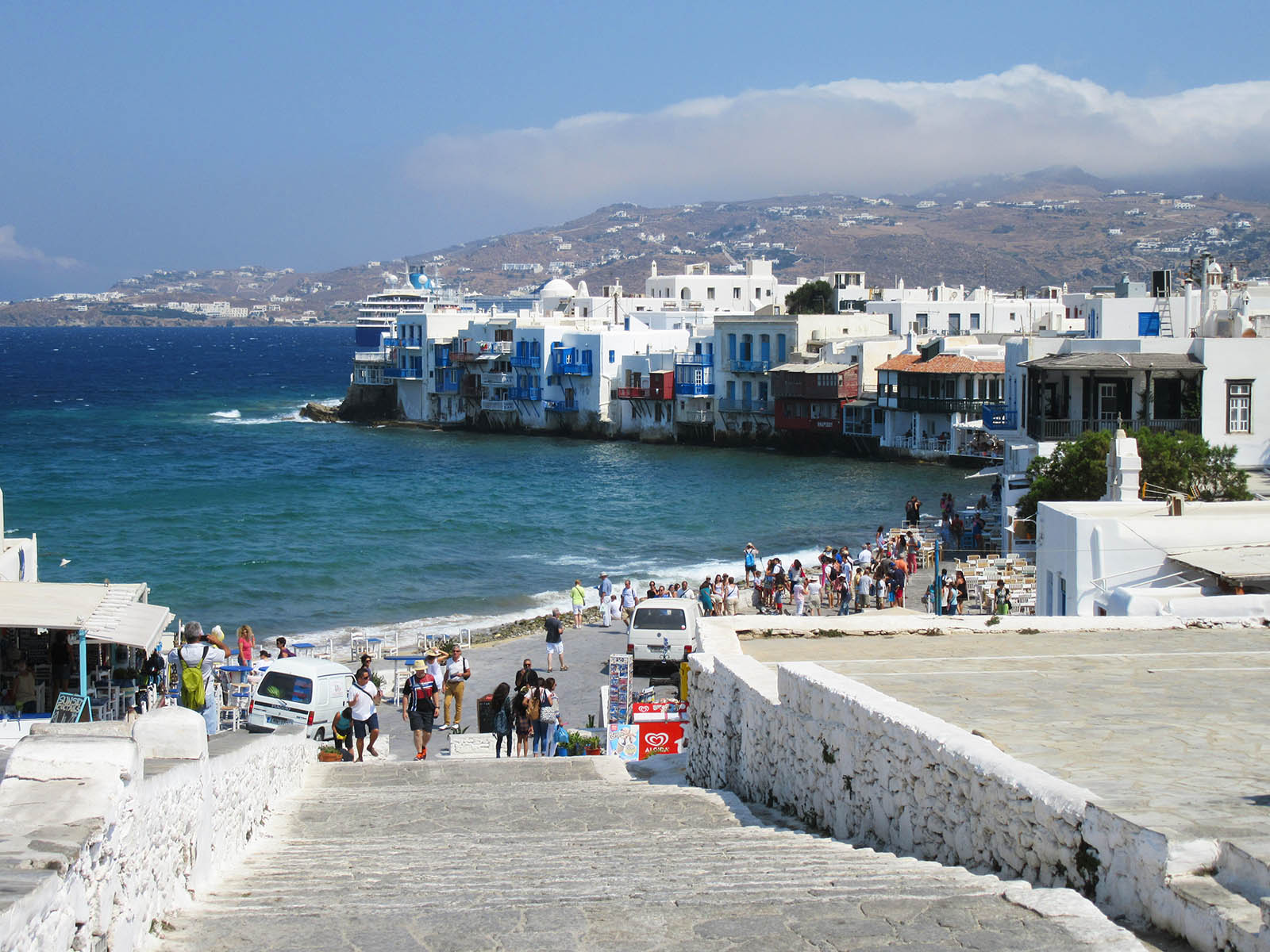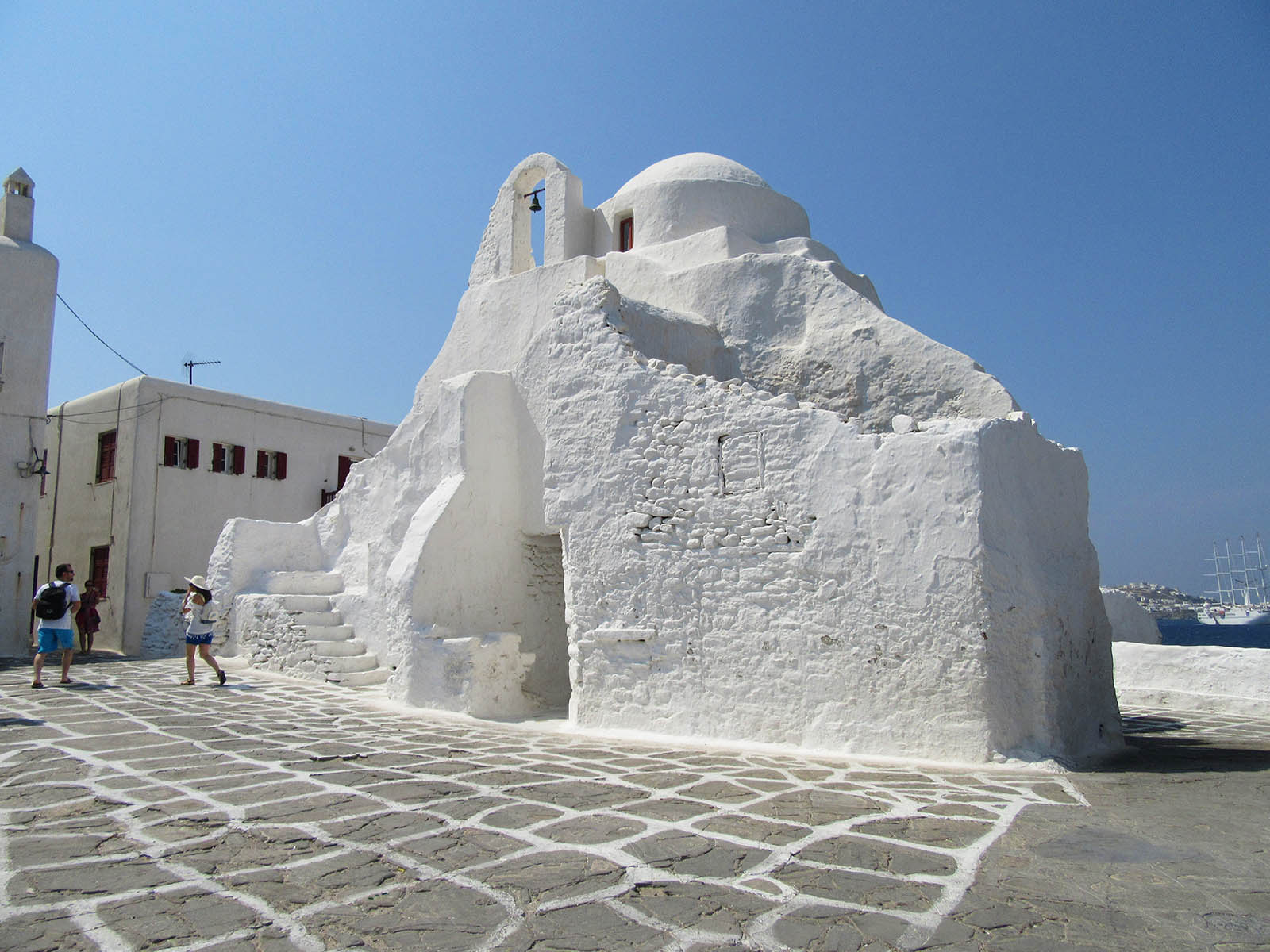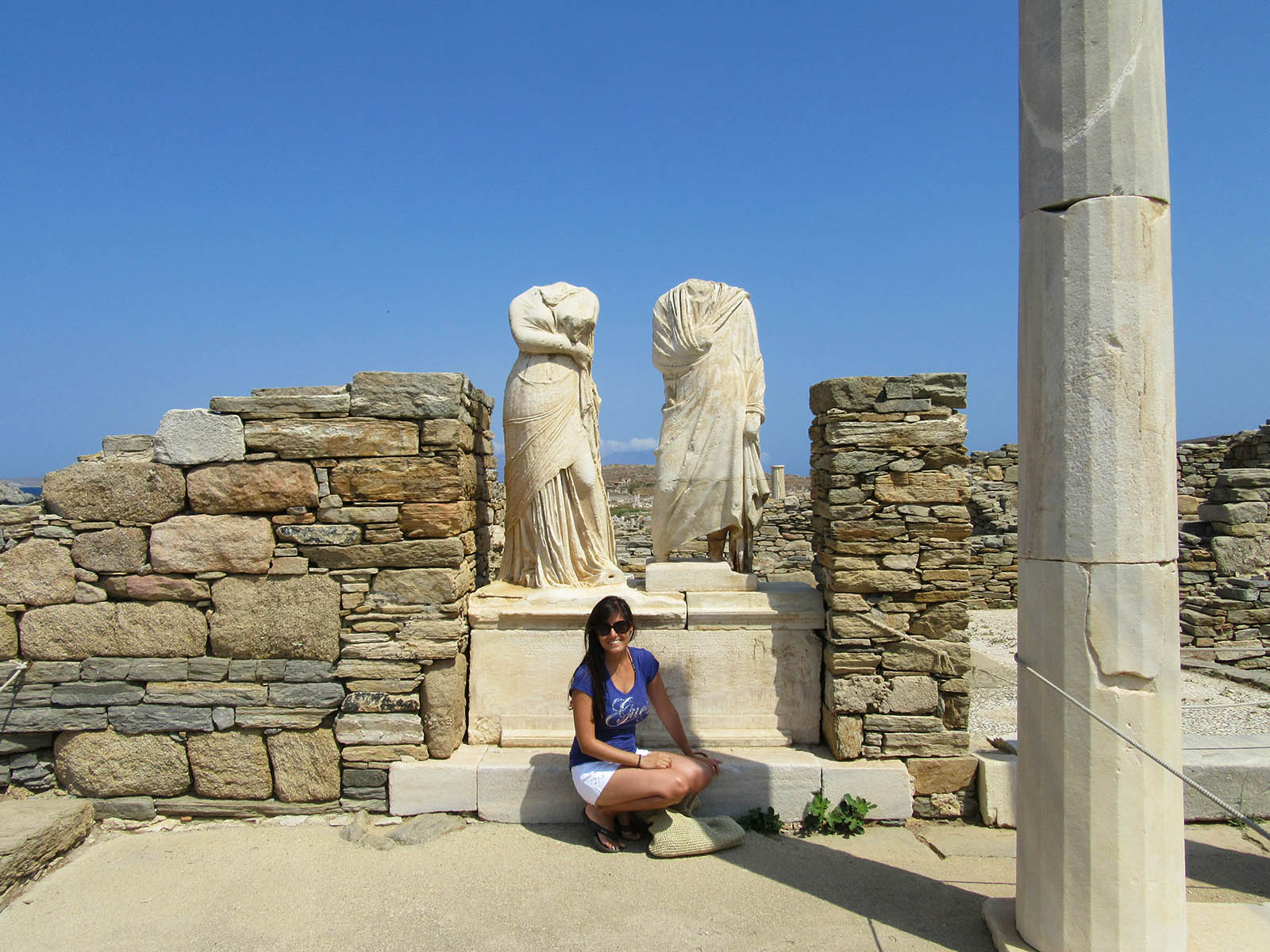 Stop by Little Venice (Alefkántra): As soon as you walk into this part of Mykonos town for the first time, you'll see why it gets his name. This section of the town is by far one of the most scenic, and safe to say its most popular photo spot. Little Venice is an 18th century district featuring houses with colorful balconies perched over the sea. This is also a great spot to photograph the windmills, grab a bite to eat right as the sea gently splashes onto the restaurant patios, and watch the Aegean sunset. There are some bars here where customers drive their boats right up to the windows – this is definitely the good life!
Tip: For a great view of the windmills, head to Katerina's Bar. The owner of the bar decided to transform her family house into a restaurant/cocktail bar. In addition to serving great food, it offers breathtaking views of the windmills and Little Venice.
Take a boat ride to Delos: Located only a 30-minute boat ride from Mykonos, Delos is a sacred island of Ancient Greece and known as the mythological birthplace of Apollo, god of the sun and music, and his twin sister Artemis the goddess of the moon and hunting. The island is a fantastic place to visit ancient ruins which are extremely well preserved. Delos is a UNESCO heritage site and the largest archeological site in Europe; it's definitely a must visit. It also has a major historical importance as the cog and treasury of the Delian League which protected Greek city states from any future Persian invasion. We recommend you book a tour to this island through Viator and visit the several ruins of monuments, temples, theater and homes this island offers.
Go sailing: Book a catamaran cruise to sail in the crystal-clear waters of the Aegean Sea. This is the best opportunity to take pictures of Mykonos as the catamaran pulls away from the dock; it'll give you a great full panoramic view of the town and island. Swim and explore the underwater world via snorkeling and enjoy the sunshine and the sea breeze in your face while you smoothly sail.
Visit the Fanari-Armenistis lighthouse: This lighthouse dates back to the middle 1800s and it's one of the island's best kept secrets. The lighthouse is located in the north-western part of Mykonos and it remains fully functional today. This picturesque beacon overlooks the blue waters and the surrounding area.
Go to the beach: Mykonos has plenty of beaches, all of which are considered to be among the most beautiful of the Aegean Sea. There are many options to choose from, but here are some of our favorite beaches:
Platys Gialos: This is a great beach for both couples and families as its crystal-clear waters makes it one of the best beaches in Mykonos. There are restaurants and bars all along the coast where you can eat some food if you spend a full day lounging at the beach. As with most European beaches, you'll find parasols and loungers available for rent. You can reach this beach by taking a bus from the center of town.
Psarou: This is by far the trendiest beach in the island, populated by the rich beachgoers and party crowds alike; you will probably spot amazing yachts parked along the coast. There are also restaurants and bars, as well as rental parasols, but keep in mind that they will be more expensive than in other beaches. Psarou is about a 10-minute walk from Platys Gialos, so you can do both in one visit. There is also a diving school school, which you should try, and water sports available.
Paradise: This is the party beach where you can find the young crowd partying all day long and for most of the night. There are several clubs and bars around the beach all catering to the party crowd. It's a fun spot, and you will not be bored – Paradise is easy to get to from the center of town since there are frequent bus connections. It should take you around 20 minutes.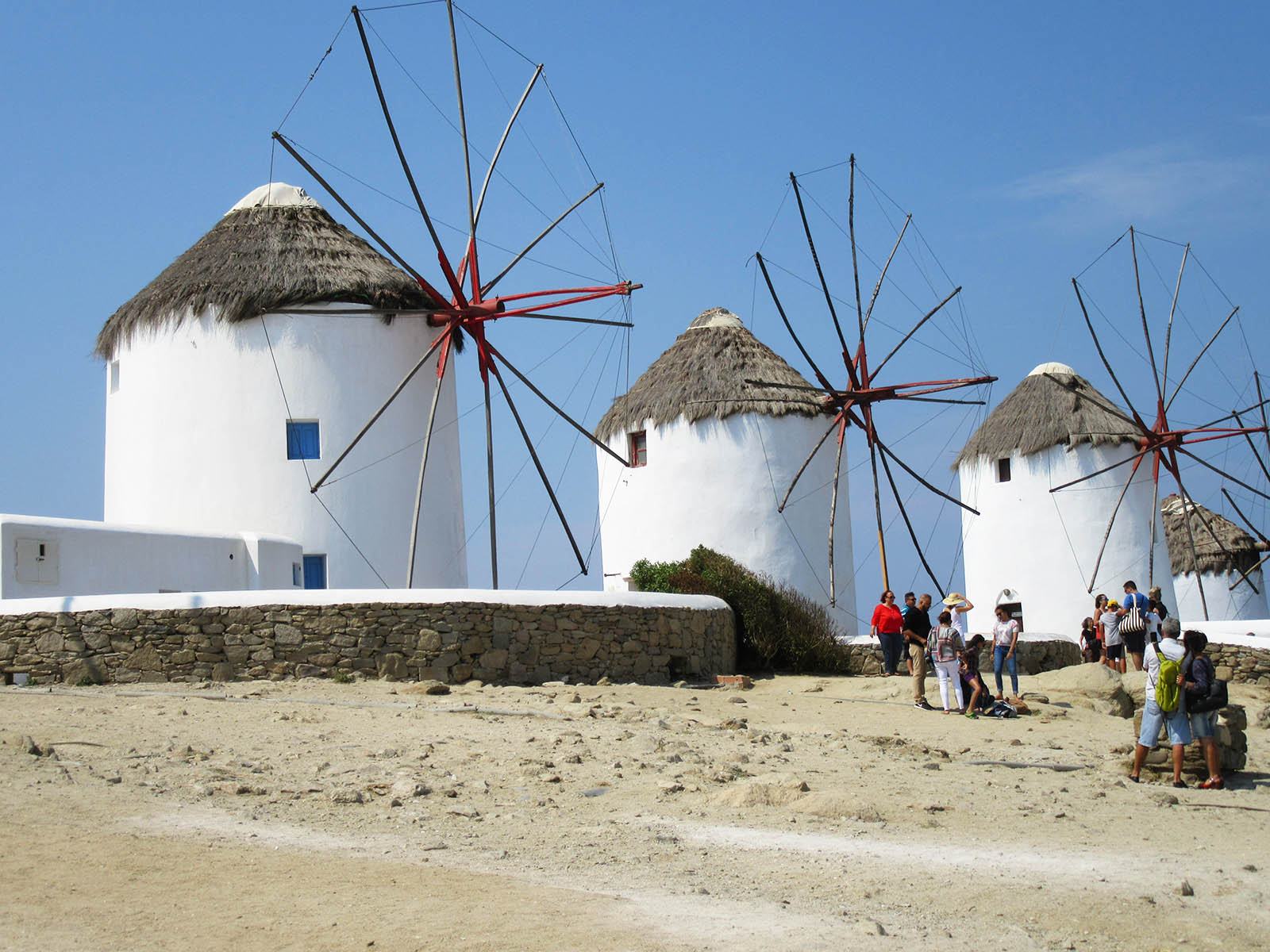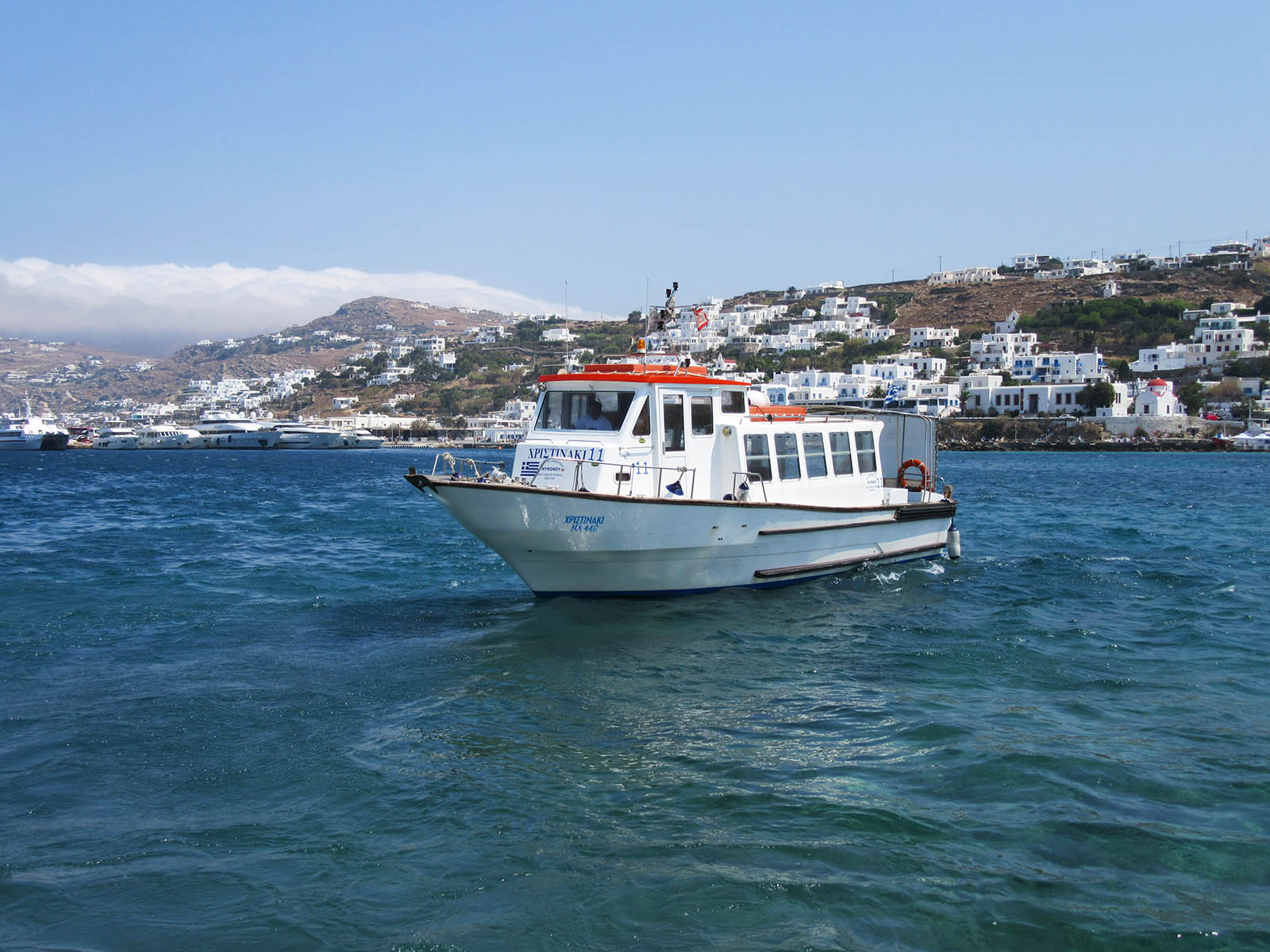 Visit the windmills: Don't forget to pay a visit to the windmills to soak in one of the best views of the town and harbor. These windmills have become the island's icons as they stand guard over Mykonos, and make for a killer skyline photo. They can be found south of Chora, between Alefkandra and Neochori.
Tip: There are some great pictures that you can take of the windmills from the narrow alleys of town.
Take a picture of the Paraportiani church: This is by far the most photographed church in the island and constitutes a perfect example of Cycladic architecture. This church consists of 5 separate churches. 4 churches (dedicated to Saint Eustathios, Saint Sozon, Saints Anargyroi and Saint Anastasia) are located at ground level and the 5th church was built above them.
Stroll around the town: Take some time to get lost in Mykonos alleys and cobbled streets. Stop by wonderful coffee shops and restaurants to enjoy local delicacies. Stop by Pepper, tucked away in a tiny corner of town, which has some of the best souvlaki.
What to bring:
Sunscreen: The sun is really strong in Mykonos during the summer so make sure that you bring sunscreen to protect your skin. I recommend Supergoop! SPF40 for your face and Coppertone for your body. Reapply as many times as needed.
Hat: As you will be outdoors for most of the time and enjoying the beach bring along a hat to protect you from the sun. I recommend The North Face Washed Norm Hat – who doesn't love a teal hat?
Comfortable shoes: Pack comfortable shoes if you plan to walk around the island. Flipflops are great, but you'll do lots of walking and outside the town it gets dusty.
Dramamine: If you are prone to getting seasick, make sure you pack Dramamine as you will probably be taken a few ferries to travel across the islands.
Mosquito repellent: It always comes handy if you are traveling in summer. Bring a bottle of mosquito repellent to avoid getting bitten while traveling.
We are part of several affiliate programs including Amazon and Viator which means that we will earn a small commission at no extra cost to you if you make a purchase through the links included in this post.