/
Badlands National Park, USA: Tips to spend a perfect day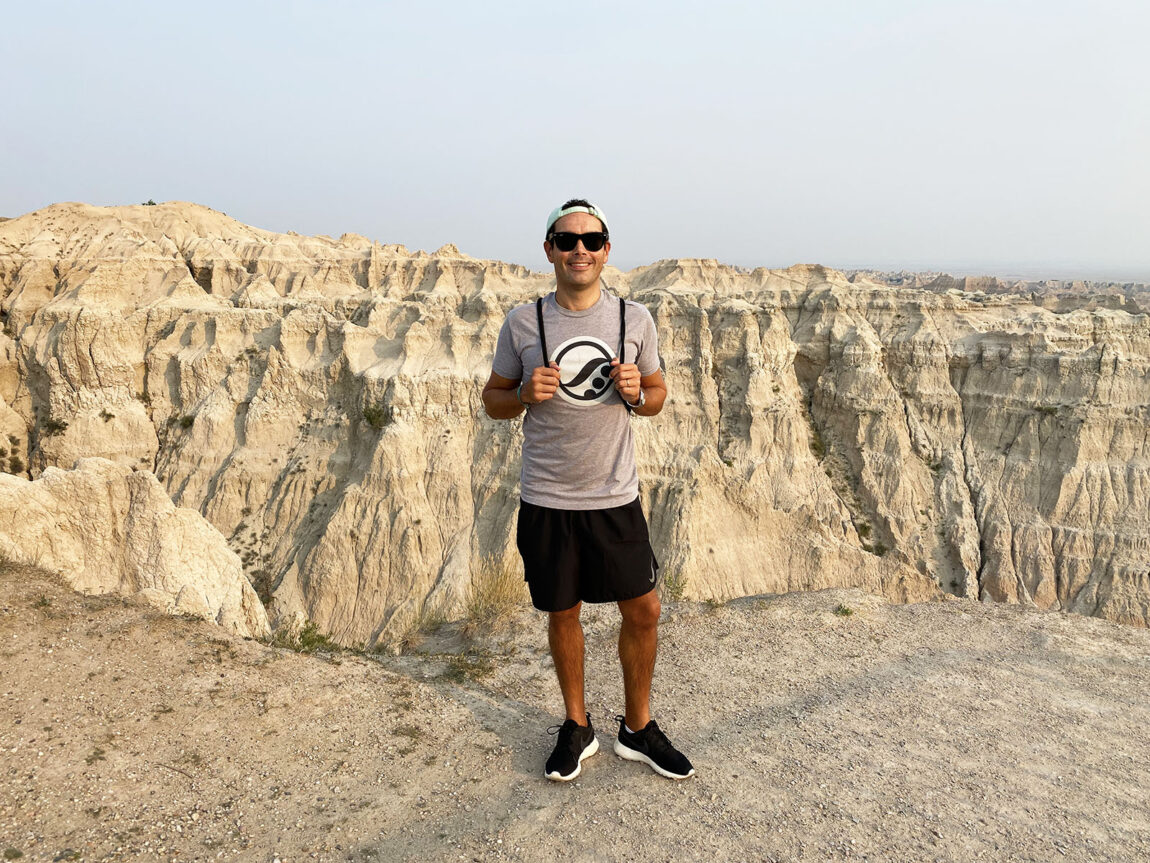 Badlands National Park, USA: Like a white river cutting through the Prairie, the Badlands of South Dakota is an unforgettable icon of the American West. Learn the best tips to spend the perfect day in this amazing park.
When we told a few of our friends about our plans to visit South Dakota, they were shell-shocked – we were asked many times why the heck we would even want to go to the middle of nowhere. I was puzzled by this response as with a little bit of help from Google, I kept seeing some of the most amazing attractions, and all within a close proximity, that are unique to South Dakota. It's obvious many people only think of Mt. Rushmore when South Dakota is mentioned, and few are aware of the beauty of its otherworldly parks dotted throughout. However, Badlands stands a cut above the rest.
I know this might sound like a cliché, but I will say it anyway: The Badlands National Park blew our minds away. The beauty of this park is something that everyone should experience once in their lifetime. And since I have been back, I have been encouraging everyone to go.
Why is Badlands National Park famous?
The Badlands National Park houses one of the world's richest fossil beds and consists of 244,000 acres full of canyons, pinnacles, buttes, and spires. Basically, it's a photographer's dream.
One of the aspects that impressed me the most was the utter silence you could experience at Badlands. I remember being at the Yellow Mounds Overlook, telling my husband to sit down and just "listen" to the silence all around us. We stayed there for a few minutes, absorbed in the natural silence, and soaking in the amazing landscape. It was an intense experience as we enjoyed the feeling of totally being alone in nature.
There are several species of wildlife who are really privileged to live in the park including pronghorn antelope, mule deer, prairie dogs and bison. We drove the famous Sage Creek Rim Road where we spent quite a bit of time looking at the bison – one evening we spent a couple of hours surrounded by the creatures! It's really funny to watch how buffalo block the road and they don't care if there is a long line of cars trying to move past.
What to do
Drive Badlands Loop Road (SD 240): Drive along the stunning ancient rock formations, cliffs, and colorful spires. Try to keep your eyes on the road, as the landscape constantly shifts around and it is simply mesmerizing. The road is a serpentine 40 mile loop, but you will stop frequently at the overlooks to take in the scenery and take hundreds of pictures (we took over 1000 pictures during our 7-day trip to South Dakota!). All in all, it takes 40-50 minutes but expect to spend a couple hours or more due to the stops, which are well worth the time. SD 240 is a winding road with several sharp turns so please drive carefully.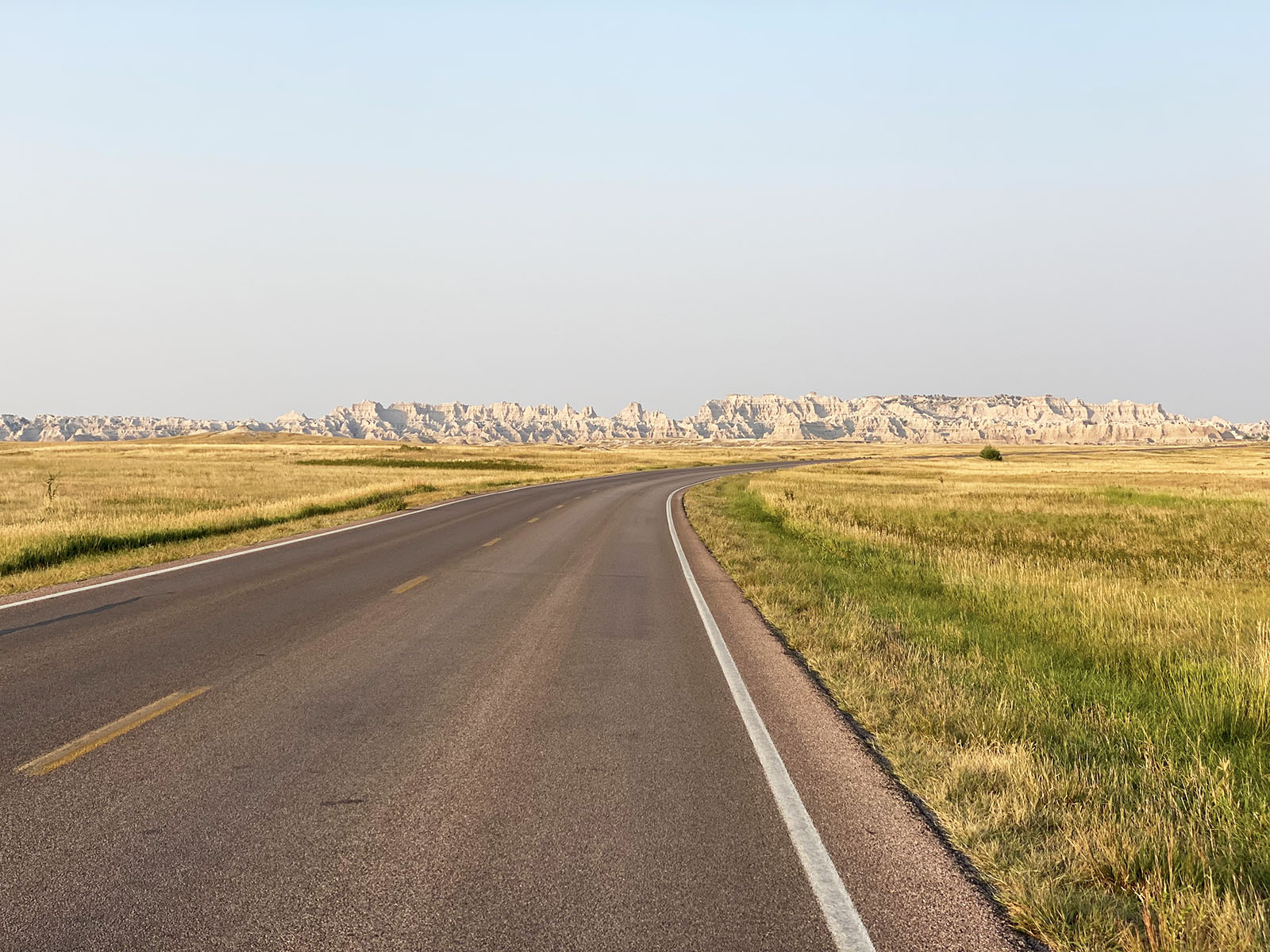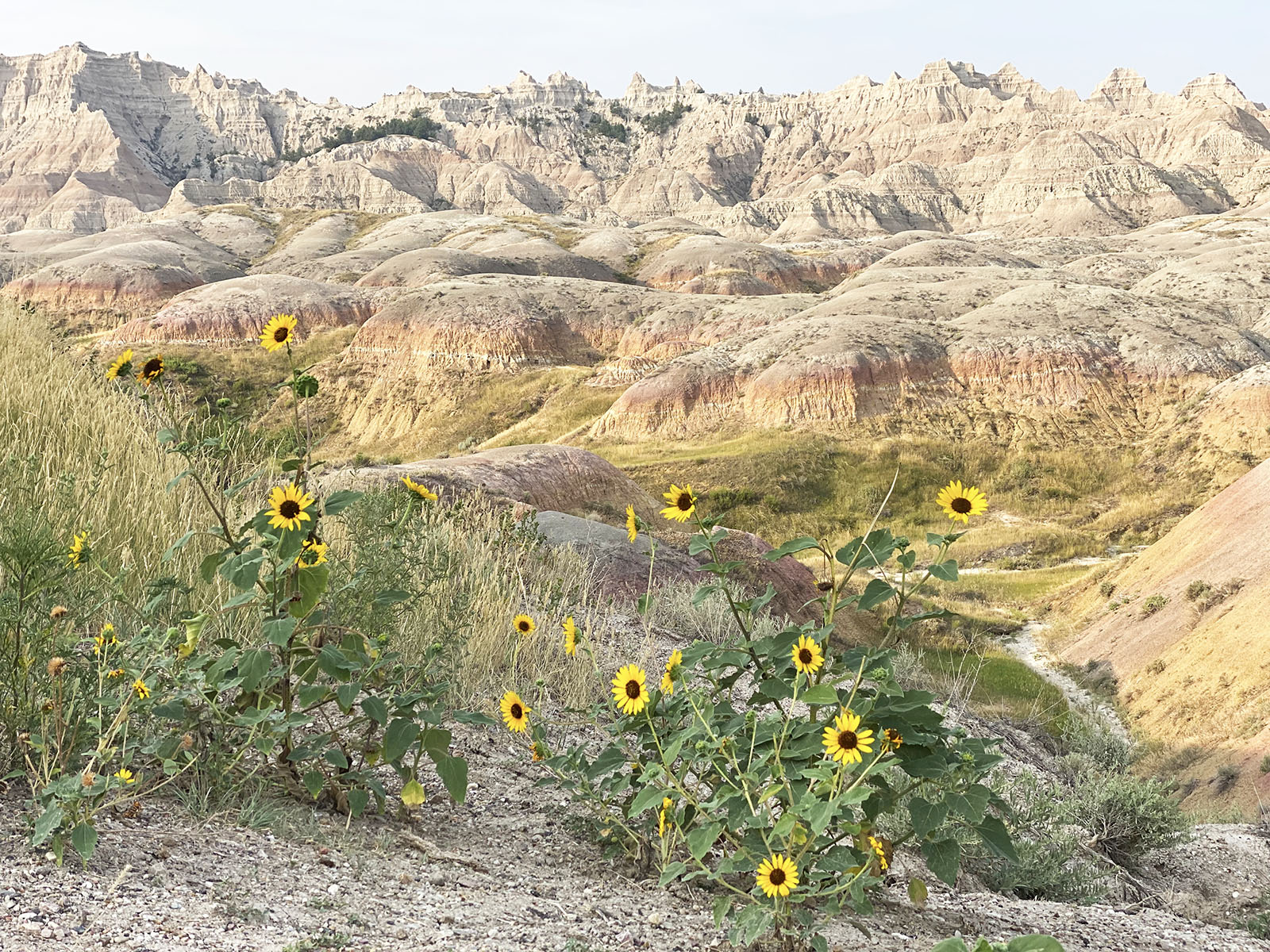 Do a hike or two: There are several trails to choose from in Badlands National Park. We hiked the Notch Trail which is the most popular and offers amazing views as well as a cool log ladder to climb. It's short and not too strenuous so you can combine it with the Window 0.4 km (round trip) and Door trails 1.2 km (round trip), which are also short and easy, and conveniently located very close to the Notch Trail.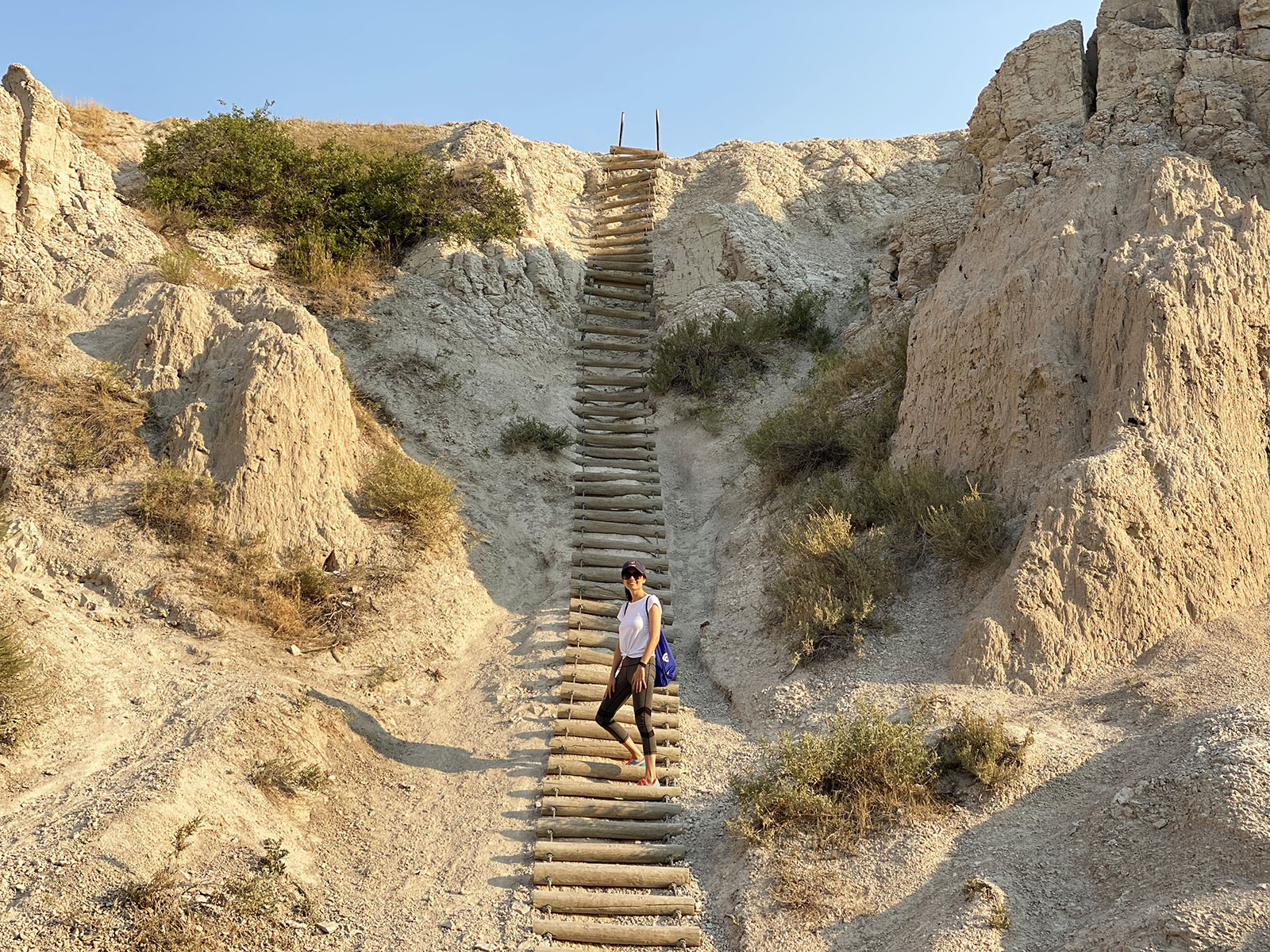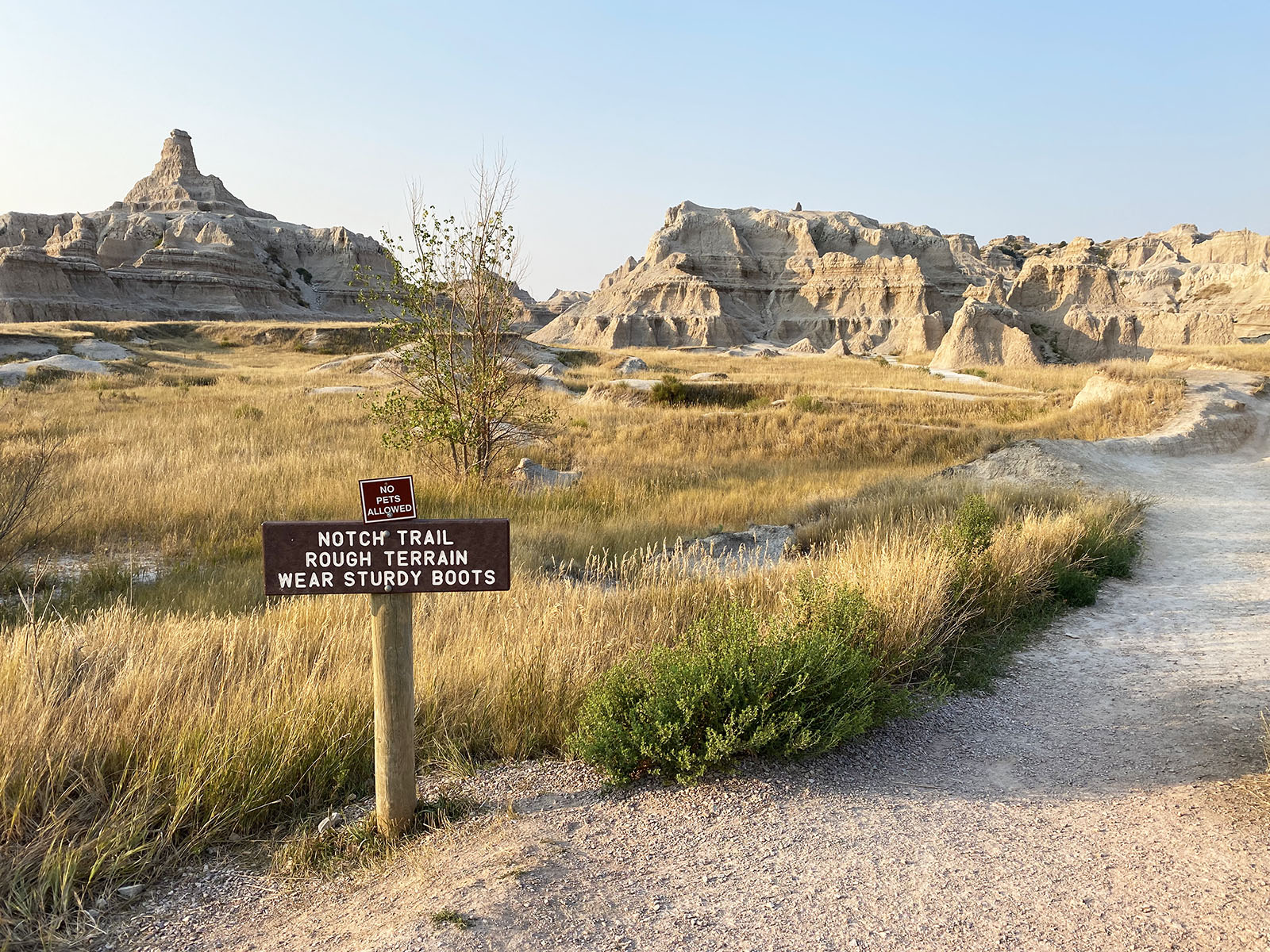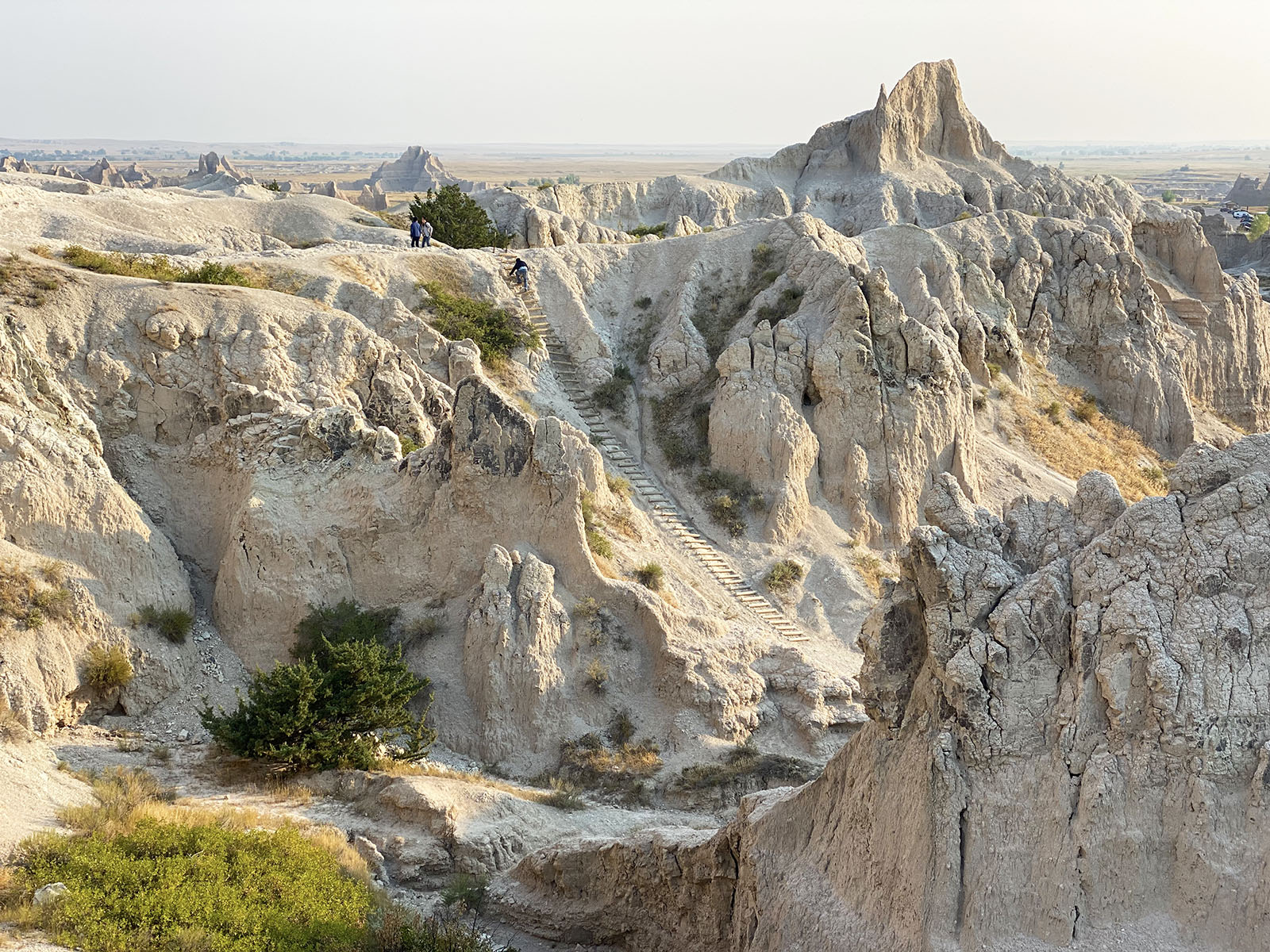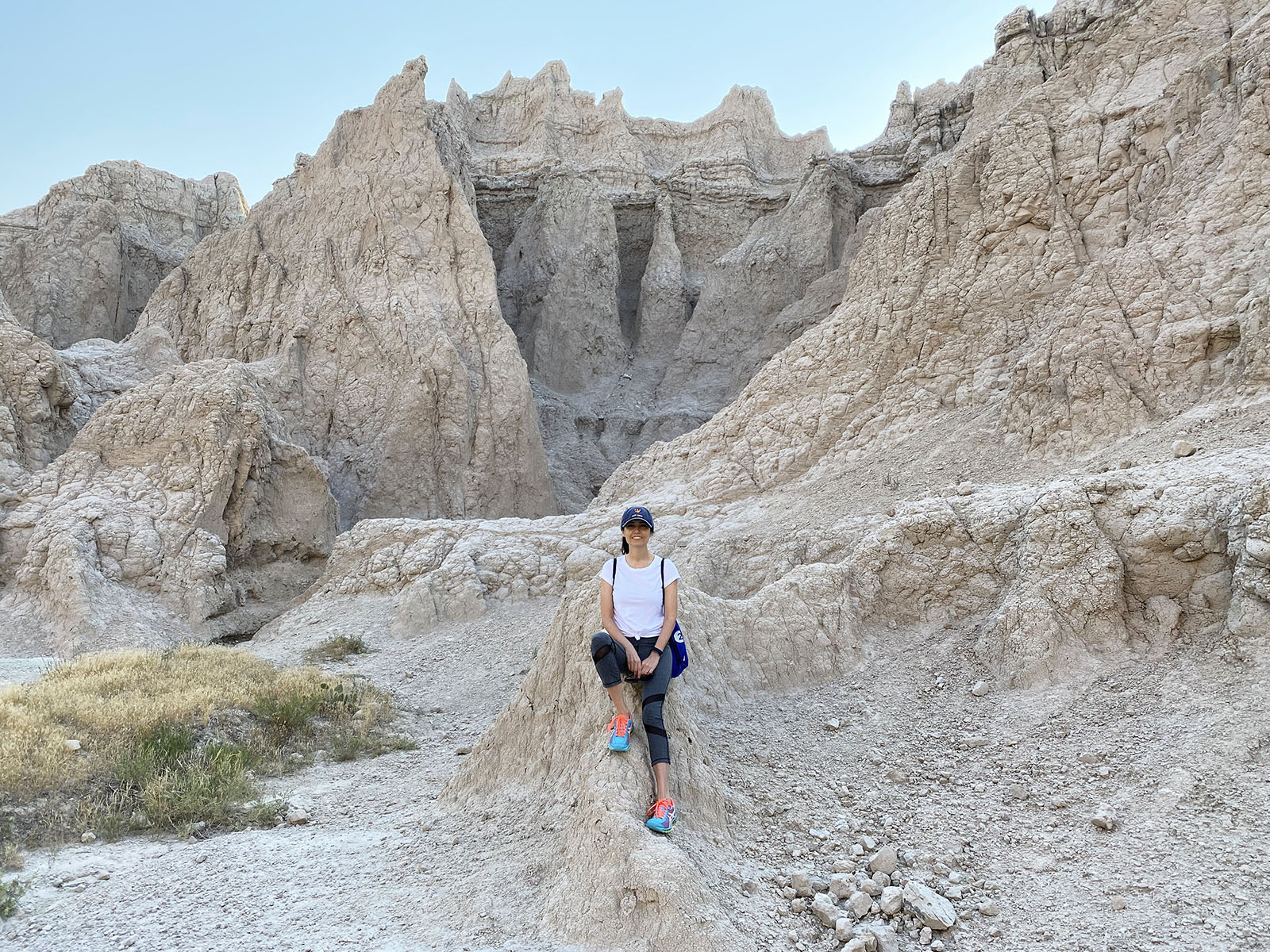 Read blog: Hiking the Notch Trail in Badlands National Park 3 things you must know
Other hikes that are more demanding and take more time are the Castle Trail (16 km round trip that cuts across open Prairie) and the Medicine Root Loop Trail (6.4 km round trip). We didn't do these hikes as it was way too hot for us.
Stop by the overlooks: There are 16 overlooks along the loop road. The map you will receive when you enter the park lists all of them but it's really easy to find them as you just need to follow the road. All overlooks offer great views, but our favorites were: Big Badlands Overlook, Pinnacles Overlook, and Yellow Mounds Overlook. Do not miss these overlooks as they will all take your breath away. Park your car when you reach the overlooks and explore the surroundings. There are a few paths you can follow to get closer to the rock formations and take pictures from several angles.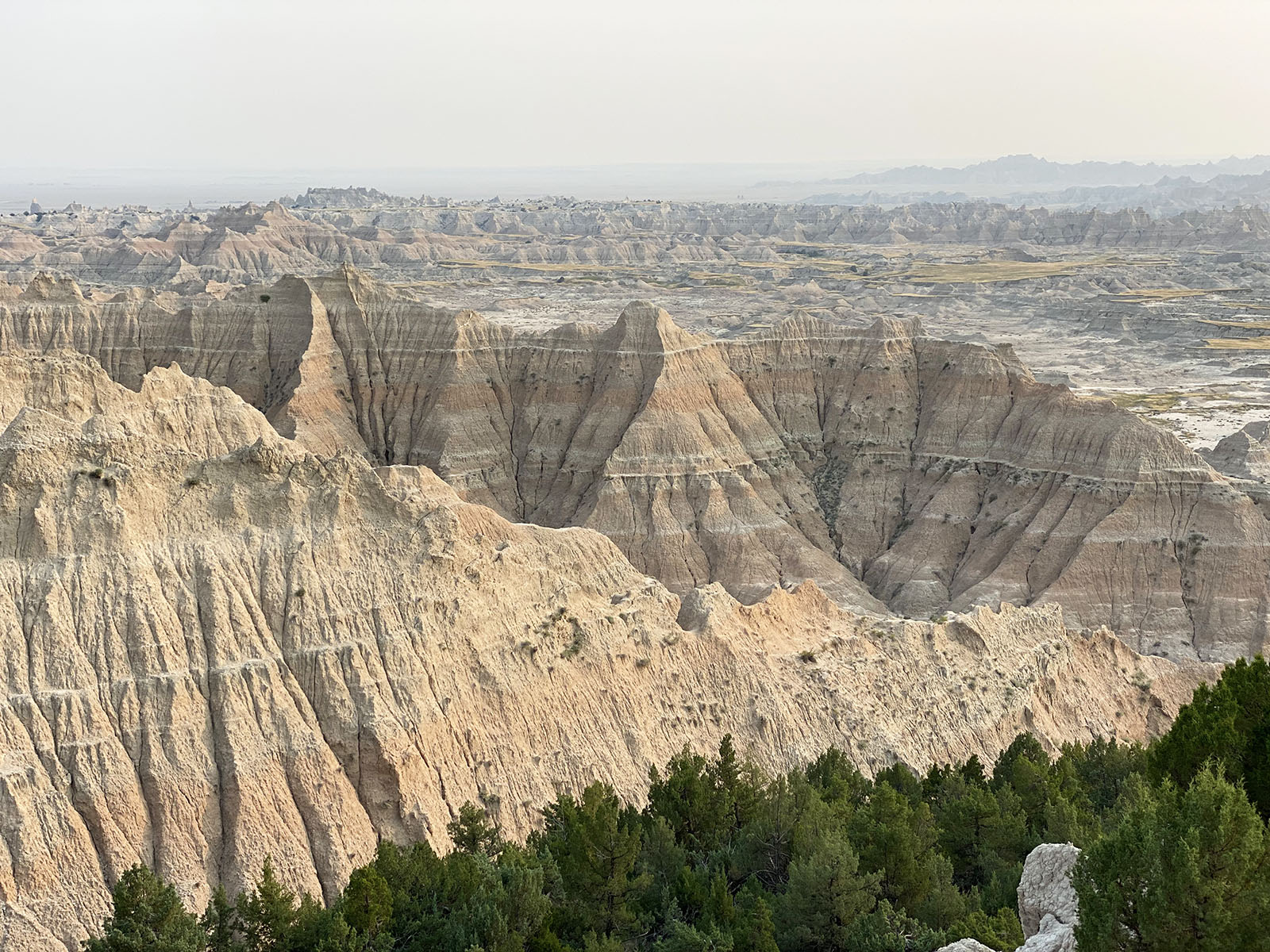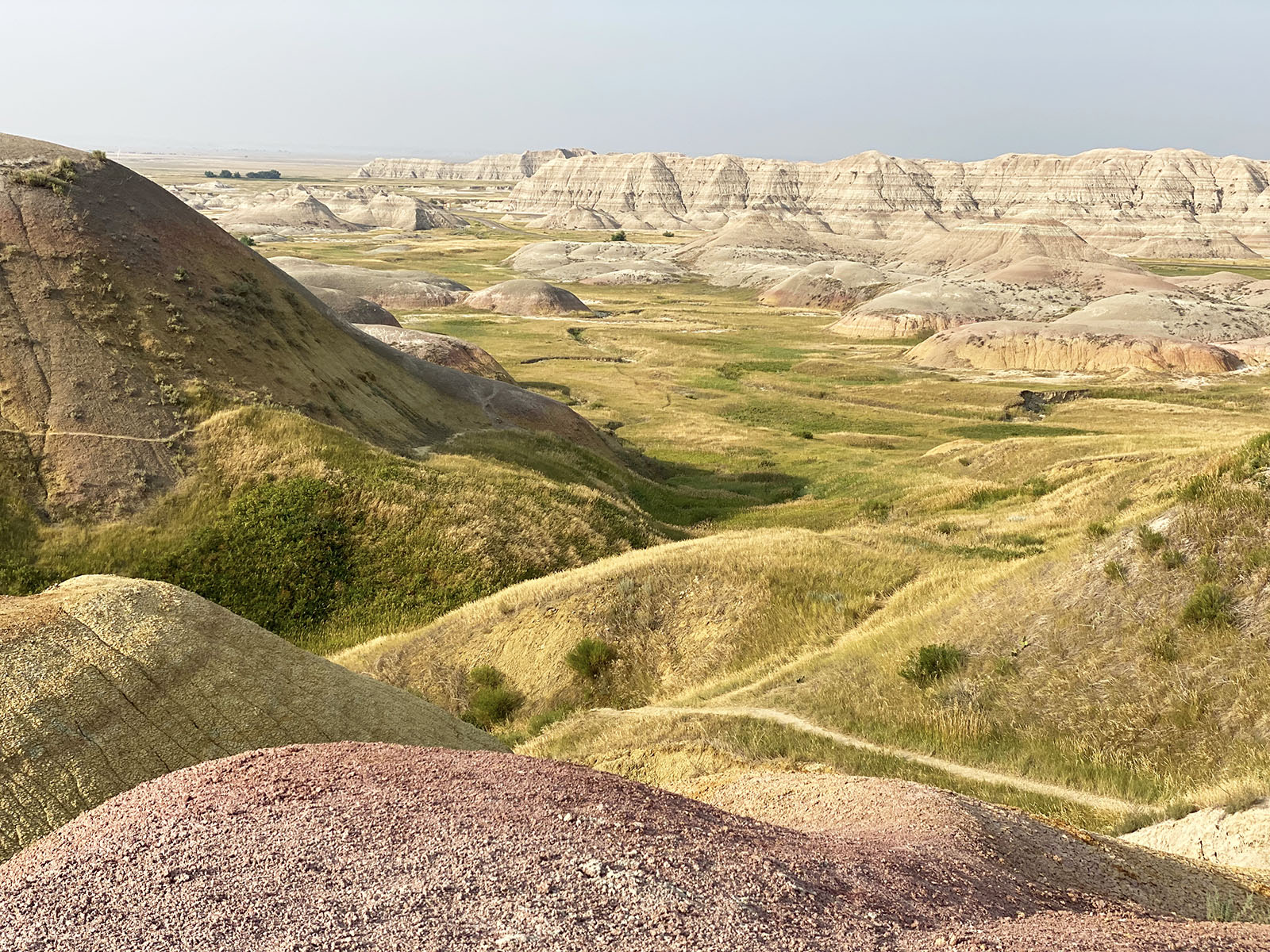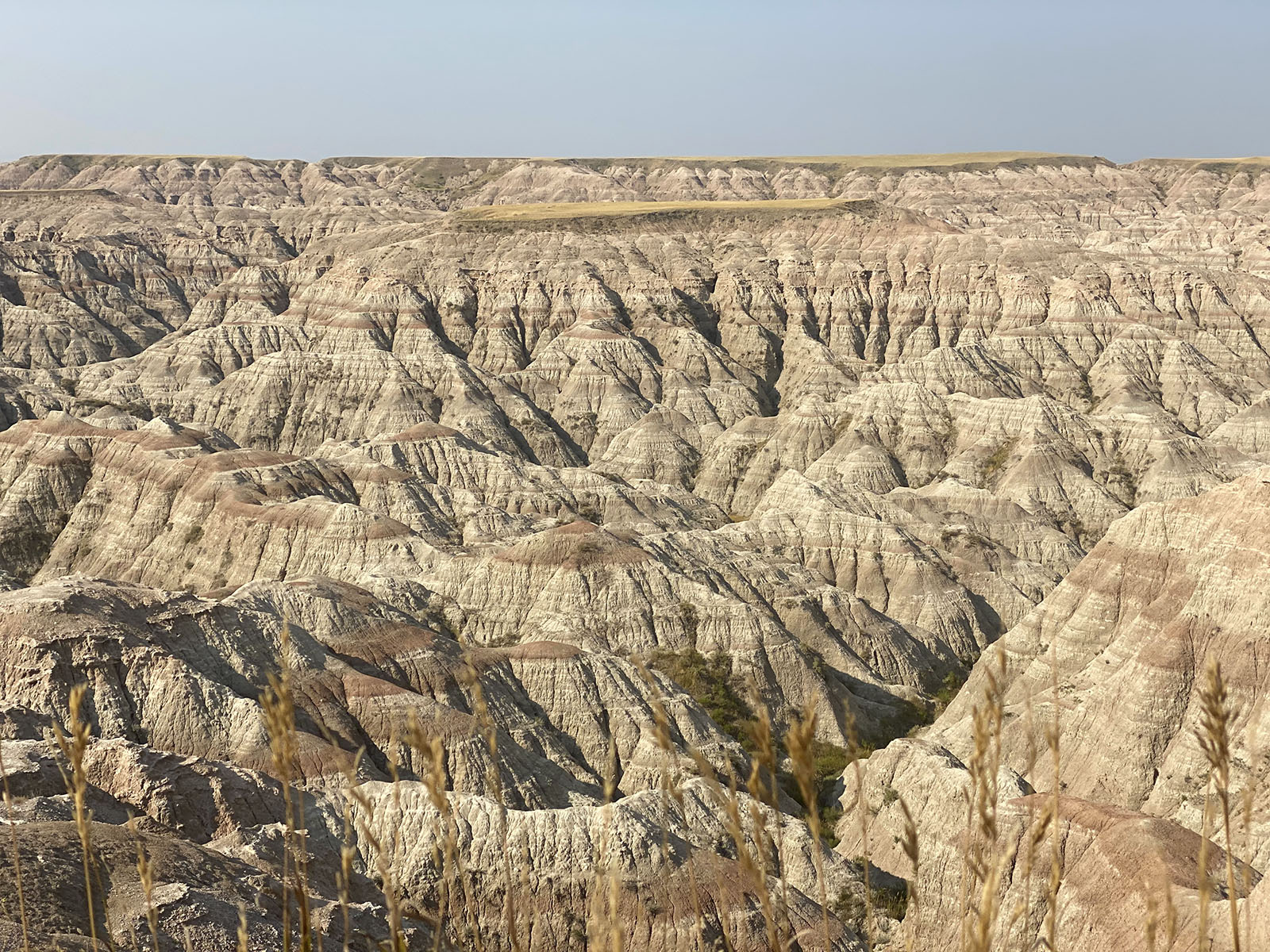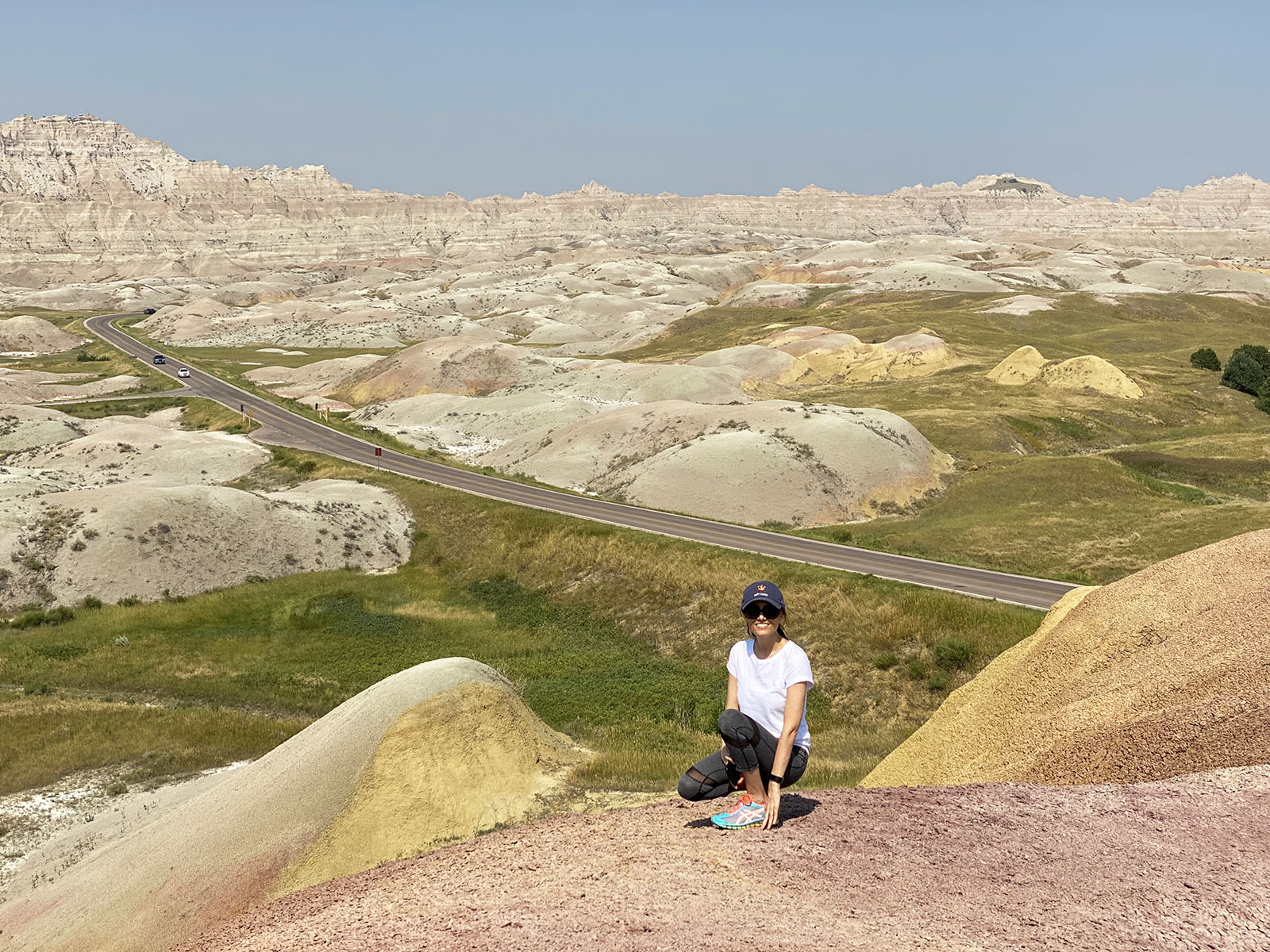 Read blog: Things to do in Badlands National Park, South Dakota
Tip: Watch out for the rattle sneaks. There are several signs warning about these animals. Thankfully we didn't see any during our trip but please be careful.
Say hi to the wildlife: Seeing bison, bighorn sheep, and prairie dogs, along with other animals, was one of the best experiences at Badlands National Park. Some of them won't event react to your presence (goats) while others might get scared (prairie dogs) or just ignore you (bison). There is nothing cooler than seeing these animals in the closest thing to their natural habitat, and essentially in the wild. It really evoked memories of the stories of the Old West with animals meandering along the plains.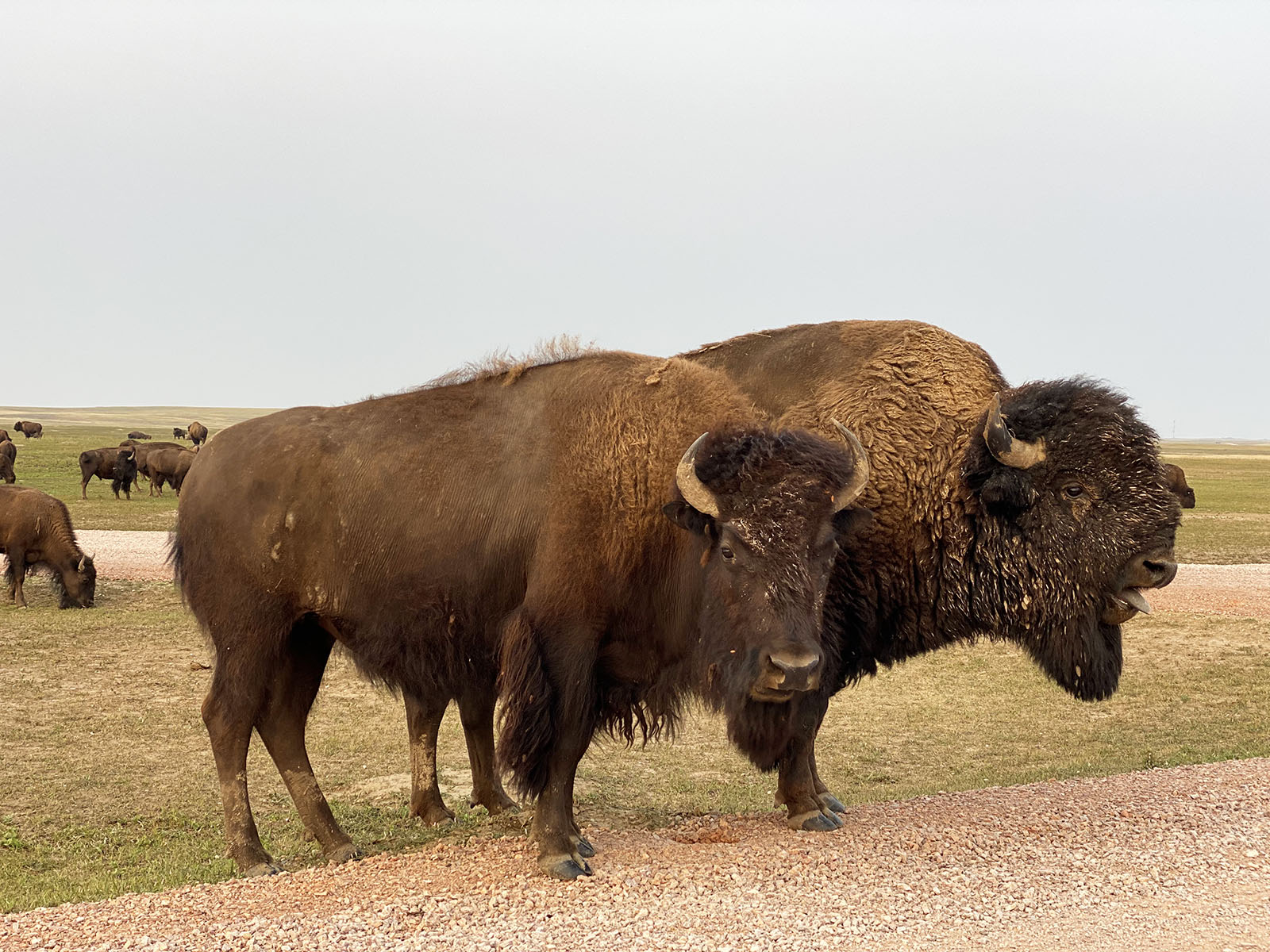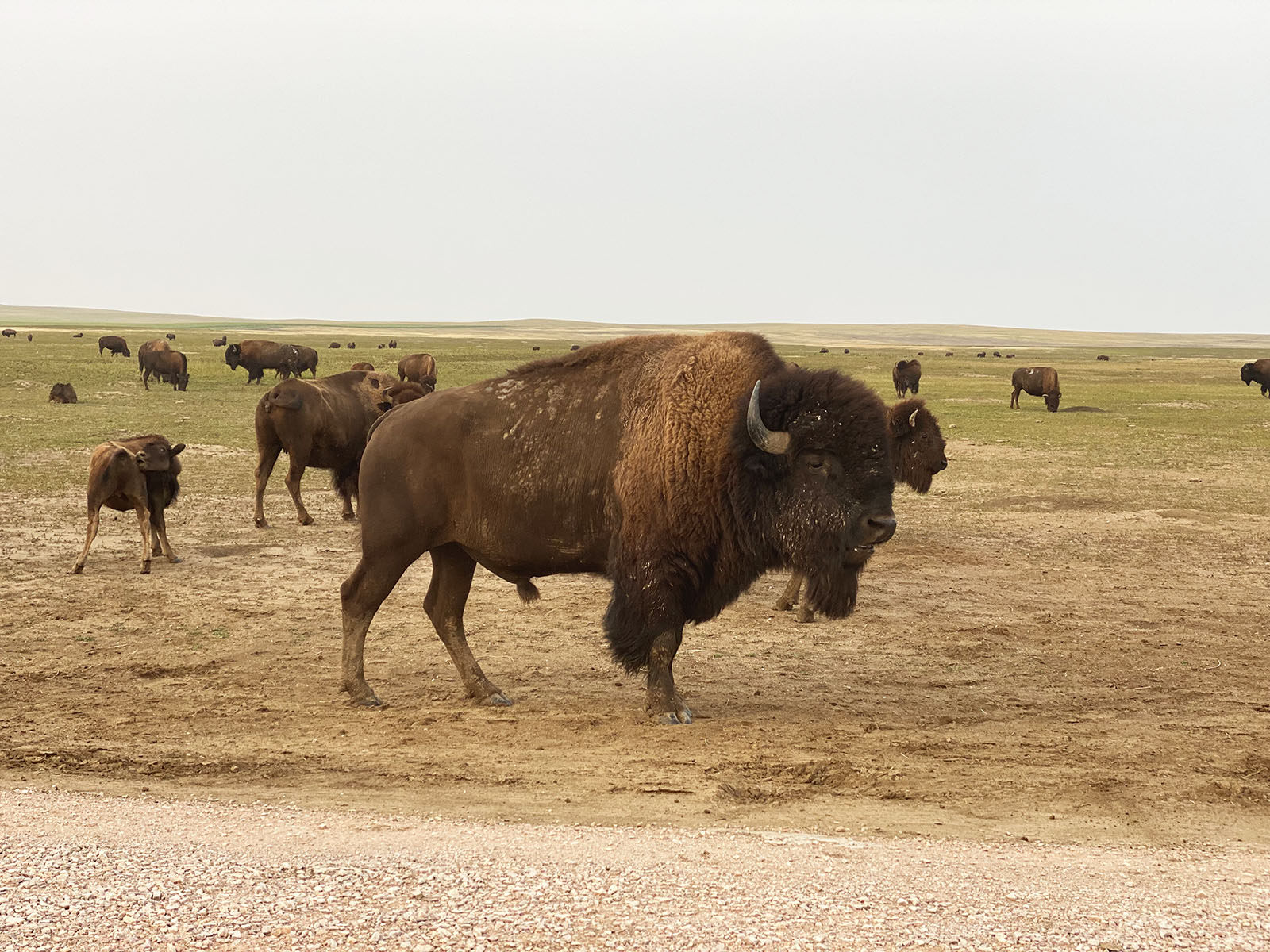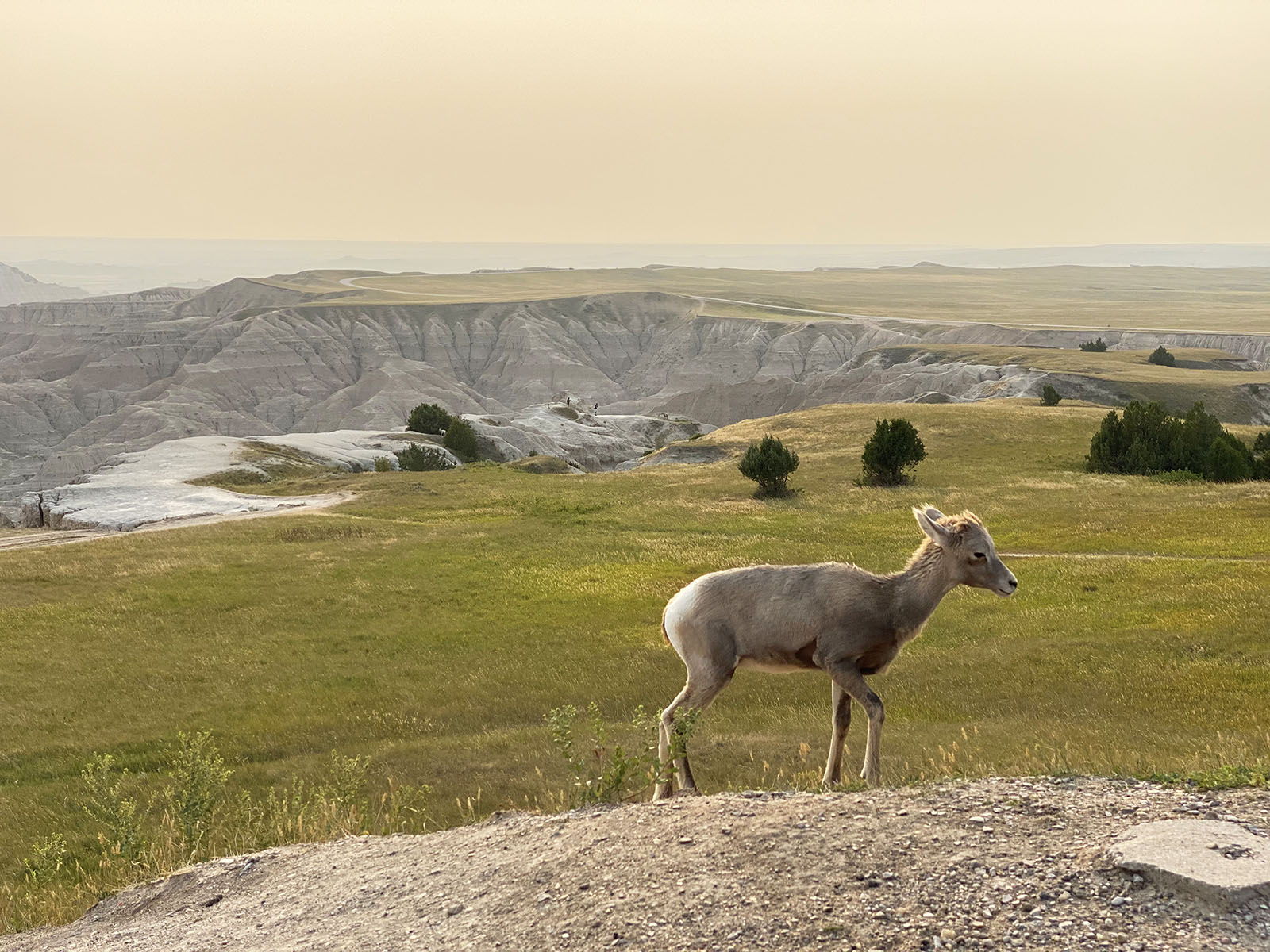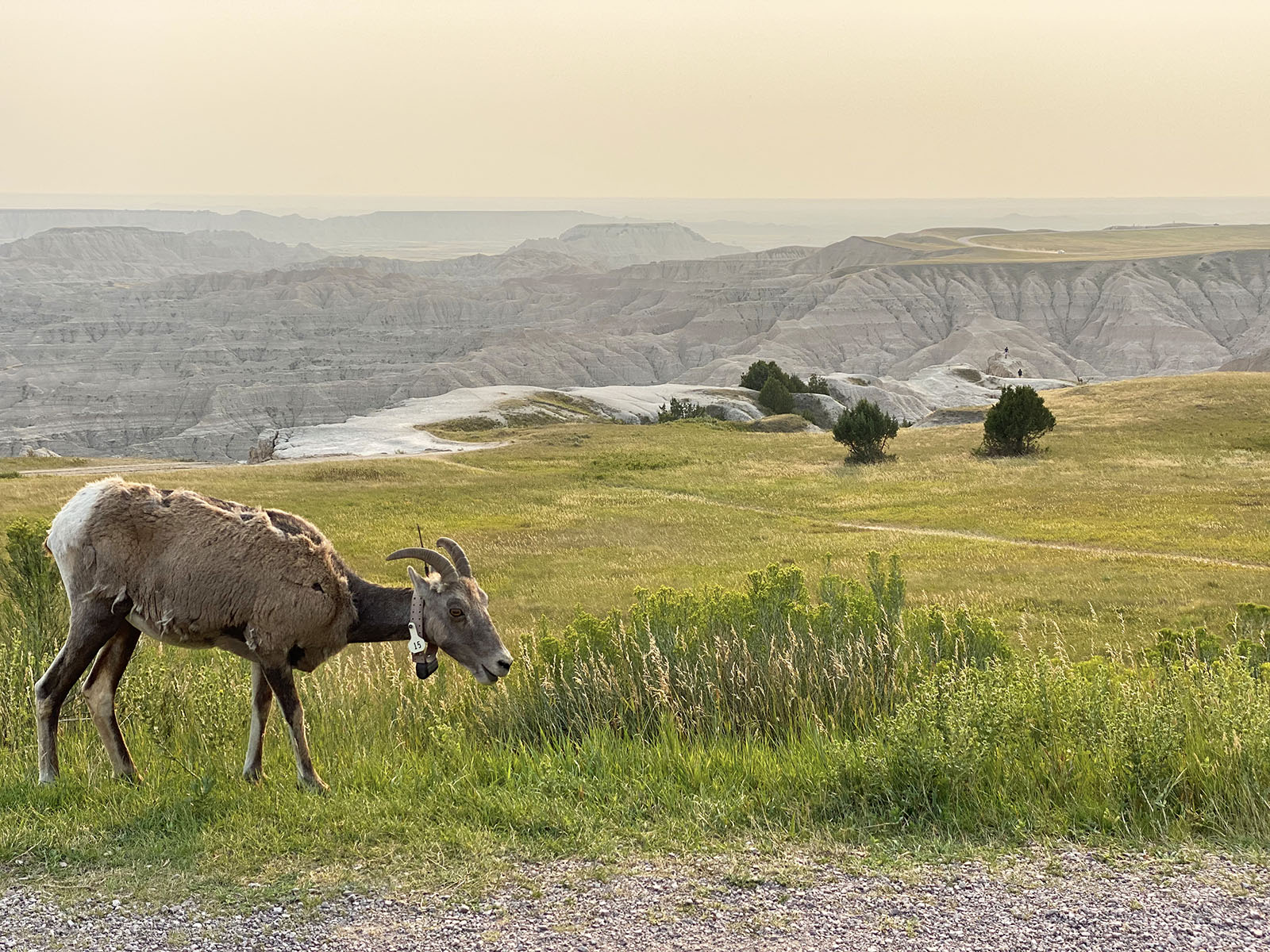 When to go
In summer (when we visited) temperatures can be brutal, so you should keep in mind that you won't be able to be outside for a long time without getting drenched from head to toes. Also, thunderstorms can pop up out of nowhere in the afternoon; remember to pack adequate gear and take shelter. In winter, temperatures drop significantly and some of the roads can be closed. The shoulder season might bring lower accommodation prices, better temperatures, and smaller crowds.
How much time do you need at Badlands?
If you are pressed for time, you can stop at the main viewpoints and do a hike or two all in one day. However, we recommend you spend two days at this amazing park. Trust me when I tell you that the landscapes will take your breath away, and the evening hours provide a totally different experience. There were some overlooks that we enjoyed so much that we ended up visiting twice. If you don't mind waking up early, head to the park in the early hours – you'll feel as if the park as hardly anyone will be around.
Entrance fees and opening times
To enter to the Badlands National Park costs $30 per vehicle and is valid for 7 days. There is also an annual pass that costs $80. It is valid for one year from the month of purchase. Badlands National Park is open 24 hours a day, seven days a week.
Where to stay
We highly recommend you stay in the town of Wall, located approximately 10-15 minutes away from the entrance to Badlands National Park, where you will quickly reach the Pinnacles overlook. Wall is really small (I don't recall seeing more than one traffic light) and there are a few motels and restaurants where you can grab a bite to eat. We stayed both at the Days Inn and America Best Value Inn Wall. Both hotels were clean and comfortable – however, don't expect luxury.
If you have time, visit Wall Drug, which is a popular attraction in the town and it started as a pit stop for free ice. The entire complex encompasses nearly 76,000 square feet so I'm sure you will find something to buy and take home. Wall Drug is also famous to grab 5 cent coffee and a homemade donut while visiting.
Tip: Service at some of the restaurants in Wall are slow…really slow and the food is inconsistent. Expect to wait 45 minutes for your food. Plan accordingly so that it doesn't delay your schedule.
Alternatively, you can stay at the Cedar Pass Lodge located inside Badlands National Park which offers cabins and campgrounds. Make sure to book your reservation in advance as it can get filled up quickly – especially during the high season.
Where to eat while visiting Badlands
There is a restaurant at the Cedar Pass Lodge which offers breakfast, lunch, and dinner. We didn't eat there so I can't share our personal experience. We decided to drive to Wall instead and go the restaurant Red Rock. We ate hamburgers and they were nothing to write home about or anywhere for that matter. Service was also really slow. When we stopped at Wall Drug later in the day it was full of people so if you want to grab a bite to eat at this place note that you probably will spend quite some time waiting. Frankly, we recommend you stop by the local grocery store and make a picnic for lunch or dinner.
What to bring along
Hiking shoes: We brought sneakers and we did fine. But if we were visiting the Badlands National Park again, I would make sure to bring hiking shoes – especially if you are hiking the more arduous trails. If you are worried about rattlesnakes, you can always purchase a pair of snake guards that goes over your shoes/boots.
For women: Oboz sawtooth II low b-dry hiking shoe
For men: Oboz sawtooth II low b-dry hiking shoe
Sunscreen: Essential as you will be outside for most of the day. I recommend Supergoop! for your face and Coppertone for your body.
Hat: Another must bring item to protect against the sun's heat is a hat. You can't go wrong with The North Face Washed Norm Hat.
Water: Bring along water with you. We recommend the Nomader Collapsible Water Bottle which you can fill at the hotel in advance. Some overlooks have water fountains available to fill bottles.
We are part of several affiliate programs including Amazon and Viator which means that we will earn a small commission at no extra cost to you if you make a purchase through the links included in this blog.