/
Hiking from Fira to Oia in Santorini: What you need to know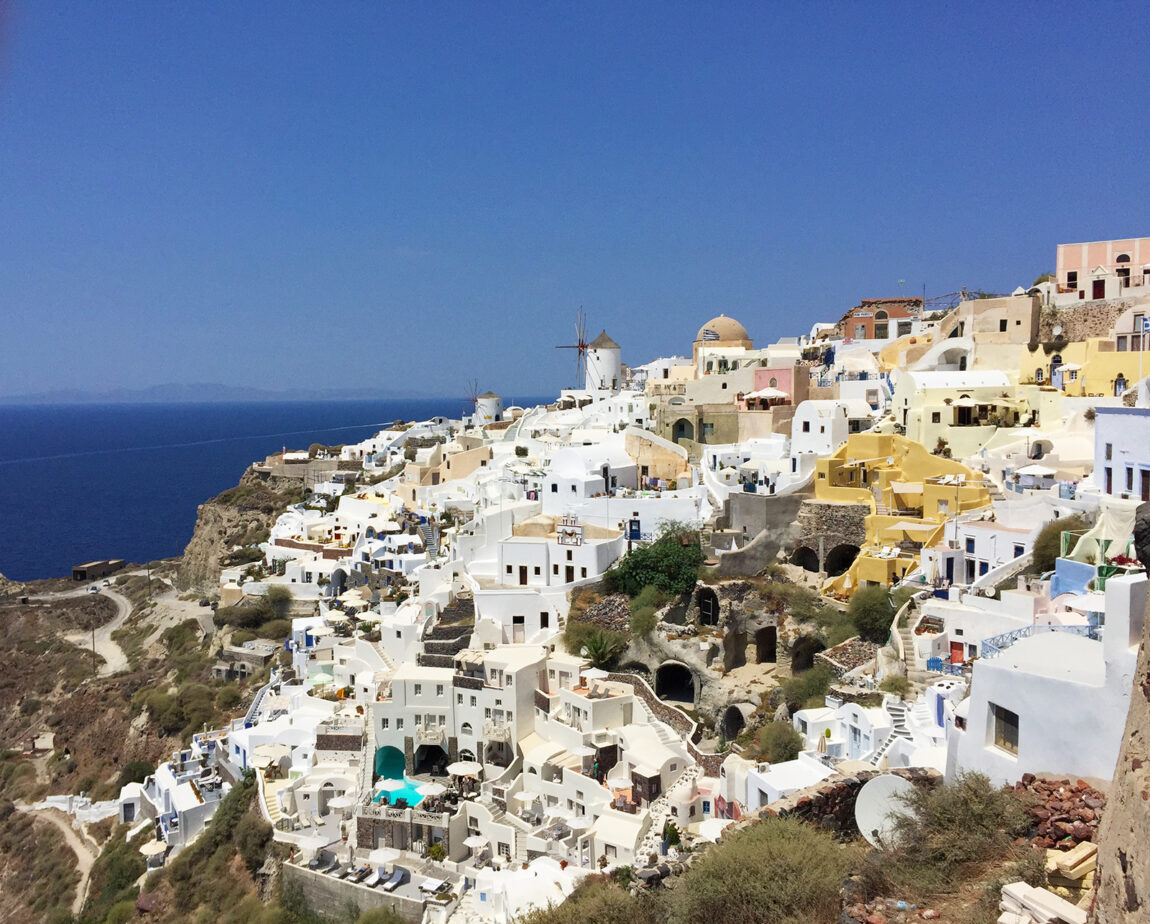 Hiking from Fira to Oia is the best way to experience Santorini's beauty.
The hike from Fira to Oia was one of the highlights of our trip to Santorini. During the hike, we explored magnificent viewpoints; visited adorable churches perched high above the trail; and photographed the picturesque Greek whitewashed houses, that pop out sharply in any photograph with the deep blue Aegean Sea idly set in the background.
The hike is approximately 10 kms one-way (or 6 miles) and doable for most people. Depending on your fitness level, along how much time you stop for pictures -and to catch your breath- the walk can take you between 3-5 hours. Please don't underestimate the hike – both my husband and I exercise regularly and were totally exhausted when we reached Oia.
We visited Santorini in August, one of the hottest months in Greece and did the hike on a day when there wasn't a single cloud in the sky; add the lack of trees and shade this made the hike that much harder. Thankfully we were fairly well-prepared and will share what we made sure to bring with us later in the blog.
When to go
Because we wanted to catch the sunset in Oia we started our hike during the early afternoon – when the sun and heat were in full force. Looking back, it wasn't the best idea. If I had to do the hike all over again, I would definitely do it early in the early morning, then visit Oia later just to watch the sunset. By going in the morning, you will avoid the hottest part of the day and strongest hours of a very hot Aegean sun beating down on you. Even in the morning it will be hot, but you'll miss out on the worst of the heat.
Tip: The hike will probably take you longer than you expect as there will be many photo spots along the way where you'd want to stop.
For our way back, we caught the bus back to Fira – along with what felt like hundreds of people that had the same idea. We've been in packed buses and metros many times before, but this was unlike anything we've ever been in. Sardines would have had more room packed in olive oil. The bus was beyond any reasonable definition of packed and the driver furiously encouraged everyone to keep packing in, obviously he didn't mind squeezing everyone so extremely close to each other.
It was quite uncomfortable because we literally couldn't move an inch; and in a post-COVID world you will want to consider your comfort level for a potentially packed bus. We recommend that you plan accordingly (and don't wait for the last bus!) or take the saner option of a taxi back to Fira.
What you can expect along the way
The path to Oia is quite remarkable as it changes significantly along the way. Starting in Fira, you'll cross the town and its urban sprawl full of the iconic grey sidewalks along whitewashed houses, cobblestone streets and steps as you begin to arrive on the trail itself, and finally on the gravely terrain that will mark most of your path. This changing landscape lends itself perfectly for multiple photos as there are striking moments you will want to capture.
While it's a moderate hike terrain-wise, you should be very prepared for the drastic changes and pack some comfortable shoes – we did it all in flipflops and highly recommend you don't. Moreover, the majority of the hike is uphill with some steep climbs along the path.
Tip: Bring plenty of water with you (at least a liter) to drink along the way – especially during the summer. There are parts of the trail where there is literally nothing and you won't find any water to be sold for miles. Make sure you take all precautions to avoid heat sickness.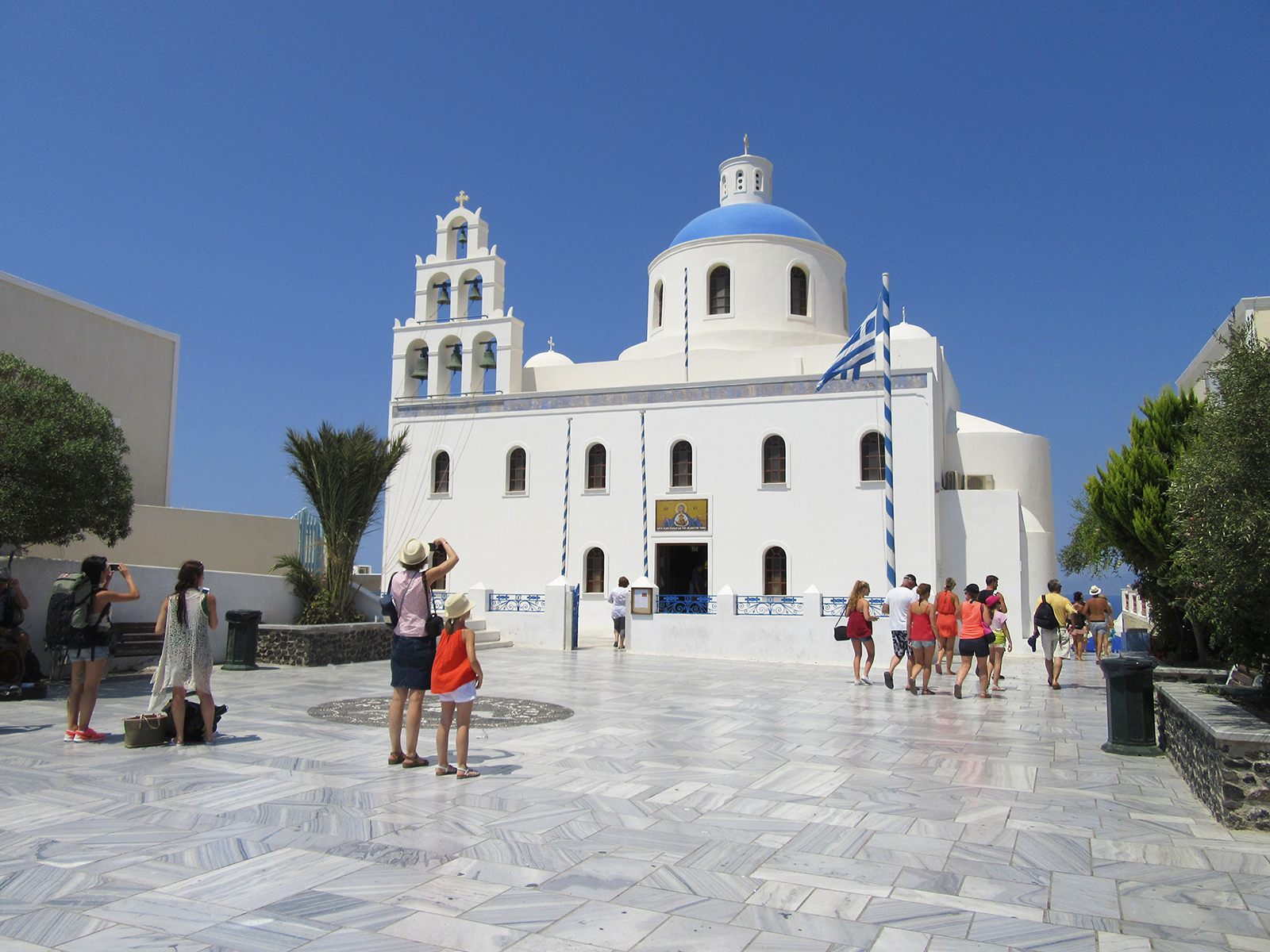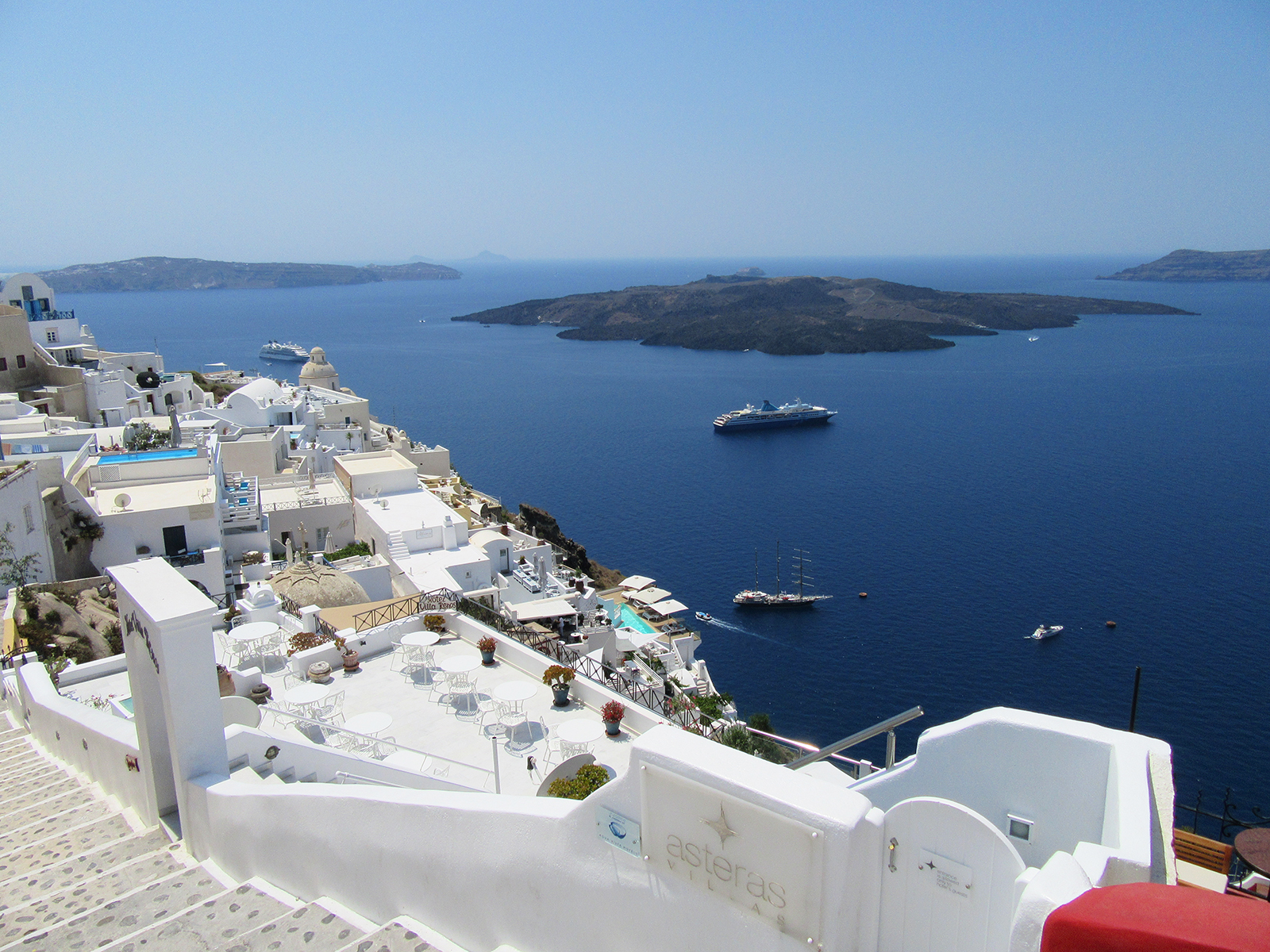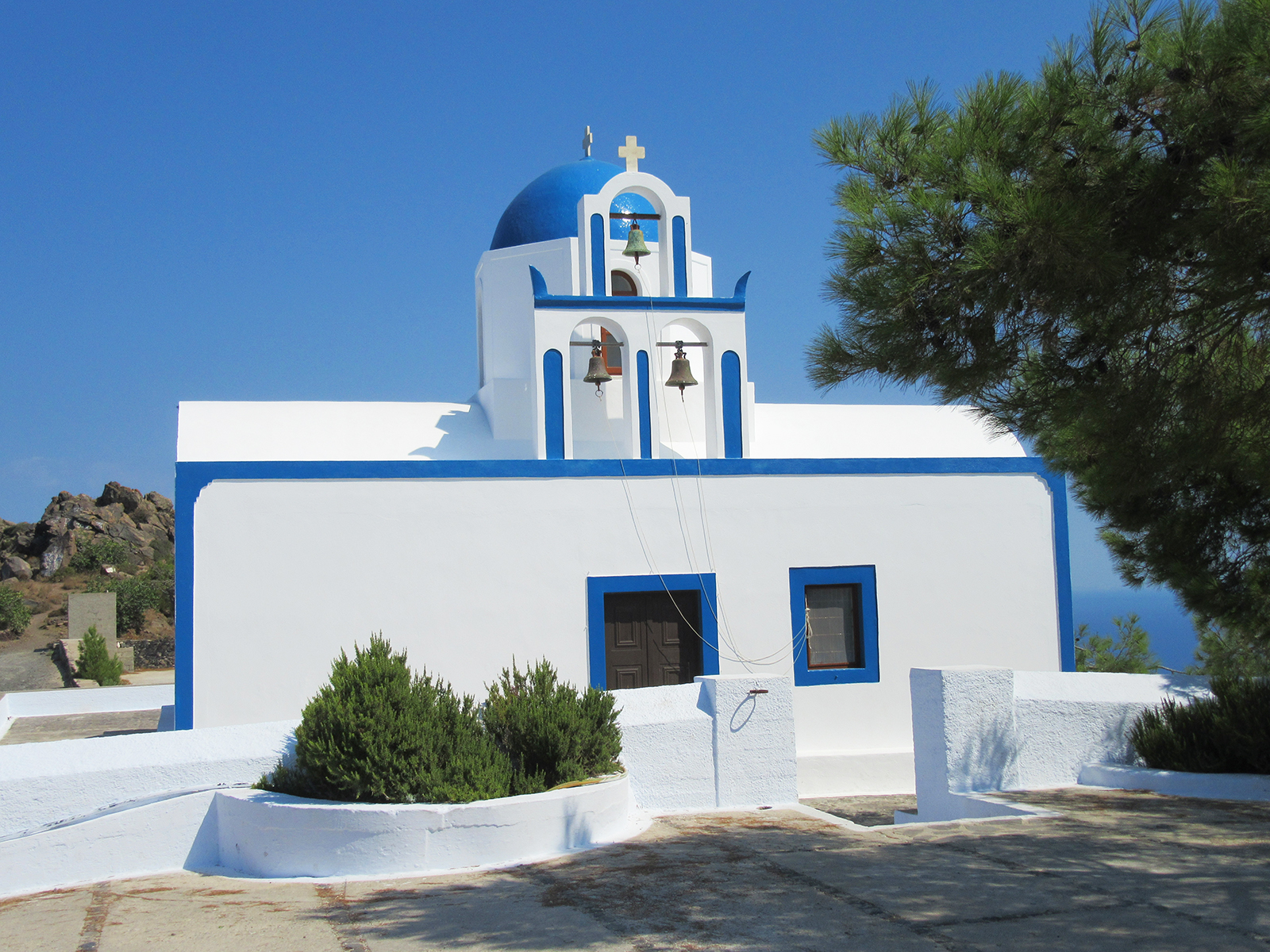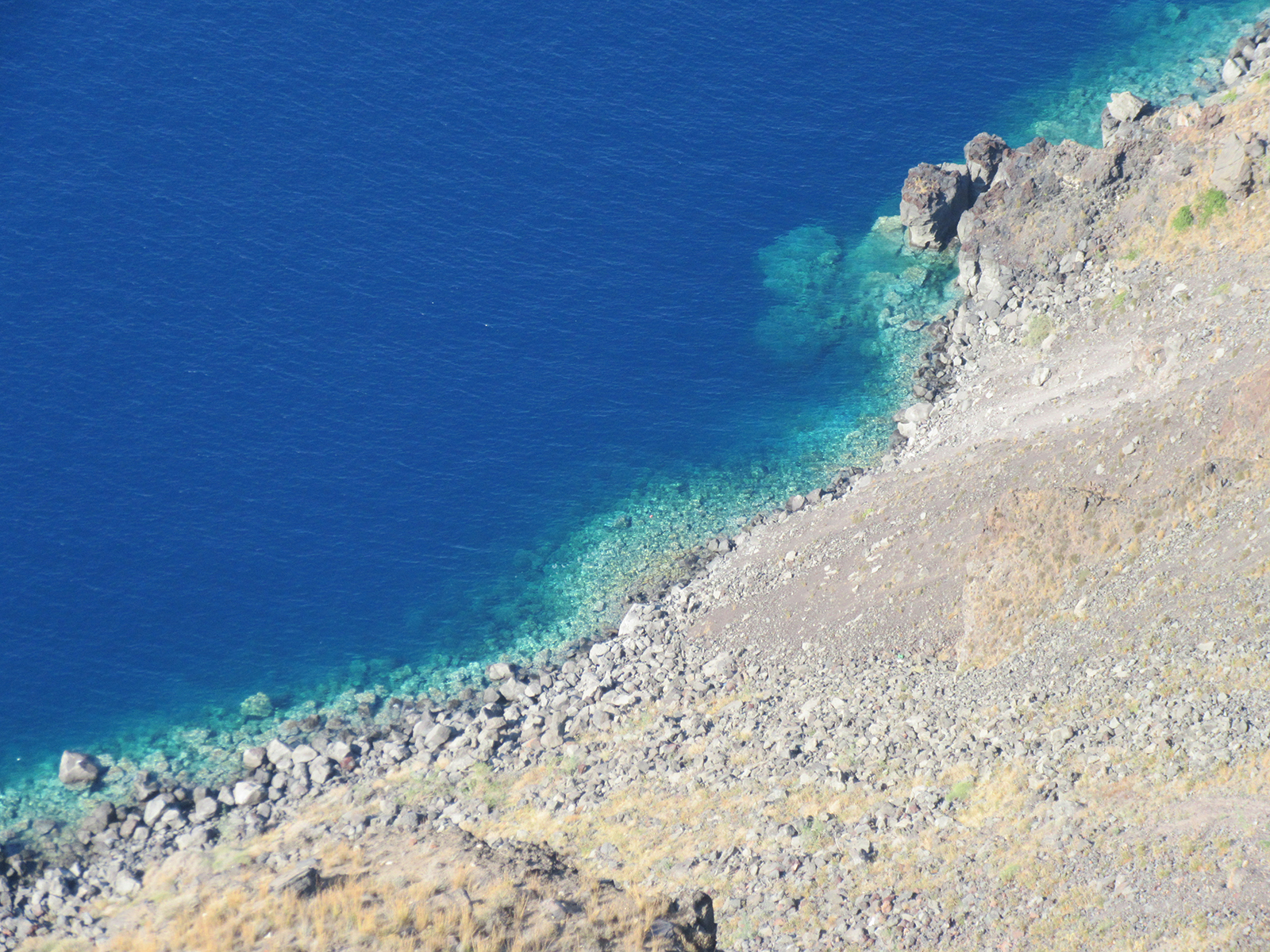 The hike begins at the square located next to the Hotel Atlantis in Fira, and you will be walking north and mostly uphill as you pass through the town. After leaving Fira, you will pass the picturesque village of Firostefani, which is quite similar to Fira in aesthetic; so much so that it will be hard for you to notice when Fira ends and Firostefani starts. If you haven't brought water with you make sure you get it before you leave this town.
At Firostefani you can make a detour to visit the Three Bells of Thira at Agios Theodoros which offers a magnificent photo opportunity. To get the picture with the bells and blue dome you will need to head to a parking lot located above. This is well worth the stop, and it's one of the iconic images of the island.
As you continue your hike you will arrive at Imerovigli, which offers magnificent views of the caldera. Here you can make a detour to visit Skaros Rock, a rocky headland overlooking the sea and a very popular spot for watching the sunsets. It has had many lives, including housing a castle and serving as a meeting point for Christians. While it is close to Imerovigli, the detour will add a significant amount of time to the hike (up to an hour for some). You can reach the path which will lead you to Skaros Rock by staying left when the trail forks near Agios Georgios Church.
In Imerovigli watch for the fork at the Profitis Ilias Church. Here there are two options: stay to the left to continue towards the church and soak in the amazing views of the caldera along the way. The right path is an easier trail (so take this one if you are feeling really tired) but keep in mind you will miss the breathtaking views! After this milestone, the path becomes an uphill hike (just before arriving to the Panagia Church) and it's a dusty path in the hot summer. Don't get discouraged, there will be an awesome surprise for you at the peak – one of the most beautiful Greek churches with my favorite view of the entire hike, so keep walking!
Now, as you descend, you'll be inching your way towards Oia. This stunning town is perfect to enjoy an amazing sunset, peppered with azure domes, charming windmills, and one of the best cityscapes in all Greece. Hopefully you'll also enjoy a filling lunch/dinner to replenish all the energy you lost during the hike.
What to pack:
The items below are essential for this hike. Please make sure you come prepared; it will make the hike easier.
Comfortable shoes: As you will be walking on rocky terrain make sure you bring along shoes which provide adequate support. After so many hours of hiking comfortable shoes may help reduce the chances of ending up with sore feet and blisters.
Sunscreen: You will spend several hours outdoors, so it's important that you bring sunscreen with you to avoid being burned the next day. Bring Supergoop! to protect your face and also Coppertone for your body. Since the hike is quite long, make sure you reapply at least once more.
Hat: A hat to protect you from the sun is also imperative so don't forget to pack one.
Water bottle: Bring at least a liter of water. It will be a long hike which combined with the high temperatures will make you thirsty along the way. Don't expect to find too many places, if any, to get water – come prepared.
We are part of several affiliate programs including Viator and Amazon which means that we will earn a small commission at no extra cost to you if you make a purchase through the links included in this post.