/
Romania 10-day travel itinerary: Best places to visit. Part I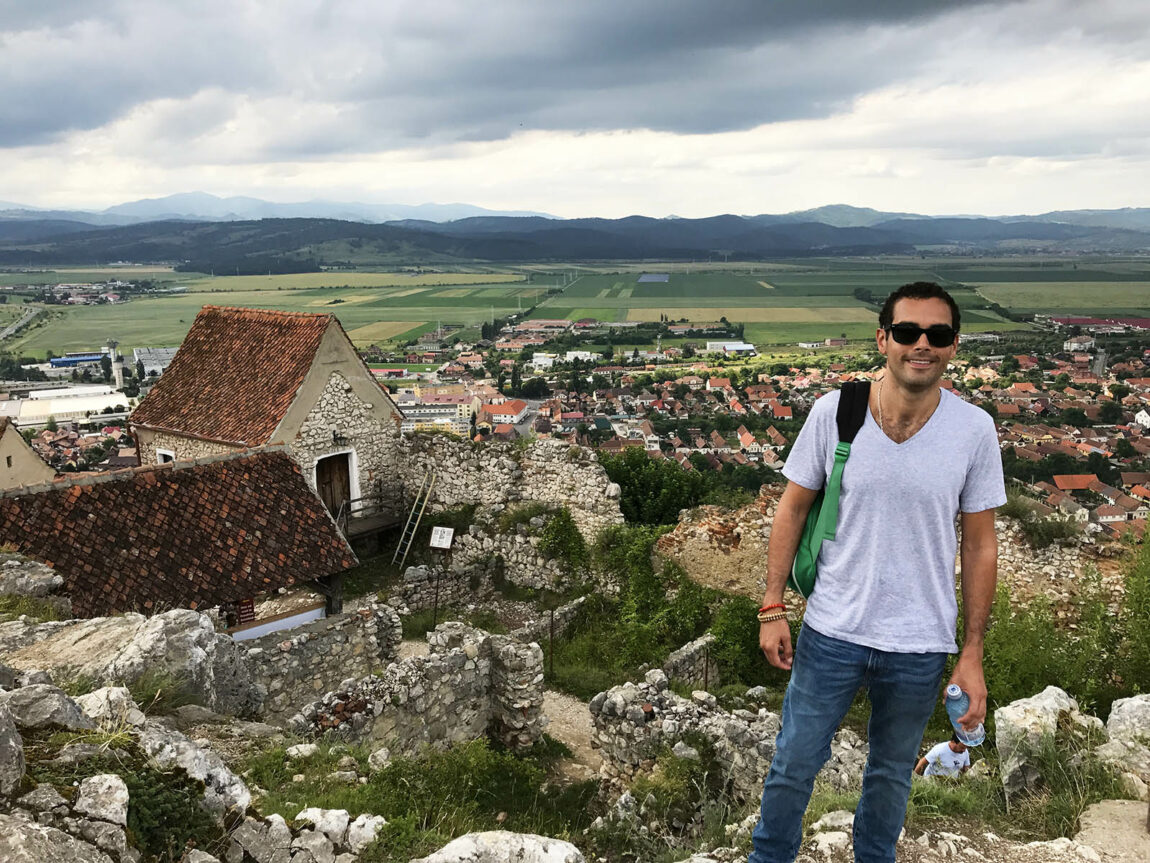 This is a fast-paced 10-day travel itinerary prepared for us by a Romanian friend. It starts and finishes in Bucharest and will give you the chance to see amazing sights, medieval castles, and visit charming towns.
Romania is not the first country that might come to your mind when you are planning a trip to Europe. But in my opinion, it is a very underrated destination which offers tons of activities – from wondering through fairy tale towns in Transylvania to amazing hiking opportunities in Bâlea Lake.
Tip: We recommend you rent a car – it will give you a lot of freedom to move around the country. Romania has great internet connectivity; you will be able to use Google Maps to guide you.
Day 1: Bucharest to Sinaia and Busteni
Arrive in Bucharest in the morning, pick up your car, and drive towards Sinaia. It's approximately a 2-hour drive.
Top sights:
Peles Castle. Surrounded by the Bucegi Mountains, Peles Castle is an example of German new-Renaissance architecture. Each of the 160 rooms is decorated using a different style, or theme, and it was the first castle in Europe to have electricity.

Address: Str. Pelesului 2, Sinaia. Entrance fees: 30 lei (US$7.5) for adults and 7.5 lei (US$1.8) for students.

Caraiman Monastery: Surrounded by majestic mountains, this monastery radiates serenity, and it will inspire you to meditate in quietness and solitude.
Address: No 24 Palanca Street, Busteni City, Prahova County. There is no entrance fee.
Since this is the day of your flight, after visiting Caraiman Monastery head to your hotel and get some rest because there will be plenty of hiking on day 2.
Recommended hotel: Villa Ermitage in Busteni – which is only steps away from Caraiman Monastery.
Day 2: Bucegi Mountains
Wake up early, have a hearty breakfast, then head to the Bucegi Mountains for a hike. It will take you approximately 50 minutes to drive from the Villa Ermitage hotel to the Bucegi Mountains' parking lot.
Tip: If you are prone to car sickness, make sure you take Dramamine in advance. DJ713, the road that leads to the Bucegi Mountains has innumerable twists and turns – so be prepared.
Top sights:
Babele (old ladies) and Sphinx: These rock formations are located on the plateau next to Cabana Babele. While Babele appear to be stone mushrooms, the Sphinx resembles a human face. Some people believe these two figures are the results of a combination of erosion and powerful winds, but others think that there were shaped by an ancient civilization.
Hike to the Heroes Cross: Put your sneakers to work by hiking to Heroes Cross, a gigantic memorial for World War 1 soldiers. It's a 3-hour (return trip) from the plateau. You'll be able to enjoy stunning views of the town of Busteni, the Prahova valley as well as of the surrounding mountains.
Read this blog for a complete guide to hiking in the Bucegi Mountains.
Depending on the time of arrival, you might have not been able to visit Peles Castle and the Caraiman Monastery the day before. If this is indeed the case, visit these attractions once you finish the hike.
Recommended hotel: Stay another night at Villa Ermitage
Day 3: Rasnov Fortress, Club Vila Bran, Bran
Head to the Rasnov Fortress in the early morning. It will take you around 40 minutes to get from Busteni to Rasnov. Park your car in town and head up to the fortress. If your legs are not too tired from the hike in the Bucegi mountains, take the walk up to the fortress. If you need to give them a break, take the funicular or train located near by.
Top sights:
Visit the interior courtyard featuring enchanting medieval tile-roofed houses which now serve as souvenir shops. This section of the fortress is the most picturesque so have your camera ready as you will feel you're in a Disney movie.
Find the tower in the exterior courtyard and enjoy the views of the surrounding countryside.
Stroll through the ruins and the narrow paths to be transported back in time.
Enjoy the breathtaking views of the surrounding hills and mountains as well as from above the city of Rasnov.
The entrance fee to the fortress costs 10 lei (US$2.5) for adults and 5 lei (US$1.25) for children.
Read this blog for a complete guide to visiting the Rasnov Fortress.
Once you are done visiting the Rasnov Fortress head to Club Vila Bran. This is a hotel/restaurant that offers one of the most photographic views of Bran Castle. You will be awed by the castle engulfed by mountains all around – it's truly an amazing sight. Have lunch and do not forget to order apple strudel for dessert, it is really delicious!
After a fulfilling meal, drive to Bran Castle. Remember to purchase the tickets online so you don't need to be in line. This is an extremely popular destination, so plan accordingly.
Tip: The best views of the castle are from the gardens and down the street (this is one of the most popular shots).
Drive from Bran to Brasov (approximately 45 minutes).
Recommended hotel: Residence Ambient hotel
Day 4: Brasov
Brasov is a very popular city which charms a large number of tourists every year. It offers a lot of attractions and you will have a chance to admire the gothic, baroque and renaissance architecture all around.
Top sights:
Visit the Black Church, the largest gothic church in the country. The church got its name because of the great fire from 1689 when flames and smoke blackened the walls.
Visit Mount Tampa for one of the best views of Brasov – you can either take the cable car (18 lei I US$4.5 roundtrip) or hike to the top. The hike might take you around an hour. You will get wonderful views of the city – see if you can spot the Black Church and the Council Square.
Take a picture of Strada Sforii, with approximately 4 feet wide, it is one of the narrowest streets in Europe.
"Get lost" walking the picturesque streets and alleys.
Stroll on the Council Square (Piata Sfatului) to marvel at the charming and colorful houses all around you. This is a great place to recharge your batteries drinking a cup of coffee.
Visit the city's defensive fortifications including the white and black towers along with the Brasov Fortress.
Recommended hotel: Stay another night at the Residence Ambient hotel.
Day 5: Sighisoara
Have a good breakfast, pack your stuff, and head to Sighisoara – a 2-hour drive from Brasov. Sighisoara is a fortified medieval town and its historic center is a UNESCO-protected site. This shouldn't come as a surprise: with colorful houses and cobbled streets, it will make you feel you are in a fairy tale.
It's such a charming town that it's difficult to image that it was the birthplace of Vlad Tepes (the inspiration for Dracula). Sighisoara is small and sights are all walking distance so it's a perfect day trip.
Parking in Sighisoara is tricky as vehicles are not allowed inside the historic center. You will need to park in the lower town.
Top sights:
Vlad Dracul's House: Located closely to the Clock Tower, this house was where Vlad Tepes was born and lived with his father during the first years of his life. Today the house serves as a restaurant and a museum featuring medieval weapons. You can also visit Vlad's bedroom, which now has red lighting and a coffin. I spotted someone inside a coffin (maybe a vampire?) so I turned around and flew down the stairs. I was scared as hell – I can't get over the numerous nightmares I had after watching Dracula as a child.
The Scholars' Stairs: This is a covered stairway (with 175 steps) that was built to protect schoolchildren and those going to church while they climbed the steps when heading to the school and church (Church on the Hill) during the winter. The church is open daily from 10 am to 6pm with and entrance cost of 5 lei (US$1.25).
The citadel square: This charming square is located in the center of the citadel. In the old times public executions and witch trials were held in this square.
Clock Tower: An entry to the tower will allow you to enjoy amazing views of the houses and the town.
After visiting the charming town of Sighisoara, drive to Sibiu. It will take around 1 hour and 30 minutes approximately.
Recommended hotel: Continental Forum Sibiu
Read blog: Romania 10-day travel itinerary: Best places to visit. Part II
We are part of several affiliate programs including Amazon and Viator which means that we will earn a small commission at no extra cost to you if you make a purchase through the links included in this post.