/
McAfee Knob: The Appalachian trail most photographed spot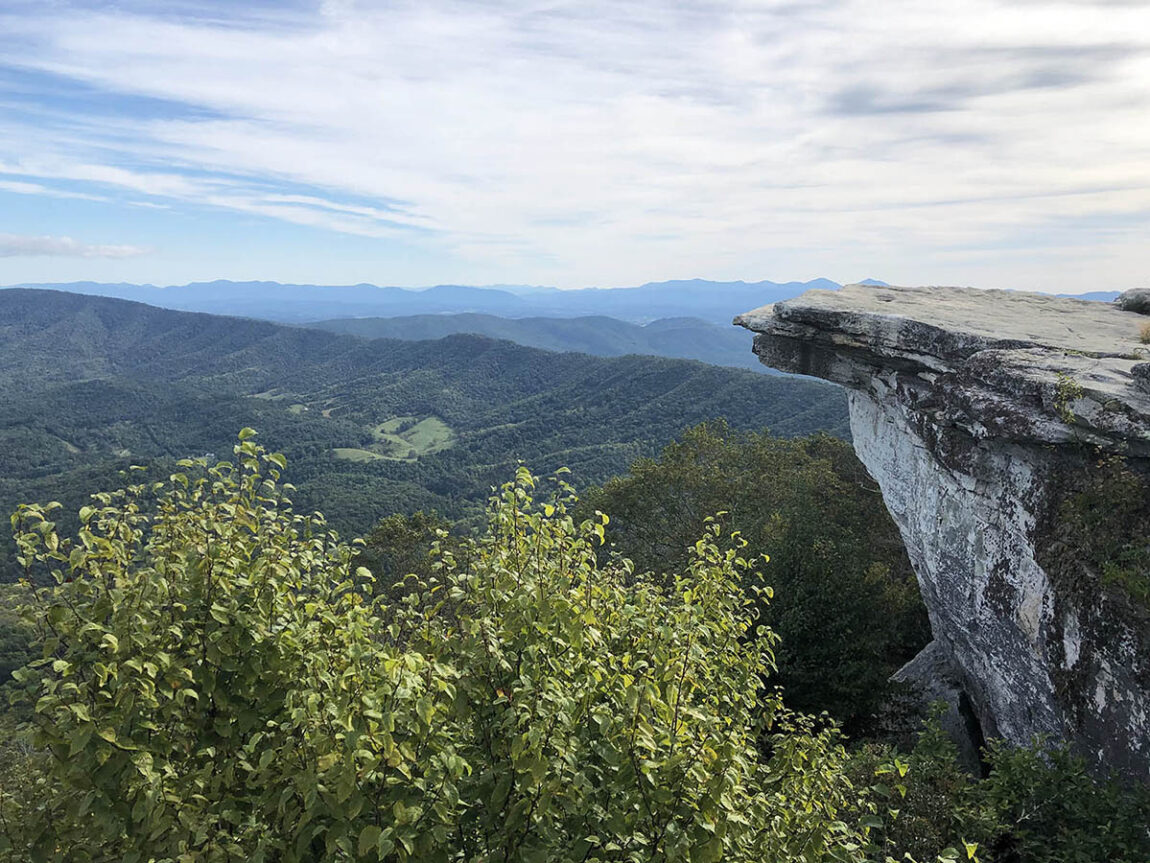 The McAfee Knob hike offers a 270-degree panorama view that will be imprinted in your mind forever.
One day after scrolling through my favorite social media platform, I stumbled upon these breathtaking pictures of McAfee Knob; I immediately decided to add it to my bucket list hikes – which lately is becoming longer and longer. McAfee Knob is undoubtably the most photographed spot along the Appalachian Trail and when you reach the top of the summit it's easy to see why.
The top of McAfee Knob provides a 270-degree panorama view of the Catawba Valley and North Mountain to the west, Tinker Cliffs to the north and the Roanoke Valley to the east. The view is absolutely stunning all around; the blue hued mountains endlessly flowing into the horizon will leave you breathless as you take in the immensity of the landscape.
McAfee Knob is part of Virginia's famous Triple Crown of memorable hikes along the Appalachian mountains and is rounded out by the Dragon's Tooth Trail and Tinker Cliffs. We haven't hiked these two trails yet, but they are already on our list for the fall. McAfee Knob is located on the Catawba Mountain which has an elevation of almost 3200 feet. It's a moderate to difficult hike which has become really popular in the last couple of years, drawing large crowds from different parts of the U.S.
Our itinerary
We drove from Washington DC to Roanoke in the late afternoon, as the drive is approximately 3:30 hours, and stayed the night at the Hampton Inn Roanoke-Hollins hotel. While Roanoke is a gorgeous city, we wanted to wake up early the next morning to do the hike and this hotel was a short 15-minute drive from McAfee Knob. We had read that the hike can get really crowded in the day and parking is very limited; we decided to wake up around 6:30 am to make sure we could get good pictures.
Important information about parking
Remember, space in the parking lot is limited at the trailhead and you are not allowed to park along Route 311 – we saw lots of police cars write ticket and others towed. You will need to cross Route 311 to start the trail. Even at 7:00 am the parking lot was almost full, so I highly recommend that if you are hiking this trail you go early in the morning. Going early has an added benefit of enjoying peace and quiet during the hike.
Trust me, you will want to avoid having to wait for a long time until a spot becomes available. Alternatively, if you have been waiting for a long time, consider hiking other nearby trails – there are plenty!
Tip: Many hikers go early to McAfee Knob to catch the amazing sunrise at the summit.
The trail
The trail is approximately 8.8 miles return trip, and not that difficult. However, there are some areas with elevation during the trip so be prepared for a good sweat. For the return, we took the old fire road (approximately 1.4 miles from the knob) which cuts the hiking time, and is a significantly easier trail (very much a beginner level). It will take you approximately 4 hours to complete the hike – this obviously depends on your fitness level and how much time you want to spend taking in the scenery once you reach the top.
McAfee Knob
The view from the top is absolutely stunning so spend some time taking in the majestic landscape all around. People are really courteous, and they will give you time to get to the knob and take pictures. Don't rush down. Honestly, these images speak for themselves, and any attempt at describing this natural wonder would be completely lacking.
What to bring
This is a moderate to difficult hike so come prepared. We recommend you bring:
Hiking shoes: Bring comfortable hiking shoes because there's nothing worse than getting blisters or painful feet in the middle of a hike. We recommend Salomon Men's Speedcross 4 Trail Running Shoes – which provides lightweight cushioning and stability along with an aggressive grip. This is the women version: Salomon Women's Speedcross 4 Cs Trail Running Shoe.
Water: Bring a bottle of water to quench your thirst during the hike. We recommend the Brita Stainless Steel Water Filter Bottle, as it's lightweight and will keep your water cool.
Sunscreen: Protect your skin by wearing sunscreen; on the summit there are trees, but not a lot of shade. I recommend Supergoop! SPF 40.
Hat: I recommend The North Face Washed Norm Hat to protect you from the sun.
Dress in layers: When we hiked McAfee Knob it was quite cold in the early morning but as we started the hike up, the trek had us feeling warm. Make sure you dress in layers so you can adjust to the temperature and you don't feel too cold or too warm.
Natural Bridge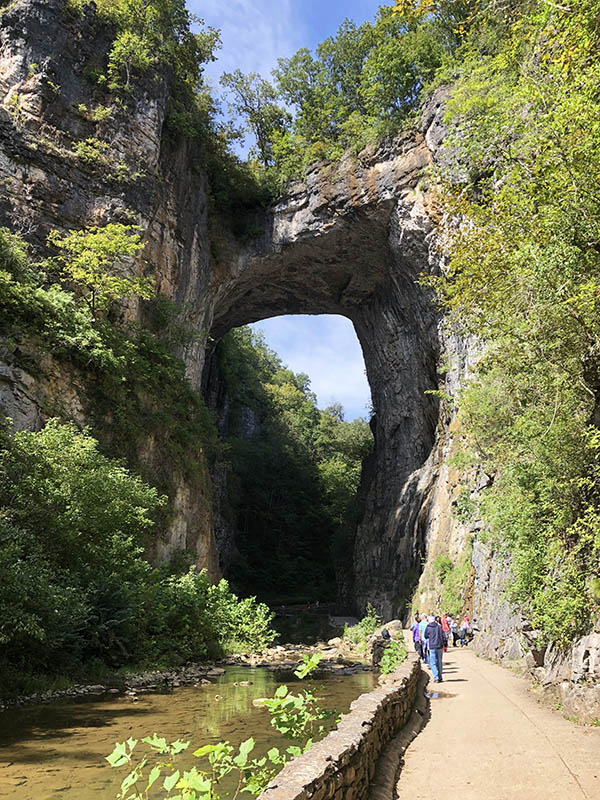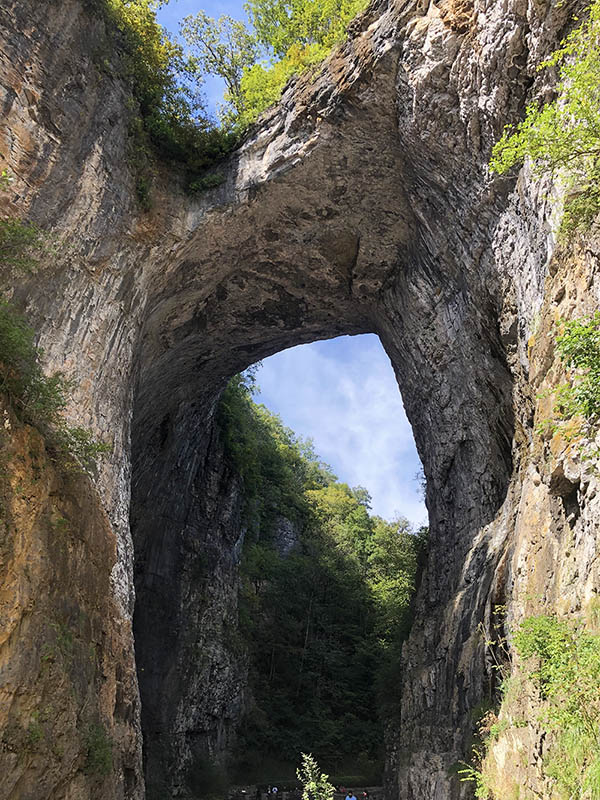 If you are driving from Washington DC or a nearby city, stop by the Natural Bridge on your way back – it's a quick pit stop at a national park, and you can get a bite to eat at one of the nearby local restaurants. The Natural Bridge is a huge and breathtaking rock bridge with a pacific river cutting through.
This is another one of those parks where words will not do it any justice, and once you see it in person it's an image you'll never forget. There is an area with chairs on the other side of the bridge in case you want to sit to take in this natural beauty. This pit stop will take you approximately 30 minutes to complete as the bridge is really close to the entrance.
Location: From I-81, take exit 175 or 180A to U.S. 11 and follow signs to the park.
We are part of several affiliate programs including Amazon and Viator which means that we will earn a small commission at no extra cost to you if you make a purchase through the links included in this post.