/
The best things to do in Georgetown, DC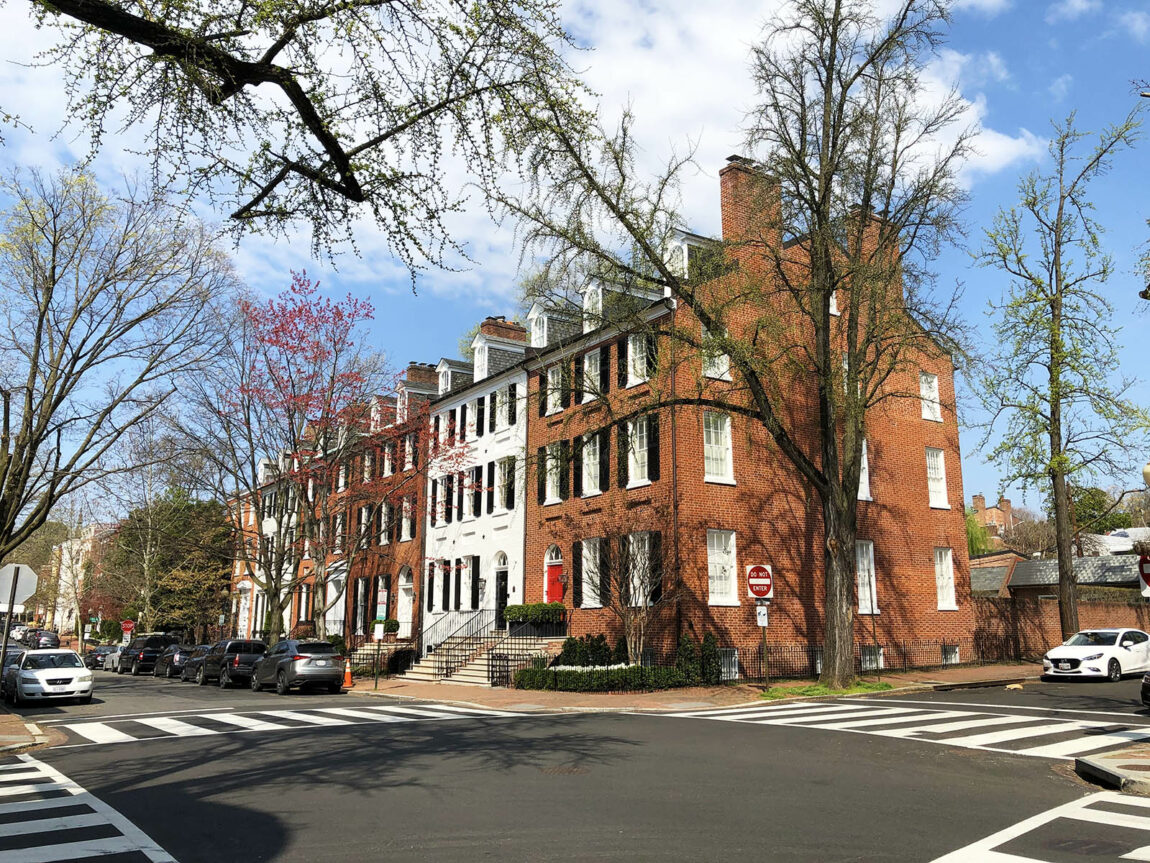 Check out this blog for the best things to do in Georgetown, DC – a classic neighborhood of Washington.
Georgetown is among the oldest neighborhoods in Washington DC; it's iconic stature makes the neighborhood a classic location in the city. With its historic charm, cobblestone and tree-lined streets, and gorgeous federalist houses that capture the imagination, this neighborhood offers a perfect setting for a great DC style weekend.
In DC, weekends are sacred, and locals flock to Georgetown to get brunch, dinner or enjoy the nightlife. Needless to say, during the weekend, this neighborhood gets really busy, but that shouldn't stop you from soaking up the experience. Georgetown offers a bit of everything for everyone: plenty of high end design and clothing stores if you want to shop; fancy and iconic restaurants to grab a bite to eat; and lots of parks to exercise or relax with friends.
In a way, Georgetown is a neighborhood of contrasts. You can find tiny houses – which seem more appropriate for dolls than for humans – next to million-dollar mansions. You can be in the midst of tranquility and only hear the birds chirping or find yourself strolling down the noisy bustling M street. You have students from Georgetown University packing the local bars, or millionaire lobbyists from Capitol Hill dining at some of the city's best restaurants. The Georgetown experience is different for every visitor, but it is the most beloved neighborhood for Washingtonians.
Here are a few things you shouldn't miss when visiting Georgetown
Visit the Old Stone House
The Old Stone House is a rare example of pre-revolutionary American architecture. Built in 1766, it is the oldest standing building in Washington, DC. The house, originally built by Christopher Layman, a local cabinetmaker, was used both as a residence and shop until it was purchased by the U.S. Government in 1953.
The house is small, and it's a quick visit. However, the best part is the quiet gardens – surprising as they are right off busy M Street. Here you will find people enjoying a book and passing time as well as friendly dogs playing with each other. The Old Stone House is located at 3051 M Street in Georgetown. It's open daily and the closest metro stop is Foggy Bottom. Admission is free.
Tip: Georgetown does not have a metro stop – you either have to get off at Rosslyn and walk across the Key Bridge, or get off at Foggy Bottom, the first stop in DC. Both are equidistant from Georgetown but offer different photo opportunities.
Stroll along the C&O Canal
Only a few blocks away from bustling M street, the C&O canal offers a perfect spot to walk or bike and enjoy the tranquility that emanates from this canal. The C&O canal is among my personal favorite photo spots in Georgetown, and in spring and fall the pictures are breathtaking. As you walk alongside the canal, you'll have easy access to many great restaurants (everything from classic French to our favorite Pizza to mind blowing sushi) to ease through the weekend afternoon.
The canal has been undergoing repairs for the last couple of years in order to restore it back to the glory years when boats would lazily sail through; but it's still possible to take wonderful photos.
Climb up the Exorcist steps
This is the iconic Georgetown experience that is a must do regardless if you are a first-time visitor or longtime resident. At the corner of 36th and Prospect streets, you will find the 75 terrifying steps featured in the movie The Exorcist where Father Karras tumbles down to his death. No matter when you go, and please save yourself the nightmares and go during the day, you will be very creeped out. These stairs have their own personality, and become terrifying during Halloween. Despite the devil possessed history, locals love to go up and down these stairs to break a sweat so thankfully you will not be by yourself!
Tip: A block away from the top of the stairs is another Georgetown institution – The Tombs. This classic bar has a history almost as long as the university and is a frequent watering hole for students and Washingtonians alike.
Explore the waterfront
Georgetown's waterfront offers activities for different tastes. You can leisurely stroll the riverside, engage in some boating or enjoy the nightlife this legendary spot has to offer. If going up and down The Exorcist stairs wasn't enough for you, you can rent either a kayak, canoe or paddleboat right at the waterfront to navigate the placid waters of the Potomac. You'll find many locals who tie up yachts on sunny days to relax (and party) the weekend away.
The waterfront is perfect to take some pictures of the Kennedy Center, the DC skyline with the infamous Watergate, and the Potomac river. If you prefer eating than exercising, there are quite a few options to replenish energy after a few hours strolling along the charming streets of Georgetown. In summer, and whenever the weather is moderately nice, patio seating is available so you can enjoy the beautiful scenery while eating or having a few beers.
Tip: This is a great spot to get lost in relaxation, you'll have plenty of amazing restaurants all along the waterfront, and classic Georgetown bars that are always open. Check out Tony & Joes for an afternoon drink.
Get lost in the neighborhood's colorful streets
One of my favorite things to do while I am in Georgetown is to stroll along its quaint streets and admire the colorful houses. Each house has its own personality and style, ranging from color to façade to size (there are a couple which are haunted!). Some are tiny and look almost like fairy tale houses and others evoke the US colonial grandeur.
The famous chef/author Julia Child taught cooking lessons while living at 2706 Olive Street in the 1950s and even John F. Kennedy lived in at 3307 N Street while he was running for president. Georgetown's houses are full of wonder and secrets, you'll never know what bit of history you will uncover as you walk down the cobbled streets.
Visit Georgetown University
Georgetown University is the oldest Catholic and Jesuit institution of higher learning in the United States. You will immediately be walking in the footsteps of countless generations of students, some who are as famous as ex-presidents and actors or sports legends, but each step will uniquely be yours as the university has plenty to explore. Frankly, this is one of the most iconic places in Georgetown and is usually featured alongside the monuments in any movie with Washington DC as its setting.
Stop by Healy Hall, one of the centerpieces of the University. With its Romanesque architecture, Healy Hall will definitely impress you. Take some time to stroll through campus, sit under one of the countless trees and read a book by one of the university's alumni.
Dumbarton Oaks
Located in one of the historic sections of Georgetown, Dumbarton Oaks is one of the neighborhood's crown jewels. It was formally the home of Robert and Mildred Bliss, two Washingtonian philanthropists and art collectors.
Currently, the residence is open to the public as a museum, which houses one of the world's premier collections of Byzantine and Pre-Columbian art. In fact, each of the galleries that house the collection are themselves works of art – tapestries and paintings which adorn the Renaissance inspired Music Room, or the stunningly bright Pre-Columbian Gallery, are just a few that come to mind. You will not only have the chance to view ancient art, but the museum hosts a variety of innovative special exhibitions throughout the year.
What is an absolute can't miss is the garden, which was designed by renowned landscape gardener Beatrix Farrand, and is a true oasis within Washington DC. Comprised of sixteen acres (!!!) you will be welcomed by terraced gardens and magnificent vistas, orchards and kitchen gardens. Within this massive garden, you can truly get lost in a labyrinth of beautiful meadows and wooded pathways.
We are part of several affiliate programs including Amazon and Viator which means that we will earn a small commission at no extra cost to you if you make a purchase through the links included in this post.