/
What to do in Ocean City, MD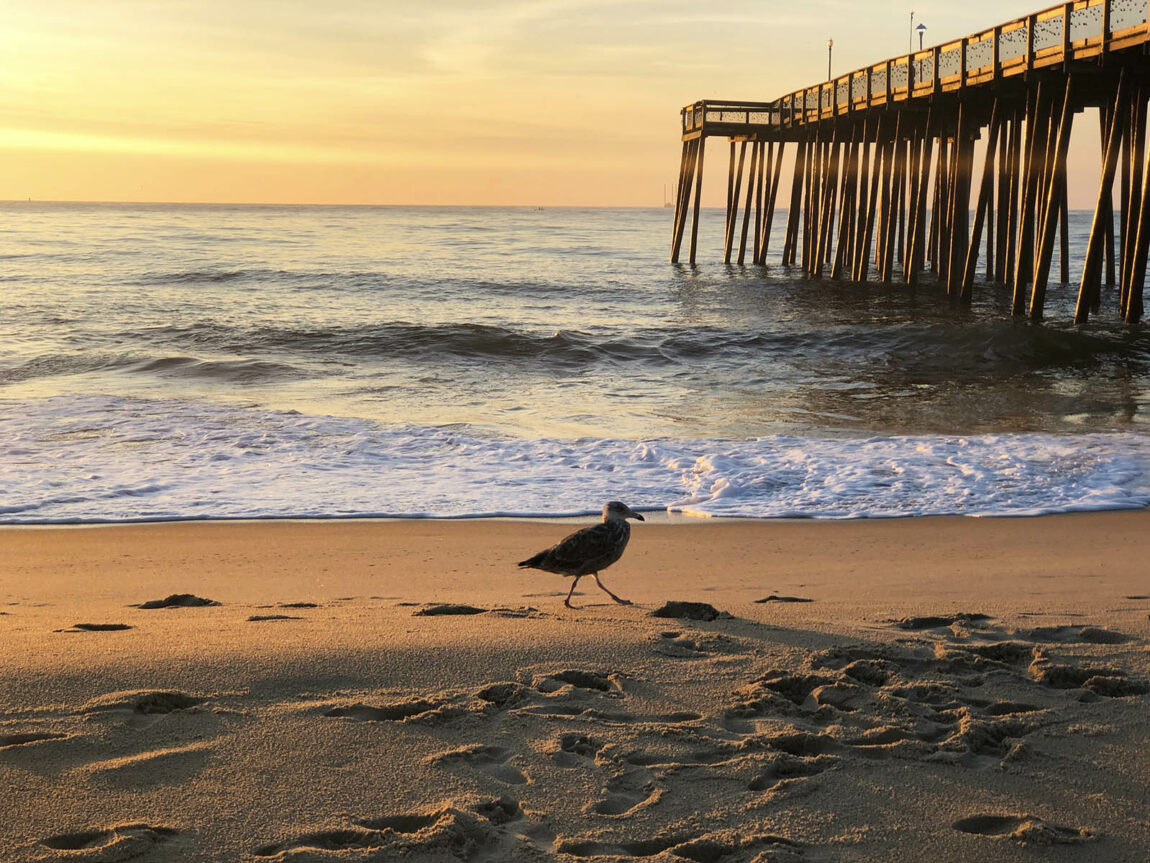 Ocean City, Maryland, is more than just another one of those beach towns that dots the Delmarva peninsula. With 10 miles of beach, a boardwalk that's been around since 1902, and wild horses, this is a town you cannot miss when visiting the eastern shore.
I've been spending summers since my childhood in Ocean City, skating the boardwalk, surfing or my go to activity – relaxing on the beach. I can still remember walking with my dad a few times to get soft serve ice cream during the salty summer nights, waking up early to race to the beach with my friends with towels tied around our neck as capes to not miss a minute of fun, or discovering the rollercoaster effects of teenage summer love. Even today, my wife and I go every summer weekend and have built our own memories ready to tell our children.
Ocean City has a deep history within my heart, full of idyllic summers. In fact, it etches a permanent place in each person's soul who steps on its sandy shores.
What to do in Ocean City
Boardwalk:
The Boardwalk is literally the town foundation – built in 1902, the wooden boards were hand-laid around the original town, now called Downtown OC. This is a classic wooden boardwalk which has been featured in both the Travel Channel and Nat Geo, calling it one of the country's best as it leads down to the town's most popular beach.
Whether you want to stroll, skate or bike down the boardwalk there is a ton to do. Dotted with great restaurants, snack joints, and bars it is a perfect spot to freshen up while not skipping the beach. You can eat what Ocean City is famous for – crab cakes, fried chicken, Thrasher's fries and pit beef – but also eat Eastern Shore traditions like world class saltwater taffy and classic ice cream parlors (Dumser's and Dolle's).
It's also the place where you come to have fun. The boardwalk has some great carnival rides, the original carousel from the turn of the century, and most importantly it's the hub of the city's nightlife. You can feel the energy on the boardwalk impact everyone on a summer night.
This is the most "instagramable" location where you can catch the sunrise under the pier and the neon lights of the Ferris wheel dazzle in the night sky.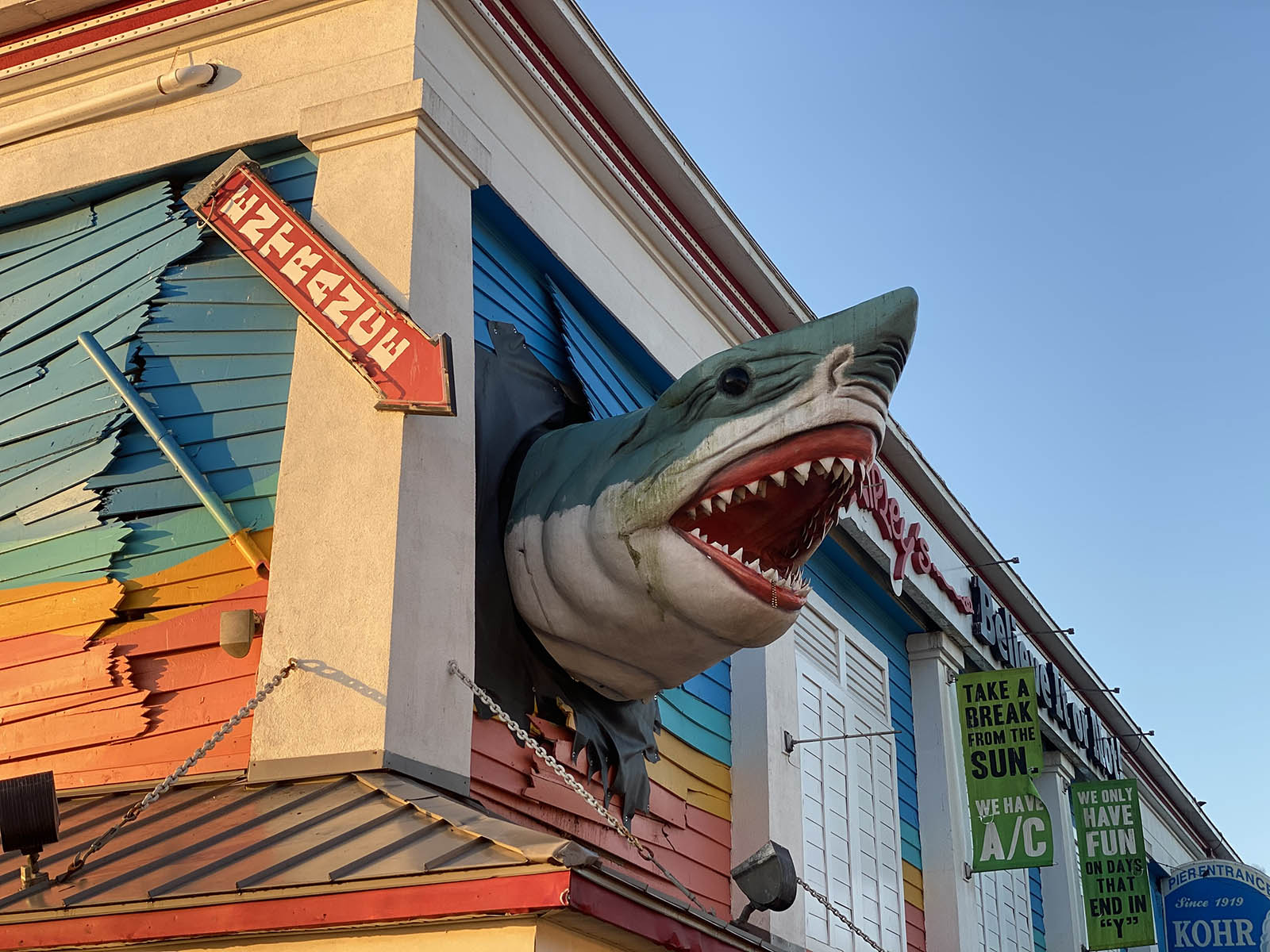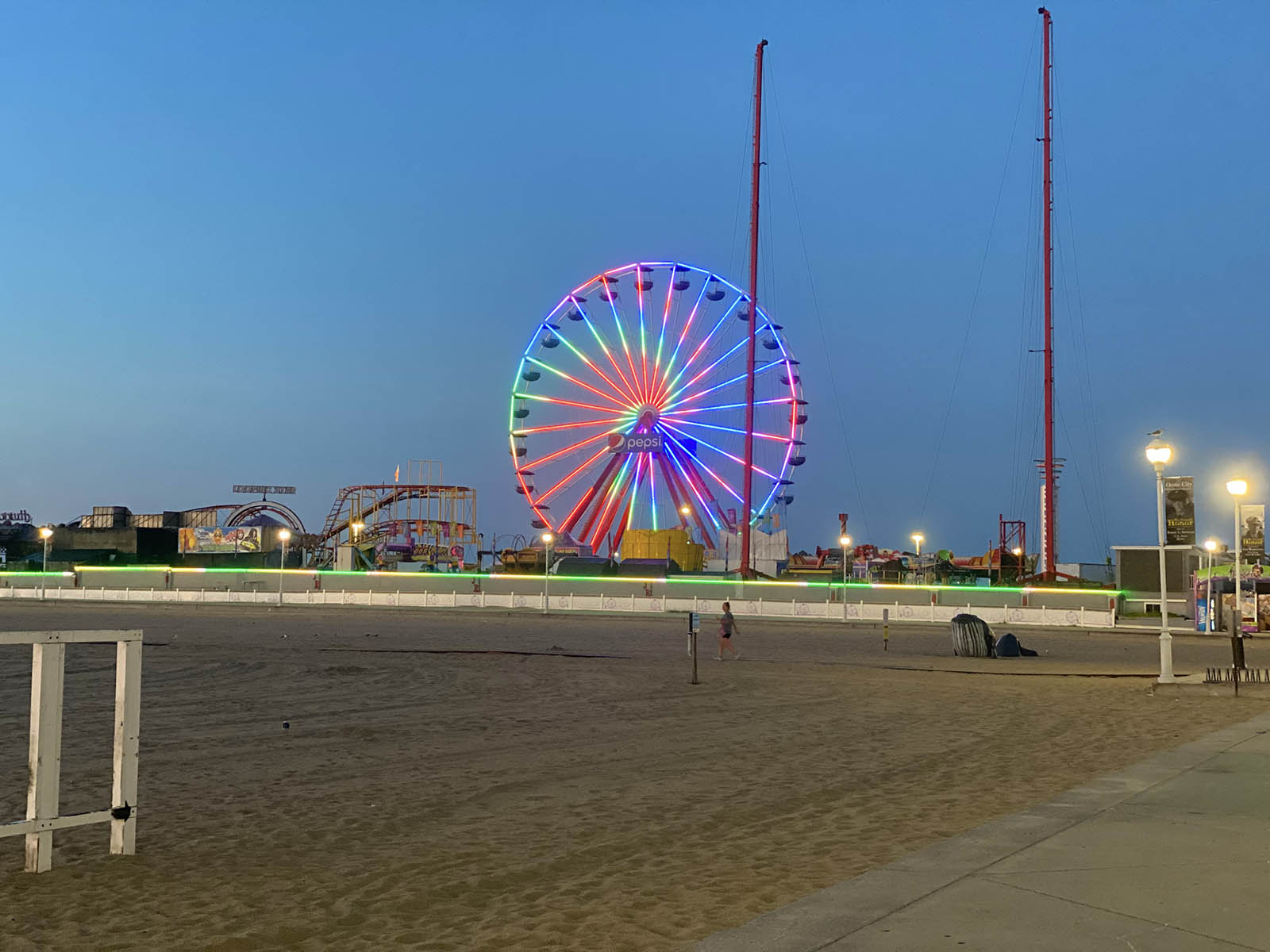 Tip: Don't skip the funnel cake when you are at the boardwalk, it's a must have classic of Americana.
Beach:
This is the star of the show and you will not be disappointed. Personally, I treat a beach day like an office day – I get there at 9 and stay till 6 relaxing and soaking up some rays. There are few places in the world that evoke such strong feelings for me and hitting the beach does just that. I tend to plan my summer trips around beaches, and Ocean City is definitely one of those places where I never miss a summer.
Ocean City has 10 miles of public beaches, some are less crowed than others – the Boardwalk beaches are packed and rowdy, while the beaches by the state line are more family oriented. There is plenty to do – surf, swim, play ball or just relax and do nothing but enjoy the moment. However, the coolest beach is a short drive away – Assateague Island, where wild horses roam free.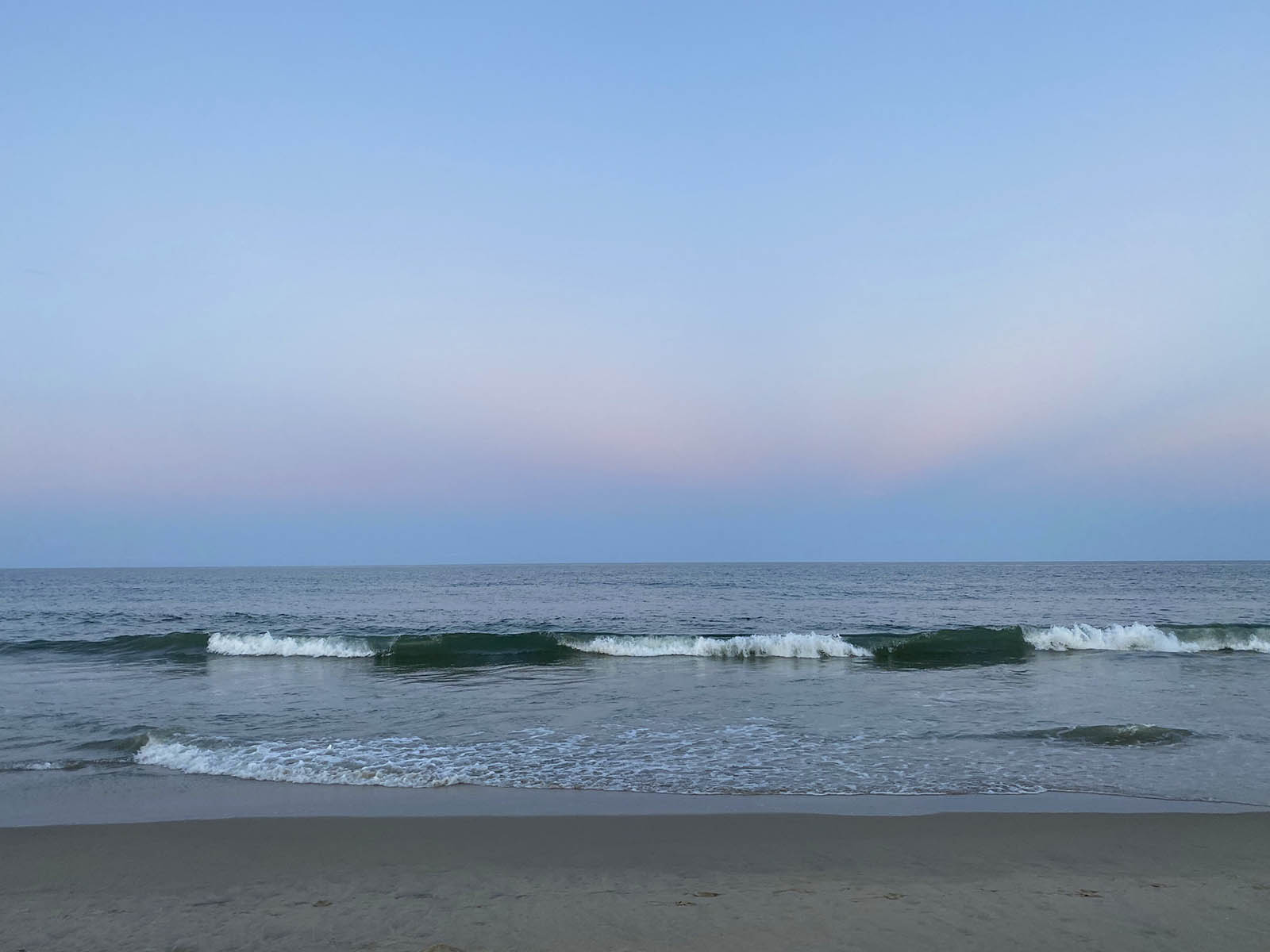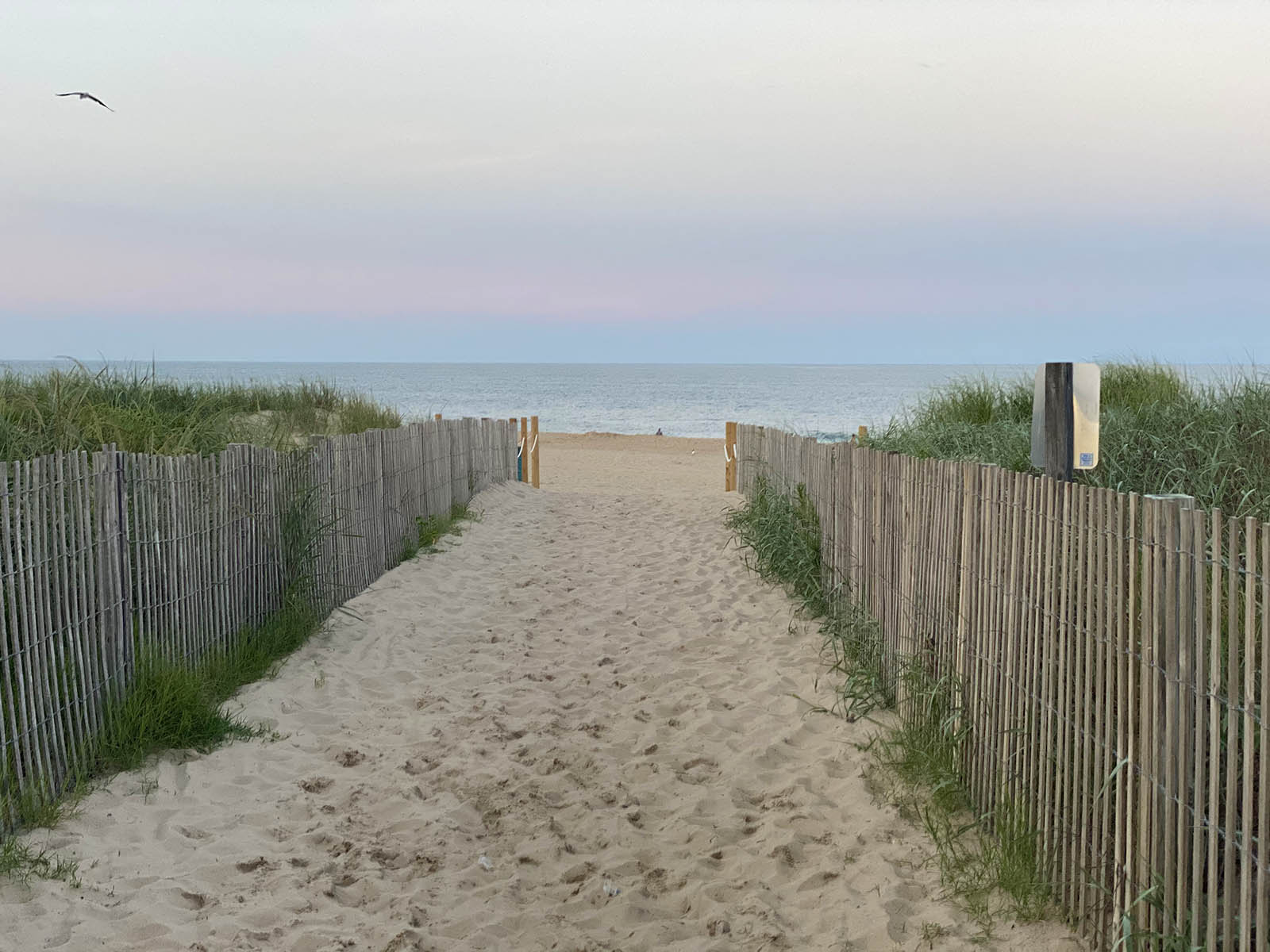 Assateague Island:
Wild horses will not drag you away from this national park situated just minutes from your beach rental. When you arrive you'll be welcomed by miles of sandy beaches, sunbathing horses and crashing waves – this park literally changes every day due its proximity to the ocean, so no two visits are exactly the same. This park is wild, from the beaches to the flora and fauna, with little resources for the weekender – you will need to bring everything for the day, including food and beach gear. However, the park also offers lots of outdoor activities if you want to get on the move and explore.
This is the best place in OC to take once in a life-time photos, and the sunrise/sunsets make the experience even more memorable. Personally, I like to go early in the morning to catch the horses playing in the water before the crowds arrive. This pristine beach will also provide some shots that are worthy of framing on your wall to remember your trip. Make sure your iPhone is fully charged or pack a car charger in case your battery starts to run low.
Tip: You will need to pay an entrance fee, but if you plan to come to the island more than once get a season pass, it pays for itself very quickly. Check out the park fees here.
Nightlife:
To me the holy trinity of nightlife in OC is Seacrets, Mackys and Fager's Island, all located within a 10 block span (about 5-10 minutes walking) on the bay side. Fager's is a great place to get some killer food, watch the sunset with the 1812 overture blasting out of speakers and dance the night away to a DJ spinning tunes or 90's cover band.
Seacrets is an institution in OC and while lines can get long it's worth the wait. The entire bar/club is a massive beach bar, where you can have drinks on floating tables in the water while reggae beats saturate the air. Frankly, I love this place, and you can go any time of day. In fact, the day time beach party is very different from the chill islands vibes in the evening. Mackys is a low key version of Seacrets, where you can get a cold beer and play classic drinking games on their intimate beach every hot summer night.
There are plenty of other places to enjoy the night, but make sure you check out places near the boardwalk like Fish Tales, the bars on the Marina, and De Lazy Lizard – all of these are great open air bars playing the latest hits of the summer. For those who want a laid back country vibe, check out Cowboy Coast, an entire block of different clubs where you can catch a live show where Nashville's rising stars will make an appearance each summer.
Other fun stuff:
Ocean City offers lots of outdoor activities where you can spend the day on the water – take sightseeing water tours via catamarans, or if you want to be on your own you can rent kayaks and jet skis to take on the bay. And it's hard not to mention the best thing to do on the beach – surfing! This is one of the best spots in the mid-Atlantic for waves.
Of course, you don't need to be on the water to have fun. Ocean City has renowned golf courses if you want to hit the links, or you can stop by Ocean Downs Casino to try your luck!
Where and what to eat
Crabs and crab cakes: Maryland's most iconic dishes, the bushel of crabs or jumbo lump crab cakes can be found pretty much anywhere in OC.
I personally love the crab cakes at Fager's Island and Crab Cake Factory, but for crabs served on yesterday's newspaper and a can of Natty Bo, I go out of my way to West Ocean City's Crabs to Go. If you don't want to drive out of the main strip, go to On the Bay Seafood but go early because the lines are long and the supplies are limited.
Seafood/Sushi: Obviously, seafood is everywhere you look and there is LOTS of competition. Check out Hooked and Tailchasers as they source their products from the local area and are sea-to-table restaurants. For a more casual vibe where you can enjoy after dinner drinks and fun, go to Ropewalk or Fishtales. The best place, hands down is Waterman's in West OC as it doubles as a seafood market and eatery. For Sushi, ignore all the other spots and go straight to OC Wasabi. Show up on an empty stomach and gorge.
Pizza: Grotto's Pizza is the only name you need to remember. I used to travel 30 minutes out of OC to Rehoboth to get a slice and now they have two locations in the city, one on the Boardwalk and the other on the Northside.
Tip: The best fried chicken is at one of the best seafood restaurants/markets in the city. Stop by Waterman's in West OC and get a bucket or two of the best chicken you'll eat. You can also get some killer no frills BBQ a few minutes away at Smoker's BBQ Pit on route 611.
Where to stay in Ocean City
Ocean City offers lodging choices to fit everyone's needs and style. You can stay at top of the line hotels with literally steps to the beach or a private marina by the bay, rent a beach bungalow, or you can even get off the grid and stay on one of the many campgrounds located around OC. With so many different choices available, here are three hotels that are conveniently located.
Commander Hotel & Suites is directly located on the Ocean City boardwalk just steps from the beach. You'll be a short walk from the most popular part of the boardwalk, surrounded by restaurants and a lively nightlife. Originally opened in 1930, this hotel has evolved throughout its history – once hosting clambakes on the beach and the best dinner theater experience in town – to become on of the city's top resorts. The location can't be beat; the hotel is an Eastern Shore classic with lots of space (fitting up to 6 people in some rooms) and two pools – indoor and outdoor.
The Coconut Malorie: When this hotel opened it was the first real luxury hotel in OC, decorated with a stunning British colonial motif. It welcomed you with a massive marble lobby and each floor painted in a Matisse style featuring wildlife of the former colonies, but the coolest part was the library located in the top of the hotel's tower. Today, the hotel has gone through recent renovations, keeping up with current trends, but still holds that glamorous mystique. With a host of amenities to enjoy, you can still go to the library and enjoy stunning views of the bay.
Princess Royale Oceanfront Resort, the furthest from downtown but by far the largest and most family-oriented hotel this feels more like a resort than typical lodging. Located right on the beach it also conveniently houses a massive 4 story atrium with an indoor pool and bar where you can sip a few cocktails during your break from the sun. It's perfect for families, as kids will love all the features the atrium offers. The hotel also offers some of the largest accommodations in OC giving you privacy and a kitchenette if you feel inclined to cook. It also includes an ultra-exclusive club-level accommodation where guests enjoy a full-service dedicated team, private ocean front lounge and lots of high-class offers.
We are part of several affiliate programs including Amazon and Viator which means that we will earn a small commission at no extra cost to you if you make a purchase through the links included in this post.