/
What you should know before a day visit to the Blue Lagoon in Iceland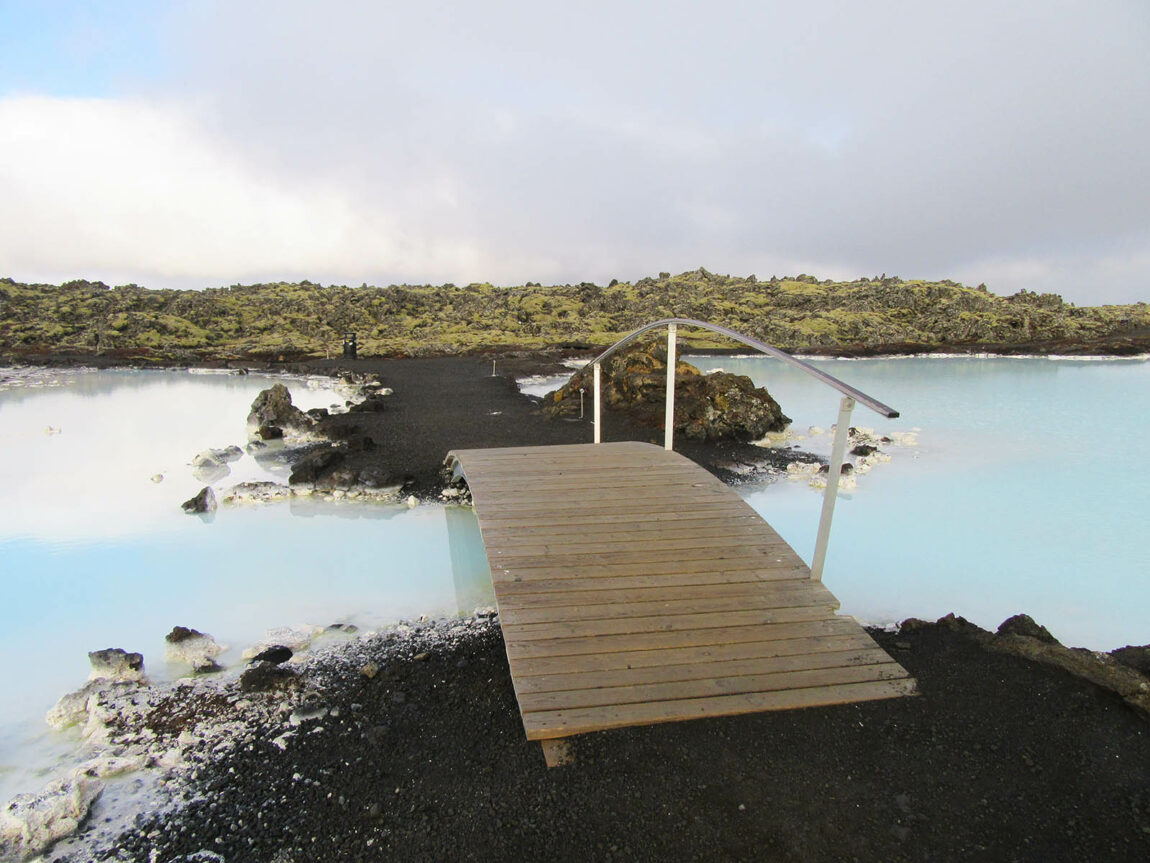 A visit to the Blue Lagoon in Iceland is a must when traveling to the country. Here are 5 things you should know before you visit this iconic attraction.
If you are planning a trip to Iceland, then you know the Blue Lagoon is a can't miss stop, since it's one of Iceland's most popular destinations both for tourists and locals alike. This shouldn't be a surprise: with its milky-blue water rich in nourishing minerals while surrounded by a volcanic landscape, it promises a unique and relaxing spa experience.
Why you should go:
The Blue Lagoon is a once in a lifetime experience which I highly recommend. Not only can you get the "Icelandic" spa treatment, but you can enjoy a drink while floating in the blissful waters. No matter when you hit the lagoon, you'll get a relaxing and energizing experience in a primordial environment. Don't be shy – put some mud on your face as it does wonders for your skin: it prevents premature aging, provides nourishment and has been known to help improve psoriasis.
It's true that it can get packed: every popular destination does, but when in Rome… My advice is that you book your tickets for early in the morning and you avoid the weekends. We did just that and as you can see from the pictures throughout this blog it wasn't packed. Additionally, make sure you buy your tickets with weeks in advance as it can get sold out quickly.
What you can do:
Forget about the world while you relax in the warm milky-blue water surrounded by black lava fields and green moss
Put on the free silica (a mineral nutrient) mud face mask and let it do its magic to protect your skin
Enjoy a fantastic meal at one of the Blue Lagoon 3 restaurants -Lava, Moss and Spa- or grab a quick bite to eat at the café if you don't want to miss swimming in the warm water
Enjoy a drink – including smoothies, juices, soft drinks, beer and wine – at the bar inside the lagoon itself
Visit the viewing deck on the second floor to admire the volcanic environment
Before you leave, buy products from the Blue Lagoon skin care to take home with you (You can also buy them online if you can't choose or are in a hurry)
Get a relaxing massage while in the water (US$121 for 30 minutes I US$189 for 60 minutes)
The Blue Lagoon's geothermal seawater is naturally renewed every 40 hours. Since the water is rich in salt, silica and other minerals, there is no need to use disinfectant to clean it because  bacteria can't survive in this type of environment. The lagoon basically cleans itself, isn't this amazing?
The water temperature ranges from 37°C to 40°C (98-104°F) but external factors such as the weather and the season may make it fluctuate slightly. We visited the Blue Lagoon in April on a very cold day. Within the couple of seconds that took us to get from the spa doors to the lagoon, I almost froze into a snowman, but it ended up being totally worthwhile. It was difficult to make the decision to leave the lagoon, and face that cold, however after seeing our hands turn into wrinkly prunes, we knew it was time to go.
Tip: Remember to drink plenty of liquids while you are enjoying the Blue Lagoon as you might become dehydrated due to the hot water. Make use of the complimentary drink that comes with your entrance ticket and head to the in-water bar. If you drink beer or a cocktail, keep in mind the combination of heat and alcohol will dehydrate you faster.
Getting there
The Blue Lagoon is conveniently located 20 minutes from Keflavik Airport and about 50 minutes from Reykjavik, the capital, making it a perfect pit stop on your way in or out of the airport.
In our case, we arrived at the airport early in the morning, so we decided to head straight to the Blue Lagoon. We actually got there before the doors opened, but it was nice to walk around and take some pictures of the surroundings.
Tip: Note that the Blue Lagoon offers luggage storage -it's located in the parking area- so you will be able to safely store your bags while you enjoy the amenities. Take advantage of their locker rooms to shower and freshen up before leaving.
We bought our tickets through the official website, and arranged for transportation to take us from the airport to the Blue Lagoon then to Reykjavik when we were ready to leave. There are also plenty of tours you can book through Viator.
Upon arrival, we were given a wristband which serves as the key to your locker in the changing rooms and simultaneously functions as an in-water credit card – giving you the ability to purchase refreshments. The changing rooms, which are separated for men and women, are very robust with amenities including toiletries. Everyone needs to take a shower to rinse away any gunk you may have brought before entering the lagoon; management asks for visitors to be fully undressed when showering to ensure you are clean. There are also a few showers that have a door if you want more privacy.
Available packages
According to the official website, there are 3 different types of packages:
Comfort (from US$45): Includes the entrance to the Blue Lagoon, a silica mud mask, a towel, and a drink. This is the ticket we bought
Premium (from US$68): Includes the entrance to the Blue Lagoon, a silica mud mask, towel, 1st drink of your choice, second mask of choice, slippers, bathrobe, table reservation at Lava Restaurant, and 1 glass of sparkling wine if dining at Lava restaurant
Luxury (from US$ 372): Four luxurious hours at the Retreat Spa. It also includes a private changing suite and unlimited access to both the Retreat Lagoon and the Blue Lagoon.
Don't forget to bring
Swimsuit: To enjoy the warm seawater.
Sunglasses: Because the Blue Lagoon reflects the sunlight, it's better to wear sunglasses so you don't have to be squinting all the time.
Sunscreen: Since you will be outside for a couple of hours, with little to no shade, you should protect your skin. I recommend Supergoop! Unseen Sunscreen SPF 40 for your face and Coppertone SPF50 for the body.
GoPro: In case you want to take photos when you are in the water.
Flip flops: To make your way from the building to the lagoon and walk around.
Tip: The minerals in the seawater can irritate your eyes and dry out contacts, so be careful. My husband wore contacts while he bathed but made sure that he didn't submerge his head into the water.