/
Itinerary and tips to drive the Transfagarasan road in Romania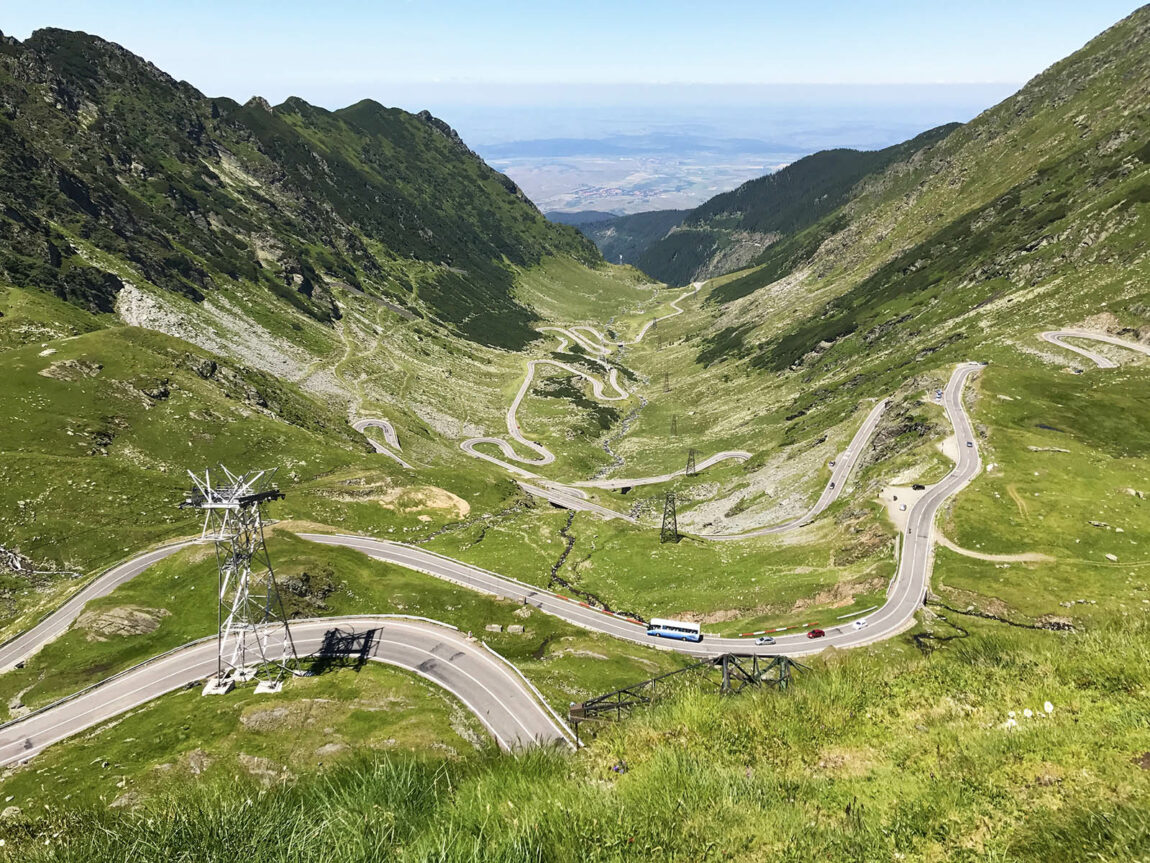 The Transfagarasan road in Romania offers a unique experience: driving in one of the most scenic highways in the world. Sharp turns with several ascents and descents throughout the road will make your adrenaline kick in as you marvel at the magnificent beauty that surrounds you.
Have you heard of the Transfagarasan road? I never did until my husband's Romanian coworker showed us pictures. I was immediately drawn to the magnificent landscape surrounding the road and was eager to experience the adrenaline rush driving that serpentine mountain highway. When planning our trip to Romania, this was an important part of our itinerary as it is one of the most breathtaking experiences we ever had traveling. Here are some tips to better help you plan your trip.
Day 1: Sibiu to Bâlea Lake
This was the entire reason we went to Romania – a stunning glacier lake high above a mountain and with a unique path to get there. We started our drive from Sibiu to Bâlea Lake in the early morning. The drive takes around 1:30/1:45 hour, and while we left early to avoid the crowds, we were in no particular hurry. The scenic surroundings start a little before you reach the Transfagarasan road so have your camera ready and be prepared to stop for photos along the way.
Tip: Romania has some of the best WIFI and internet connectivity in the world; we used Google Maps the entire trip without a hitch!
The Transfagarasan Road
The drive up is not for the faint hearted as the road has numerous scintillating sharp turns and several ascents and descents. Don't be intimated though: the road is well-maintained and during the summer months you shouldn't encounter major issues. Just be extra careful while you drive.
Note that because of the dangers posed by avalanches, falling rocks, landslides, heavy snow and ice, the road is partially closed between October and June.
As you drive up the Transfagarasan Road you will encounter tiny viewing areas where you can park your car and photograph breathtaking green scenery, waterfalls, and the majestic Făgăras mountains. On a personal note, this was one of the most beautiful scenery I've encountered while traveling.
We were blessed with perfect weather for mountain hiking. The average temperatures in July and August are between 7 and 12 degrees Celsius so it can get pretty cold even in summer. Even on a sunny day, the weather is unpredictable and temps can drop quickly.
Tip: The weather is always unpredictable so if you want to hike, I recommend that you stay at least for one night in case the weather doesn't cooperate with you the first day you arrive. Unfortunately, in this area fog, rain and clouds can ruin your hike.
Walking around Bâlea Lake
The highest point of the Transfagarasan road is Bâlea Lake, a glacier lake located at 2042 meters of altitude in the Făgăraș Mountains. There is a live camera feed (one of many in Romania) where you can check out the lake all year round.
Once you reach Bâlea Lake, you should park your car and take in the full view of the Transfagarasan road from high above. You should feel proud of the drive you just did – it's quite an accomplishment!
At the top, there is a small "observatory" where you pay a minor fee and you can get to a platform and marvel at the sharp spins of the Transfagarasan road. Since it's not that expensive, do it, but honestly the view it's not much different than what you can observe from the surroundings. However, the best views of the lake come from above…
Tip: We travelled in July and thankfully we brought jackets and warm gear. It gets cold up there so make sure you layer appropriately.  
Hiking Bâlea Lake to Lake Capra
We wanted to see Bâlea Lake from above, so we decided to hike to Lake Capra. It's very easy to locate as the path starts right by the hotel's parking lot and there are signs that guide you to the trail. I had a cold and just the thought of a hike made me tired, but I pushed through. How was I going to miss the opportunity to absorb such beautiful views?
Tip: All of Romania's mountain hikes are mapped and can be found online categorized by levels of difficulty or region. Along all the hiking trails, there are clear signs based on color to keep you on the path you need – it's very easy to follow along.
Despite my husband and I exercise several times a week, my husband is an avid practitioner of Brazilian jiujitsu, and I am a Barre fanatic, we are definitely NOT hikers. For us, the way up was strenuous…and embarrassing. Many elderly hikers passed us with ease up the mountain, many with a friendly hello as they blew past us and we gasped for air as a cordial reply. We were shell-shocked by the embarrassment to say the least! We also saw a few tents along the way to the top as we made the first pitstop along lake Capra; I applaud the brave people that can stand the cold nights.
Tip: Ensure you have the right hiking boot as the mountain terrain is full of jagged rocks. Below are the hiking shoes we used and highly recommend. They are waterproof and provide cushioning and stability.
Before reaching the top, you will find a gorgeous "rest area". Stop here for a snack and then you have the choice of going a few feet to the other side to see Lake Capra or keep hiking to the top. Exhausted, we chose to snack by the lake and then turn around to capture the views of Bâlea Lake. This view was my favorite of the trip.
Afterwards we headed down, not much faster than we did going up, and grabbed lunch at the Cabana Bâlea Lac – the hotel and restaurant by the lake. Make sure you walk around the lake for more views and to digest the heavy meal that you'll want to eat. We couldn't stay on the site as the rooms were booked way in advance (the hotel may not appear in common travel websites for booking).
In the afternoon we headed to Cabana Capra where we stayed the night and ate dinner. However, we made a quick stop nearby to photograph Capra waterfall (It's on the main road very close by to the hotel so you can't miss it) to take a few pictures.
Staying at Cabana Capra
We stayed for only one night at Cabana Capra. It was a really convenient location (9 kms from Bâlea Lake) because we were quite tired after the apparently easy hike. The accommodations are comfortable and there is a restaurant with local specialties only on-site.
Tip: When staying in a Cabana, ask for additional blankets. Some of these offer more amenities than others, so be prepared. It gets really cold at night in the mountains!
Cabana's are not hotels in the traditional sense. These function as short-term bed and breakfasts for hikers who need a place to crash. We wanted a very local experience and highly recommend you do the same…but choose carefully! You may need to call them personally as many do not have a regular website.
Day 2: Vidraru Lake and Poenari Castle – the REAL Castle Dracula
The next day we drove back to Bucharest, but we made two additional stops: Vidraru Lake and Poenari Castle.
Vidraru dam
 is among the largest hydroelectric plants in Europe and offers beautiful views of the Vidraru Lake. This is really an amazing stop and it can get packed with locals. Keep in mind you may have to park farther away than expected, but it's well worth the time and effort.
The Poenari Castle was one of the main strongholds of Vlad the Impaler from whom Bram Stoker draw inspiration to create one of the most terrifying fictional characters of all times: Dracula.
Read blog: Poenari Castle in Romania: The real Castle Dracula
This fortress has been featured on tons of shows, but it's still a well-kept secret from everyone but the locals. Originally a strategic stronghold Vlad used against the Turkish invaders, where he displayed many impaled victims along the cliffs – you can still take of picture with "them" (or mannequins dressed like impaled prisoners of war)!
There is an entrance fee of less than US$2, right next to a giant "beware of bears" sign, so it's really cheap and you will be able to check off your daily exercise goal as you will need to climb 1480 steps to get to the top. It sounds like a lot but it's totally doable and you can stop to catch your breath when you are tired. It should take you around 30-35 minutes to reach the top at a medium pace.
After stopping by the Poenari Castle we drove back to Bucharest – the last leg of our unforgettable trip to Romania.
We are part of several affiliate programs including Amazon and Viator which means that we will earn a small commission at no extra cost to you if you make a purchase through the links included in this blog.