/
Where to take the best photos in Moorea, French Polynesia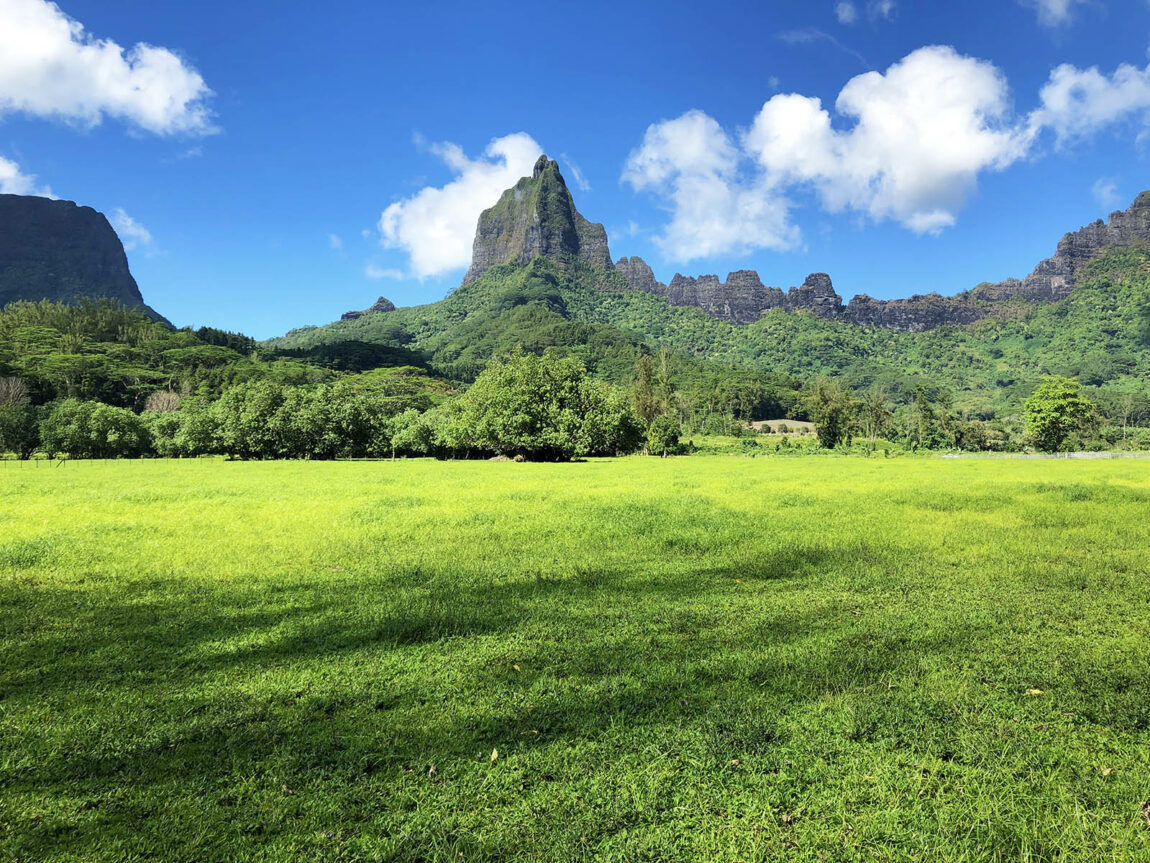 Flying over Moorea gives you an amazing first glimpse of the natural beauty that is waiting to be discovered. From the Belvedere lookout to Magic Mountain, learn where to take the best photos in Moorea.
Moorea is one of the 114 islands of French Polynesia and it's almost impossible not to fall in love with its lush landscapes, crystal clear waters, and marine life. It's clearly paradise on earth -but for some reason it doesn't get the same popularity as Bora Bora.
Get your camera ready because you will want to snap pictures non-stop and capture the breathtaking landscapes that the island has to offer.
We flew from Papeete to Moorea and spent one day touring the island with a tiny roadster we rented through Viator. The entire island can be done in a day, but we focused on the northwestern loop that combines killer views and hidden beaches. Since the whole island consist of a single road, it's hard to get lost. When driving, you will notice tons of picturesque spots, so take your time and enjoy the island's natural beauty.
Here are 5 of the most amazing photo spots that capture the island's beauty. They were all taken with our iPhones, proving you don't need an expensive camera to take wonderful pictures.
Belvedere lookout
The Belvedere lookout offers fantastic photographic opportunities as if gives a panoramic view of Mount Rotui in the middle of Cook's Bay and Opunohu Bay. Snap your pictures and then take some time to soak the magnificent sights.
There are many ways of reaching this viewpoint, including by car, ATV, biking or hiking. If you decide to drive, as we did, a tight parking lot is really close to the lookout. Keep in mind the parking lot is very small and the road leading up is very steep with sharp turns. The roadster was a blast to drive but taking it up to the lookout will test your driving skills.
Magic Mountain
Head to Magic Mountain – one of the highest points of the island – to get 360-degree views of the island. You can hike up the mountain (it only takes 25 minutes and it's good exercise) or via 4WD vehicle or ATV to a small parking clearing. The views of the turquoise water and of the idyllic island will take your breath away! The hike up it's steep but totally doable. Remember to bring comfortable shoes for hiking, sunscreen, water, and a hat.
I recommend the KEEN targhee 2 low height waterproof hiking shoe for women, a lightweight and waterproof shoe which will be handy if you get caught in the rain and for men the KEEN targhee II hiking shoe as it is also waterproof and lightweight so your feet will not get tired when hiking.
Read blog: Want to soak up stunning views? Head to magic mountain in Moorea
Tip: You can visit the Belvedere Lookout, hike up Magic Mountain and relax in the beach in one day. We rented a roadster for a day to drive around the island and the rest of the days we spent them relaxing and enjoying life at the hotel.
Overwater bungalows
One of the highlights of a trip to Moorea is to view (and hopefully stay) in the overwater bungalows. In addition to providing a luxurious experience, they provide easy access to the water, offer a lot of privacy, and amazing photo opportunities. Who doesn't want to take a pictures of cottages that appear to float on turquoise waters?
The picture below was taken at the Hilton Moorea Lagoon Resort & Spa where we had a wonderful and relaxing stay.
Stunning landscape
With lush mountains all around, Moorea is a hidden gem. I have to confess that I liked it more than the popular Bora Bora – it offers more opportunities for non-guided tour exploration and "cheaper" options for both excursions or food. If you have the time there are several hikes all around the island where there are a lot of photographic opportunities. The pictures below were taken on the road that leads to the Belvedere lookout. The landscape, no matter where you went on the island, made me think I was in an episode of the hit tv show Lost – it had that exotic pacific feel: majestic mountains surrounded by turquoise water and sandy beaches.
Turquoise waters
The color of the water in Moorea is impossible to describe with words as it has so many shades of blues and turquoises that it's mesmerizing. And the best part? It's quite warm. Trust me – I don't get in when the water is mildly cold, and I was able to swim in the water several times. Additionally, the crystal-clear waters allow you to appreciate the underwater life and is perfect for snorkeling. If you don't want to go in the water you can always sunbathe on the white sand.
Tip: Remember to take a GoPro to take amazing underwater pictures!
There is a whole side of the island we left out – it was our honeymoon and we wanted to unwind with few to-dos. This island has many hidden beaches, unique dining opportunities, lots of trails and friendly locals that we plan to experience on our trip back.
We are part of several affiliate programs including Amazon and Viator which means that we will earn a small commission at no extra cost to you if you make a purchase through the links included in this blog.