/
4 travel size skin care products you should always take with you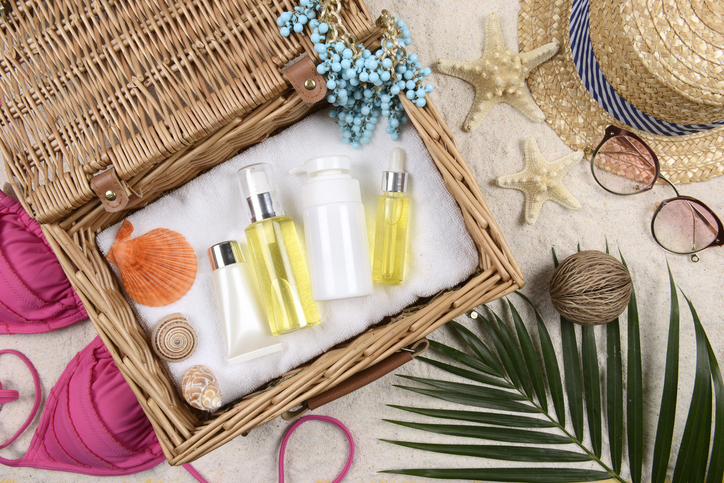 Taking care of your skin when traveling is a must – especially when you are frequently on the road. This blog features a compilation of 4 travel size skin care products that you can take with you to help keep your skin clean, hydrated and protected when you are having fun abroad.
When traveling, routines get messed up and it's difficult to be as disciplined as you are at home – especially if you are traveling for work with 12-hour workdays. Trust me, I have been there, and sometimes it takes all my willpower to follow my usual routine instead of jumping into bed as soon as I arrive at the hotel.
But then I remember if I don't take proper care of my skin, I might get breakouts, blemishes or even a sunburn, which can put a damper on a trip. Over years of traveling, I have learned that having a good skin care routine is a self-care practice that can easily lift all the stress from a trip.
The good news? A routine using all of the products below won't take you more than 5 minutes – I promise. Here are some of my favorite products -they are listed in the order they should be applied. Because I'm committed to always traveling with a carry-on, these products are all available in travel sizes.
Remember that everyone's skin has different needs/concerns so keep in mind to use the products as a starting point for your own skin care routine. I recommend that you give them a try regardless since they have made a big difference on my skin.
YOUTH TO THE PEOPLE superfood antioxidant cleanser
Why is it important: Cleaning your skin – both in the morning and at night – is imperative to combat dehydration, ageing and breakouts. Make sure you cleanse your skin for at least a minute.
What it does: The superfood antioxidant cleanser washes away dirt, impurities and makeup. Additionally, it removes build up in pores and balances PH without drying the skin.
Formulated with cold-pressed extracts such as kale, spinach, and green tea, this cleanser will ensure you "take the day off your face" and it's the perfect clean slate for a radiant skin. Additionally, it has a delicious smell!
Who is it for: All skin types.
Key ingredients: Kale, spinach, green tea, alfalfa, vitamins C, E and B5, aloe vera, chamomile. There are no parabens, phthalates, sulfates, phthalates, dimethicone, or mineral oil in this product.
SHISEIDO mini ultimune power infusing concentrate
Why is it important: Serums penetrate the deep layers of the skin and thus improve the hydrating effects of a moisturizer layered on top while protecting your skin from aging, environmental aggressors, and stress.
I only started using a serum a few years ago, but I guess it's never too late to incorporate it into your skin care routine. I have seen major improvements in my skin since then and highly recommend this product: my skin feels more hydrated and smoother.
What it does: This serum – powered with reishi mushroom and iris root extracts strengthen skin, restore firmness while protecting again daily damage.
Who is it for: All skin types.
Key ingredients: Iris root and Reishi mushroom as well as Bulgarian Rose Water, Aqua in pool, and yeast extract. The Ultimune Power Infusing Concentrate is non-comedogenic, paraben-free and mineral oil-free.
YOUTH TO THE PEOPLE Mini Adaptogen Deep Moisture Cream with Ashwagandha + Reishi
Why is it important: Moisturizers are key to help keep skin clear, smooth and balanced. If you regularly moisturize your skin you will have a better complexion as you grow older.
What it does: This lightweight moisturizer helps you deal with dryness, visible redness, fine lines and wrinkles, while leaving your skin soothed and hydrated. It has also the added benefit of being fragrance-free.
Who is it for: Sensitive, dry and normal skins.
Key ingredients: Squalane, Ashwagandha and Fermented Reishi.
Clinique's broad-spectrum SPF 50
Why is it important: This is the most important item on this list. I have a tendency to get freckles very easily and in the past few years I have become more conscious about wearing sunscreen. Remember that if you protect your skin, you won't have to be spending so much money on treatments or products to reverse damage.
What it does: This sunscreen protects you against the negative effects of UVA and UVB rays.
Who is it for: It's gentle for sensitive skins.
Remember to apply every two hours, especially if you are having fun outdoors and be generous with the amount you put on your skin.
We are part of several affiliate programs including Amazon and Viator which means that we will earn a small commission at no extra cost to you if you make a purchase through the links included in this post.