/
Welcome to Count Dracula's Castle in Romania – if you dare!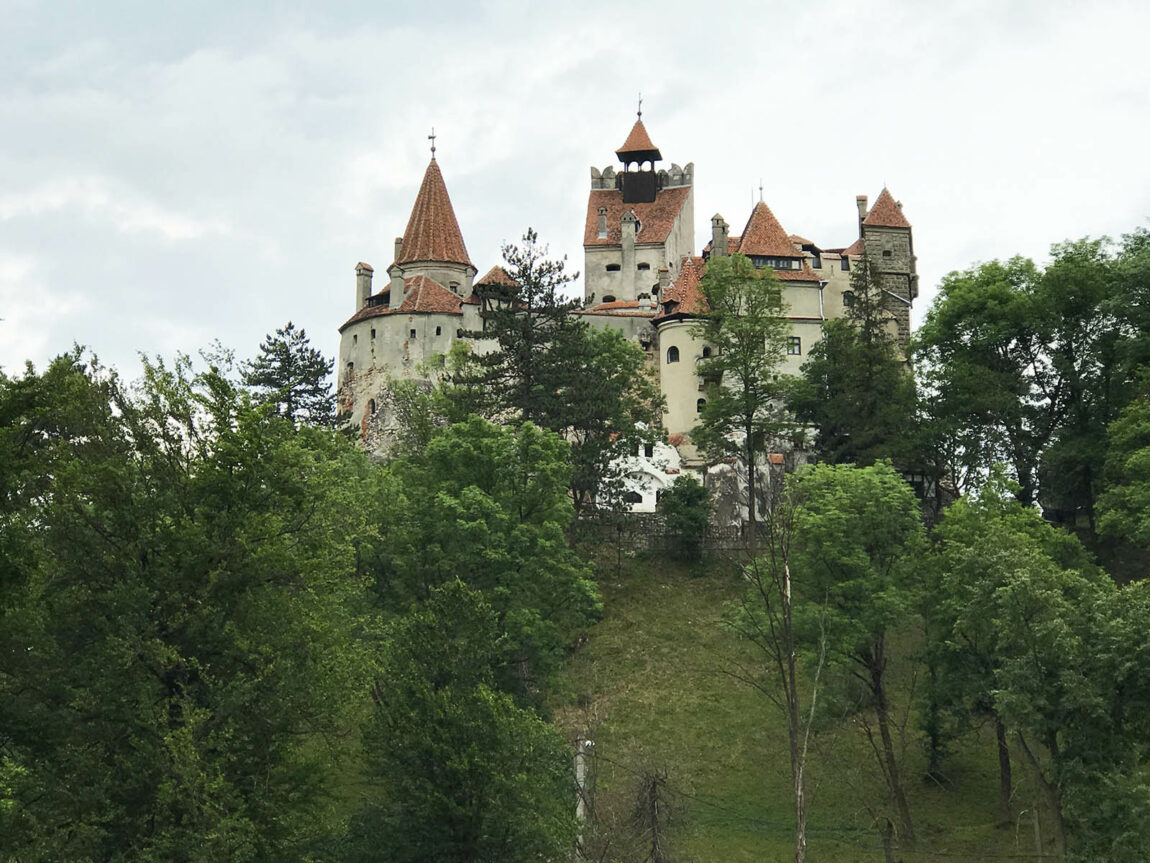 Count Dracula's Castle in Romania, or Bran Castle, is one of the most popular attractions in the country, bringing tourists from all over the world eager to take a bite out of the legend.
With its imposing towers and turrets, Bran Castle is located atop a 200-foot-high rock and is impossible to miss once you reach the town of Bran. It has an ominous air, where if you let your imagination go, you'll be sure you saw a giant bat fly out of a tower. If you have ever played the classic video game, Castlevania, you will instantly recognize Bran Castle.
Instead of a forested path with creatures of the night lurking in every shadow, the place is rather cheerful and full of life. When we first arrived in Bran, we were surrounded by the most hideous blood sucking monsters – the uber touristy souvenir shops trying to convince us to buy some vampire lore and souvenirs. In fact, the streets were packed with shops and Dracula fans, but what else can you expect when you know this is a major tourist destination? Honestly it doesn't matter because this is CASTLE DRACULA!
We wanted to visit the castle right as the day was ending and the horrors of the night would welcome us. However, we arrived way too late and the line was way too long for us to make the last tour. So, we decided to explore….and maybe see if we could jump the fence to sneak in (just kidding?).
As we walked around the castle, we saw the castle in all its dark glory. This totally changed how we would forever remember the castle as it radiated a mysterious aura giving it a spooky presence. Emerging high up above the trees, it was easy to feel Gary Oldman in his giant white hair and red cloak was right behind us.
However, if I could turn back time, I would have definitely purchased the tickets in advance to learn more about the castle's amazing history – please don't make the same mistake as we did and get your tickets before arriving at Bran.
Count Dracula
Bran Castle is, by far, the most famous attraction in Romania – especially if you are a fan of Dracula, one of the scariest fictional characters of all times in my terrified opinion.
According to Bram Stoker's novel, Dracula is a Transylvanian Count who lives in a castle perched on a rock with a flowing river below in the region of Transylvania.
Bran Castle is the only one in Transylvania which fits in the description of Dracula's Castle as it appears in the book. However, Stoker never visited Transylvania, rather he relied on research and his imagination to create the perfectly terrifying home of Count Dracula. Because his description perfectly matched Bran Castle, the world will forever associate the legend with the castle.
Bram Stoker's gothic horror novel was inspired by Vlad Tepes (or Vlad the Impaler) a prince of Wallachia who impaled criminals and enemies and raised them in the town square for all to see and frighten his enemies.
His nom de guerre, Dracula, was perfect for Stoker as it means "Son of the Dragon", since Vlad's father, and later the Impaler himself, was part of the Order of the Dragon. Dracula's myth as a terror of the night, is derived from various legends and lore about ghosts and vampires which were prevalent throughout Transylvania.
Bran Castle was never the residence of Vlad Tepes. However, Vlad does have a link with Bran Castle according to the castle's official website. Back in 1462, Vlad Tepes was captured by the army of the Hungarian king, then taken to Bran Castle for a short visit in the dungeons before being moved to Visegrad Fortress as a prisoner.
What to expect
The castle was built on the site of a medieval Teutonic Knight stronghold. Fast forward to the 1920, the people of Brasov gifted Bran Castle to Queen Marie of Romania and served as royal residence until 1948. Today, the castle serves as a museum displaying the life and collected works of Queen Marie.
The castle is full of narrow and winding staircases which connect to around 60 rooms…many of which have hidden passage ways that lead to all sorts of scary places. Expect to see the regular castle décor of antique furniture, armor and weapons dating from the 14th century, and the rigors of royal life.
Photographing Bran Castle
Photographing Bran Castle can be a bit challenging. Here are a few spots to take good pictures:
Castle gardens: Where you can get a great shot of the castle from below. It's a great angle to capture the imposing nature of Bran as it's perched on top of a rock.
Down the street: To get the shot shown at the start of the blog, go down the street and find a nearby hill. It's the classic shot everyone should take.
Club Vila Bran: Because of its location in a hill, Club Vila Bran offers a magnificent view of the castle and the surroundings Bucegi mountains. This hotel/restaurant is located less than a mile from the center of Bran. This is the famous Castlevania view. We went here first to take our favorite picture of Bran but enjoyed the restaurant a bit too much, making us late for entry into the castle. Bonus: The restaurant offers a delicious apple strudel – try it.
Location
Str. General Traian Mosoiu, nr. 24. 507025 Bran.
Bran Castle is located about 18 miles for Brasov.
Opening hours and entrance fees
The entrance to Bran Castle costs 45 lei (US$11) for adults and 10 lei (US$2.5) for children. Children under 7 years old can enter for free. There are separate tickets to visit the medieval torture instruments exhibition and the time tunnel.
Bran Castle can get packed with tourists so if you want to avoid long lines buy your tickets online.
Bran Castle is open 7 days a week, 365 days a year.
October 1 – March 31
Monday: 12PM – 4PM
Tuesday–Sunday: 9AM – 4PM
Last admission: 4PM

April 1 – September 30

Monday: 12PM – 6PM
Tuesday–Sunday: 9AM – 6PM
Last admission: 6PM
Visit the official website for more information
We are part of several affiliate programs including Amazon and Viator which means that we will earn a small commission at no extra cost to you if you make a purchase through the links included in this post.