/
Amsterdam pictures that will make you want to visit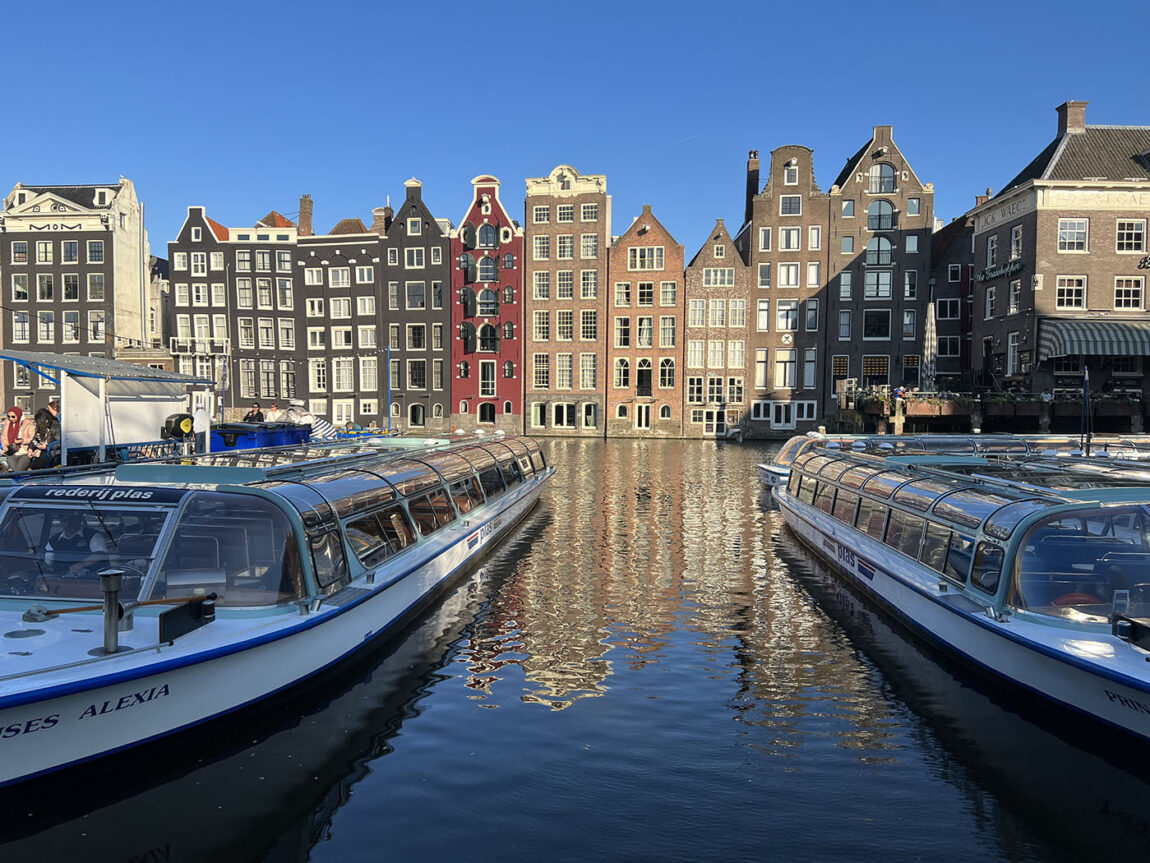 Pack your bags and get ready to fall in love with one of Europe's best cities.
For me, Amsterdam is among the most wonderful cities in the whole world. Living here for a couple of years I would wander around town taking nonstop photos. The city, with its narrow streets, picturesque canals, crooked houses, and cobblestone streets, is a photographer's dream.
Every corner, house, and tiny street are worth photographing so it shouldn't come as a surprise we ended up taking over 1,000 photos during our visit (my iPhone HATED me). After moving from Amsterdam, I really understood how gorgeous this city truly is and I try to go back as much as I can; my last visit being in May 2022, and I already can't wait for the next one!
We hope the photos below will encourage you to visit Amsterdam, a place that is near and dear to my heart. Trust me, once you get to know this amazing city you will want to go back again and again!
The crooked houses
I have to confess that I am a bit OCD and having to take photographs of crooked houses makes me want to do something to straighten them! It really blows my mind how owners of these houses are not afraid that the buildings won't collapse (as some seem do already be on their way to falling over). Think about living in such a house – how do you walk around not falling over and how do the owners hang a picture of the wall? It's a total mystery to me.
If you are strolling leisurely in Amsterdam maybe you will witness when someone moves in…which is quite an achievement as they have to bring up the furniture through the windows given that the houses are so narrow!
The Canals
The canals are hands down my favorite part of Amsterdam. They are everywhere in the city and I still can't find a canal that it's not charming. Dotted with the cutest houses and lined by trees these canals seem to be out of a Disney movie.
There are five canals (Singel, Keizersgracht, Prinsengracht, Brouwersgracht. and Herengracht) that are the most famous, and by any means you shouldn't miss – you also find along them the best bars and cafes. Take the opportunity to do a canal cruise (both day and night cruises have their own advantages) and get a glimpse of the city from the water.
Canal water reflections
The reflections of the crooked houses on the canals are beautiful to watch. When it's early in the morning and the city still sleeps, the reflections are at their best. If you can, head to the canals early to capture the amazing landscapes. One of my favorite locations is Damrak (close to central station). Head to this location in the afternoon to get an awesome photo (or maybe several?) of the colorful houses reflected on the water.
The boat houses
There are a few lucky people in Amsterdam who live in boat houses with privileged views towards the canals. But don't be fooled, these boat houses are equipped with modern amenities so residents can live here in comfortable conditions. If you are wondering how it is to live on a boat house, head to the Museum of the Canals.
Unpredictable weather
The weather in Amsterdam is really unpredictable and can change in the blink of an eye. When we arrived, we saw blue skies but very shortly after the sky turned gray and a storm approached. This gave us the opportunity to take amazing photos of the storm. Although while it was raining there wasn't much sightseeing and we had to hunker down in a cafe…I recommend you always travel to Amsterdam prepared for any weather. This includes bringing a poncho or a compact umbrella – 9 out of 10 times you will end up using these.
Bike city
The Dutch love their bikes and maybe that's why most of them are so fit? They bike to work, they bike to go out, they bike for pleasure, they bike for sport. The bikes are part of the city's landscape and culture. Rent a bike if you want to experience the city the Dutch way. Also, it's hard to believe but between 12,000-15,000 bikes are pulled from the canals every year. What an effort!
Get away from the noise
In a bustling city, you can still find peace and quiet. The Begijnhof – a quaint medieval inner courtyard – is a perfect location to get away from the noise and crowds. There are people living and working in the Begijnhof so please be respectful and be quiet.
The churches
There are several churches that are worth visiting when in Amsterdam. If you want to see the city from above head to the Westerkerk. Unfortunately, I only learned that it's possible to go up during my last trip, but it was closed due to COVID restrictions. I'll have to try again during my next trip! Another church you should photograph is the Zuiderkerk. A really nice photograph is from the Groenburgwal canal.
Dam Square
The Royal palace is stunning and you should definitely make a stop here for a photo. Note that this area is always crowded – there is always something happening , whether it's a public spectacle, a royal appearance or a cultural event happening most of the time.
We are part of several affiliate programs including Viator and Amazon which means that we will earn a small commission at no extra cost to you if you make a purchase through the links included in this post.