/
What to see in Amsterdam in one day: The best itinerary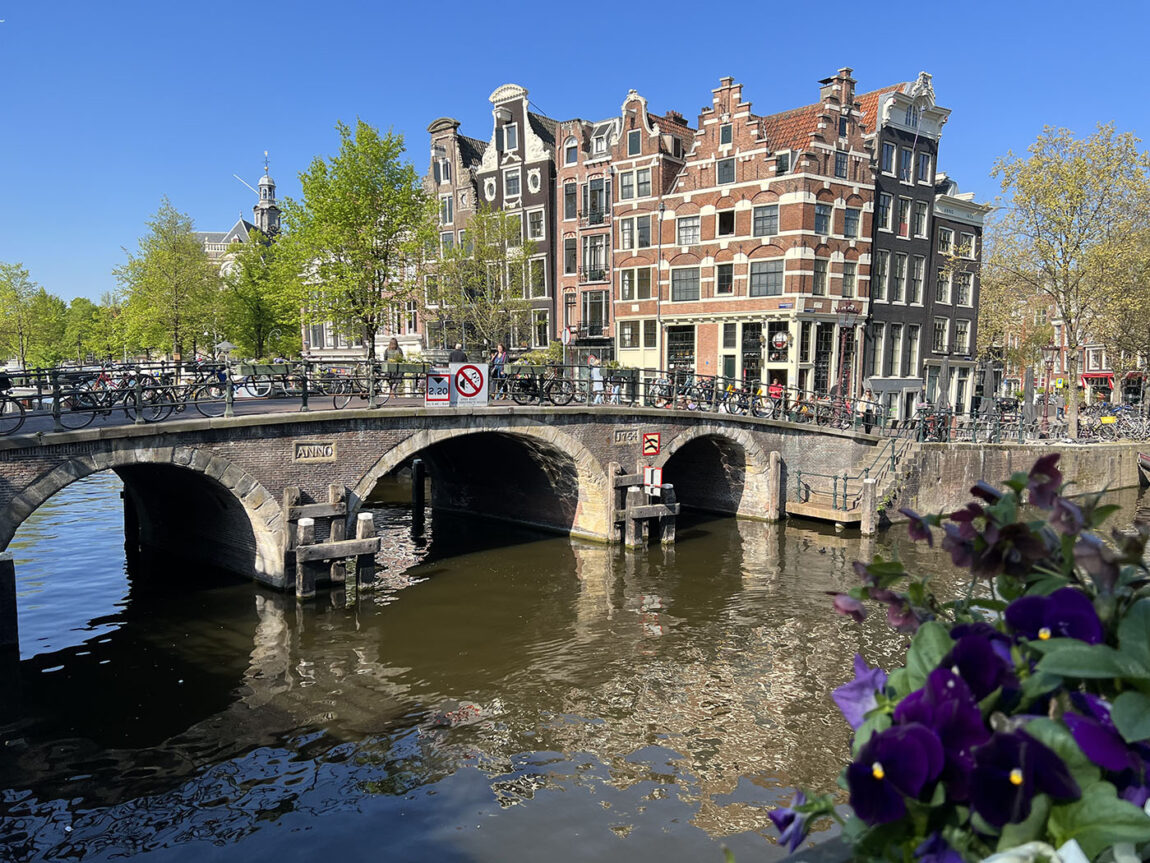 Check out this itinerary if you only have 24 hours in Amsterdam.
Amsterdam is one of the world's great cities, and it can be hard to figure out what to do in a short time. From strolling alongside the canals to the hectic atmosphere of the Red light District, Amsterdam is a city that has something for everyone. To be able to explore everything that Amsterdam has to offer, you will need a few days but even if you only have one day, we have compiled some of our favorite attractions to make sure you maximize your experience.
Thankfully many of Amsterdam's attractions are located in a small area, so you can walk to most of them.
Tip: As you might know, the Dutch love to ride their bikes. If you are adventurous or short on time, I recommend you rent a bike so you can get to the attractions faster. Biking is serious endeavor in the Netherlands, so please be aware of your surroundings to avoid faster bikes.
9:00 am – Get your energy flowing with a good breakfast
I have to confess I've always loved the coffee in the Netherlands. I'm not sure where it comes from, but it is simply perfect – I have never had a bad cup in any of my trips to the country; almost everywhere you go you could get quality coffee. The coffee is a coffee lover's dream; it's creamy, not too strong or bitter, and I can't get enough. And the best thing? An accompanying chocolate or biscuit is always elegantly placed alongside your cup to snack on.
There are several good place for breakfast but Naked Expresso, located right in Dam Square by the Royal Palace, is great and if the line is too long you have another good option right across (there are not many good places to eat in the Dam area, but these two are worth it).
9:30 am – Stop by Dam Square
After your belly is full, the first stop is Dam Square. Here you can visit a few attractions that fall under the obligatory "to do list". Obviously the most famous is the Royal Palace which holds official receptions. Be prepared for a packed crowd here as there is always something happening whether it is a show, protest, or impromptu spectacle. For a nice view of Dam Square from the top, you can head to the H&M that is nearby. Also here is the Madam Tussaud's museum where you can take your photo with the most famous characters made of wax.
10:00 am – Visit the canals
This is a must-do activity while in Amsterdam and since the city is full of canals it's difficult for you to miss it. I recommend you explore the canals early in the morning while the city is still sleeping and you will have them all to yourself. The most picturesque canals include Singel, Keizersgracht, Prinsengracht, Brouwersgracht. and Herengracht. They are all next to each other so once you find one you will be able to visit all of them. The morning is also a great opportunity to photograph the reflection of the crooked houses on the water.
Tip: One of the best photo locations spots is the intersection between Leidsegracht and Keizersgracht where you can capture the bridges and crooked houses…and in summer the boats passing by! This is a postcard location so don't miss it.
While you are strolling next to the canals, take a peek at the houseboats – there are nearly 2,500 in the city and they have modern amenities. Honestly these houseboats have privileged views towards the canals.
While you are here take advantage and visit the 9 straatjes (9 streets). Here you can find tiny boutiques and galleries, cozy cafes, and quite original shops. This is a very charming spot in Amsterdam so if you can have time head to this part of town.
11:30 am – View the Westerkerk
Located at the Prinsengracht canal and close to the Anne Frank's Museum, you can find the Westerkerk. For a beautiful view of Amsterdam head to the Westerwerk tower. Note the tower is open from April to October and is closed on Sunday. We were in Amsterdam last May and unfortunately every time we tried to visit the tower it was closed.
12:00 pm – Stroll through the Jordaan
The Jordaan is among the most beloved neighborhoods in Amsterdam. Here you can find quaint shows and cafes; lovely canals; vintage shops and crooked houses. This neighborhood was originally populated with the working class but through the years it has become among the most upscale neighborhoods in the country. I'm actually afraid of looking at how much a small house would cost here!
1:00 pm – Rent a bike…
Amsterdam (and the Netherlands as a whole) is a city where you can see bikes everywhere you go. In fact, there are nearly 900,00 bikes in the city and between 12,000 and 15,000 bikes are pulled from the canals every year. Biking through the city is a great opportunity to see more sights in a shorter period of time. But please be careful Dutch people love ride really fast so don't be surprised if they honk (or angrily ring their bell) at you!
…Or hop on a canal cruise
It may sound cheesy for some, but also see if you can hop on a canal cruise. It's a totally different experience that you shouldn't miss while visiting the city. If you are in Amsterdam, you must take a canal cruise! Note there are plenty of options to choose from including tours that offer dinner and snacks along with both day and night cruises. There are even private and semi-private tours where you can enjoy the city at your own pace…all with a stacked bar for your leisurely delight.
2:00 pm – Have lunch
Now it's time for lunch, there are several quaint cafes (what everyone else but the Dutch would call a coffee shop) where you can get a quick bite to eat so I won't provide any recommendations. If you are looking for more substantial food you can also check out some restaurants or bars located along the canals. And if you are looking to try Dutch snacks, try the bitterballen (meat-based) – they are delicious! For dessert, try the poffertjes, small pancakes topped with powder sugar.
Tip: if you really want to get a solid traditional lunch go to the Upstairs Pannekoekenhuis. It's so good all the travel shows go there and the Beastie Boys immortalized the restaurant in a song. It's also on the way to the museums.
3:00 pm – Tour at least one of the museums
There are so many extraordinary museums in Amsterdam that it will be difficult to choose just one. In my opinion these are the best museums that are worth a visit. Given the time constraints only choose one.
If you are interested in seeing the works of the Dutch masters including Rembrandt's famous Nightwatch and Vermeer's extraordinary Milkmaid, head to the Rijksmuseum. If you want to learn more about Van Gogh's life and pieces head to the Van Gogh's Museum, which is located next to the Rijksmuseum. Alternatively, you have MOCO, a private museum showcasing today's most prominent artists such as Kaws and Banksy. All three are right next to one another, but you will need to book a specific time to visit.
If you want to learn more Anne Frank's life and her hiding place head to the Anne Frank's Museum. Please please please get your tickets in advance – specially if you want to visit the Anne Frank's Museum. Every first Tuesday of the month, all tickets for the following month become available so make sure to get them early.
Tip: There are privately owned or non-profit galleries all around the city so don't be shy and walk into one you like. The Marc Chagall Gallery is a perfect example where you have a collector showcasing the artist in the one of the few permeant exhibition outside of France.
5:30 pm – Photograph Damrak
This is one of my favorite locations for photographs. The view of the canal, the boats and the colorful and crooked houses make a magnificent photo opportunity. Note that the best lighting is in the afternoon.
6:00 pm – Head to the Groenburgwal canal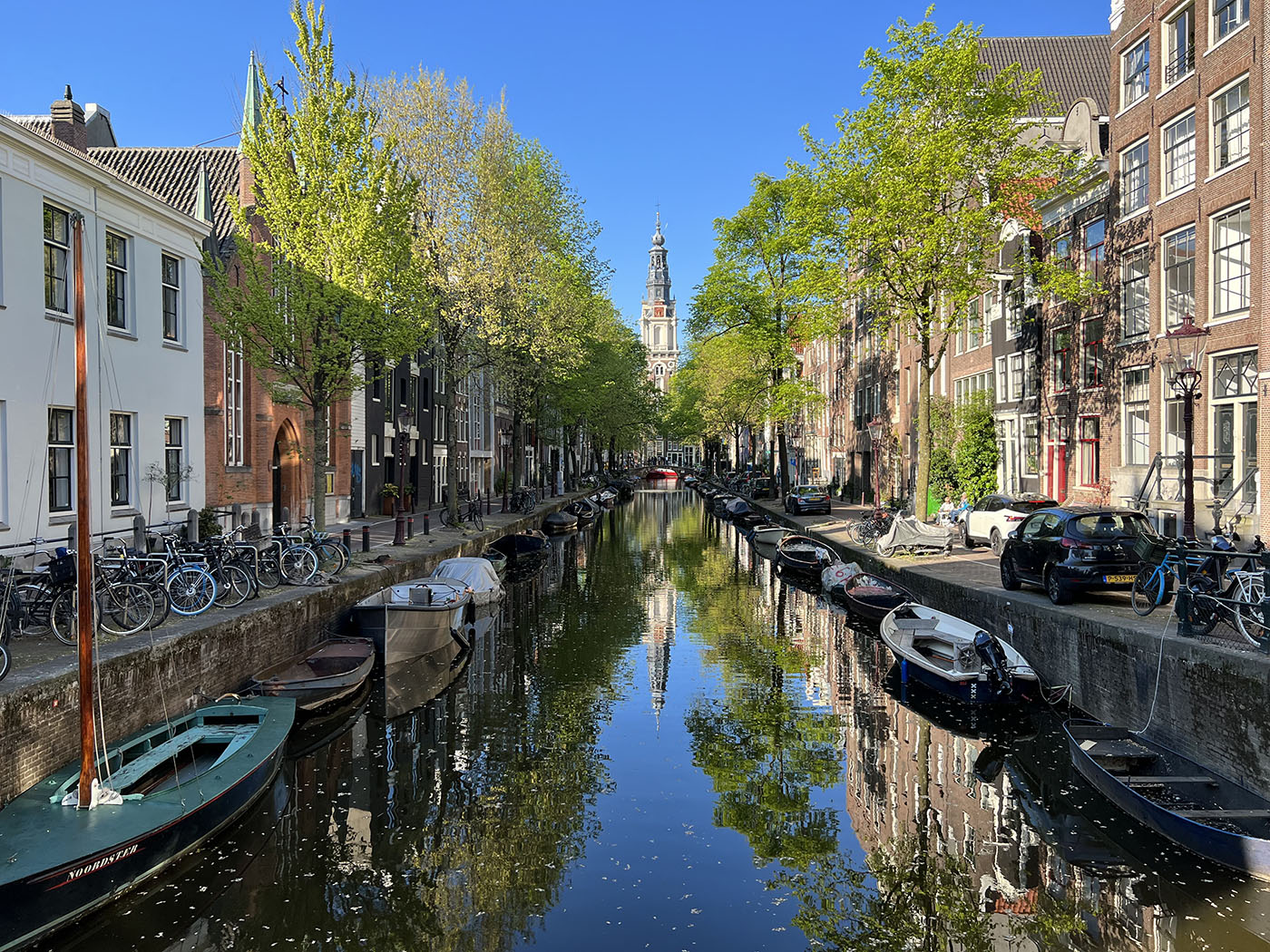 This canal connects the Raamgracht with the Amstel. What I like the most is the view of the Zuiderkerk reflecting on the canal's water. The Zuiderkerk was the first Protestant church in the city.
6:30 pm – Red Light District
You can visit this part at any time of the day but for obvious reasons it will be busier at night. This is quite a culture shock for most people; it's a very nonchalant atmosphere where a potential client "window shops" until they find whatever they are looking for. I say "window shopping" as the workers who are not busy will stand at the window trying to entice potential clients. When a client is booked, the curtains close and a little red light comes on. Please do not take any photos while you are here and also watch out for your belongings as there are pickpockets. My wallet was stolen while I was in this area a few years ago.
We hope you enjoy this itinerary and it will encourage you to visit this amazing city.
We are part of several affiliate programs including Viator and Amazon which means that we will earn a small commission at no extra cost to you if you make a purchase through the links included in this post.