/
Blackwater Falls State Park, WV: Best trails, tips and top things to do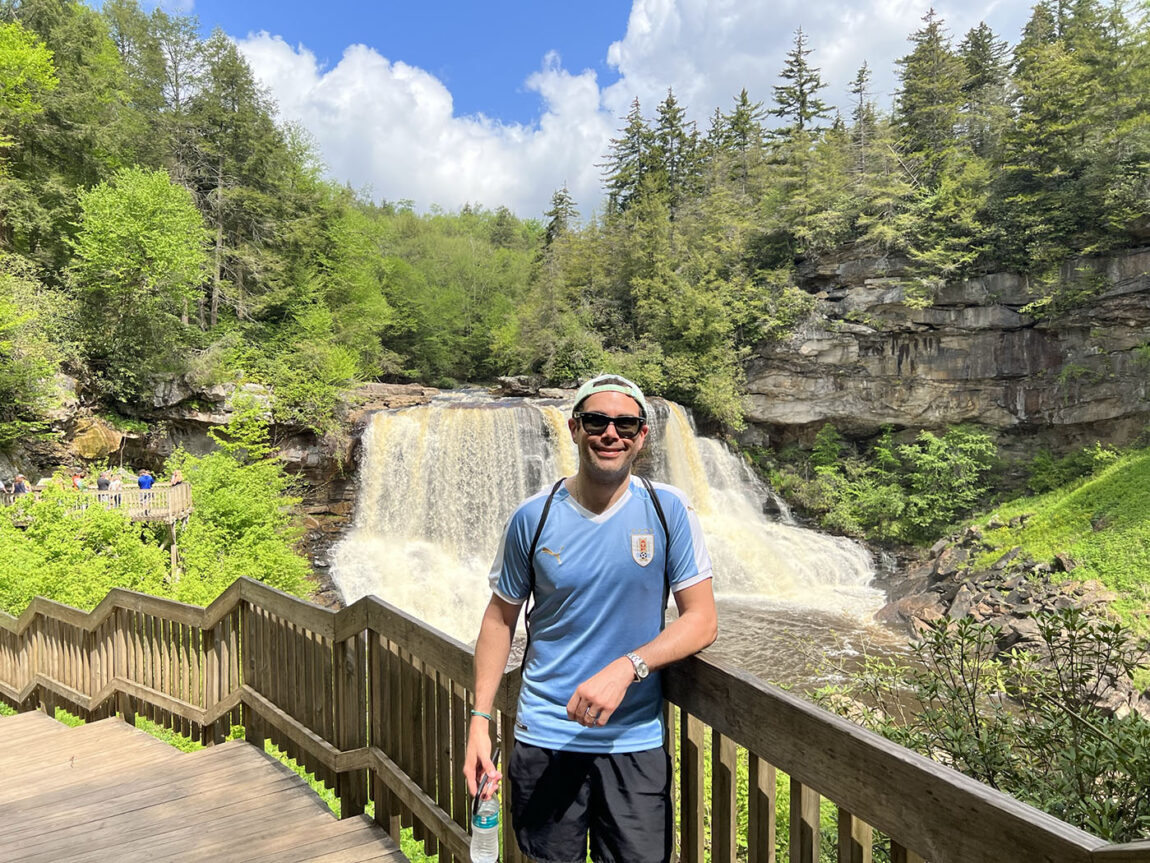 Located in "Wild and Wonderful" West Virginia, Blackwater Falls State Park is among the jewels of the state. Perfect for a day trip or a quiet weekend getaway, do not miss the chance to visit a beautiful park just outside the nation's capital.
Blackwater Falls State Park is located in the Allegheny Mountains of Tucker County in West Virginia. The park – established in 1937 – gets its name for the dark caramel color waters of the falls – the most famous attraction of the park. This distinctive color is caused by the presence of natural matter containing tannins found along the banks of the river. The 57-foot cascade will take your breath away as you can feel the tremendous force generated by the cascading water.
Blackwater Falls State Park will give you plenty of opportunities to take amazing pictures of the wilderness and you'll be able to enjoy several trails, observation decks and other very unique waterfalls. The shoulder seasons are a perfect time to go to the park – we were there on a Saturday during late May and fortunately the park was not packed. We didn't have any trouble finding parking and the trails were quite empty.
Tip: Since Blackwater Falls State Park is not a national park the entrance is free.
Hiking trails:
There are 20 miles of hiking trails throughout the park so there are plenty of options to choose from. You'll have a trail for every experience level available, whether you want a more difficult hike or an easy short trail to an observation deck. Below are some of our favorites:
Gentle trail: This is an extremely short and paved path (0.25 miles) that leads you to an observation deck which overlooks the Blackwater Falls. It's really quite easy and you will get a cool perspective of observing the falls from above – giving you a fantastic photographic opportunity.
Blackwater Falls Boardwalk Trail: This trail is a must-do in the park as it gives you the best view of Blackwater Falls. This is also a very short trail (0.25 miles) but you will have to walk the 200 steps down to an observation deck. This trail starts at the Trading Post (stop in to get water and snacks) parking area and leads to a beautiful observation deck where you will be able to get up close and personal with the falls.
Tip: Note there are several viewing points throughout the observation deck that will give you the chance to photograph the falls from different perspectives.
Lindy Point Trail: This trail provides an amazing view of the Blackwater canyon. It's marked as moderate but it's also quite short (0.3 miles). Lindy Point is located one mile past the sled run parking area. Note that the parking lot is quite small (2-3 cars) so if you don't find parking you will need to park along the side of the main road. When we were walking on the trail my husband saw a snake so watch out where you step!
Elakala Falls Trail: The trail to Elakala Falls starts at the south end of the Blackwater Lodge. Park at the lodge and head to the trail to get an amazing view of Elakala Falls. Getting to the spot where the most famous photo can be taken is a bit tricky and you might need to scramble a little bit to get closer to the falls. Also, the terrain might be slippery because the water splashes all over the access points – to get down to the waterfall you'll have to cross muddy areas as well – so pack a pair of good hiking shoes to ensure you don't fall. The trail is 0.5 miles and is marked as moderate.
Where to stay:
Since we went to the park for a weekend getaway, we reserved a cabin on site. Driving from Washington DC, is not far, but you may want to stay overnight in case the weather does not collaborate. We highly recommend staying in a cabin as it's an amazing opportunity, but make sure you bring all your grocery needs with you. When we got to the cabin, we were greeted by a deer who seemed oblivious to our presence – It was quite obvious he was used to having humans around!
The cabin was extremely comfortable and had a fireplace (big bonus); it was furnished with everything you might need. Another alternative is to stay at the lodge or find accommodation at the town of Davis which is just a few minutes from the park.
What to eat:
The Smokehouse Restaurant: This restaurant is open daily for breakfast, lunch and dinner. We had breakfast here and there are quite a few options to choose from including eggs, toast and muffins.
Davis: There are lots of cool little spots in the town; you can get anything from Mexican food to steakhouse fair to organic coffee. The town, while small, gets packed with tourists and the restaurants close relatively early – especially in the off season.
Sirianni's Café: This is a great pizza spot, with a very unique Americana style décor. If you've been to one of the original Gino East pizzerias in Chicago, you'll feel right at home. This was great pizza, perfect to recuperate from a day of hiking. The beer selection is really diverse, but the supplies are limited – my husband had a couple of local craft beers. I had the pasta, and let me tell you, the portion could have fed three people! This is a cash only establishment, but you'll have access to an ATM on site. Make sure to stop in for great pizza and friendly service.
What to bring:
Comfortable hiking shoes: Even though the trails are not that long they can be slippery so make sure you bring hiking shoes with you that have good traction. We highly recommend The North Face Men's Trail Escape Edge and the Oboz Sawtooth II Low B-Dry Hiking Shoe for women.
Sun protection: Don't go hiking without wearing sunscreen. I love Supergoop! for my face as its light texture makes me feel like I am not wearing something heavy. For your body, get Coppertone.
Water bottle: Bring water along to stay hydrated along the way. We recommend getting the Nomander BPA free collapsible bottle which rolls up for compact travel and can be attached to your bag for quick access.
We are part of several affiliate programs including Viator and Amazon which means that we will earn a small commission at no extra cost to you if you make a purchase through the links included in this post.