/
Cesky Krumlov, the Czech Republic's most enchanting town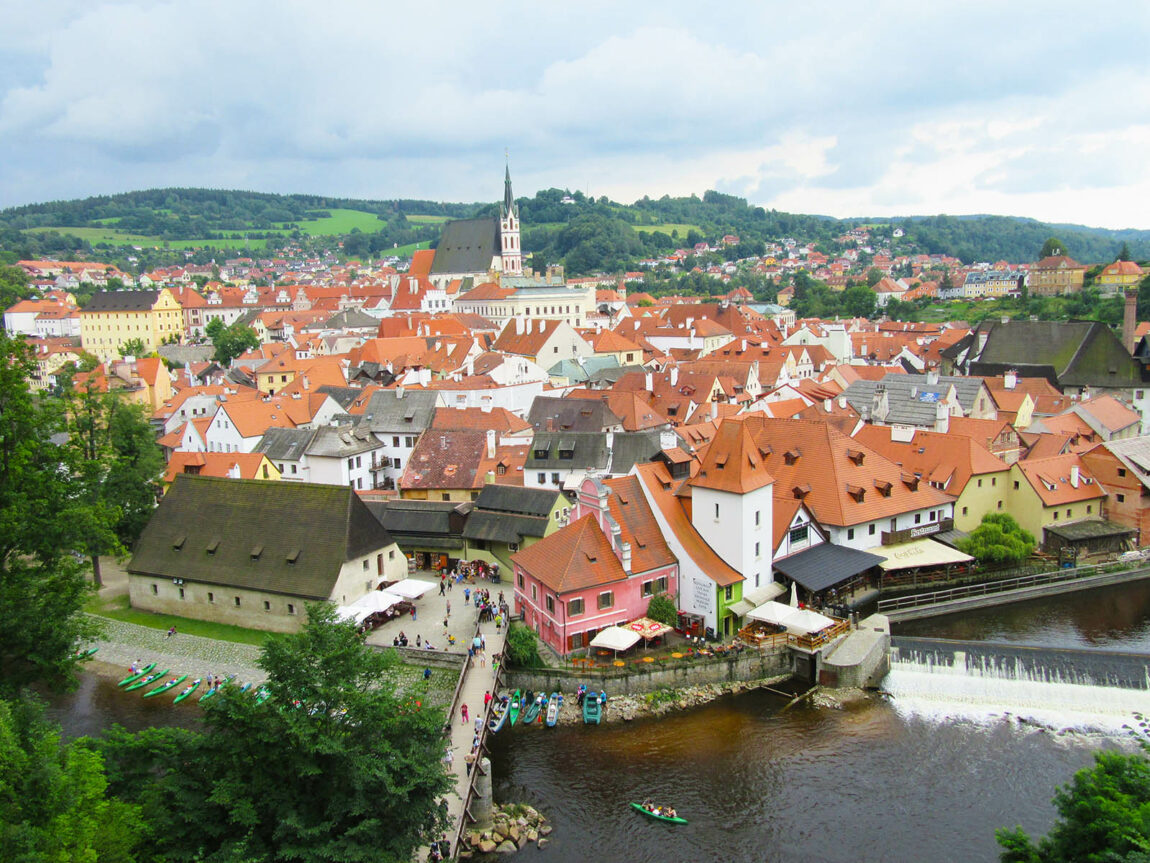 Cesky Krumlov, the Czech Republic's remarkable gem, is among the most picturesque towns in the country, and in Europe.
The city of Cesky Krumlov – located in the South Bohemian region – is one of the most popular tourist destinations in the country. And for a good reason: When you arrive in the city, you'll be transported back in time when seeing a knight trotting through the town towards his next adventure would be an everyday occurrence. With elegant architectural buildings, cobbled streets and alleys that lazily meander through the town, this medieval city will immediately conquer your heart.
Cesky Krumlov is a small town, so it's easy to soak in the main attractions on foot in less than a day. There are plenty of memorable photo opportunities everywhere you look – a small city full of cobbled streets, the imposing castle standing sentinel over the old town square and peaceful river cutting through the city dotted with many cafés. You'll also want to get a shot from high ground as the get the most amazing views of the town: colorful medieval buildings underneath terracotta roofs. Like other Eastern European towns, you'll be enchanted by the fairy tale vibes (but this one has a fully functioning bear pit with real bears!).
Tip: The center of Cesky is car-free. Bring comfortable shoes as the best way to soak in this city is on foot and you want to avoid getting blisters.
Cesky Krumlov is located on the banks of the Vltava river and was built around a 13th-century castle that keeps watch over the city. The center of the city was declared a UNESCO World Heritage Site back in 1992, and it must be on your bucket list as one of the best-preserved walkable towns in Europe. Thankfully, it has survived the World Wars with very little scars to show, something similar locations can't claim – lending that feeling of "lost in time" to your visit of Cesky Krumlov.
Cesky Krumlov makes a perfect day trip from Prague, as it's located approximately a two-hour drive (180 km south) from the city. We booked a tour through Viator and had a great experience. As you know, we have booked several tours in different countries through this tour platform and never had any issues. We highly recommend Viator, as it is easy to use and offers many options.
Where to stay
If you opt to stay the night in Cesky Krumlov; here are a few hotel recommendations for your consideration.
Hotel Dvorak: The hotel, conveniently located in the heart of the town, is within walking distance to several attractions. The rooms offer amazing views of the Vltava River and the castle grounds. The Hotel Dvorak offers 22 luxurious rooms, has a bar and café for guests, as well as a terrace which is opened during summer offering magnificent views.
Hotel Růže: This 5-star hotel is centrally located in Cesky Krumlov, and only steps away from the Church of St. Vitus. This hotel was constructed in the 16th century as a Jesuit Monastery and University, and was able to preserve its Renaissance style despite multiple renovations. The hotel has a restaurant offering local and international cuisine, a terrace with magnificent views, as well as a wellness center.
Krumlov House: This guest house is located within a 6-minute walk of the castle. It offers free WiFi around the property, a shared kitchen, and luggage storage for guests. Every room has a private bathroom, and certain rooms come with a terrace.
Things to do
Here are a few attractions that are worth visiting in Cesky Krumlov:
Stop by the St. Vitus Church: Considered the most impressive architectural landmark after the castle, St. Vitus Church was built in the 1400s and features a classical neo-Gothic tower. Concerts offering classical music are organized frequently – we highly recommend you catch a show as the ambience is perfect.
Walk the streets and alleys of the old town: Put away your map, turn off your direction app, and get lost in cobblestone streets, small shops, and beautiful buildings. And remember to also grab a delicious bite at any of the nearby cafes to replenish your energy.
Enjoy panoramic views at the Cloak bridge: The three-story covered bridge stands on massive stone pillars and offers a great view of Cesky Krumlov. The bridge derives its name from the fortifications, looking like a cloak draping down, which used to protect the western side of the castle. Several sculptures of Christian saints are perched on the top of the bridge adding a bit of spiritual protection during a siege: John of Nepomuk, Felix of Cantalicia, Wenceslaus, and Anthony of Padua.
Rent a boat/kayak to navigate the Vltava River: The river offers a different experience for your visit. One of the more memorable things to do is renting a boat or a kayak, as many locals do. While you are paddling away, don't forget to turn around and capture Cesky Krumlov from another angle from the scenic river.
Visit the castle: When you enter the town, you will walk across the bridge into the castle. Make sure you take this chance to experience the fortress as it is incredibly well preserved, and you will see different epochs represented throughout each level. This castle is the second-largest castle in the country outside of Prague's Hradcany. As the castle evolved over time, it features a combination of Gothic, Late Gothic, Renaissance and Baroque elements.
Check out the bear pit: Bears where historically a very important animal for the lords of Southern Bohemia; you'll see them prominently displayed in the castle and the family coat arms. However, as the castle evolved, one cunning lord created a bear pit in 1707, so large it took over as one of the castle moats, to keep his "pet" bears. Today, the pit has been modernized to function in similar terms of a zoo, with an entire team to adhere to their needs. Every Christmas or "bear birthday", the castle operators organize bear festivals where the moat is decorated, and the bears get presents.
Eat by the river: After you work up an appetite kayaking, stop by one of the many cafes and get a snack. Eating by the peaceful river has been a mainstay for centuries, and you'll immediately understand why – the sense of serene satisfaction will envelope you as you sip on some wine and eat the local version of an apple strudel.
Explore the castle tower: The tower was originally built in the 13th century and offers one of the most beautiful views over the old town and its surroundings. Inside you will be able to see a very unique set of items –three bells from 1406, 1460, and 1671. There are 162 steps to get to the top and you will need to get a separate ticket. It's totally worth it, so don't skip it.
Experience Svornosti Square (Town square): Stroll thought the town square which features colorful medieval houses, quaint shops, twisting alley ways with more surprised, a stunning fountain and a very important column. The column serves as a memorial of the victims of a 17th century plague – something our modern epoch knows too well.
Getting there
By car: Renting a car will give you a lot of freedom to stop along the way and explore. The Czech Republic's countryside is beautiful, and the legends of Bohemia will creep into every stop. Make sure you take advantage and see typical Bohemian villages and the majestic forests dotting the land on your way to Cesky. The driving distance from Prague is approximately 180 kilometers and will take you around 3 hours to reach the city. There is parking available.
By train: Most trains that run from Prague to Cesky Krumlov will have you change trains in České Budějovice. The journey takes around 2 hours. For timetables and prices, visit the official website. It's approximately a 20-minute walk to the center of the town.
By tour: As I mentioned earlier, we booked a tour to Cesky Krumlov via Viator. If you can't stay overnight, this is the best option.
We are part of several affiliate programs including Amazon and Viator which means that we will earn a small commission at no extra cost to you if you make a purchase through the links included in this post.