/
Viator tours in Barcelona you can't miss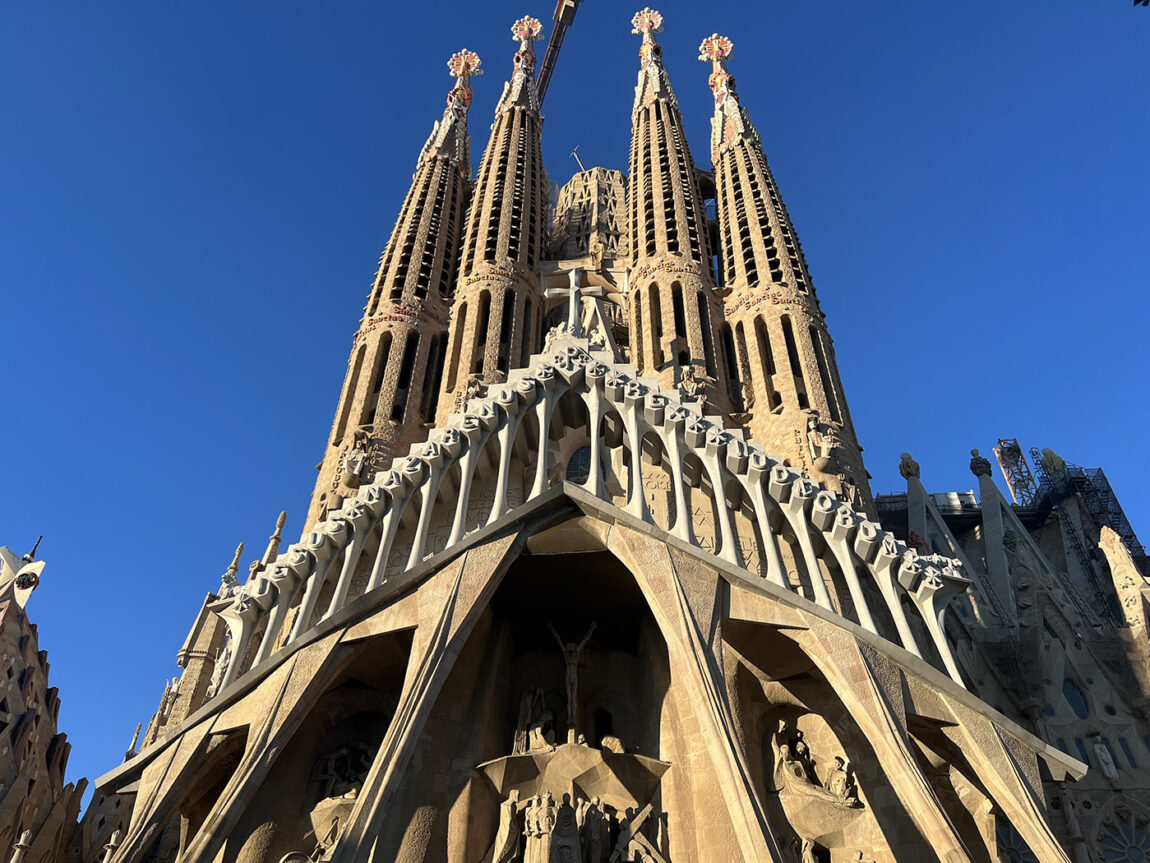 Located in northeastern Spain's Catalunya region, Barcelona draws people from all over the world…and with good reason. The city is known for the amazing works of Gaudí, a mix of emblematic architecture, art, and amazing food. There are plenty of things to do in Barcelona, and whether you are sipping a vermouth while peoplewatching, or scaling up Monserrat, you will not be bored. From leisurely strolling Park Güell, to visiting the largest unfinished Roman Catholic church – La Sagrada Familia – and admiring the unconventional architecture of La Pedrera, Barcelona will quickly steal your heart.
It's easy to feel overwhelmed with everything this city has to offer. Therefore, we have compiled below the best tours you should book while visiting Barcelona. All these tours are from Viator – our favorite website from booking tours which never disappoints. If you end up booking any of the highlighted tours in this post leave us a comment about your experience – we'd love to know how it went.
Visit La Sagrada Familia
Visiting La Sagrada Familia when in Barcelona is a absolute must do. Some even say that you haven't been to Barcelona if you haven't visited the Sagrada Familia. Listed as a UNESCO World Heritage this Gaudí masterpiece is fascinating; not only will you be mesmerized from the church's exterior (which itself goes beyond architecture and veers into the avant garde art realm) but the interior is otherworldly in how the lights and colors play off the sculptures. This is Gaudí's swansong, and it's no wonder such a complicated work of art is taking over 100 years to finish building. Make sure to visit the crypt where you will find Gaudí's tomb.
The only downside of this cathedral is the number of tourists that visit it. Expect long lines and sometimes up to two hours wait. I highly recommend you purchase the Fast Track Sagrada Familia Guided Tour which allows you to skip the long lines. A guide will accompany you to this tour where you will learn the history of La Sagrada Familia while also learning about Gaudí, the building's charismatic creator. Trust me, don't waste time doing the queue.
Let Montserrat Monastery take your breath away
Monserrat is a breathtaking Benedictine monastery located approximately an hour away from Barcelona. Nestled among rocky mountains, Montserrat offers amazing views of the surrounding landscapes. I can't recommend enough visiting Montserrat, especially for hikers. The monastery offers you lots of things to do – visit the church, monastery, a great art museum, hike along the mountain, to name a few.
The Montserrat Half-Day Tour with Tapas and Gourmet Wines Tour allows you to visit the Montserrat Monastery which is home of the "Black Madonna" often referred by other names including "The Virgin of Montserrat" and "La Moreneta". It is tradition to either kiss or touch the Virgin's hand whilst opening out your other hand to Jesus. After seeing all the highlights in Montserrat you will have free time to enjoy traditional food made by the monks or farmers.
The tour ends with a visit to the vineyards of Oller del Mas, a winery housed in a 10th-century castle. Here you will descend into the cellars to learn about the production methods, and sample signature wines alongside a cold tapas lunch with dessert. Enjoy!
Enjoy a Spanish cooking experience
One of the highlights of our trip to Barcelona was enjoying the delicious food the city offers. Let's be honest, you cannot go wrong choosing a place to eat. However, a really cool idea is to learn some traditional recipes to take back home. Join the Interactive Spanish Cooking Experience in Barcelona and get immersed in the country's culture by learning how to make tapas, paella and sangria with a Barcelona chef.
Fresh ingredients are key; this tour starts with a visit to La Boqueria – the world famous market in the city where you will find all manner of goodies to eat; each stalls offering the highest quality food and some will even prepare what you purchase as a meal (make sure to get a "cone of jamon" to snack on in between meals).
Then you will head to the professional teaching kitchen. This is a hands-on class that includes dinner, drinks and a snack – just make sure you arrive with your belly as empty as possible. When the paella is done, sit down to the meal you've prepared, savoring the rich flavor of the rice and seafood (a non-seafood meal option is served by the chef for those who don't eat seafood).
360º Barcelona: Walking, helicopter flight & sailing
Ready to explore Barcelona by air, water and land? Then join the 360º Barcelona: Old town walking, helicopter flight & sailing tour. This is the best tour to get a holistic grasp of the city, and it will give you some of the best photo ops. You will first visit Barcelona's Old Town where you will begin wandering the picturesque streets of this charming neighborhood, marvel at the impressive facade of the Barcelona Cathedral and stop by the Gothic Quarter. Don't forget your camera as there are plenty of hidden gems throughout and to capture the cool atmosphere of Old Town.
Afterwards, hop on a catamaran for a relaxing cruise starting from the Old Port. Take the time to relax here because the next stop is climbing aboard a helicopter for a bird's eye view of the city and surroundings – get ready to soar high above the city for magnificent views that will be imprinted in your mind forever.
Experience the Park Güell with skip the line tickets
Park Güell offers visitors a place where they can be awed by magnificent architectural and natural heritage blending seamlessly together. However, it's most famous for its breathtaking views over Barcelona.
Needless to say, this is one of the most popular locations to visit in the city, and it will be packed throughout the day. When I visited Park Güell earlier this year, a guy next to me was trying to get into the park but since he didn't buy his ticket in advance, the guards didn't allow him in as the park was full. Lesson learned? Get your ticket in advance. Even better, get the skip the line tour and don't waste time in line. The Park Güell Guided Tour with Skip the Line Tickets will let you explore the park with its modernist structures and colored tiles while also learning about the history and architecture of one of Gaudí's masterpieces.
Explore Casa Batlló
Located in one of Barcelona's most iconic avenues, Casa Batlló is among the cities' most eye-catching buildings. The block gets full of tourists trying to take pictures of the marvelous building, so make sure to get there early. While the façade is absolutely brilliant, the interior of the house is just as breathtaking as Gaudí pushed the world's architectural limits and imagination.
The Casa Batlló Admission Ticket with Intelligent Audio Guide Tour will give you the opportunity to immerse yourself in newer additions to Casa Batlló, including the Gaudí Dome and Cube while learning about the architect's famed life and inspirations. Note that this attraction gets really busy, as many of tourists will merge with the entrance line, so purchasing this skip the line ticket will save you time.
Check out Barcelona on a hot-air balloon flight
What better way to see a city than from above?! Join an early morning hot-air balloon excursion to enjoy the amazing Barcelona cityscape and local landmarks including the Pyrenees Mountains, the Mediterranean and the famous Montserrat. Flying in the early morning ensures the most optimal flying conditions – light from the sunrise guarantees amazing views but temperatures tend to be cooler.
The Hot-Air Balloon Flight Over Catalonia will climb up to heights of up to 3,000 feet (900 meters) during the 1- to 1.5-hour flight. Then, conclude the flight with a snack and a Champagne toast as you go over your favorite parts of flight you just experienced!
Kayak and Snorkel day tour to la Costa Brava
Let's face it, Barcelona is a city with a beach and Catalonia has miles of pristine beaches along it's famed Costa Brava. Since you're already going to enjoying some beach time, what better way to experience the amazing coastline of Costa Brava than from the water? Join the Kayak and Snorkel Day Tour to la Costa Brava from Barcelona to enjoy the crystal-clear Mediterranean Sea.
Get ready to snorkel and meet the marine life and go kayaking to explore coves and small underwater caves. All your gear and equipment is provided at the time of your excursion and a deli-style lunch will be served. You can't beat Spanish jamon and a day in the water. Round-trip transport aboard a comfortable coach is also offered from a central location
Enjoy a Flamenco Night
Originating in southern Spain's Andalucia, flamenco is now the country's national dance. Barcelona just happens to have one of the most legendary venues for Experience exhilarating flamenco performances, Tablao Cordobes. Join the Skip the Line Ticket: Flamenco Night at Tablao Cordobes, Barcelona and cheer on a talented troupe of flamenco dancers as a unique display of agility, passion and energy is demonstrated on stage.
While you soak up the electric atmosphere of one of Spain's most famous flamenco venues, you can opt to enjoy a traditional Spanish buffet or refreshing drink while watching the show. Tablao Cordobes attracts the best performers of flamenco, internationally-renowned flamenco dancers take the stage for a truly memorable experience. It's a great introduction to Barcelona culture, and an ideal choice for your first evening in the city.
Immerse yourself in Spain's football culture
An absolute must do it visit FC Barcelona's stadium, located in Les Corts which is about a 20 minute drive from the Sagrada Familia. Delve into FC Barcelona's history on an independent tour of Camp Nou stadium. With the Camp Nou – F.C.Barcelona Open Date Ticket you'll be able to skip the lines with your priority access ticket and retrace the footsteps of the clubs (and rival) football (soccer) legends.
Here, you will be able to walk onto the pitch and be awed by 360-degree views of the largest stadium in Europe. Visit the locker room, presidential suite, and press room, then you'll head to the FC Barcelona Museum, where you find the club's expansive trophy collection along with interactive exhibits. Skip-the-line admission to Camp Nou is the best way to visit this museum of the world's most popular sport.
We are part of several affiliate programs including Amazon and Viator which means that we will earn a small commission at no extra cost to you if you make a purchase through the links included in this post.