/
Head to the Sighisoara citadel, Romania, to step back in time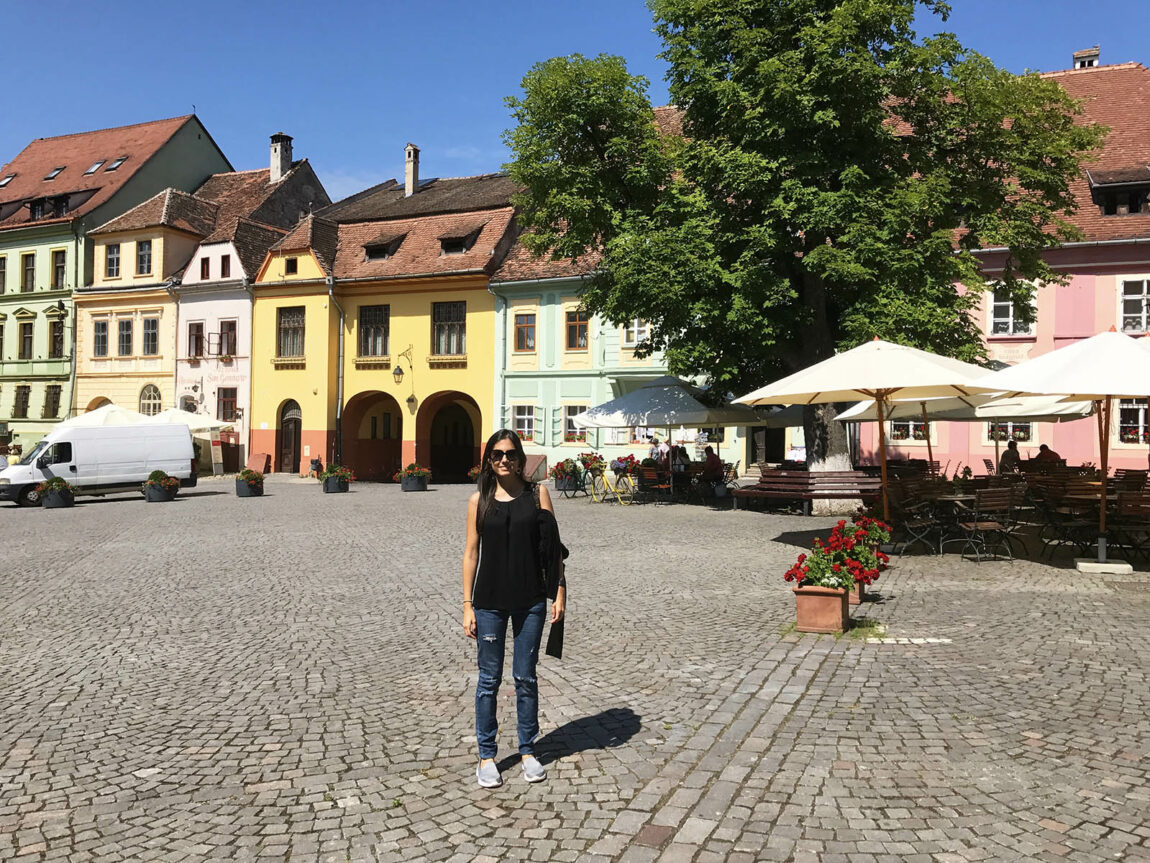 Visit Sighisoara citadel, Romania, a charming medieval town nestled in the hills of Transylvania.
Located only 2-hours away from the city of Brasov, Sighisoara is a must-see when visiting Romania. Why? Because it's among the most extraordinary and best-preserved medieval towns in Europe. Trust me, it will not disappoint you.
When you get to town, you will immediately feel you have been transported back to the medieval period with its fortified walls and cobbled streets. As you walk around the town, you'll be surrounded by quaint cafés and restaurants all within straw colored buildings – some as old as Sighisoara.
I have to say that Transylvania -where Sighisoara is located- stole my heart. When I thought that I couldn't visit a more beautiful Romanian town, I found another one which was even more extraordinary. Sighisoara, of course, was no exception. Like many places in Transylvania, Sighisoara also has a connection to "Dracula" – Vlad Tepes – as you'll find the Impaler's house of birth tucked away in the town's center.
If you are driving to Sighisoara, you'll have to park in the lower part of town, as cars are not allowed inside the town's historic center; the distance is worth it as you'll be able to take in the tiny streets and get a chance to explore before reaching the city center. While we didn't have any trouble finding parking, it should be noted we visited during a weekday, so bear in mind it might have made a difference. We suggest you plan accordingly.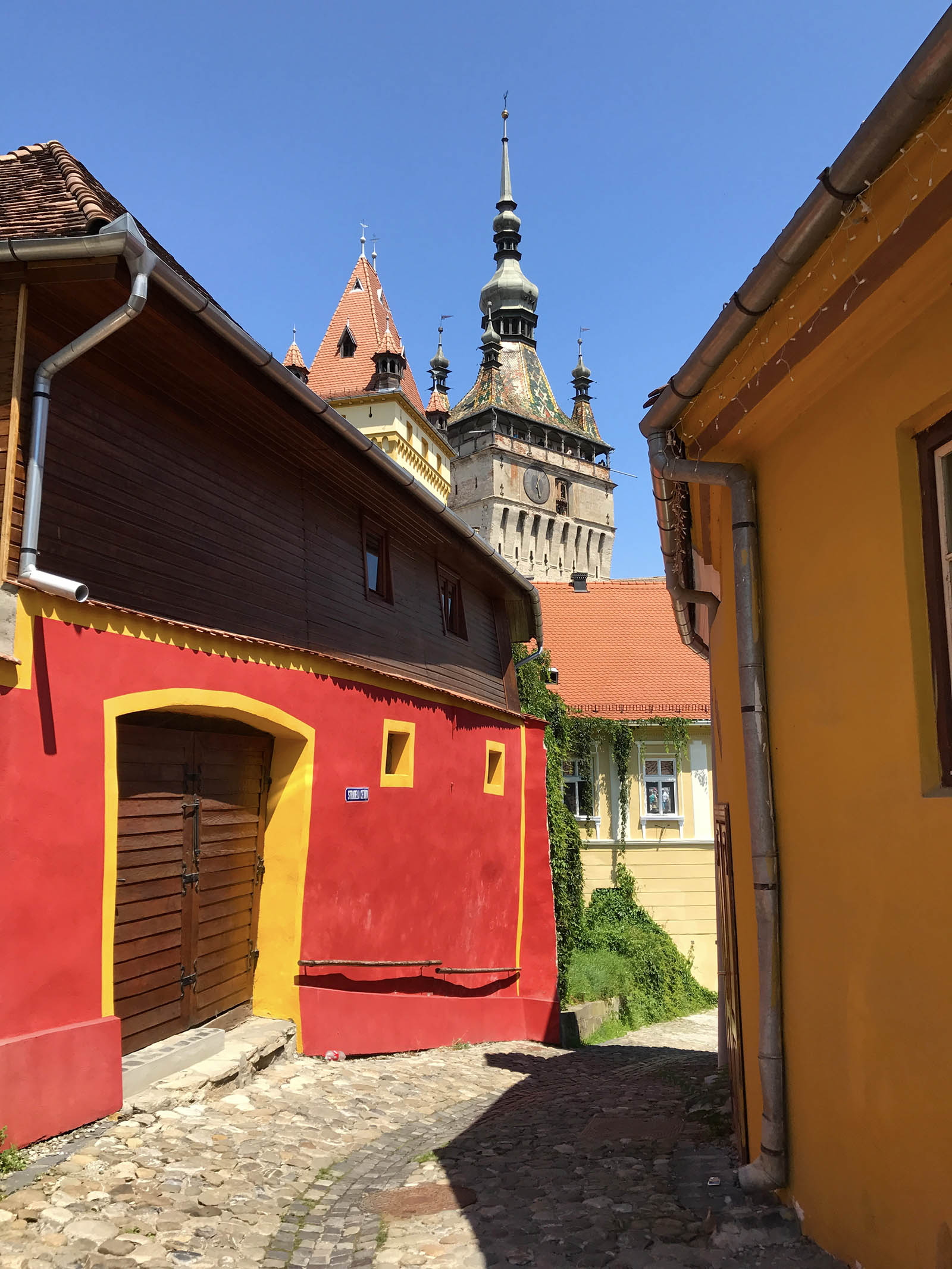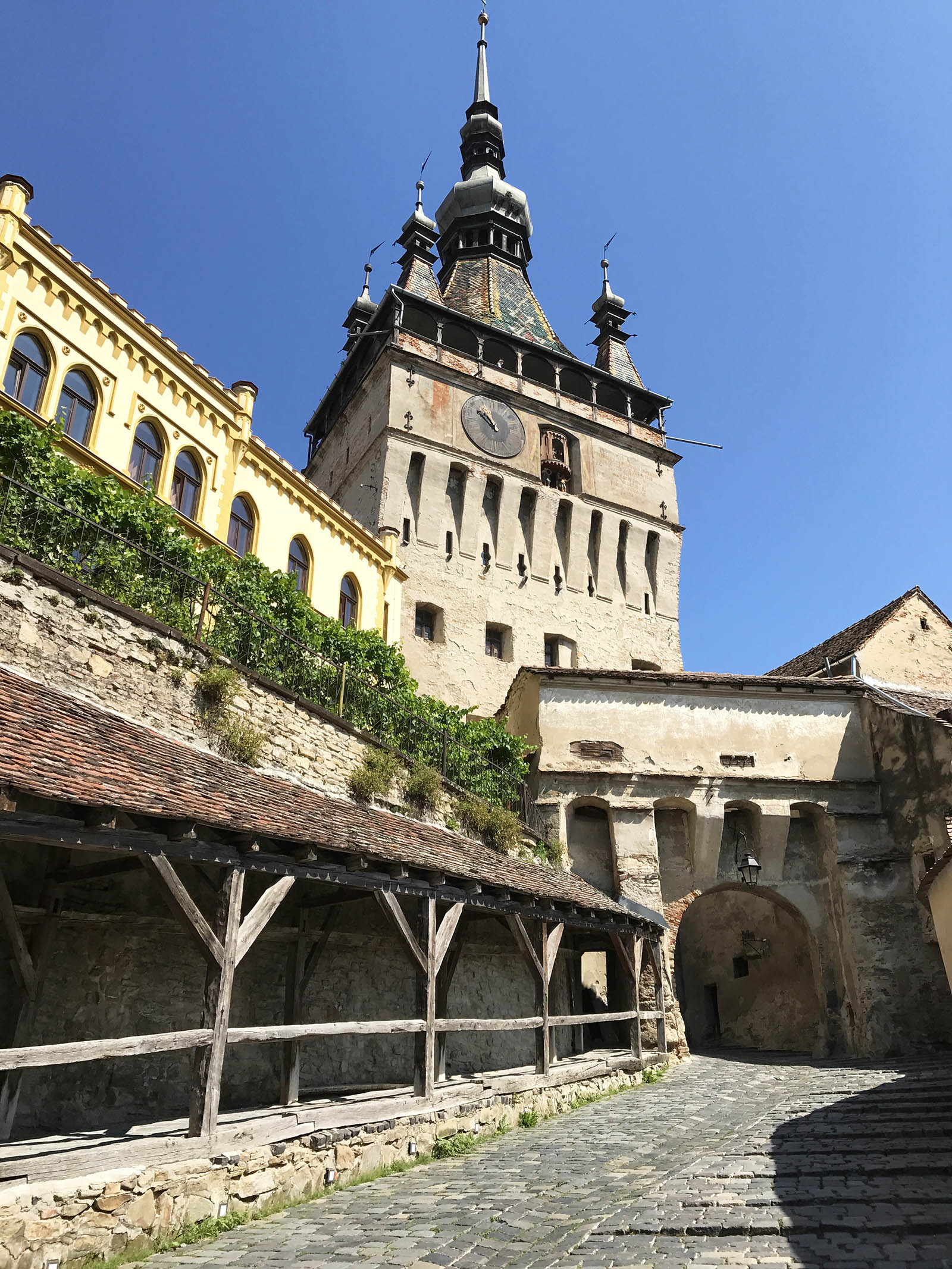 Because of its tiny size, Sighisoara constitutes a perfect day trip. However, if you want more time to enjoy this medieval marvel, stay overnight – you'll have the opportunity to explore the town when the majority of tourists have not arrived and mix in with the locals.
Tip: Since you will be walking a lot in Sighisoara, make sure you bring comfortable shoes. We recommend a pair of Sketchers which are lightweight and cushiony.
In addition to visiting the town's main attractions, take time to stroll through the medieval streets of charming Sighisoara: Get lost in its many tiny streets, grab a cup of coffee at one of the quaint cafés lining the streets while absorbing the magnificence that Sighisoara possessed in the old days and still holds today. Its colorful pastel merchant houses will make you take pictures non-stop in every street you visit. There is no need to rush, as you enjoy the laid back style of this tiny town.
What to do
Here are some of my favorite attractions which I highly recommend you visit:
The Clock Tower:
The 14th century Clock Tower is among the most outstanding towers in Sighisoara. This tower, not only stored Sighisoara's treasures, but also controlled the main gate of the defensive wall. It's easy to see why, as when you head up the tower, you can get amazing views of the town, landscape and the charming houses. Also located at the foot of the Clock Tower you can find the Torture Room, a museum displaying many historic and super creepy torture instruments which were used to coerce confessions from prisoners during the middle ages. The Clock Tower is open six days a week:
May 15 – September 15 Tue. – Fri.: 9 a.m. – 6:30 p.m.; Sat. – Sun.: 10 a.m. – 5:30 p.m. Closed on Mondays.
September 16 – May 14 Tue. – Fri.: 9 a.m. – 3:30 p.m.; Sat. – Sun.: 10 a.m. – 3:30 p.m. Closed on Mondays.
Location: Piata Muzeului 1 (head inside the Clock Tower)
Vlad Dracul's House: As you walk through Sighisoara, you will notice a yellow painted house located in the citadel's square. It's a beautiful house with flowers hanging from the balconies and wrought iron lanterns. Judging from the charming facade, no one would guess that in this house, the bloodthirsty Vlad Tepes (who was the inspiration for Bram Stoker's terrifying character, Dracula) was born and lived with his father during the first years of his life before moving to Targoviste. The name of Sighisoara was first noted in a written document issued by Vlad Dracul, who was Vlad the Impaler's father, in 1431.
While the ground floor of the house now serves as a Dracula themed restaurant which dishes out local specialties, the first floor houses a museum of weapons from the period of Vlad's birth. This museum features several medieval weapons which were utilized by citizens of this town to defend from invading forces.
Visitors can also go for an interesting experience in Dracula's bedroom located just upstairs. I don't want to spoil it for you but be aware that you might find a surprise when you go up the stairs…make sure you bring some garlic.
Location: Str. Cositorarilor 5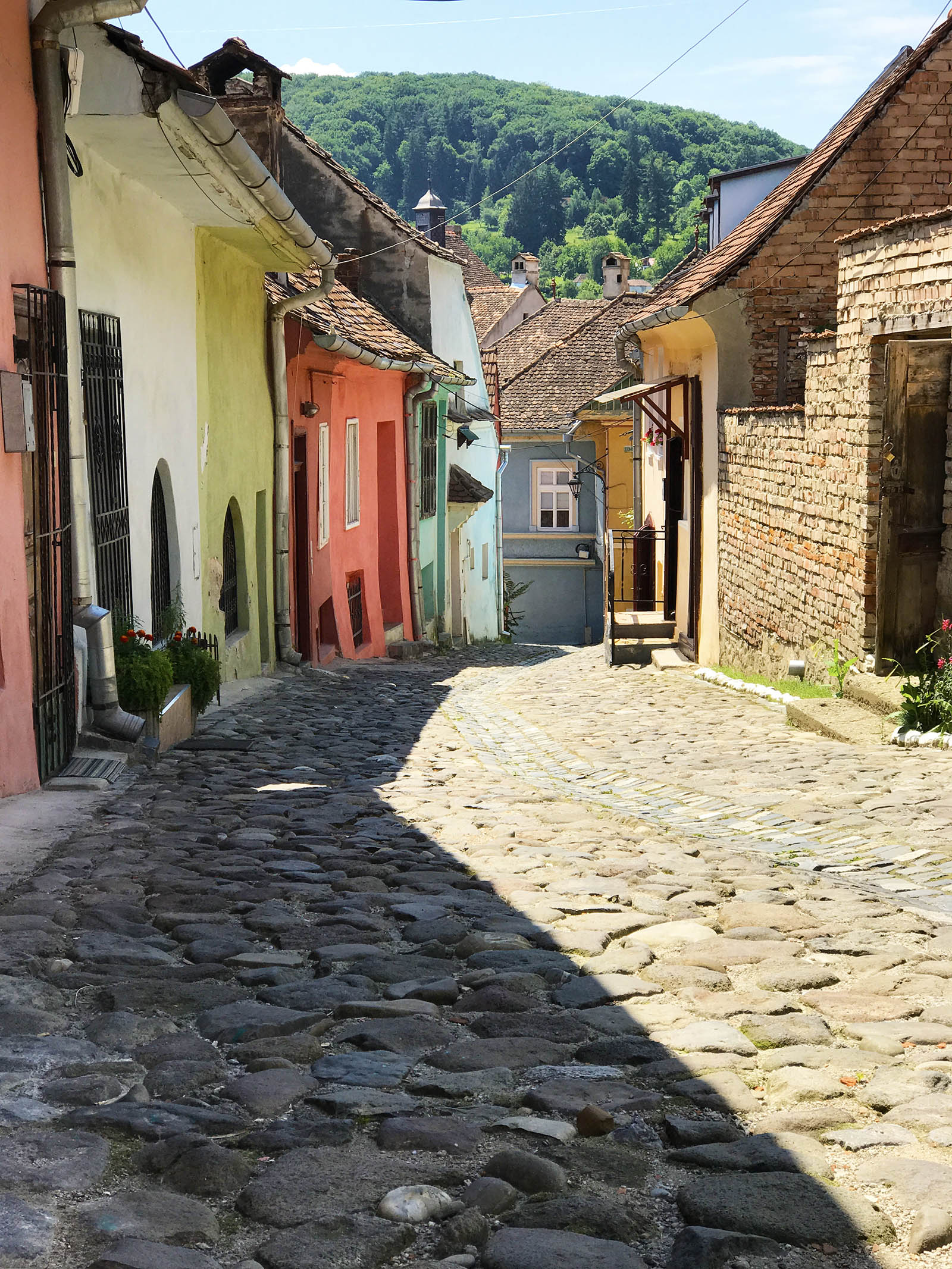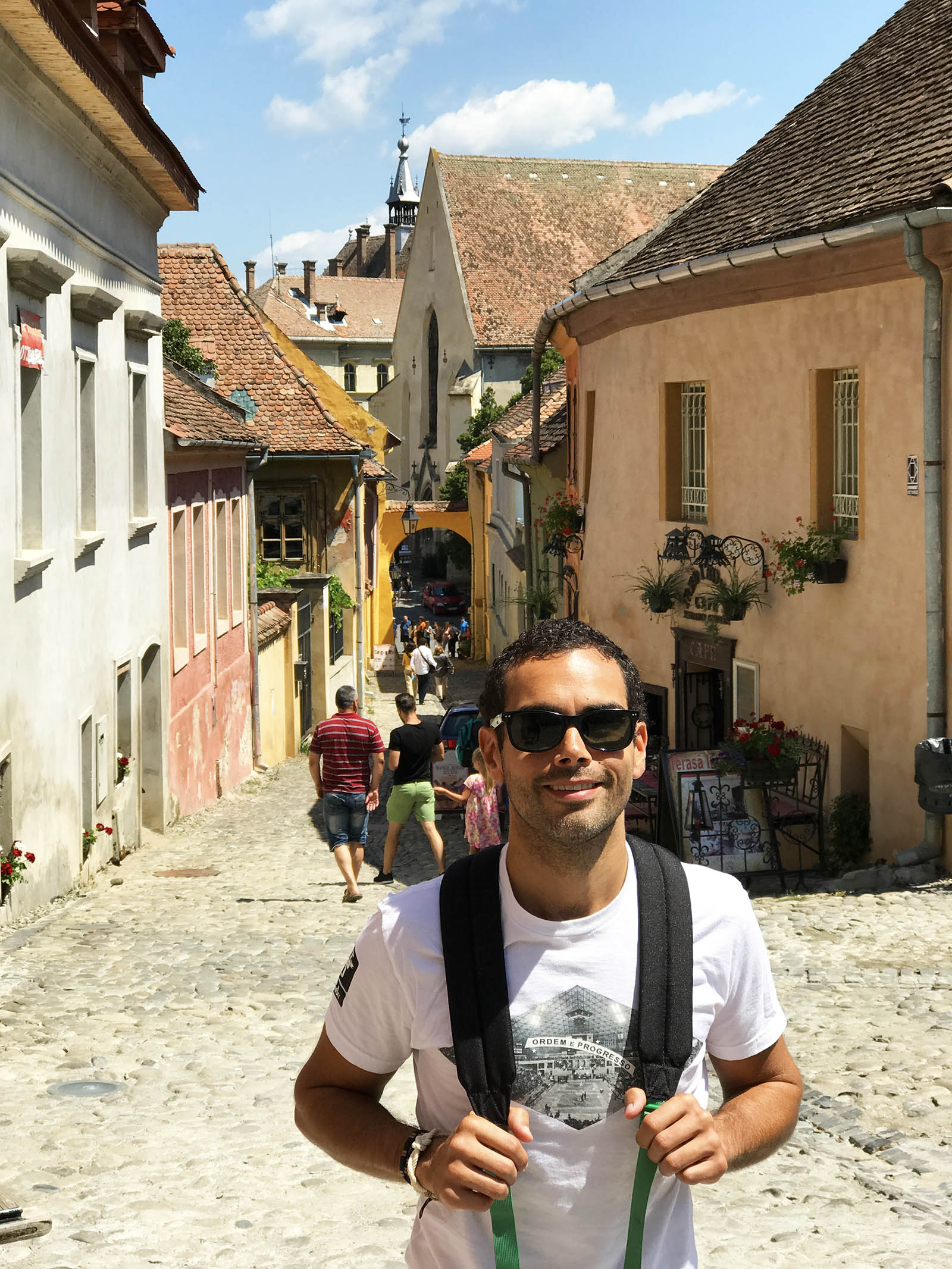 The Citadel Square (Piata Cetatii): This delightful square was one of my favorite parts of Sighisoara and the true pulse of the town. Located at the heart of Sighisoara's Citadel, this square is the perfect spot to grab a cup of coffee along with a sweet treat, and enjoy the hubbub of daily life. Originally, street markets, along with ever popular public executions and witch trails, were conducted in this charming square. The Citadel is located at the heart of Sighisoara so it's easy to walk to the rest of attractions from here.
The Scholars' Stairs: The Scholars' Stairs connect the Citadel Square with the Church on the Hill and were built back in 1642. A medieval piece of architecture, this covered stairway (with 175 steps) was built to protect schoolchildren and churchgoers while they climbed the long stairway during the winter (I would have collapsed with exhaustion). Open daily from 10 am to 6pm, the entrance to the church costs 5 lei (US$1.25). Address: Piata Cetatii.
Have a gander at the citadel towers: Originally the half mile defense wall housed 14 towers but unfortunately, only 9 remain today. See if you can spot them! If you are visiting the Church on the Hill, you will immediately notice the Ropemaker's tower which dates from the 13th century; making it one of the oldest in Sighisoara and one that played a key role in the city's defense.
Visit the Church of the Dominican Monastery: This gorgeous church was built in in late-gothic style and was restored twice: during the 15th century and later in the 16th century due to a massive fire which occurred in 1676. Inside the church, there are artistic artifacts including a stunning baroque organ, an altarpiece that is itself a work of art, and a collection of 16th and 17th century Oriental carpets. Throughout the year, classical and baroque concerts are held in this church. Location: Piata Cetatii.
We are part of several affiliate programs including Amazon and Viator which means that we will earn a small commission at no extra cost to you if you make a purchase through the links included in this post.