/
Hiking trails in Arches National Park: Top 4 must do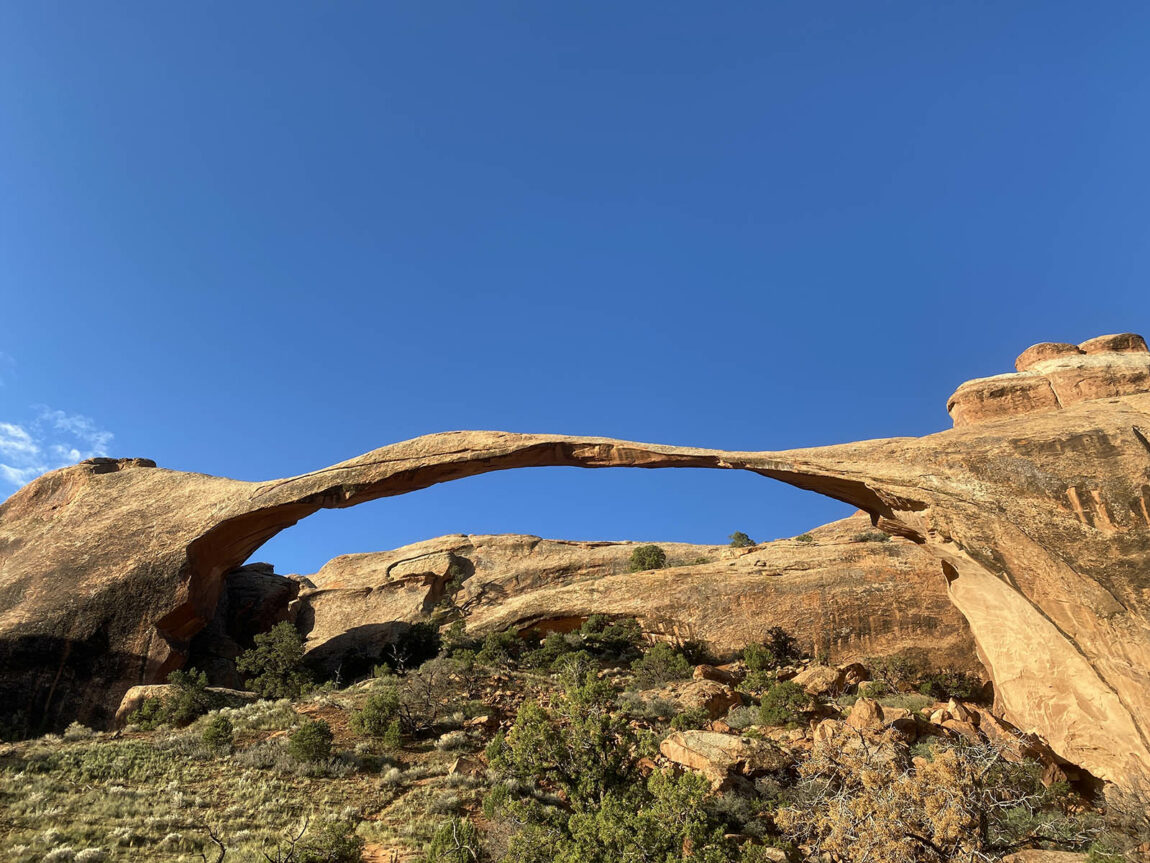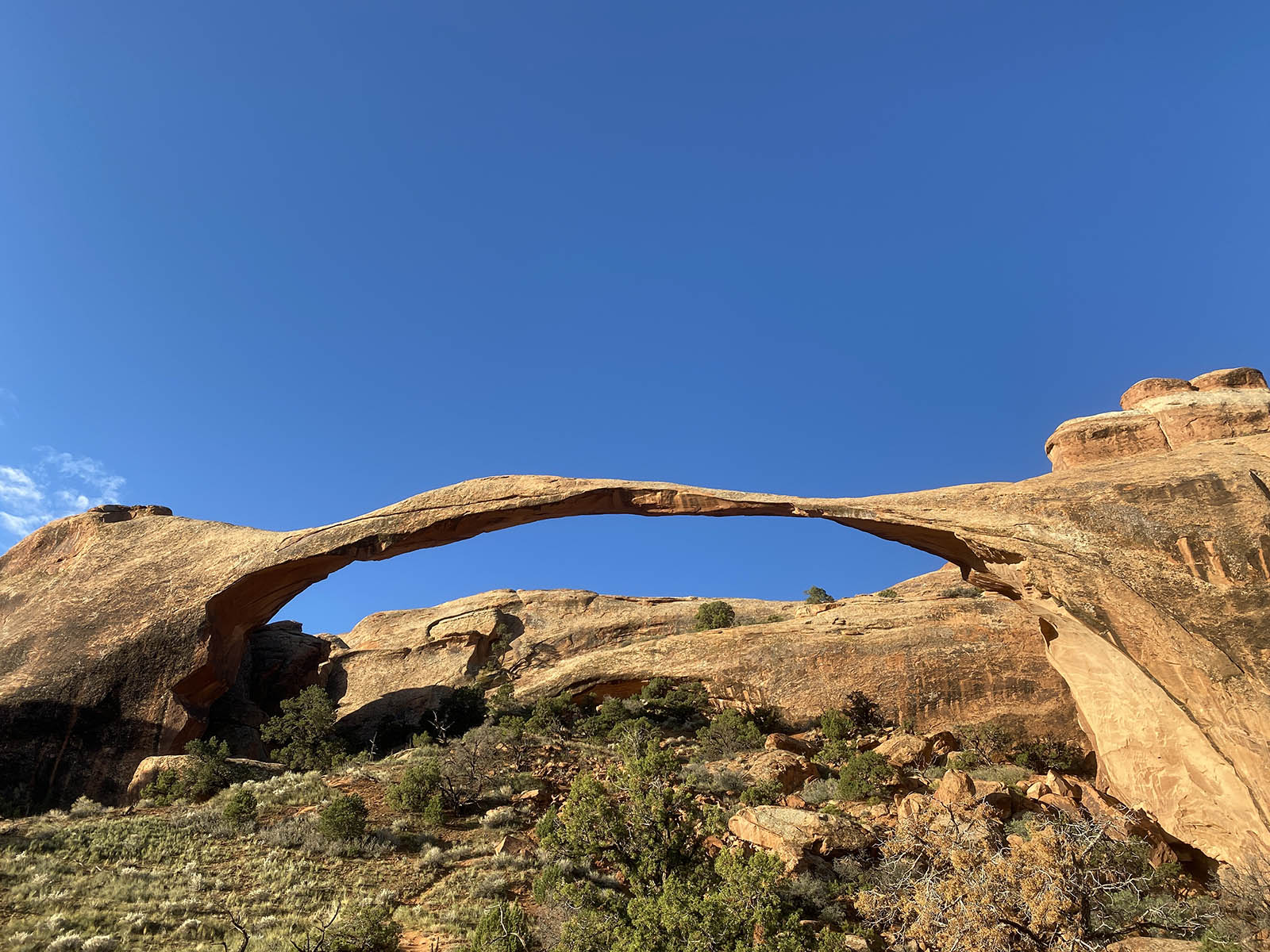 Our favorite 4 hiking trails.
Arches National Park is paradise for hikers. With so many trails to explore, the park offers plenty of opportunities to hike jaw-dropping trails with amazing landscapes all around. On this blog, we have compiled a list of our 4 favorite trails you need to explore when visiting Arches.
1-Devils Garden Trail
This trail is, by far, the best hike in Arches National Park. If you are short on time and you can only do one hike, this is the one to choose. The hike is spectacular all around, but the best part about this trail is that it features several arches, spires, and fins throughout the entire trek. Trust me, you will not want to put your camera away!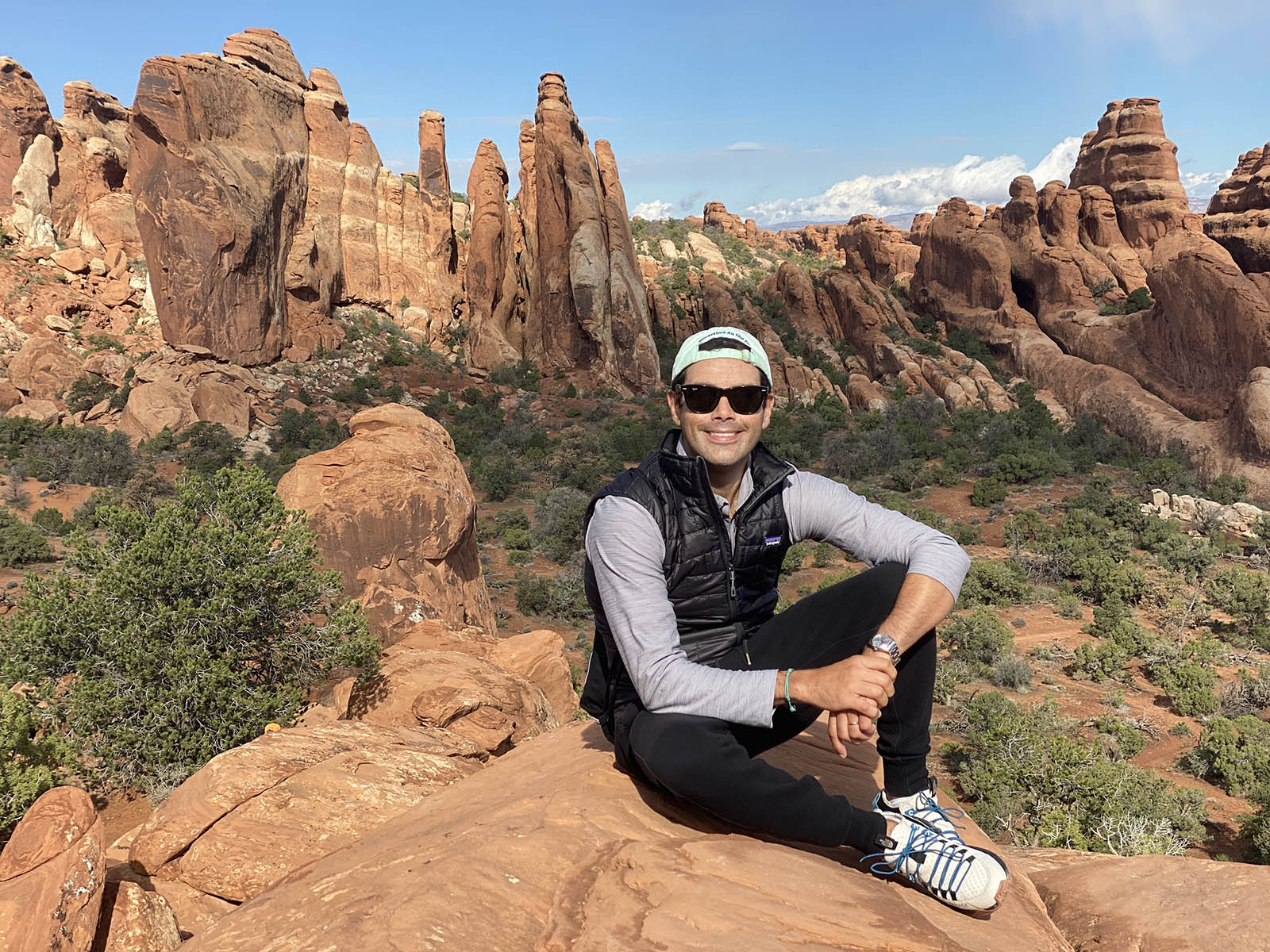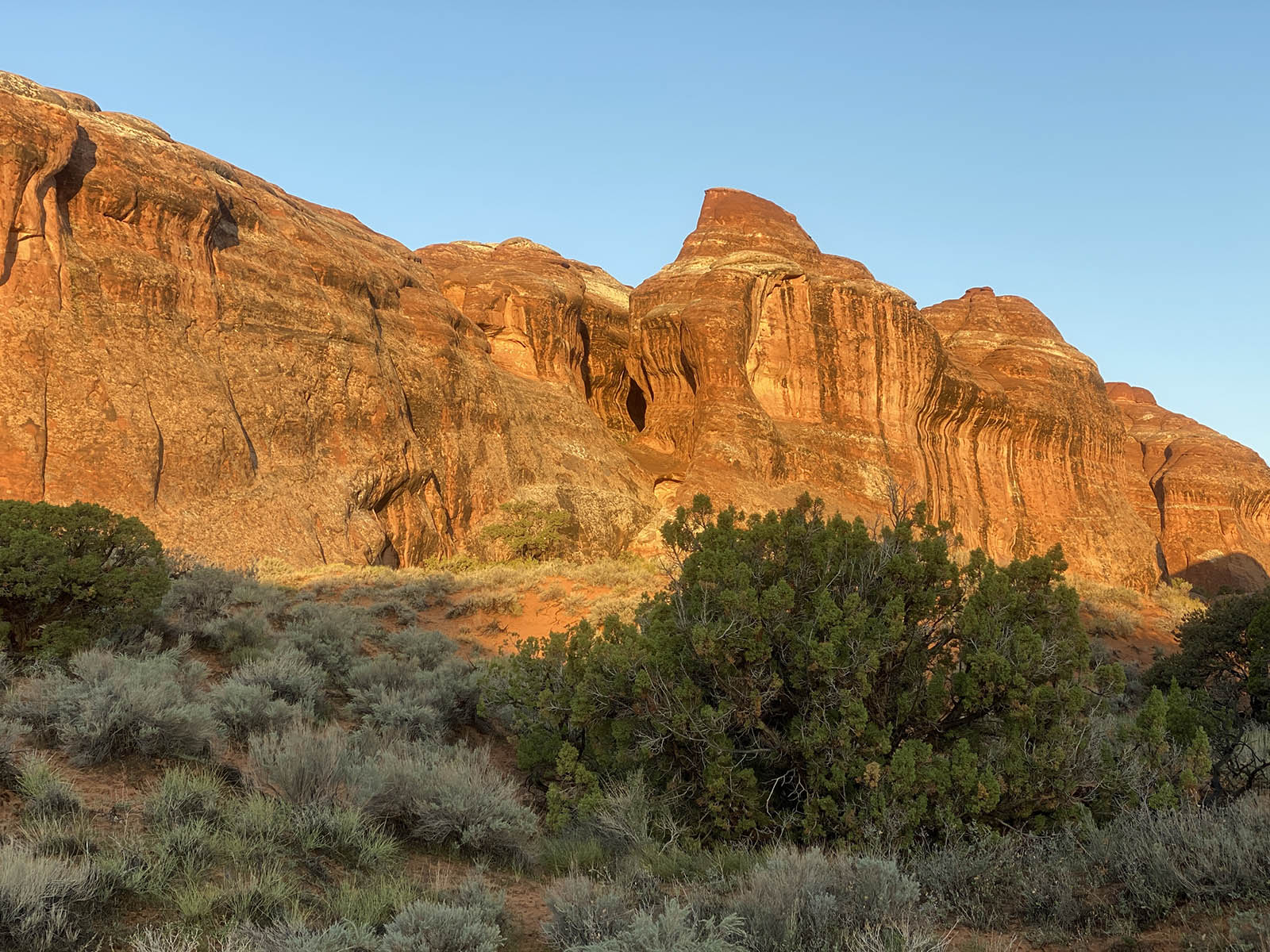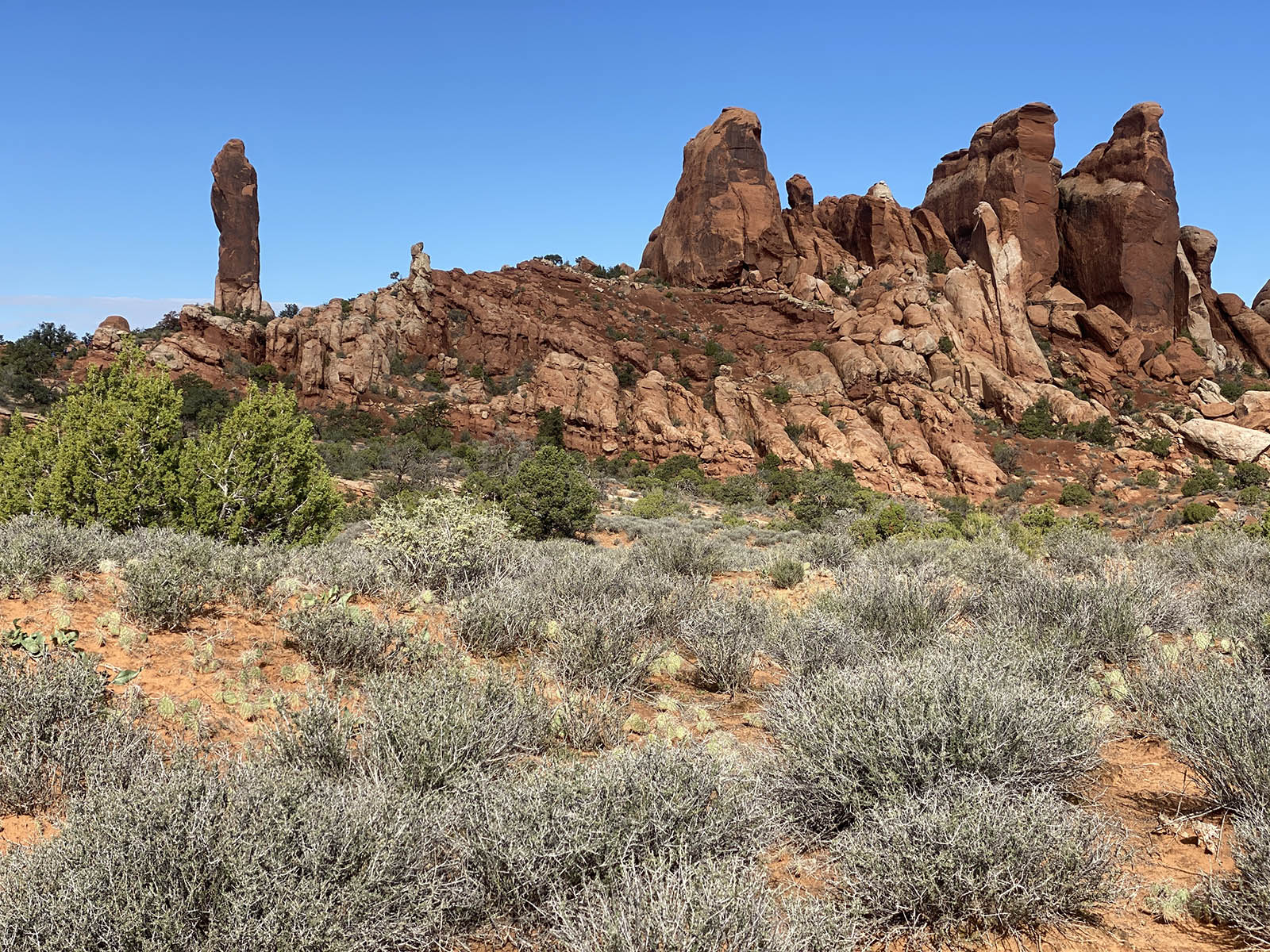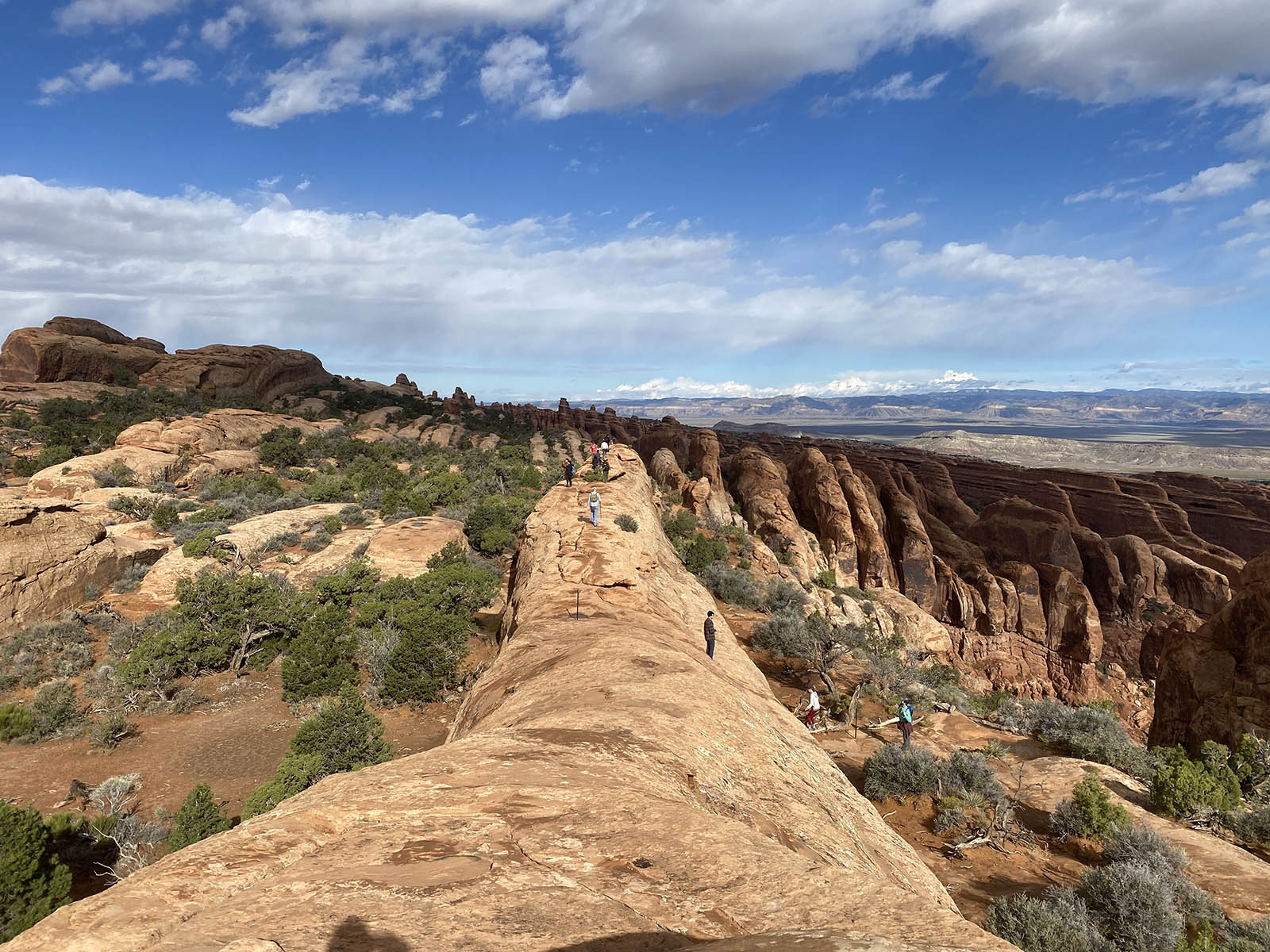 Distance: A word of caution: this is not an easy hike – it's actually quite challenging. It's 7.9 miles (12.6 km) roundtrip and you will encounter uneven surfaces, rock scrambling and steep exposures. It took Christian and I, over 4 hours to complete. Having said that, I would do it again and again, since the landscape is simply breathtaking. Below is a summary of the distance it takes to get to each of the arches. If you have the stamina get all the way to Dark Angel so that you don't miss anything.
Landscape Arch and back: 1.9 miles (3.1 km)
Trails to Pine Tree and Tunnel Arches: Add 0.5 miles (0.8 km)
Double O Arch and back: 4.1 miles (6.6 km)
Trails to Navajo and Partition Arches: Add 0.8 miles (1.3 km)
Dark Angel and back via main trail: 4.9 miles (7.9 km)
Dark Angel; return via Primitive Trail: 6.6 miles (10.6 km)
Total distance: 7.9 miles (12.6 km)
Best time to hike the Devil Garden Trail: As you can imagine, this is the most popular trail, and the parking lot can get packed quickly. Therefore, head to the trail early in the morning. Additionally, the morning light is the best for taking pictures of most of the arches. If you can, try to get there around 7:30 am so you also avoid the worst sun.
How to get there: If you are planning to arrive to the trail so early, note that the Devil Garden Trail is located at the end of the park road. It's a 45 minute drive from the entrance of the park. Note that this time can significantly increase if there is traffic – which there will be if you head to the park during peak hours.
Read blog: Devils garden trail in Arches National Park: The best hike in the park
2-Delicate Arch
Delicate Arch is the largest free-standing arch in the park, by far the most iconic (it can be found on license plates across Utah) and was our 2nd favorite trail. I recommend that you don't combine it with the Devils Garden Trail on the same day as it will be too much (unless you are extremely fit!).
Distance: The hike is 3 miles (or 4.8 km) roundtrip and has an elevation of 480 ft (146 m). Overall the hike can take you any time between 2-3 hours. Of course, this will depend on the number of breaks you take throughout the hike and how long you stay when you reach Delicate Arch.
Best time to hike Delicate Arch: Photographers prefer to head to Delicate Arch in the afternoon where the sun cast a light directly on the arch. If you do this, make sure you are adequately prepared to go back in the darkness and bring a headlamp with you. This is also one of the best places to take night photos of the Arch backdropped by the constellations and Milky Way.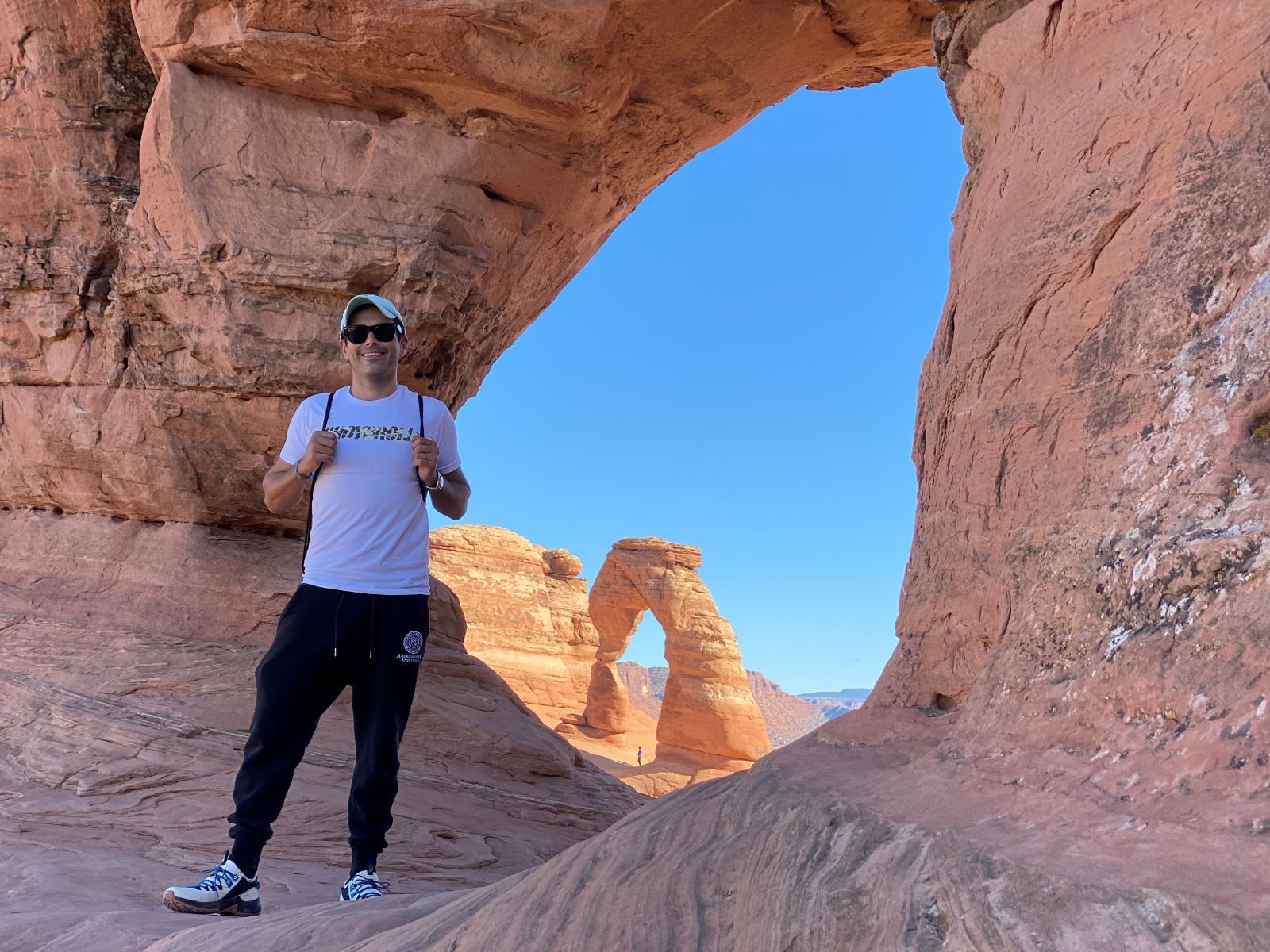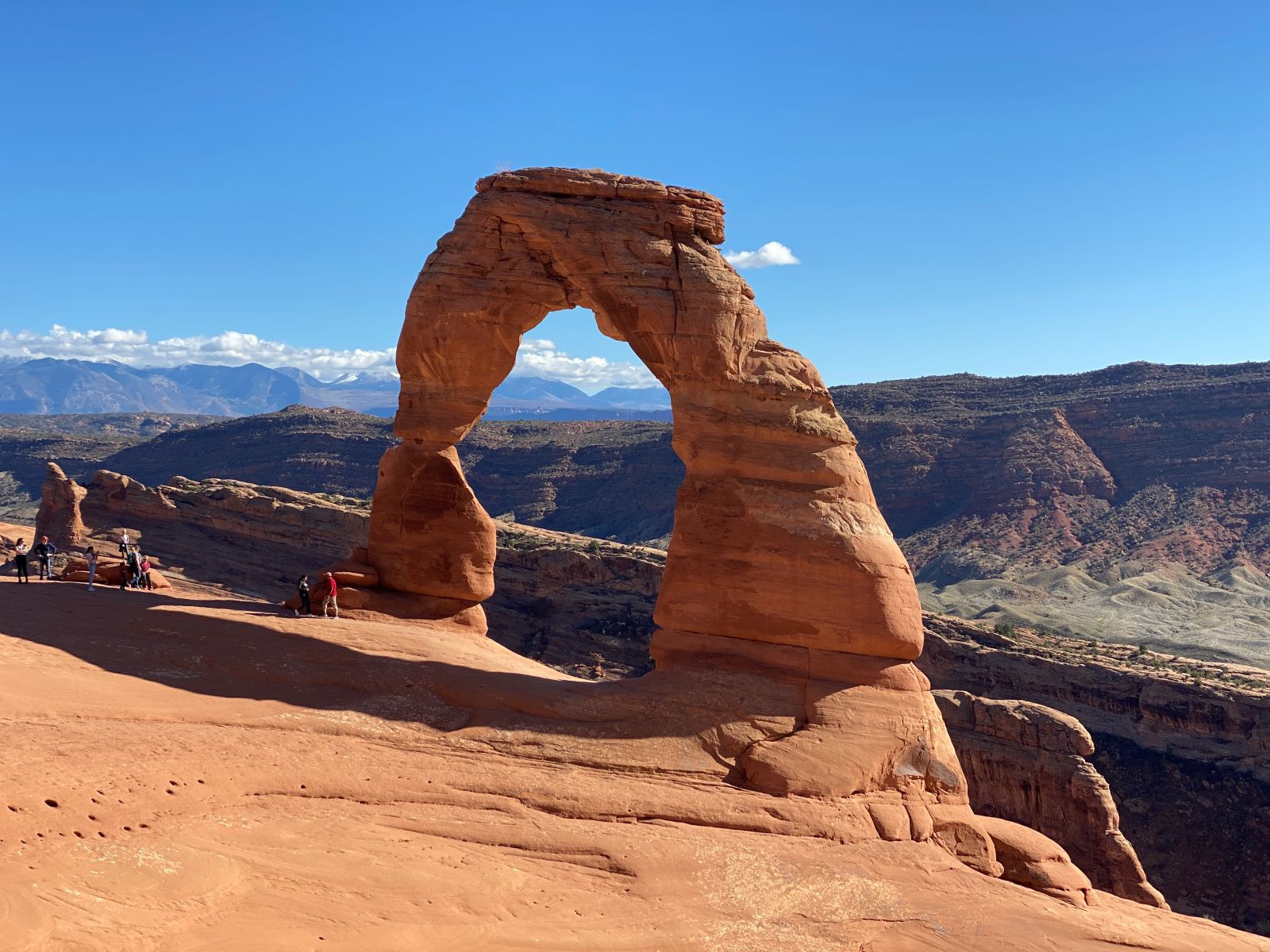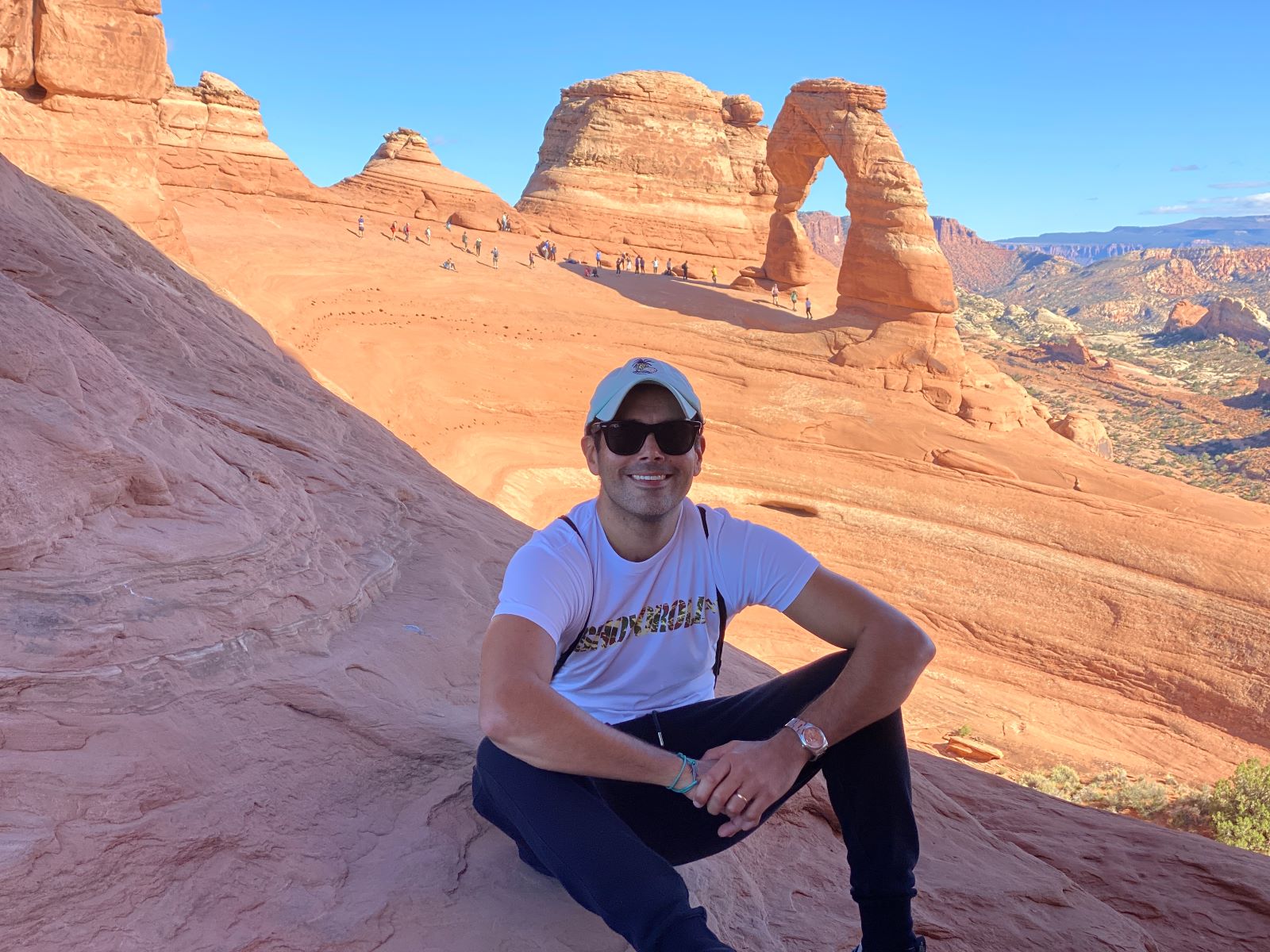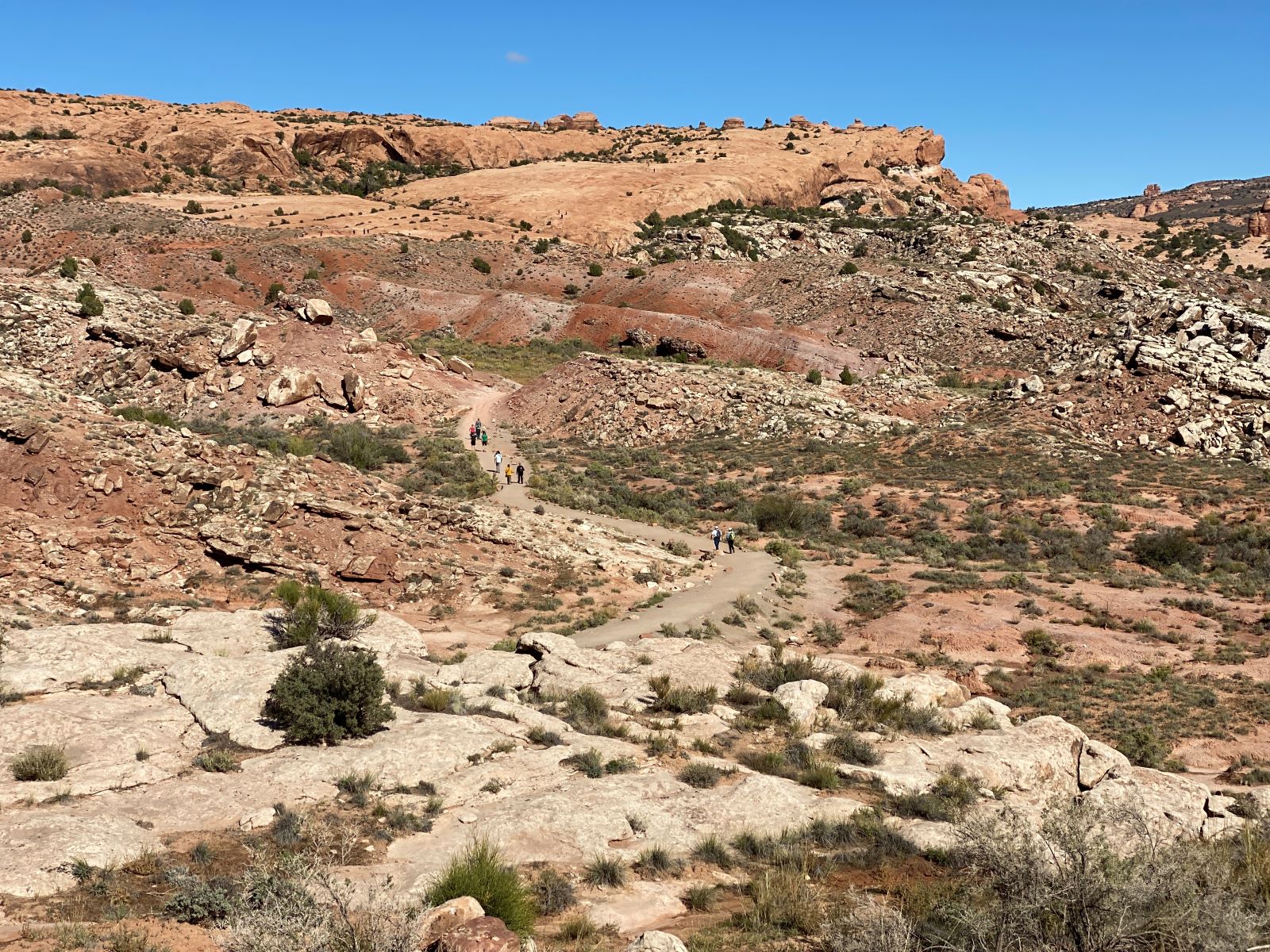 How to get there and parking info: Drive 11.7 miles north into the park on the main road and look for the right-hand turn to Delicate Arch and Wolfe Ranch. After this turn, drive 1.2 miles until you reach the parking lot. Remember this is a VERY popular hike and you might have trouble finding parking – especially during the weekend.
The trail: The first part of the trail is relatively flat. However, don't get too excited, since a steep ascent will follow after passing the Wolfe Cabin. This is the most challenging part of the whole hike, so hang in there. You will probably be accompanied by several people during the hike, so it won't be easy to get lost.
Once you reach the top, you will be exposed to heights but nothing too intimidating. Make sure you look for the Twisted Doughnut – a small opening where you can take a really cool picture of Delicate Arch. You won't see it from the trail as you will need to climb up some rocks to reach it. However, there will be quite a few people next to it so it's easy to spot it. After taking the picture, turn to the right to find the amazing Delicate Arch and enjoy the view. On the way back stop by the ancient pictographs of a hunt made by the Utes.
Read blog: Delicate Arch in Moab: Things you should know for an unforgettable hike
3-The Windows
The Windows section of Arches National Park is also worth visiting as there are a few arches concentrated in a small perimeter. Here you will be able to explore: The North and South Windows, Turret Arch, and Double Arch. Fortunately, this trail is much easier than the Devil Garden Trail and Delicate Arch.
Distance: The trail to visit The Windows and Turret Arch is only a 1-mile roundtrip (1.6 km) and it can take between 30-60 minutes. When you get to the trail, the first 100 yards are mostly flat, but you might encounter some stone steps and uneven surfaces along the way – nothing too difficult though.
Parking: Finding a spot to park at The Windows might be a challenge as this stop gets really crowded – especially during peak hours. I recommend you either head to The Windows early in the morning or alternatively park in the Double Arch parking lot which is relatively close to The Windows.
Location: Getting to The Windows is really easy: You need to drive a bit more than 9.2 miles up from the park's entrance, then take the first right after Balanced Rock and follow this road for 2.7 miles.
When visiting The Windows don't forget to take a photograph of Turret Arch framed by the North Window – it's a fantastic photo opportunity. In my opinion, it was a bit scary to get to the photo spot (the trail goes right along the edge of a cliff and can be quite slippery) but there were plenty of people feeling adventurous and trying to get the perfect picture of Turret Arch.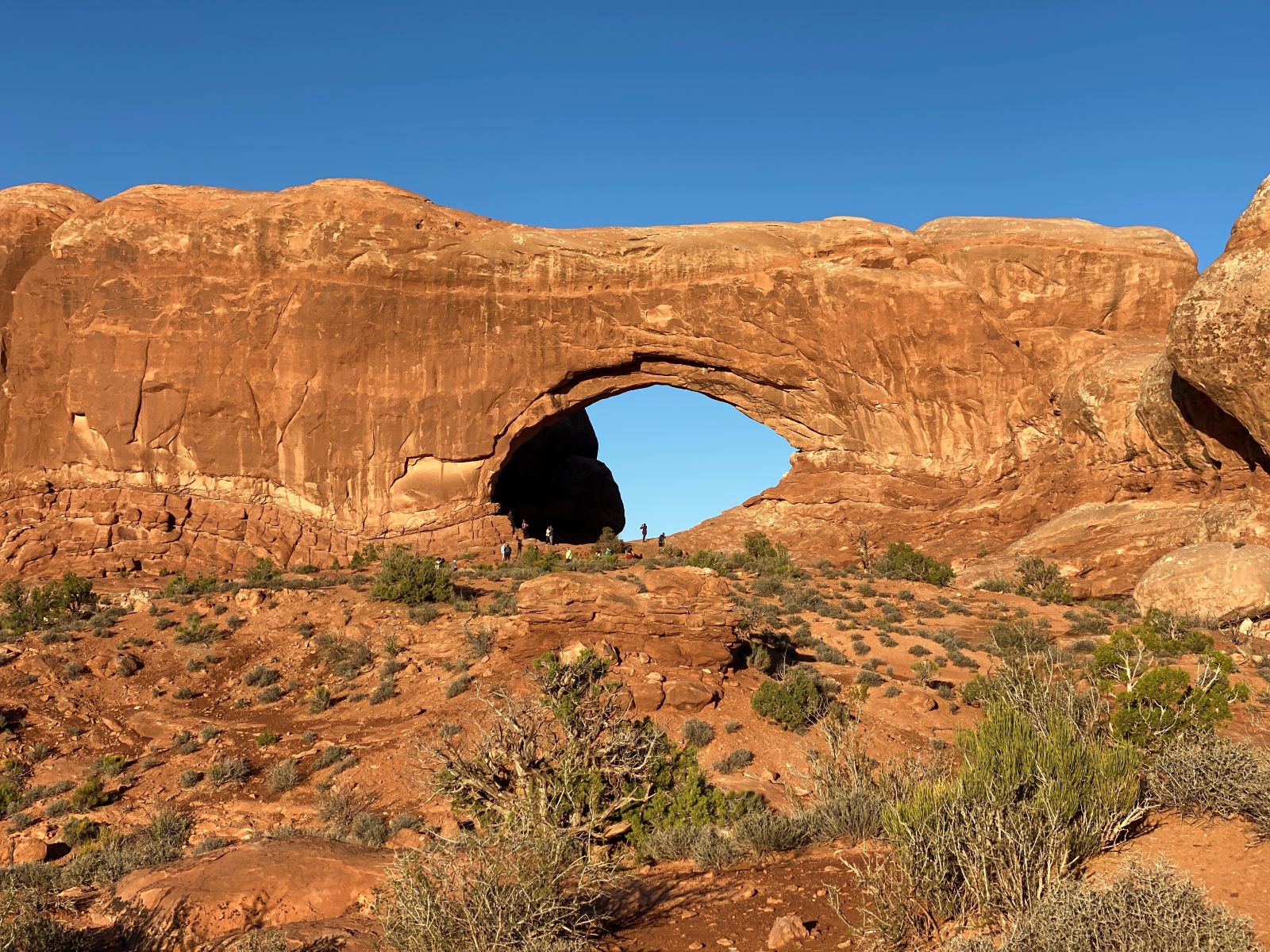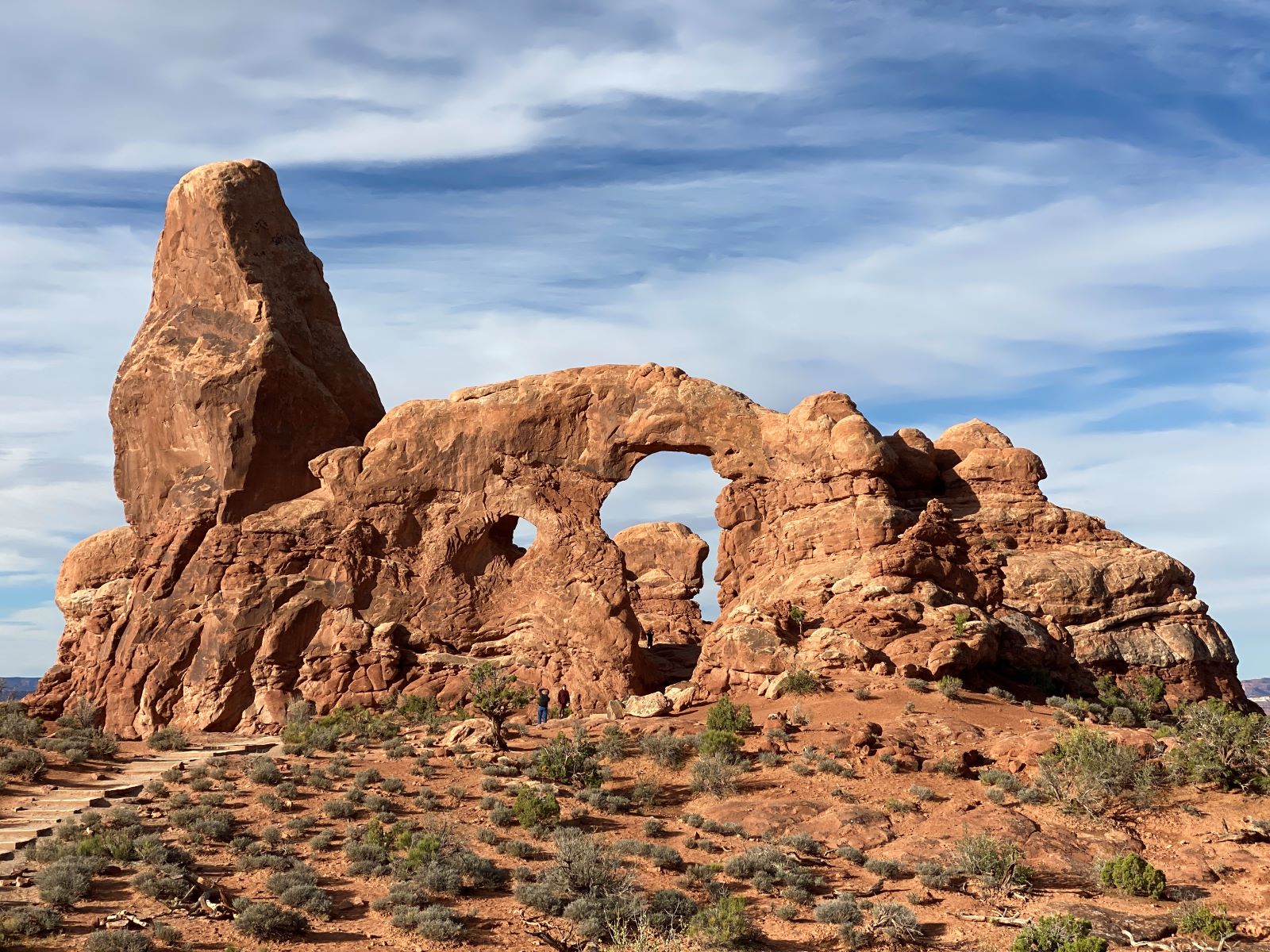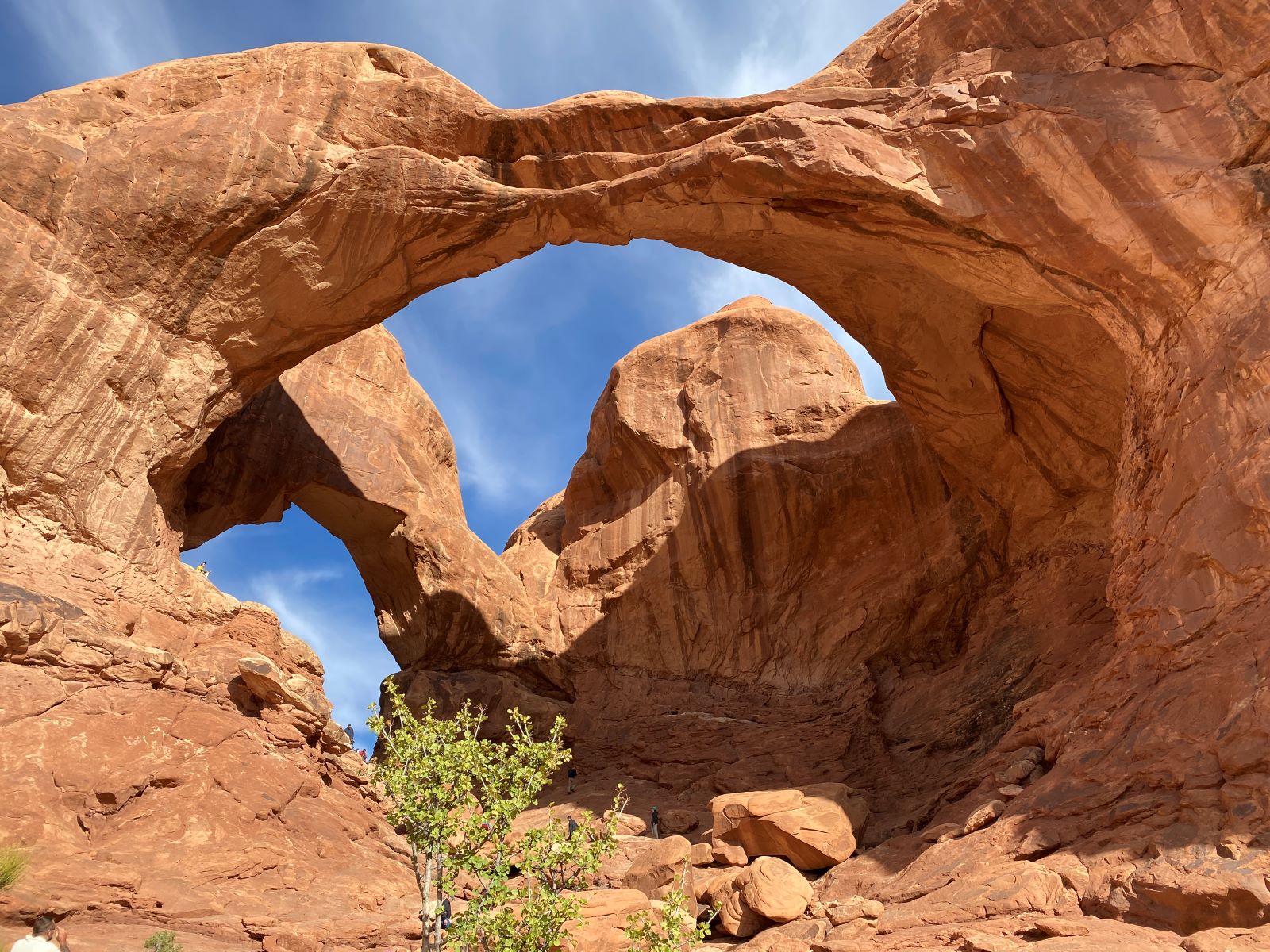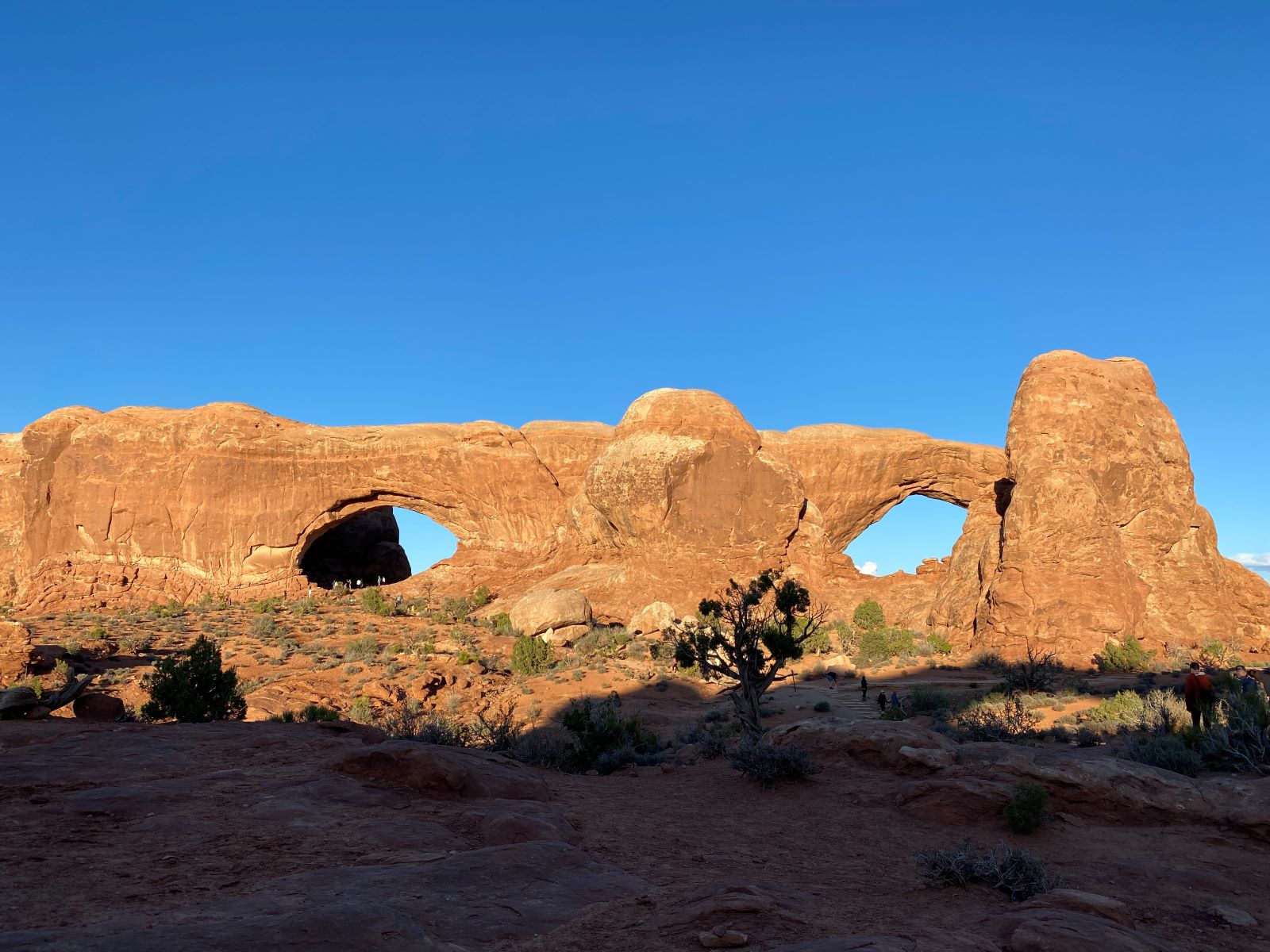 Turret Arch: Once you get your picture, head to Turret Arch located a short distance away from The Windows. Its shape resembles a tower, and you will have fun exploring the arch.
Double Arch Trail: After visiting Turret Arch head to the last spot at The Windows, the Double Arch Trail. It's an easy hike of ½ a mile (0.8 km) with hardly any elevation. Double Arch opening is the third longest in the park and is the highest in Arches -112 feet (33 meters). As you probably guessed from its name, this arch is composed of two arches that share the same foundation.
Before you leave, don't forget to look to your left and spot the Parade of Elephants – rock formations which resemble a herd of elephants holding each other's tails. Really impressive if you ask me!
Read blog: The Windows in Arches National Park: Hiking tips, trail info, and best photo spots
4-Park Avenue
Park Avenue is another trail that you don't want to miss while in Arches. Not sure why we hardly encountered any hikers when we visited this trail – but it was awesome to have it almost all to ourselves. The whole hike looked like a stroll through 5th avenue in New York or the Magnificent Mile in Chicago – the rock formations looked like skyscrapers along the trail!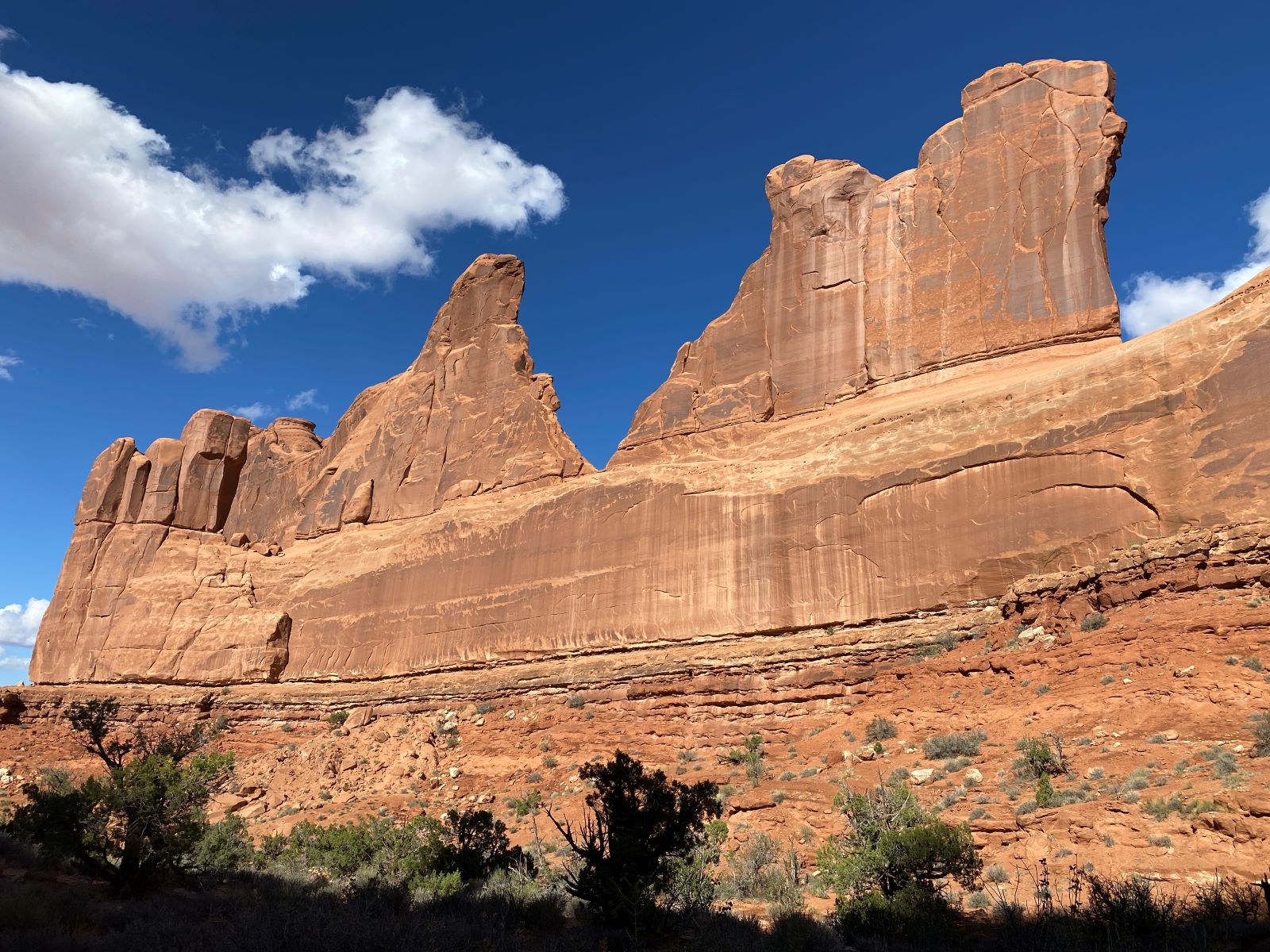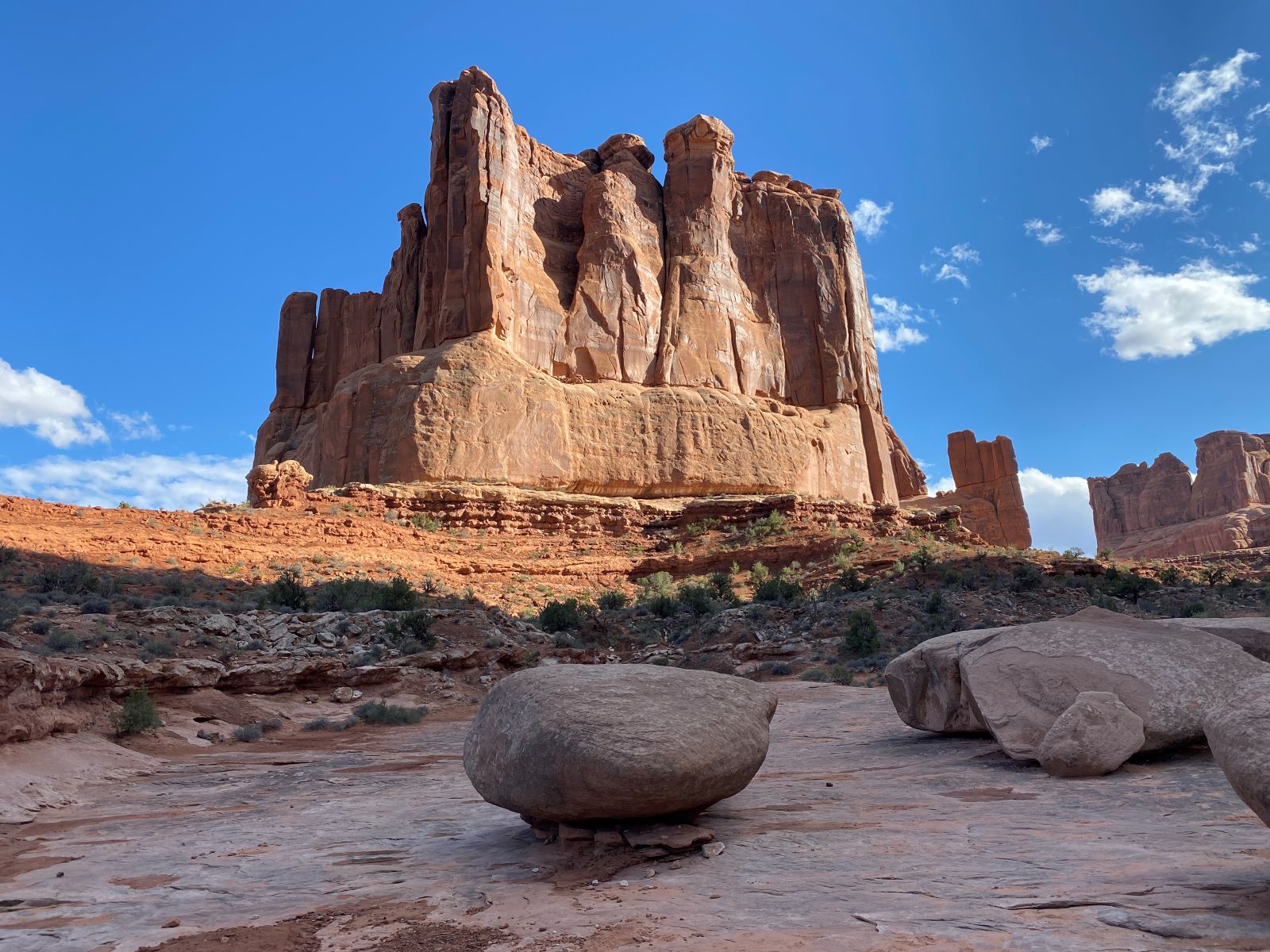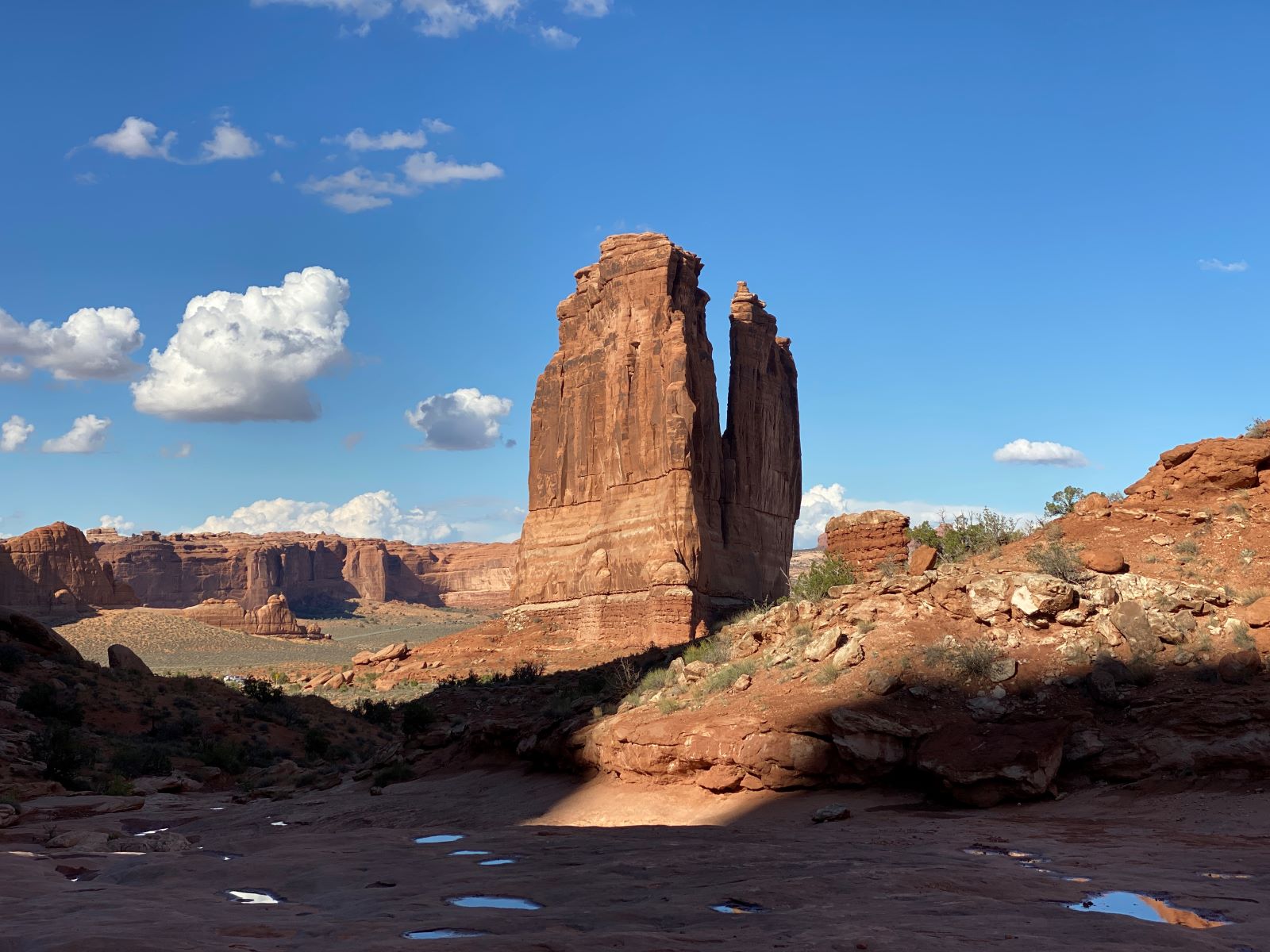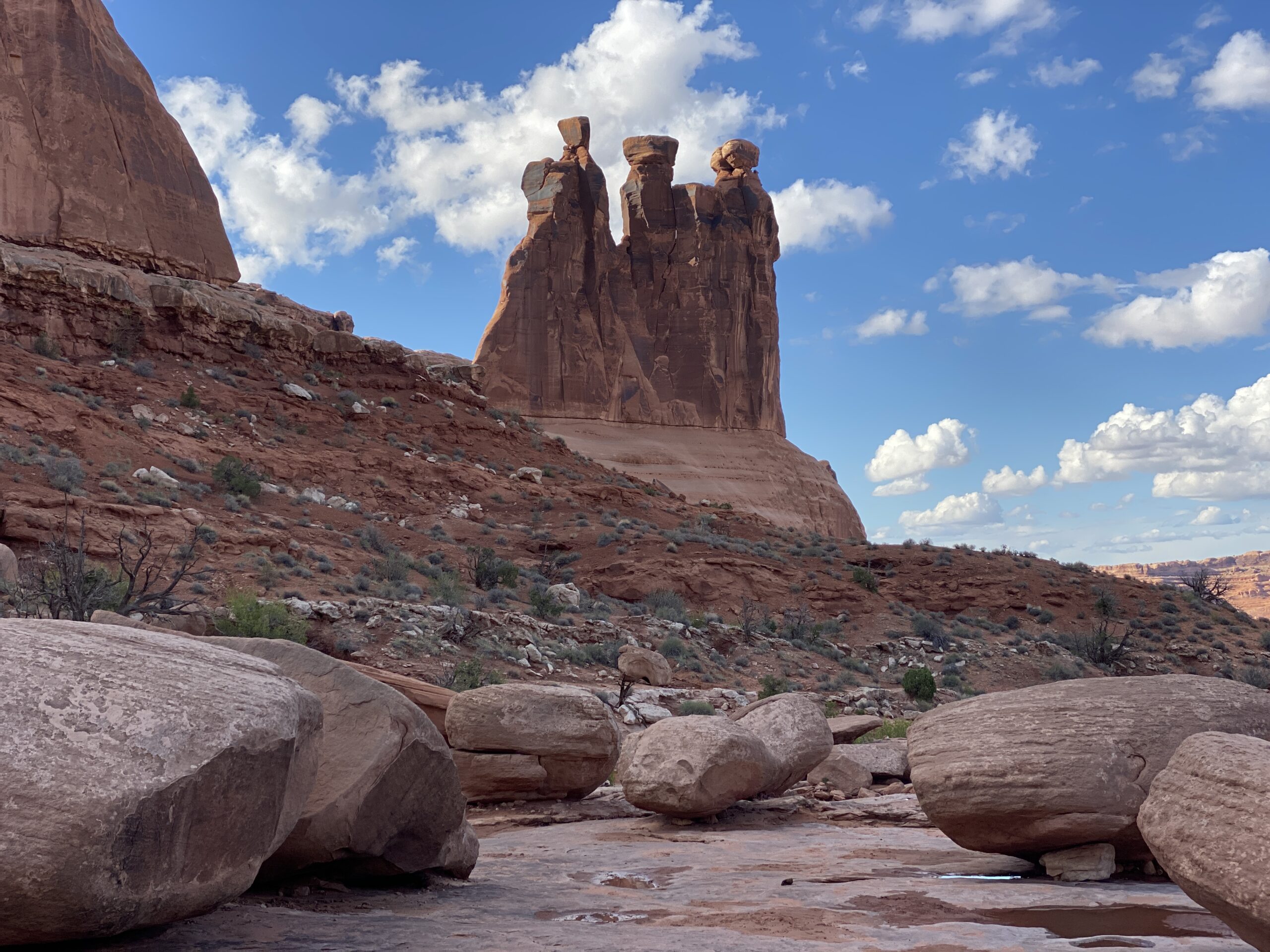 Distance: Park Avenue is a one-mile trail (1.6 km) leading to the Courthouse Towers. Here you will follow the bottom of a canyon and there is an elevation gain of 320 feet (98 mts). Get ready to marvel at fins, balanced rocks and monoliths along the way. The hike suggested by the park is to begin at one end and then be picked up by a driver at the other end. If you are doing the round trip hike it is recommended to return on the park trail instead of walking along the main road.
Parking: Park your car in the parking lot, then look for a small landing with stairs located to the left.
Tips for these hikes:
Bring plenty of water with you – especially if you are hiking the Devils Garden Trail. We recommend you get the Nomander BPA free collapsible bottle and fill it in at your hotel before heading to Arches. Being well-hydrated is essential – particularly during summer.
Make sure you have comfortable footwear: When walking for so many miles the last thing you want to have is pain on your feet during the hike. Therefore, bring appropriate hiking shoes and make sure to use them a few times if you are buying brand new shoes. We recommend The North Face Men's Trail Escape Edge and the Oboz Sawtooth II Low B-Dry Hiking Shoe for women.
Wear sunscreen and bring a hat: This is essential as you will be spending several hours of the day in the outdoors. Bring your sunscreen with you and re-apply every two hours. I love Supergoop! for my face as its light texture makes me feel like I am not wearing something heavy. For your body, get Coppertone.
We are part of several affiliate programs including Viator and Amazon which means that we will earn a small commission at no extra cost to you if you make a purchase through the links included in this post.