/
Montevideo, Uruguay attractions that are a must-visit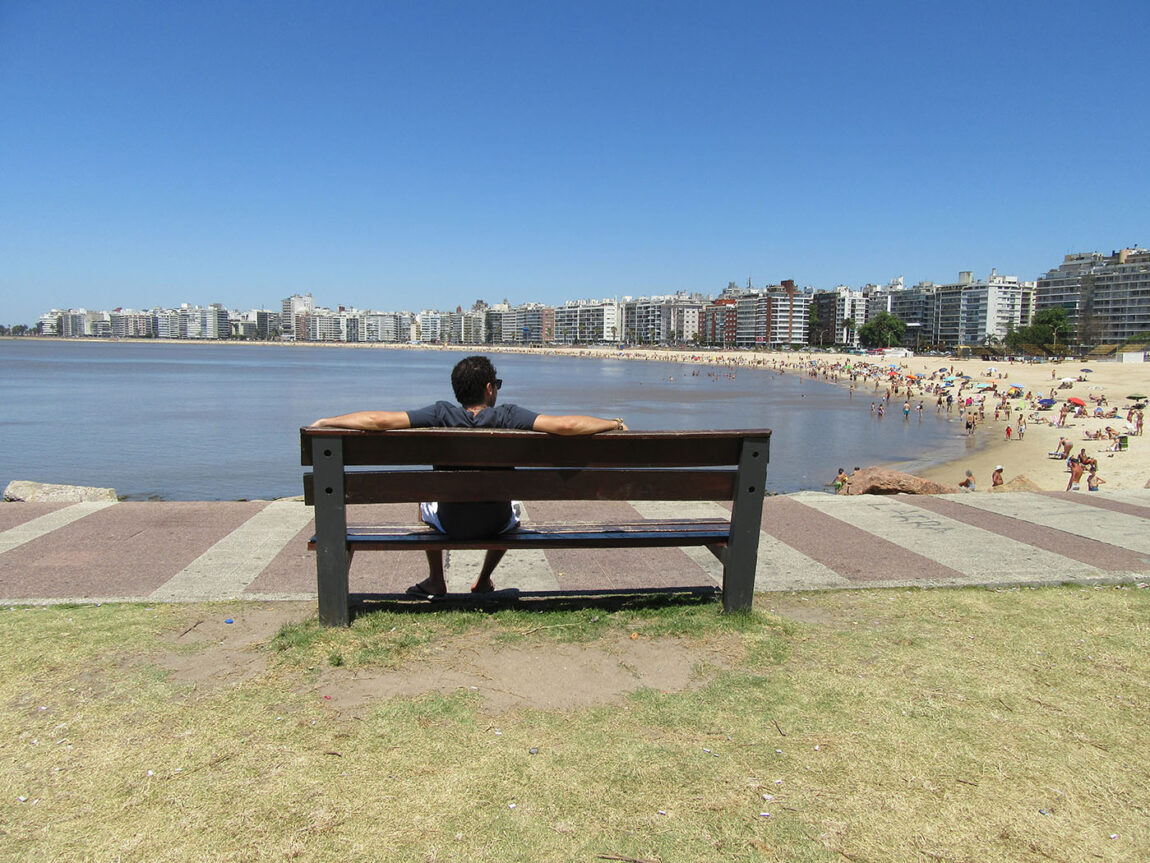 Art deco buildings juxtaposed to cutting edge modern architecture, miles and miles of beaches, soccer, and parrillas give this city it's famous chill vibe.
The nation's capital of Uruguay, Montevideo, is a vibrant, eclectic place with a rich cultural life. Stretching 20km from east to west, the city wears many faces, from its industrial port to the exclusive beachside suburb of Carrasco. Like many beachside cities, you get a laid-back way of life with al the cosmopolitan amenities.
In the historic Ciudad Vieja (old town) art deco and neoclassical buildings jostle for space alongside skyscrapers that appear airlifted from Europe's Belle Epoque, while to the southeast the shopping malls and modern high-rises of beach communities such as Punta Carretas and Pocitos bear more resemblance to Miami's South Beach or Rio's Copacabana. Music, theater and the arts are alive and well here – from elegant grandiose theaters and smokey little tango bars to modern beachfront clubs.
Is Montevideo a walkable city?
Yes! There are quite a few circuits that you could do on foot while in Montevideo; if you divide it up, you can easily walk the best parts in a couple of days. For the Ciudad Vieja, where you can explore a wide variety of art deco buildings, museums and the famous Mercado del Puerto, the city has made a large portion area into a pedestrian only zone. However, if you want to be like the locals, go right to the Rambla where you can enjoy the coastal views as you walk/bike/run along the boardwalk. Don't forget to just walk around Pocitos and Punta Carretas where you'll have plenty of shops and cafes to explore.
What is Montevideo known for?
Montevideo is a small city in comparison to the other metropolis of South America, but there is plenty to do and you won't feel that big city rush at all. If you are looking for a gastronomic experience, cultural explorations, a vibrant nightlife, or you want to chill on the beach, Montevideo is the place for you. However, there much more than meets the eye. Below are the must do attractions you should visit while in Montevideo:
Stroll in the Ciudad Vieja
Montevideo was born under Spanish rule as a strategic military fort. Its stone walls, built around 1741, were pulled down in 1829 but the original entrance to the fortress (Puerta de la Ciudadela) is still standing and can be found between the Plaza Independencia and Peatonal Sarandí. This landmark is the official separation of the old part of the city and the modern downtown. Walking around the Ciudad Vieja (the old city) visitors encounter colonial buildings, museums, galleries, cafes, restaurants, bookstores, antique shops, boutiques, and many other attractions. Must see: Plaza Independencia (Mausoleo de Artigas; Puerta de la Ciudadela; Palacio Estévez; and Palacio Salvo).
Peatonal Sarandí is the zoned pedestrian street of Ciudad Vieja, and by far the most frequented tourist venue of the city. It starts from the Ciudadela, runs along Plaza Constitución (commonly called Plaza Matriz) and ends at the Rambla (the coastal avenue), at the eastern end of Ciudad Vieja. As an extension of this street is the long southern breakwater of the Port of Montevideo. You'll find some classic architecture along Peatonal Sarandí, as well as many art galleries, classic restauarants and shops. Some of its landmarks include the Museo Torres García, and the Montevideo Metropolitan Cathedral, commonly known as Iglesia Matriz, which also gives to the square the popular naming Plaza Matriz.
Visit the Teatro Solís
Ciudad Vieja Solis Theatre (Spanish: Teatro Solís) is Uruguay's most important and renowned theatre. It opened in 1856 and the building was designed by the Italian architect Carlo Zucchi. The entire building is a work of art and has an excellent tour which teaches you about its design. It is located in Montevideo's Old Town, right next to the Plaza Independencia. Catch a play, opera or even take the guided tour…or do all three.
Mercado del Puerto
No visitor should miss Montevideo's old port market building, at the foot of Pérez Castellano, whose impressive wrought-iron superstructure shelters a gaggle of bustling parrillas (steak restaurants). On weekend afternoons in particular, it's a lively, colorful place where the city's artists, craftspeople and street musicians hang out. While there are plenty of spots to eat in the old city, wee recommend going to El Palenque with an empty stomach. Also try the Medio y Medio, which is a cocktail made with a combination of dry white wine and sweet sparkling wine; this cocktail was invented in the Mercado and a must try when visiting.
Visit Playa Pocitos
An upscale beach-side neighborhood, Pocitos is known for its ample white sandy beach, Playa Pocitos, the Rambla that lies alongside it and its ritzy boutiques. The neighborhood is adjacent to the Punta Carretas district and home to the most popular beach in the City (and location of the Hollywood-inspired Montevideo sign), hosting a variety of outdoor athletic activities such as beach soccer tournaments, volleyball matches, nautical events, among others.
Mirador Panorámico (Panoramic lookout)
For views of Montevideo from high above, head to city hall. The lookout offers panoramic views of the capital. See if you can spot the Palacio Legislativo, el Palacio Díaz and la Parroquia Sagrado Corazón. On a clear day you can even see all the way to the wing-shaped airport.
Built in 1979, the Mirador Panorámico it's located at a height of 80 meters. Here you can not only soak in the gorgeous views of Montevideo, but you can also grab something to eat and drink (cappuccino anyone?); not to mention you can shop for souvenirs, books, and photos to take home.
The Mirador Panorámico is open every day from 10 am to 8 pm and there is no need to make a prior reservation. It's located at Soriano 1372, between Santiago de Chile and Ejido. There are no fees to enter the Mirador Panorámico.
Faro Punta Carretas (Punta Carretas' lighthouse)
This lighthouse built in 1948 is located in Punta Carretas and is one of my favorite stops along the Rambla of Montevideo. From the top of the lighthouse you can have a panoramic view of the beach and buildings that dot the boardwalk. There is a wide variety of restaurants where you can enjoy local delicacies such as parrillas and of course fresh fish that's been caught the same day. This is a wonderful experience for kids who will enjoy racing up the stairs (it's not dangerous) and explore the beach. It costs approximately a dollar to go up.
Cerro de Montevideo
The Cerro de Montevideo is the highest point of the city, at approximately 132 meters. Here you can find a fortress – which is a military museum now – and was used as lookout, a military prison and leprosarium. It's not difficult to see why there was a fortress at this location as it offers strategic vantage point above Montevideo. Take some time here to enjoy wonderful views over Montevideo and the Rio de la Plata; don't forget to take a picture of the cannons which are located outside the fortress.
The cerro is the traditional location that was spotted by explorers, and serves as the folkloric origins of city's name. There is also a lighthouse here which was built in 1802 which send warning messages using a system of flags to prevent shipwrecks. Despite the Cerro de Montevideo being a must-do while visiting Montevideo, to get there you need to go through a part of the city which is not really safe. I highly recommend you hire a tour to visit it. The entrance is really cheap, it costs approximately US$1.
Visit the Museo de los Andes
If you have read a bit about Uruguay, chances are that you have heard about the Andes tragedy that happened in 1972 when an Uruguayan airplane (with a rugby team on board) crashed in the Andes. This marked the beginning of the most powerful story of survival in human history. Only a few of the 72 individuals surveyed the 72 days of pain, hunger, extreme weather and desperation.
Monday – Friday: 10:00 – 17:00.
Saturday: 10:00 – 15:00.
Sundays: cerrado.
General tickets: S300 (US$8)
Estadio Centenario
Uruguay = football lovers. Despite being a country with only 3.5 million people, Uruguay has produced extraordinary players including Suarez, Cavani, Forlan (just to name a few of the most recent) and also won 4 world cups; FIFA has recognized the 1924 and 1928 Olympics as the first world football championships, thus giving Uruguay four official championships.
The Estadio Centenario – built between 1929 and 1930 – hosted the inaugural 1930 FIFA World Cup and is considered an landmark of the sport, therefore the stadium deserves a visit from football fans. The museum of football is a must visit and is open from Monday to Friday from 10 am to 5pm. Don't forget to take the elevator to the top of the tower for breathtaking views.
Palacio Legislativo
The "Legislative Palace" is a monumental building, serving as the meeting place of the General Assembly of Uruguay, and the seat of the legislative branch of the Uruguayan government. This is a historic neoclassical building,dsinged by the Italian architects, Vittorio Meano and Gaetano Morett; among the notable contributors was sculptor José Belloni, who created numerous reliefs and allegorical sculptures for the building's exterior. Constructed between 1904 and 1925, the building was inaugurated on August 25, 1925; it was declared a National Historic Monument in 1975 by the government. The building is host to numerous events, and also has daily tours for visitors (make sure to get your tickets in advance).
Wineries
Just outside of Montevideo, you'll conveniently find some boutique wineries to spend the day. While there are plenty to choose from, we recommend Artesana Winery – a vineyard ran by three women roughly 30 minutes outside the city. Here, you'll be able to not only enjoy wine tastings, but you'll also have a gastronomic experience and partake in a tour of the lands.
One of the most popular wines in Uruguay are also relatively close from the city, Bodega Carrau. Carrau is one of the oldest wineries in the country, with 265 years of a single family's winemaking tradition. Located in Montevideo and at only 17 km from downtown, Bodegas Carrau is a perfect option for those visiting the city of Montevideo. As with Artesana, you can enjoy tasting various vintages and some delicious snacks; make sure you also do the tour which will take to you the bodega's ancient cellar.
We are part of several affiliate programs including Amazon and Viator which means that we will earn a small commission at no extra cost to you if you make a purchase through the links included in this post.