/
Punta del Este, Uruguay attractions you must visit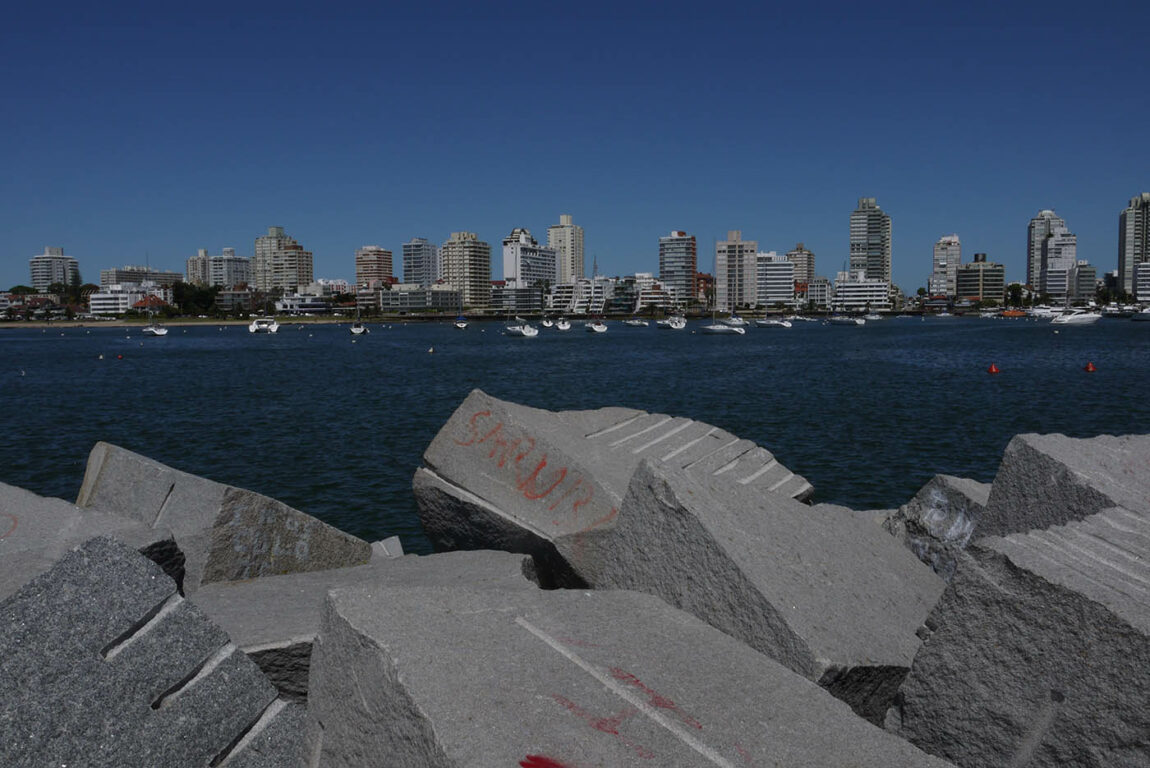 Visit the Monaco of the South – the chic jet-set beach resort of Punta de Este.
One of the world's hubs for the jet-set and international celebrities, Punta Del Este is the primer beach resort in South America – the Hamptons of the South.
Punta del Este is a world-renowned beach town on a narrow peninsula in southeast Uruguay. Popular Brava Beach is known for its strong surf, hip young crowd, as well as "The Hand," a giant sculpture of five fingers protruding from the beach.
On the west coast of the peninsula, you have the calm Mansa Beach, where families spend the day cooling off in its shallow waters. Punta del Este is easy to get to from Montevideo – it's located 131 km away about 1.5 hours driving time, and there are tons of transportation options.
How many days do you need in Punta del Este?
We recommend you stay at least three days, if not more. This will give you ample time to explore Punta del Este's most famous sights, enjoy the wonderful beaches and experience the local culture. Punta also has a lot to offer, from polo matches to museums to chic gallery parties to unbeatable nightlife, you have plenty to do to fill your days end evenings.
Can you swim in Punta del Este?
Punta del Este offers a wide variety of beaches for different tastes. If you want to party, head to Bikini and La Barra. If on the other hand you would like to enjoy the calm waters visit La Mansa – a perfect beach for families and for swimming as the waters are pretty calm. For those of you looking to surf and who like rough waters, head to La Brava. Overall, there are quite a few beaches in Punta del Este to choose from. I definitely recommend going to a few of them.
Here is our list of the top attractions you must visit when in Punta del Este, no matter how long you stay. Some of them are not located in Punta per se but pretty close by so you should also try visiting these.
Visit one of the largest colonies of sea lions
Located 8 kilometers from Punta del Este and a 40-minute boat ride from the harbor, Isla de Lobos is a must-do attraction. The Isla de Lobos is home to one of the largest colonies of sea lions in the world. There are an estimated 200,000 sea lions living next to this island. Since it's a protected site, you can only visit it with a guided tour which leaves from Punta del Este's harbor. Most tours leave in the early morning when wildlife tends to be at its most active and the waters calmer.
This is a great opportunity to watch the sea lions in their natural environment and if you are brave enough, there are some tours that offer the opportunity to swim with these amazing creatures. During this trip, you will also view the Isla de Lobos lighthouse, which is the tallest lighthouse in South America. Also, sometimes in the middle of the night and when its quiet you can hear the sounds of the sea lions from Punta del Este – an amazing sensorial experience.
Taste the best pancakes at La Pataia
The "panqueques con dulce de leche" are my favorite dessert and one that I eat very often while I am visiting Uruguay. The Uruguayan version of the pancakes are light and thin crepes which are usually filled with Dulce de Leche. Located in Punta Ballena (a 30-minute drive from Punta del Este), the Tambo La Pataia, offers their signature panqueques of Dulce de Leche. They are huge, so I recommend you order one and share it. La Pataia also offers great activities for kids, from feeding the animals to riding horses.
Read blog: Montevideo, Uruguay attractions that are a must-visit
See the sunset in Casa Pueblo
Casapueblo, constructed by the Uruguayan artist Carlos Páez Vilaró, is a cross between museum, workshop and work of art. Located in Punta Ballena, nearby Punta del Este, it's one of the most beautiful spots in the country to catch a sunset or go whale-watching. It was originally a summer home and workshop of the artist whose design was influenced by the Hornero's nest, a typical bird of Uruguay, taking 36 years to complete.
While the aesthetic may remind you of the famed Greek island, Santorini, a closer look will give you a picture of a living building with almost organic features. Today, it houses a museum, workshop, art gallery, a cafeteria and a hotel! Distance from Punta del Este is 14km or 20 minutes driving.
Visit the laid-back town of José Ignacio
Beginning in November and running through February, Uruguay's José Ignacio transforms from a sleepy fishing village into a buzzing haven for surfers and international jetsetters swapping their winters for South America's summer season. Just under an hour from Punta del Este, Jose Ignacio is a lively and social scene indeed, but for those seeking a quieter, mellow respite from the stresses of urban life, it's still very possible to enjoy this popular coastal destination while keeping a low profile.
Anyone who is anyone has been spotted here – from Anthony Bourdain to Rockstars to NFL team owners. You can also stop by one of the 50 best restaurants in the continent: Parador La Huella. Distance from Punta del Este is 40 minutes.
Hop on a boat to visit Isla Gorriti
During the high season, boats leave every 30 minutes from Punta del Este's harbor to Isla Gorriti. Located only 15 minutes away from Punta, a trip to Isla Gorriti is a must. Here you can sunbathe on the island's beautiful and sandy beaches, visit the 18th-century fortifications and enjoy amazing views towards the coast.
On the west side of the island, you can find Playa Honda, where there are plenty of yachts and boats during the summer. On the north shore you can find Playa Jardin, another gorgeous beach. Rounding out the eastern side, you'll find a small harbor for commercial boats. There are also a couple of restaurants where you can get a snack or something more filling, which you might need after a few hours enjoying the beach. On average, the island welcomes 500 visitors per day (during the high season). Note that staying overnight or camping is not allowed on Isla Gorriti.
Visit the harbor and watch the sea lions get some sun
If you are not interested in taking a boat tour to get to the Isla Gorriti or Isla de Lobos, I still recommend you visit the city's harbor. Impressive yachts are docked next to humble boats and the sea lions, eager to get some food from the fisherman are ready to welcome you when you arrive to the harbor. Don't be surprised if you see them lying down and enjoying the sun. They won't pay much attention to you. The harbor of Punta del Este is a great place to get some good shots of the boats (and yachts), the city and the sea lions.
Enjoy panoramic views at La Vista 360
If you would like to get the best views of Punta del Este's skyline, head to La Vista 360. Here you can enjoy epic photo opportunities and sit down for a good meal while the rotating floor will let you enjoy 360 views of Punta del Este. There is an elevator which will take you to the observation deck and you can take in amazing views of the beaches and harbor. We recommend you head to La Vista 360 at sunset for a spectacular view of the city. I love the sunsets in Punta del Este – the sky turns reddish and offers magnificent opportunities for sunset photography. Don't miss it!
Take a photo at The Hand (La Mano)
When you are visiting Punta del Este, you probably will see a hand emerging from the sand at Parada 1 at La Brava. This is a very popular sculpture designed by Chilean artist Mario Irarrázabal. This sculpture (also called La Mano or Hombre emergiendo a la vida) is among the city's icons and a popular place for people to take photos. The Hand has several meanings – a hand waving, a hand asking for help while swimming or also a symbol of pace. The most agreed upon is that it's a sculpture honoring life.
Stroll along Gorlero Avenue (Avenida Gorlero)
Avenida Gorlero is the most popular street in Punta del Este, think of it like a 5th Avenue meets the Magnificent Mile. Head to Gorlero to enjoy a wideoffer of restaurante and cafes, art galleries, cinemas and casinos. In Gorlero, you'll find one of my favorite ice cream shops – Heladería Arlecchino – please try the most traditional flavors in Uruguay, dulce de leche and sambayón. During high season, there are numerous live performers and artisans selling their stuff. There is also a new foodhall/nightclub called Bigote Bar, don't forget to stop by for a drink and some casual fun.
We are part of several affiliate programs including Amazon and Viator which means that we will earn a small commission at no extra cost to you if you make a purchase through the links included in this post.