/
The best hotel to stay in Bora Bora – 5 reasons why you should stay at Le Méridien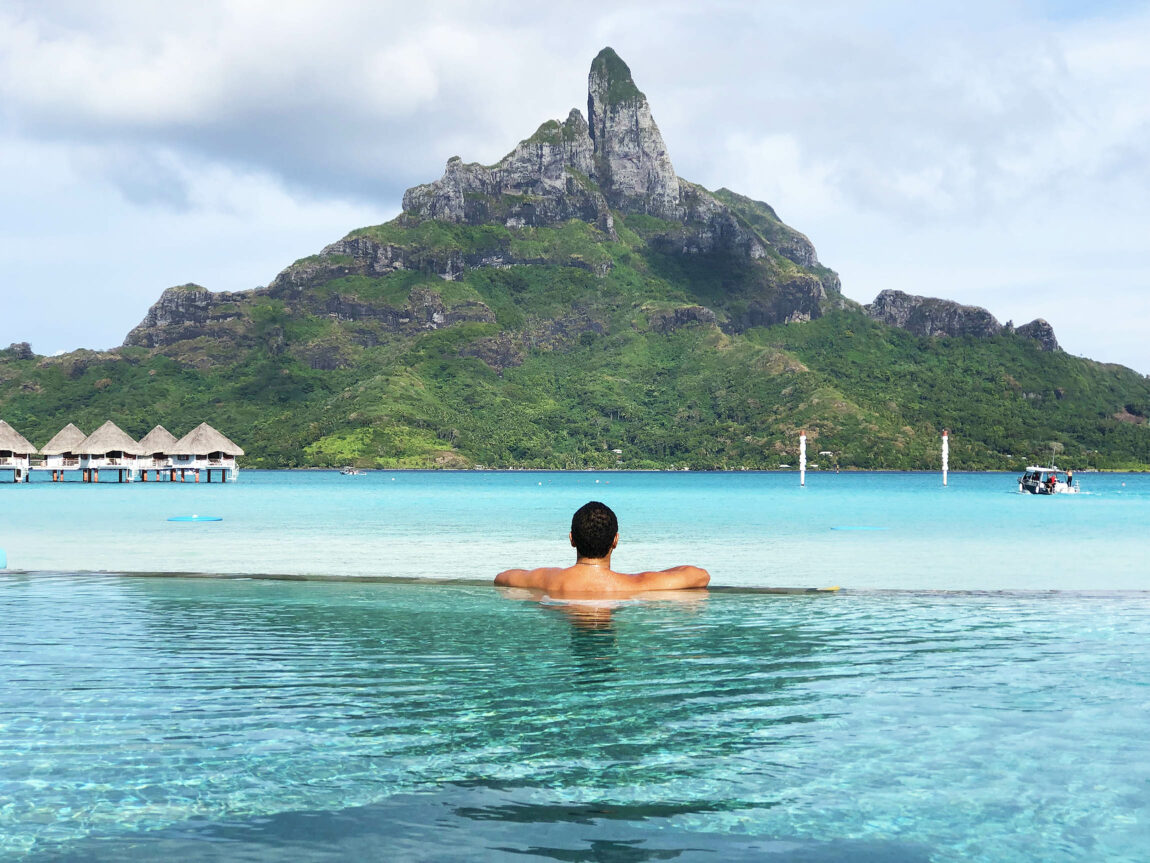 From its stunning location overlooking Mount Otemanu, to its beautiful overwater bungalows and the opportunity to visit an on-site rehabilitation turtle center, Le Méridien is the best hotel to stay in Bora Bora, and will make you feel as if you have arrived in paradise.
I never really envisioned how my wedding day was going to go. But there wasn't a doubt in my mind about where I wanted to go for my honeymoon. After falling in love with the unbeatable turquoise waters, breathtaking scenery, and remote location portrayed in travel magazines, French Polynesia was my first choice. And it wasn't difficult to convince my soon-to-be hubby to go – he immediately embraced the idea.
Therefore, as soon as the wedding preparations began so did the planning for this trip. Although we were excited to sightsee, we also wanted to unwind and just do nothing. For this reason, choosing the right hotel where we would spend most of the time was imperative. There are quite a few accommodation options in Bora Bora but after a thorough review we settled for Le Méridien Bora Bora.
5 reasons why you should choose Le Méridien Bora Bora
Stunning location & grounds
With its location on an opposite islet across Mount Otemanu, I'm certain that no other hotel in Bora Bora can beat the view. Having the possibility to wake up and see Mount Otemanu every day right in front of us, made us feel totally relaxed and disconnected from the world.
The hotel grounds are carefully taken care of there are also plenty of eating options with 4 restaurants onsite. Head to Le Tipanié to enjoy a breakfast buffet offering a wide selection of pastries, cereals, eggs/omelets to order and fresh fruit.
For lunch we usually just went with light fare, (a selection of on the go but pricey items like a $30 ham sandwich) from the pool bar but we also treated ourselves to the hotel's tasty gnocchi at Le Te Ava restaurant. I have to say that at night it got cold as the wind was blowing (We visited Bora Bora in early September) and the walk from the bungalow to the restaurant was not really appealing so we decided to order room service on the windier nights.
Tip: Do not forget to swim in the infinity pool and take a picture with Mount Otemanu as a backdrop. As the "official photographer" of this trip, I encouraged my husband to go into the swimming pool so I could take the picture above. He wasn't too happy about it – it seems the water was freezing!
Heart-warming turtle sanctuary
There are two animals that I definitely want to see up and close in my life: penguins and turtles. Le Méridien Bora Bora let me check off the sea turtles from my bucket list!
Among the most lovely attractions of Le Méridien Bora Bora is their turtle sanctuary, which houses injured turtles for rehabilitation thanks to the efforts of the hotel in collaboration with the government. Due to the sensitive environment the injured turtles are found in, space is limited and you will need to plan your visit in advance with the hotel.
The Ecological Center is open every day and offers a daily visit at 10:30AM. For a small fee (US$8 dollars) which goes to their foundation, you'll will learn about the importance of protecting sea turtles during a short presentation followed up by a chance to feed them while they are in a tub.
Visiting the turtle sanctuary was one of the most rewarding experiences we had at Le Méridien. We not only had the opportunity to see them up close, but we also felt for the efforts that are being done to take care of these amazing creatures.
Tip: There is a pool filled with fish that leads to the center. If you time it right, you can see rehabilitated turtles swimming and eating.
Beach with turquoise waters
The beach at Le Méridien Bora Bora is simply amazing. We spent hours and hours reading, sunbathing, swimming or simply enjoying the wonderful view and the soft sand. For those of you who are like me and prefer not to be in the sun for too long there are comfortable cabanas with plenty of pillows where you can lie down and relax in the shade.
I also have to say that I took several naps – as the sound of the waves and soft breeze were a perfect lullaby to sleep. If you prefer to do some exercise, there's equipment such as paddle boards and snorkeling equipment that you can borrow for free.
Beautiful overwater bungalows
Among the most exciting parts of the trip was the chance of sleeping in an overwater bungalow. We had mentioned in the reservation that it was our honeymoon so when we got to our bungalow there was a bottle of champagne and two t-shirts waiting for us – a really nice gesture from the resort.
The glass floor viewing panel of the bungalow is huge (it's the largest glass-bottom floor in French Polynesia according to Le Méridien's website) allowing you to watch the sea. I sometimes felt that I should just tip toe on top of it as I might break it! Of course, this was just my imagination. The décor of the bungalow is really modern but managed to create a very cozy atmosphere. The bed is extremely comfortable, making it a huge effort just to wake up, and the bathroom very spacious.
The overwater bungalows have private terraces where we read books and just enjoyed the stunning view. They also have a ladder that takes you directly to the water, or you can jump like a crazy person as my husband did several times.
On-site tour desk
While we wanted to focus on relaxing due to the remoteness of the hotel, we couldn't pass up a unique excursion to swim with sharks and sting rays that we booked through the hotel tour desk.
We were picked up at the hotel in the early morning and off to sea. What made this memorable for both my husband and I was the tour guides. I have taken quite a bit of day trips and have never had the guides so engaged with their clients. Not only did they encourage comradery with jokes and singing island songs, they treated us to a home cooked coconut cake!
I was so excited when I spotted the sharks that I started snapping pictures like crazy. Unfortunately, the water here was fairly choppy and I started getting seasick; I had to stay in the boat while my husband jumped into the water. He's a big shark nerd; you can imagine how much he loved the experience and he would definitely do it again. There were two additional stops to swim with rays and snorkel. If you are like me and prefer not to share your snorkeling equipment, take yours or buy this in advance in Amazon. It doesn't really occupy much space, we fitted them in our carry-ons.
Tip: If you can, purchase a GoPro to take underwater pictures. Because the water is so transparent, taking amazing pictures and videos is easy. If you are using it for the first time please read the instructions in advance and practice beforehand!
Final thoughts:
The hotel offered a variety of packages for guests. Our package included complimentary breakfast which had a quite a large variety of options, but we were on our own the rest of the day. If we could go back, we would have chosen half pension, which included breakfast and one meal – the hotel is fairly remote and your options are limited to what they offer. Food and beverages are really expensive at the hotel (at least $30 for lite fare options and starting at $20 for beer, more for cocktails).
The hotel is amazing as are the staff and offerings. The hotel provides you a private bathroom (with shower!) for guests who stay to relax until the last possible minute the day they are checking-out.
Would we go back? Of course! French Polynesia is really expensive – but totally worth it – so maybe we will be back to celebrate our 10-year anniversary one day.
We are part of several affiliate programs including Amazon and Viator which means that we will earn a small commission at no extra cost to you if you make a purchase through the links included in this post.