/
Want to soak up stunning views? Head to Magic Mountain in Moorea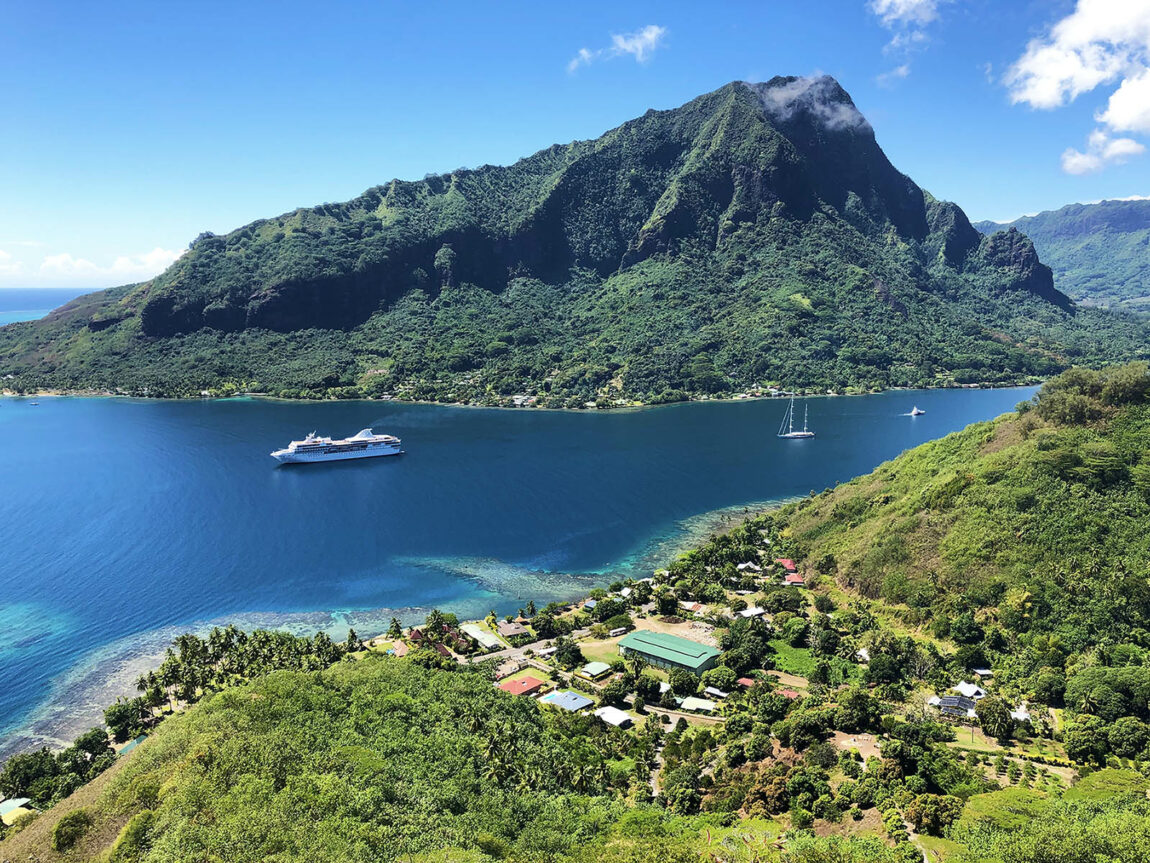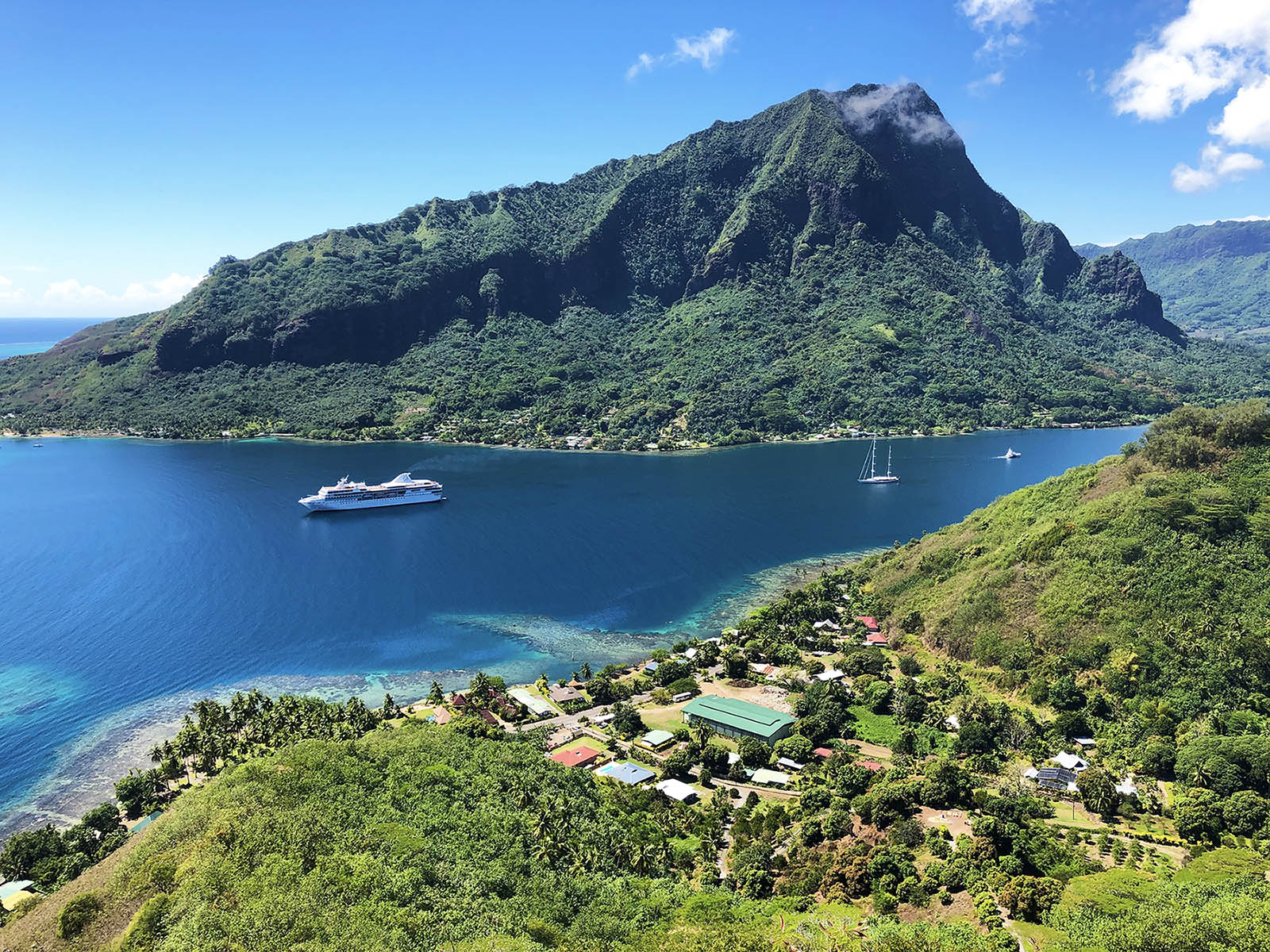 Put on your sneakers and head straight to Magic Mountain in Moorea to appreciate the best views of the island. After a short hike, you'll be rewarded with 360-degree breathtaking views of the island and surrounding turquoise waters.
Our second day in Moorea was exclusively devoted to exploring the island. Since we had planned a day full of activities, we rented a tiny roadster through Viator. The roadster made the trip more fun -and exhilarating- as it's more of a go-kart than an actual car. We still laugh when we remember the long line of cars behind us in the island's only road as it took us a while to get our sea legs underneath us. Despite the speed of the tiny vehicle, we loved it – it was open roofed and provided an unforgettable experience.
If you are traveling to Moorea, your first excursion should be Magic Mountain – one of the highest points of the island where you get stunning views from high above.
Hiking Magic Mountain
The entrance to Magic Mountain is located via a private road; the enterprising local allows visitors to park on his property for only US$2. The hike up the mountain is a bit steep but it only takes around 25 minutes to go up. Fortunately, most of the way up is paved which made the hike a bit easier. We opted for the authentic climb but if you are not too fond of hiking, you can always join a tour to get to Magic Mountain via 4WD vehicle or ATV. Remember that Magic Mountain is not accessible by regular cars (or roadster!). I recommend booking tours through Viator – I have used them several times and they never disappoint!
Because we were hiking in the late morning, it was very hot so we made a few stops to catch our breath along the way when we found shade – try not to sleep in this day as the earlier you get out the smoother the hike.
Tip: While the climb is steep you don't need special shoes, we just wore sneakers and they did the job. Remember to also bring lots of water, sunscreen, and a hat with you. Read this blog post to find out a list of things you need to bring with you.
Stunning views all around
When we got to the top there was a group of tourists, but thankfully they left after a few minutes and we had Magic Mountain just for ourselves. We took the opportunity to take several pictures as well as just stare at the turquoise waters and magnificent landscape ahead of us. Considering this is a major destination on the island, the earlier you hike the lesser the crowds.
One of my favorite experiences on Magic Mountain is the views of the surrounding waters. You can clearly see the division between the lagoon and the ocean – this is one of those places where pictures can never fully capture the natural beauty. No matter where you look, you can find stunning displays of colors from every possible angle and it's hard to believe your eyes when you see how the natural shades pop!
Tip: Don't rush down. Really take time to soak in the magnificent views which will be imprinted in your mind forever.
We were a bit tired after the hike -and it was hot- so we decided to stop by the juice stand just feet away from the parking lot and ordered pineapple juice. There are certain places in the world where foods just taste better – or like they should. Moorea is famous for its pineapples and the juice was unforgettably delicious giving us a much-needed sugar boost after the hike.
What to bring
Comfortable sneakers: The MAINCH women's hiking water shoes have a rubber toe cap which prevents foot injuries, and the synthetic ribbons on both sides of the water shoes provide support and stability. Additionally, the midsole channel has multiple small holes, which effectively promote the rapid drainage of water. This is really handy if you get caught in the rain all of a sudden.
Water bottle: Bringing a bottle of water is key during any hike as the exercise and heat will make you feel really thirsty. The Nomader Collapsible Water Bottle is a great choice as it's sturdy and comfortable to drink from.
Sunscreen: It's imperative you bring sunscreen to protect your skin. Get Supergoop! for your face, which protects you from damaging UVA, UVB, and IRA rays. Coppertone is a good option to use for your body. Remember the sun is strong in French Polynesia so you might want to take all precautions to avoid getting a sunburn.
Hat: Wearing a hat is another precaution you can take to ensure you are protected from the sun and heat. I love the North Face Norm Hat which comes in a variety of colors to choose from.
We are part of several affiliate programs including Amazon and Viator which means that we will earn a small commission at no extra cost to you if you make a purchase through the links included in this post.