/
The gems in Piriapolis, Uruguay, that will make your visit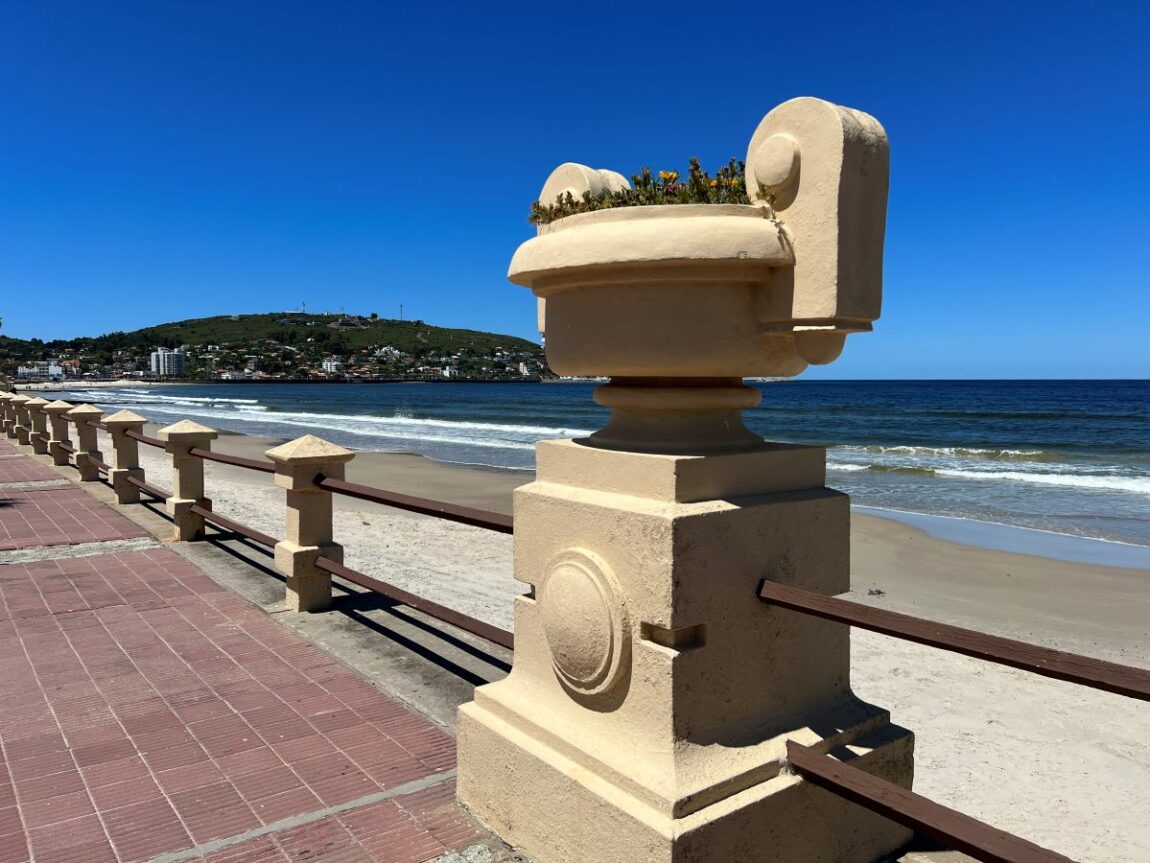 Read which are the gorgeous gems in Piriápolis, Uruguay, that you shouldn't miss.
Located a little over an hour from Montevideo, Piriápolis is the perfect spot for those who want to enjoy its beautiful beaches and stunning art deco rambla; take advantage of several hiking opportunities; and dive headfirst into tasty local cuisine.
Getting to Piriápolis from Montevideo is really easy. For the best panoramic views, take the Ruta Interbalnearia, as you will connect with all the beaches along the coast. As you drive, look out for the hills lazily rising in the distance – they serve as the local welcoming committee for visitors as you approach Piriápolis; literally you'll be five minutes from the exit to drive right next to the beach.
Turn right on Solís (Km 80), and you will be stunned by the meandering coastline which will give you magnificent views of the ocean as you approach Piriápolis. You'll immediately know you've arrived as the white art deco rambla pops out from the low dunes.
Featured tours
Piriápolis offers a bit for everyone
Piriápolis offers a bit for everyone, no matter if it's the younger or older crowds, and for those looking to relax or wanting to spend a more "active" vacation. If you are planning to go the active route, Piriápolis offers plenty of opportunities to conquer several hills for weekend hikers. You can also head to the boardwalk to jog, run, or power walk all while you take in the beautiful art déco buildings that dot the landscape.
Tip: Remember that the boardwalk can get busy -especially during the summer weekends- so if you are planning to exercise head there early in the morning or late in the evening.
But if you are looking to relax, Piriápolis offers plenty of beaches where you can take a book with you to spend hours sandbathing and watching life go by. After you have soaked in the sun for several hours, head to the rambla side restaurants to eat some local delicacies and enjoy cultural events which are a frequent summer staple.
Piriápolis was founded by Francisco Piria in 1890 – conveniently an entrepreneur and alchemist. At the turn of the century, Piriápolis was THE place to go during the summer to be seen, in Uruguay, and to strut around in your best clothes along the rambla. Despite being replaced by the modern and cosmopolitan Punta del Este, Piriápolis' beauty still shines to this day and cannot be missed.
Among my favorite things to do in Piriápolis can be found:
Hike Piriápolis rolling hills
There are several hikes through Piriápolis' rolling hills that offer magnificent views of the town and the ocean…and offer a snapshot of country life. Here are some of my favorites:
Cerro San Antonio:
To get the best postcard picture of Piriápolis, head to the Cerro San Antonio. The cerro, or hill, is a short drive to reach the top, or you can take the chairlift located next to the harbor. There are some very brave people who choose to bike or run to the top but be careful if you try to do the same, this is a road with lots of traffic. However, it's great exercise, and you'll find a few places to get snacks and a drink to get reenergized at the cerro's summit.
Tip: If you are visiting during January you might be lucky to watch or even join runners for the Doble San Antonio race, a 4k or 8k run, which goes up and down the Cerro San Antonio – a really steep challenge!
Once you reach the top, you'll be blown away by the view from the top, so be sure to take a few shots of the city and the ocean from above. Apart from the killer view, you can visit the tiny chapel of San Antonio, the patron saint of lovers – maybe someone will get lucky (wink wink). While you are enjoying a drink, you can also pick up some souvenirs and other knickknacks for those waiting for you back home.
Cerro del Toro:
For another great view of the town and hills nearby, head to the Cerro del Toro, the second highest hill in Piriápolis. The name derives from a massive fountain in the shape of a bull, set on top of a gorgeous grotto on the cerro's summit.
Legend has it that Francisco Piria had it brought from France, however this fountain, which weighs an astounding 3 tons, had to be carried up in pieces then put back together when it was being installed. When you stand at the grotto, you'll see a stream of mineral water gushing from the bull's mouth – and it is drinkable and delicious!
Make sure that when you hike this cerro you bring comfortable hiking shoes and socks, but most importantly a water bottle to refill with some of the purest mineral water in the country.
This hill is also famous for its air quality, which offers some of the freshest air; so take deep breaths when you reach the summit.
Cerro Pan de Azúcar:
The crown jewel of the local hills, it's appropriate that it also happens to be the highest hill in Piriápolis. Not only do you get the Sugarloaf Mountain aesthetics, but the cerro is easily recognizable among the others since it has a cross on the top.
This is definitely a challenging hike, more than the Cerro del Toro's, so come prepared for a long day. You can go up Pan de Azúcar between 10:00 am to 3:00 pm, and it will take around 2-4 hours to hike. While the trek is long, it's an easy path to follow as you'll have arrows that have been painted on rocks guiding you to make sure you don't stray too far away.
Located on route 37, the Cerro Pan de Azúcar offers an animal reserve where you can experience the national wildlife. This is a great spot to stop by if you are traveling with kids – they will absolutely love it.
Once you reach the top, you can also climb approximately 100 steps to the top of the cross. There are small windows through which you can soak up the landscape or sit on a few seats to catch your breath. Keep in mind that it can get really windy up there on the cross, so layer up and dress accordingly.
Tip: If you are hiking the Cerro Pan de Azúcar go early in the morning. In summer, you will avoid the worst of sun as it shines the strongest between noon and 3pm.
Visit the Stella Maris
The famed Stella Maris, representing the Virgin Mary, was made by an Italian sculptor and is located on the Cerro San Antonio. Local legend claims that the Stella Maris looks towards the sea to protect the fishermen, which later on your way down you can try some of the freshest seafood and gaze back up at the sculpture.
You can either drive up (but note that parking is extremely limited in this spot) or take a short climb up the stairs located at the base of the hill. This is one of the best views of Punta Fría and definitely worth a picture.
Stop by Piria's castle
Piria's Castle was Francisco Piria's original residence, constructed in 1897, and it's extraordinary. Located directly alongside Route 37, the castle now houses a museum with guided tours available for visitors.
In this gem of a museum, you'll find many pieces that were typical of pre-civil war Uruguay including period furniture, weapons, and a fantastic art collection. From the balconies you will be able to take in an amazing view of the city and the Cerro Pan de Azúcar keeping watch.
Relax down by the harbor
The harbor of Piriápolis was recently modernized and it's become a local hot spot to sit back drinking mates and watching the boats roll in with their catch. Unlike other harbors, this one has a charming juxtaposition with modern yachts are docked next to humble fishermen boats.
Keep an eye open for the sea lions, who take advantage of comfy piers to take a nap under the sun. Don't worry about waking next to them either, they are enjoying such a profound nap happily snoring along as people walk by to take pics. We almost threw a party next to them and they didn't even bat a sleepy eye. It seems with a full belly the deeper they nap – fishermen who are cleaning their catch feed the sea lions fish; you're in for a treat as they flutter in the water to catch a fish in the air.
The harbor is a perfect spot to walk around and take pictures of the boats, the sea, and with the backdrop of hills jutting from the coast, so have your camera ready. You can also opt for a different view of Piriápolis by taking a boat tour which is conveniently available in the harbor.
Visit the nearby beach towns
Punta Fría, San Francisco, Punta Colorada, and other beach towns, are within minutes of Piriápolis so make sure you stop by these spots as well. Not only you will get to know different beaches, but you will also capture amazing views. One of my favorite photography spots are the fish stalls located in Punta Fría. Not only I was able to take beautiful pictures of the fishermen boats, seagulls, and pier, but also buy the freshest fish. The seafood empanadas are specially delicious so make sure you try these!
Stroll down the Rambla de los Argentinos
Piriápolis' best feature, and frankly its most memorable architectural aspect, is its Art Deco rambla. This unique design is seen throughout several kilometers of rambla, where locals hang out as they enjoy the beautiful landscape and great company. Note that it will get packed during summer as locals and visitors alike head to the boardwalk to get some exercise and walk with their "mate" or head down to the beach. I recommend you head there before sunset, as the sky dotted with pink and orange hues plays off the ocean and white pillars that mark the rambla.
Read blog: Punta Colorada in Uruguay: The laid-back beach town of your dreams
Stay at the Argentino Hotel
Constructed in 1930, it was one of the most impressive and largest hotels in South America in Pirapolis' heyday. Strategically located in the Rambla de los Argentinos and offering beautiful views of the rambla and beach, it is the most iconic building in Piriápolis. Free WI-FI and breakfast is available for guests and spa facilities include 2 pools, a sauna, and a massage room. If you are feeling lucky, head to the casino located on campus. There are plans to restore its façade in the near future to reestablish this jewel to it's original beauty.
Stop by the Piria church
Piria started constructing this church back in 1917 but it was never finalized. Today, the church is in ruins and because of safety reasons visitors are not allowed to go in. However, the church ruins still offer a nice photo opportunity.
Head to the Pittamiglio Castle
Located in Las Flores (a 5-10 minute drive from Piriápolis) the Castillo Pittamiglio welcomes guest with its impressive medieval architecture and large gardens. The Castillo Pittamiglio was one of the residences of Humberto Pittamiglio, an architect who has designed some Avant Guard buildings throughout Uruguay and (also) an alchemist, He spent the last 10 years of his life residing in this castle.
Visitors can wander through the gardens which feature statues and fountains and visit a few rooms. There are also a couple of souvenir shops inside, including some alchemy shops in tribute its legendary owner.
Visiting hours during low season: 9 am to 4: 40 pm every day (Closed on Tuesdays).
High season: from 9 am to 8 pm every day.
We are part of several affiliate programs including Amazon and Viator which means that we will earn a small commission at no extra cost to you if you make a purchase through the links included in this post.