/
Torres del Paine National Park full day tour: Is it worth it?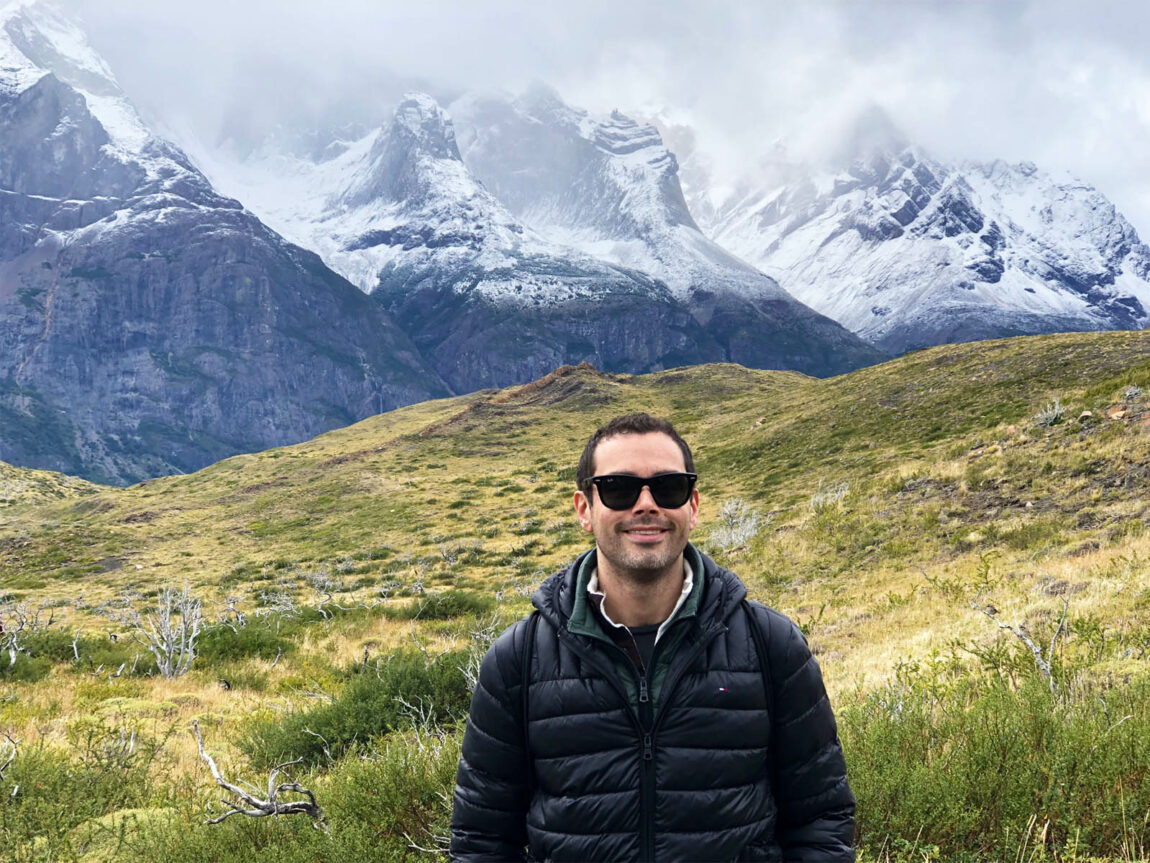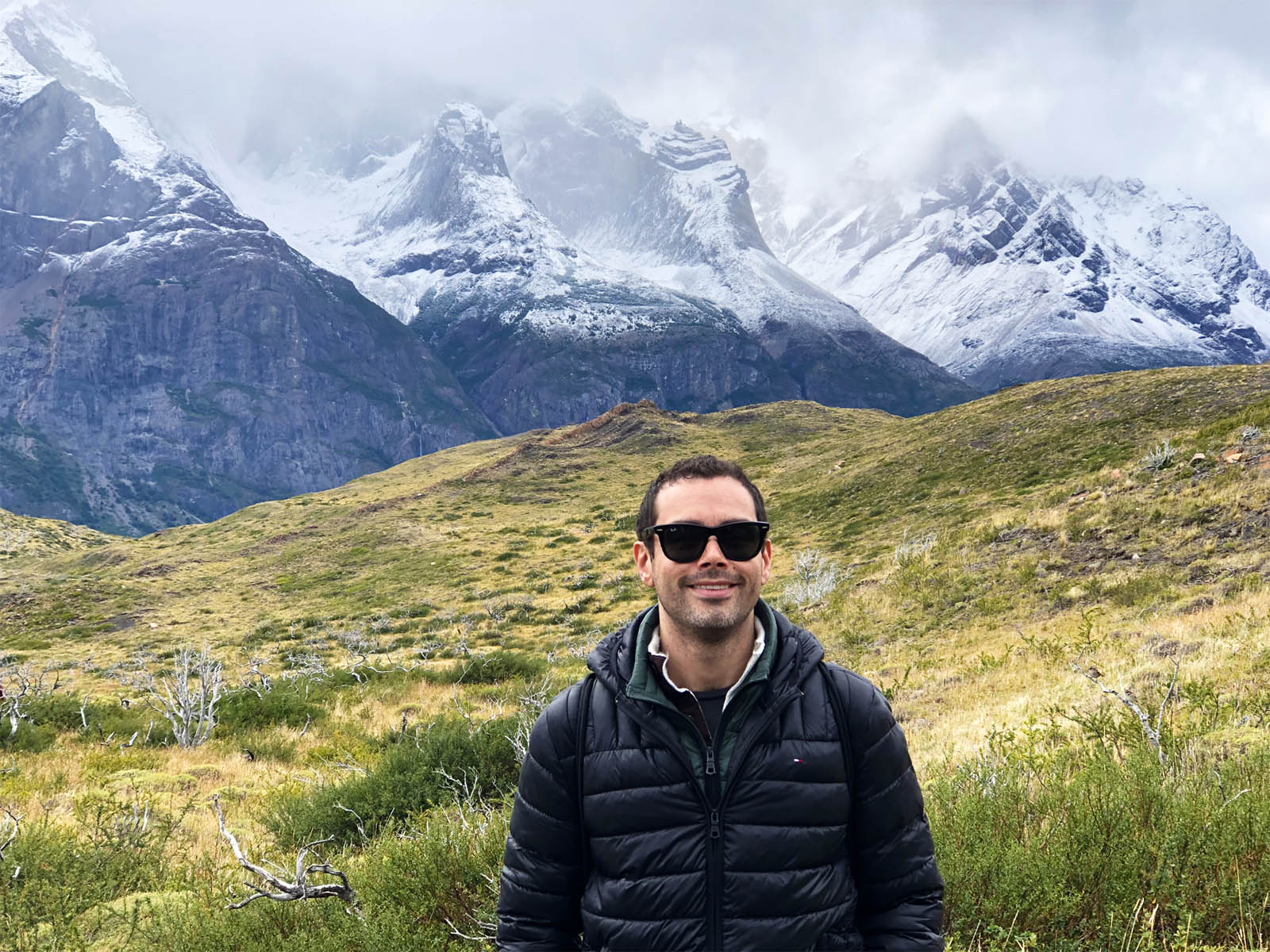 A Torres del Paine National Park full day tour can be intense but well worth it. Find out why.
The Torres del Paine National Park offers jaw-dropping landscapes everywhere you go so it's not surprising that it's considered the eighth wonder of the world.
With turquoise lakes, roaring rivers, distinctive granite peaks and glaciers, people spend several days at this location taking in its beauty – you can set up camp or stay at one of the few hotels on site. The national park is a hiker's dream as there are many trails available to enjoy beautiful views all around that can take several days to complete.
We visited the Torres del Paine National Park for a day trip as part of a short visit to El Calafate, Argentina, where we spent three full days. The day trip to Torres del Paine National Park was quite long: we were picked up at 7:00 am at our hotel and were back by 9:00 pm.
I have to confess that before booking this tour I wasn't 100% convinced that it was a good idea, given the fact that it involved a lot of hours on the road. However, after seeing pictures of the Torres del Paine National Park, there was no way I would miss it.
Let me stress that one day in Torres del Paine is not enough – it will only allow you to scratch the surface of this magnificent national park. But if you are in Patagonia, and are especially pressed for time, going for a day visit is very much worth it. This is absolutely a "can't miss" stop in southern Patagonia.
Getting to Torres del Paine
The Torres del Paine National Park is located 300 kms south of El Calafate, across the Argentine border into Chile. The shortest driving distance is approximately 3 hours across some rough terrain, but this doesn't include the time you spend at customs, when you cross the border. Fortunately, we lucked out as it only took us around an hour, but the tour guide mentioned that it can take up to several hours at times.
We mentioned the rough terrain on the shorter drive, and if your stomach can handle the bumpy road, this is the best option. The traditional drive is much longer as you go around the lower part of the mountain range. Thanks to the 4X4 vehicles (more like tanks than trucks) used by our tour company, we could traverse the rocky road "almost" as if it was asphalt. The good news is the travel time gets reduced by 200 kms, which equals to 2+ hours less than the conventional excursion.
We visited Torres del Paine in early March (think the first week of September in the Northern Hemisphere), and it was extremely cold and windy – especially in the early morning. Thankfully, we had packed warm clothes and the appropriate gear (more on that later on the blog). It was a cloudy day and with rain falling off and on. However, this didn't prevent us from appreciating the beauty of the national park. As you will see the weather lent a mystical ambience to the day, with just enough break in the clouds.
Read blog: Perito Moreno glacier: Los Glaciares National Park's awe-inspiring wonder
Tip: When you visit national parks you are always at the mercy of the weather, so add a buffer day in case the weather doesn't cooperate with you.
Key attractions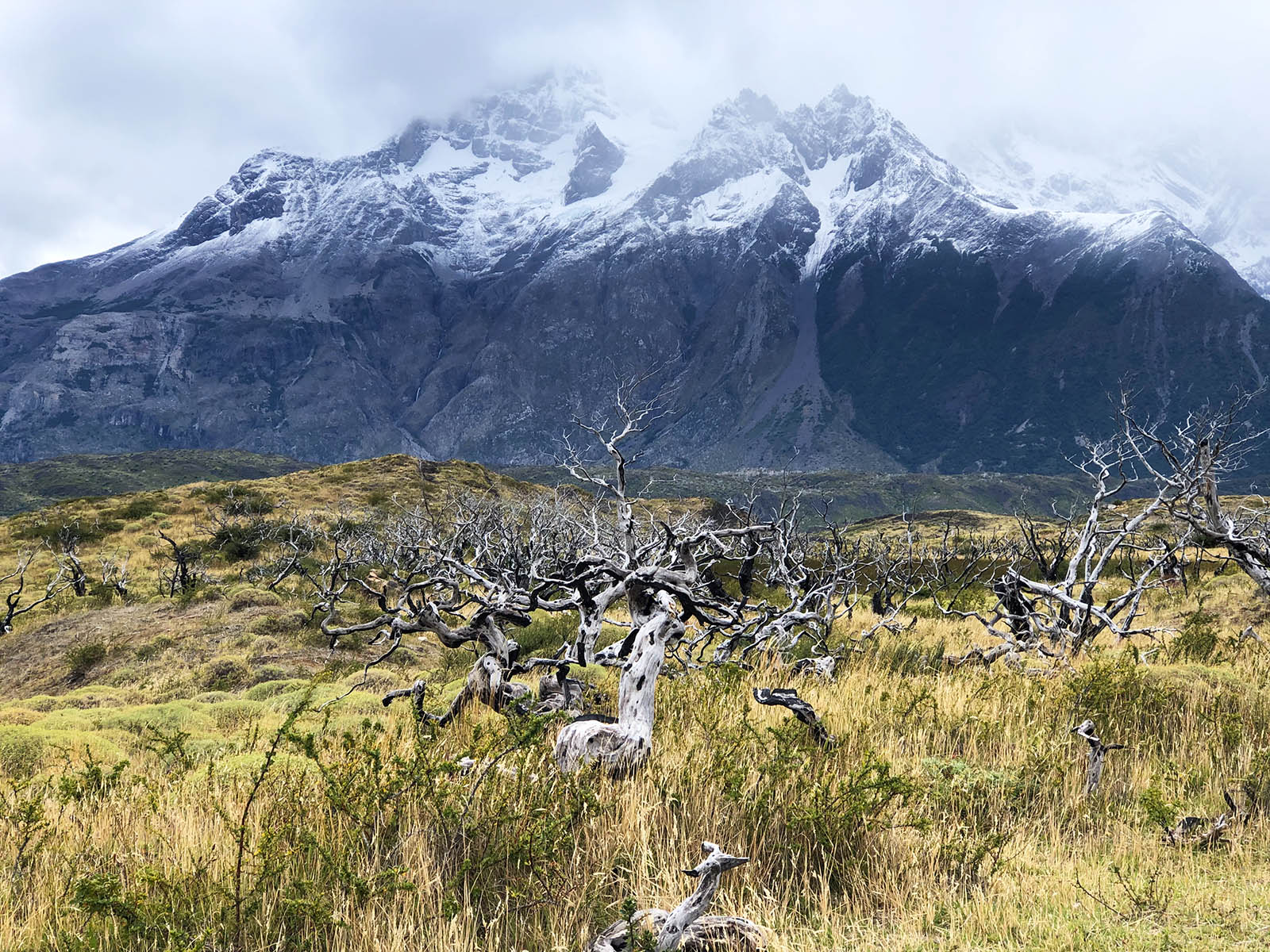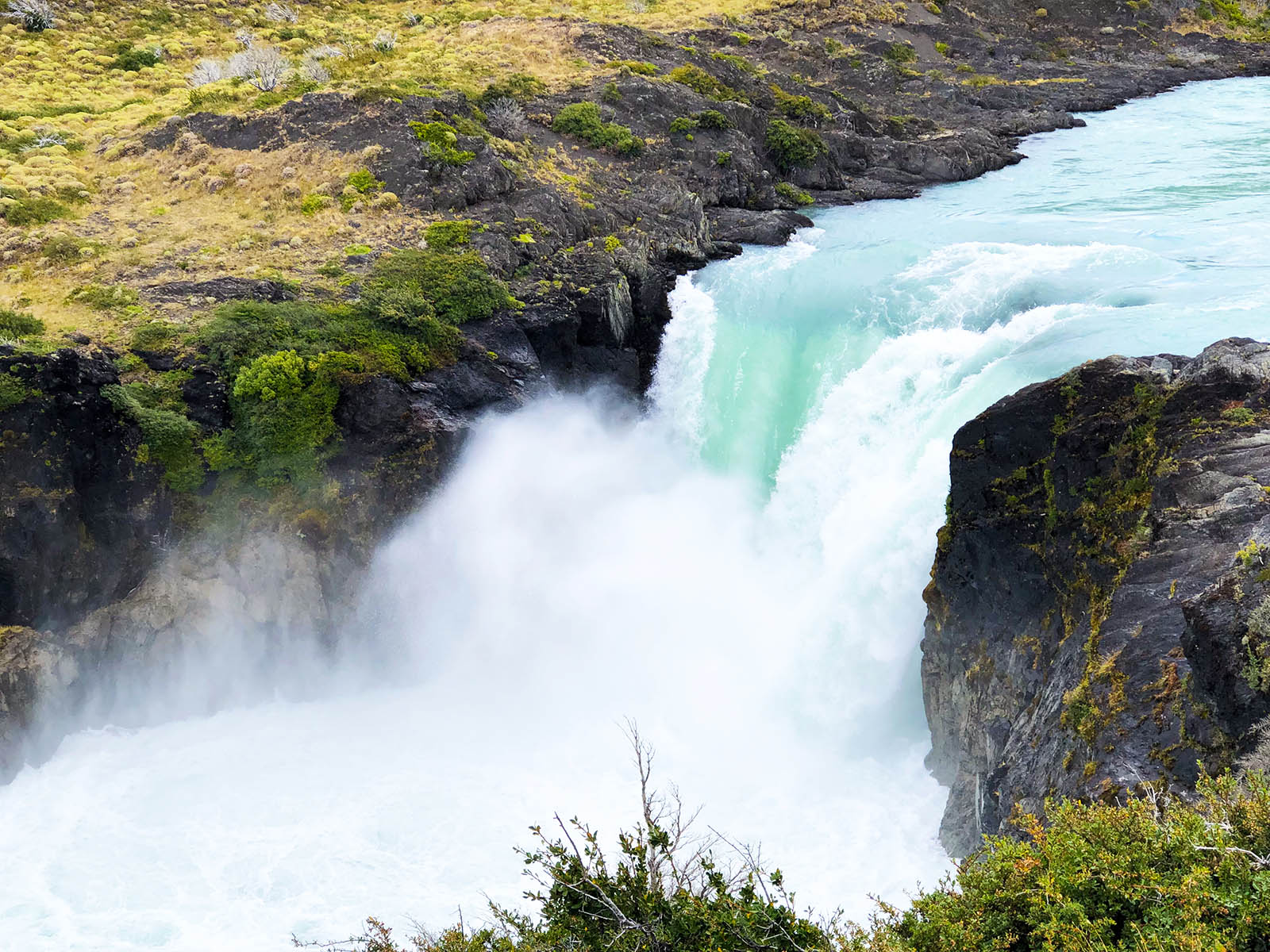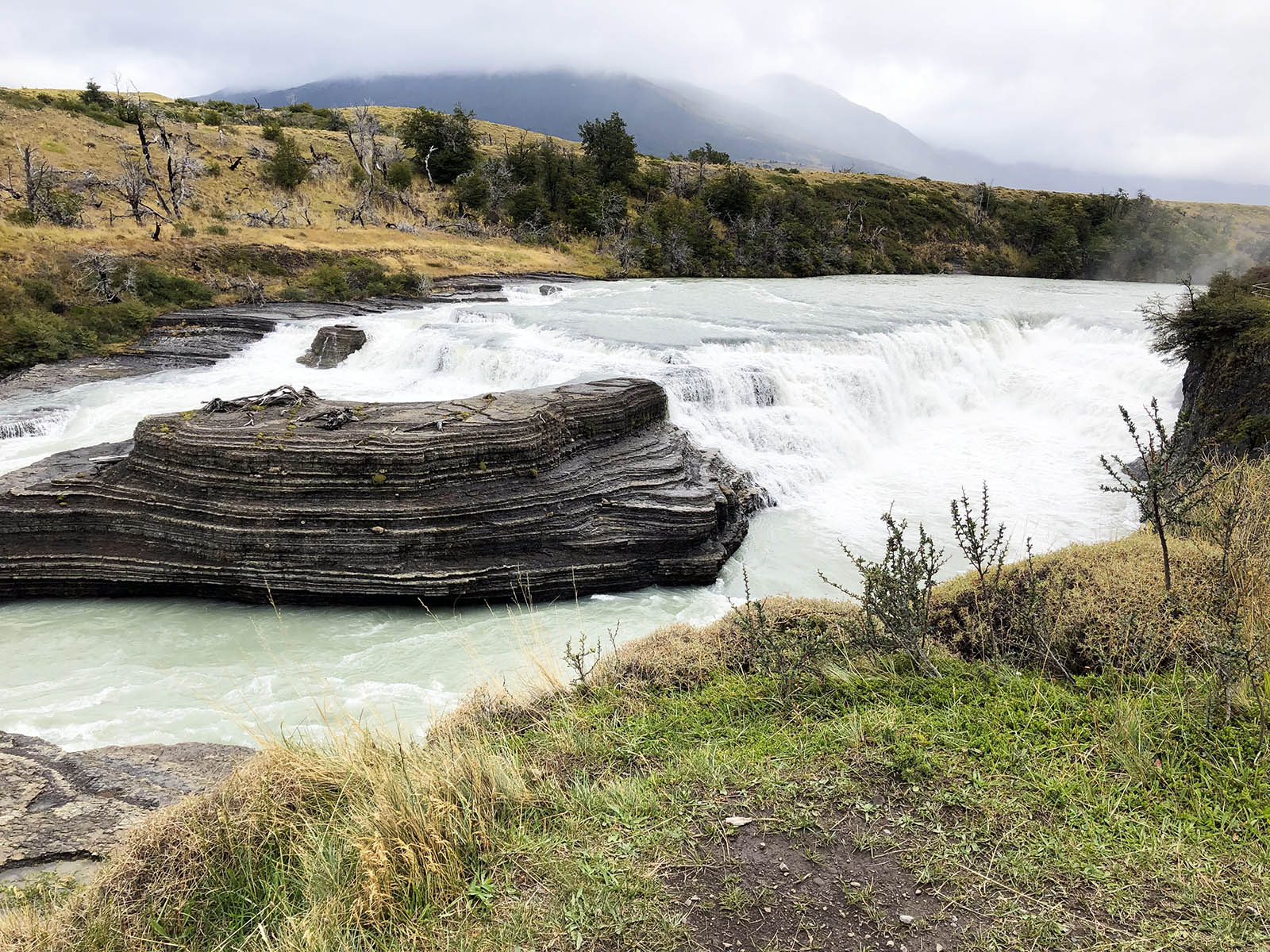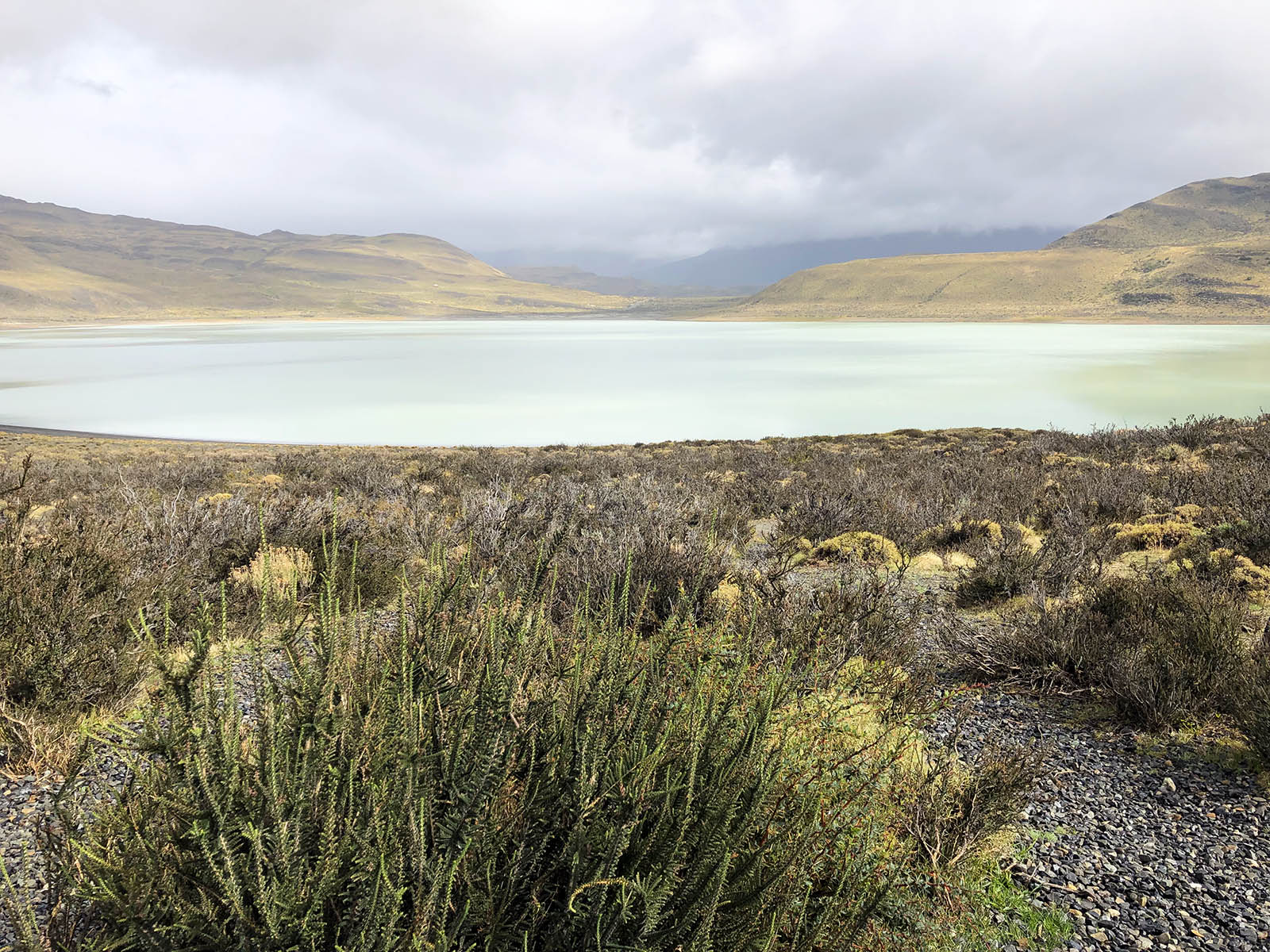 Here are a few of the attractions that we visited during our tour:
Paine waterfall: The waterfall is quite remarkable because of its strange rock formations. This waterfall is located on the Paine river, and if the weather cooperates, you will be able to see the impressive Towers of Paine from this location. Unfortunately, we weren't that lucky. After spending some time enjoying the beauty of the waterfall, we tried to have an outdoor lunch at this spot. As it was extremely cold, I chose to eat inside the bus, but there are picnic tables available that allow you to eat with a view.
Salto Grande waterfall: You can reach this waterfall after a 50-minute easy hike – which was a great thing to do after having to sit for most of the day. As you walk towards the waterfall you will be shocked by the landscape that still suffers from the ravages of a fire which occurred a few years ago – you'll see charred ghostly trees dotting the park. However, it's still a nice hike with beautiful views, and the damaged trees add a sense of "other worldliness" to the trek. The Salto Grande waterfall is the biggest of the Paine River and is surrounded by green vegetation all around.
Laguna Amarga: The name of this lagoon derives from the bitter taste of its waters. Its high concentration of salt content evaporates and leaves a soft white foam on the riverbank. During summer, a colony of flamingos vacations on the lagoon's shores. The Laguna Amarga offers a really cool viewpoint to photograph the Towers of Paine.
Pehoe Lake: This is a great spot to observe the Cuernos del Paine. If you are extremely lucky, you will also be able to see the mountains reflecting on the lake – a true spectacle. You can cross the lake (it will take around 30 minutes) by boat, which it's something many trekkers do during the popular W and Paine Massif hiking circuits.
Tip: there is a great photo op from the bridge that leads to Hostería Pehoe. Do not miss this opportunity as the view of the Cuernos del Paine from the lake is stunning.
Nordenskjold Lake lookout: This lookout offers amazing views of the French Valley and the Cuernos del Paine, looking over the Nordenskjold lake.
Cove: During our tour, we had the opportunity to visit a distinctive cove with black sand, turquoise waters, and bleached tree trunks. The contrast of colors, with the grey skies made the stop an unexpected wonder. There is also a great view of the Cuernos del Paine from here.
Watch for cute guanacos (a cousin of the llama, but don't get too close because they might spit on you) and also for condors soaring alongside the peaks.
What to bring:
I put together a list of items that you should bring with you if you visit Torres del Paine for a day. Rather than listing the obvious things, I have focused on what may be overlooked for the casual tourist.
Sunscreen: Protect your skin as you will be hiking for hours and there won't be any shade. I recommend Supergoop! SPF 40 for your face, an antioxidant-rich facial sunscreen which helps protect your skin from UVA, UVB & IRA rays.
Sunglasses: Bring a good pair of sunglasses that provide 100% UVA+B protection. There is a constant glare that breaks through the clouds, and you don't want to miss a moment of what the park offers. I recommend O'Neill Offshore polarized sunglasses.
Waterproof shoes: There is a strong chance that when you visit Torres del Paine it's going to be cold, wet, and muddy; so bring shoes/boots which will keep your feet warm and dry. I recommend the North Face Men's Chilkat III Insulated Boot and the North Face Shellista II Mid Snow Boot for women.
Gloves: Because you will be taking photos non-stop (trust me!) I recommend you bring gloves which are touchscreen compatible. The North Face Etip recycled gloves are a great choice, and they will keep your hands warm.
Waterproof/Windproof pants: I recommend these pants for hiking in Patagonia:
The North Face Women's Venture 2 Half-Zip Waterproof Hiking Pant
The North Face Men's Venture 2 Half-Zip Waterproof Hiking Pant
Lightweight jacket: I recommend the North Face Women's Metropolis Insulated Parka III. It's water resistant and insulated. For men you should get a synthetic fleece for the wind, like the North Face's Gordon Lyons Full Zip Jacket.
Where to stay
The nearby town of El Calafate offers plenty of accommodations. We chose to stay at the Blanca Patagonia Boutique Inn and Cabins and highly recommend it. It's a small and charming hotel which offers 17 rooms with great lake views. The hotel also offers free buffet breakfast and free Wi-Fi in public areas.
For the best view of the Cuernos del Paine, you can also stay at the park in Hostería Pehoe situated on lake Pehoe or bring camping gear for those who want an extended stay.
Final thoughts
Overall, the day tour was unforgettable, and we were astonished by the unparalleled beauty of the Torres del Paine National Park. Yes – a full day tour is extremely exhausting (except for those who can sleep anywhere) but nonetheless totally worth it. I will definitely do it again whenever I get another chance…and hopefully I convinced you to do the same!
We are part of several affiliate programs including Amazon and Viator which means that we will earn a small commission at no extra cost to you if you make a purchase through the links included in this post.