/
The best ways to avoid getting sick in the plane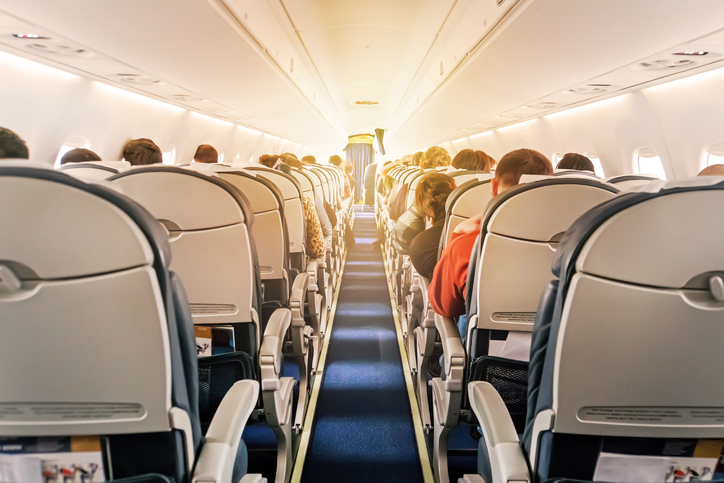 Follow these easy tips to help you avoid getting sick in the plane.
Getting sick when you are traveling can ruin a vacation. No one wants to arrive to their destination and not be able to enjoy the trip 100%, especially after a long flight. Getting sick is a part of life, and unfortunately not always avoidable.
However, there are some tips you can follow to reduce your chances of catching a cold or nasty bug when you are flying. Germs love planes, because they can thrive in enclosed environments with hundreds of people sitting in a tight space for several hours at a time. Especially during the COVID-19 pandemic, we should be extra careful to take all the precautions before and during a flight to avoid getting sick.
I have been following these tips for years, and they have worked remarkably well for me. It's been a while since the last time I caught a cold or the flu when traveling.
Pre-travel tips
For me, making sure I don't get sick in the plane starts well before I fly. This is when I try to give my immune system a boost – by making an additional effort to embrace a healthy lifestyle. I will get really strict in eating healthy, getting plenty of exercise, and doing my best to sleep the 7-8 recommended hours. Remember that if you take good care of your body, your body will take good care of you!
Below are a few things I always do prior to my trip:
Eat healthy
By eating healthy I mean eating whole grains, lean proteins, and fresh produce. Avoid eating fast food or processed food – this is the type of food that is basically empty of any nutrients, so stay away. If you crave sugar, put down the Kit Kat and pick up some fresh fruits to curve your sweet tooth. Drink at least 1-liter ½ of water every day. If you consider water "boring", squeeze some lemon in it or add fruits for flavor. Remember that while water hydrates your body, alcohol, tea and coffee do the exact opposite.
Get enough sleep
Getting consistently a good night sleep (7-8 hours) is key. Sleeping helps ensure all of our systems function optimally, improves our immune function, and reduces inflammation among other important benefits.
I understand that prior to traveling we feel excited and might have trouble falling asleep. To prevent sleeping issues establish sleeping hygiene habits such as turning off all electronics an hour or more prior to bed, avoid eating heavy or filling meals prior to bed, and try to stick to only your morning coffee. Taking sleep aids like melatonin or ZZZquil on an occasional basis may also help.
Exercise regularly
I love exercising and feeling the accompanying rush of endorphins I get after a class at the gym; and besides, it gives my skin a glow that I can't get even with the best face cream. If you don't like going to the gym, go for a walk. Start with 30 minutes then methodically increase the pace and length of your walks as you build stamina. This will also serve as good training for your trip, when you probably will be walking much more than usual.
Make sure your vaccine card is up to date
This is also really important because to enter some countries you must present proof that you have taken specific vaccines; in the near future this may be more prevalent than before COVID-19.
Take your vitamins!
A week prior to traveling, I start taking vitamin C, which among several benefits, keeps your immune system in shape and is vital to the body's healing process. I usually take Vitamin C by Nature's Bounty.
Vitamin D3 has also been proven to help boost immune system responses. I recommend NatureWise Vitamin D3 5000iu.
Pack smartly for the flight
I am that person who is shivering in the plane from the moment it takes off because of the high air conditioning levels. It doesn't matter if I cover my body with a blanket and turn off the AC, I still feel cold all the time. Even though feeling chilly won't make you get a cold; it can compromise your immune system. So, if you are always cold in planes, bring clothes that will keep you warm during the flight.
During the flight
As we are living with COVID-19 we should make extra sure we are doing everything to protect our health if we need to travel. Airlines are now taking additional steps to ensure their cleaning protocols are reinforced… but you should also do your part.
Wear a mask
During the past year, we have become used to wearing masks which can protect us against COVID-19 and other viruses. The KN95 Face Mask is a great choice as it can filter out 95% of particles.
Bring sanitizing wipes to clean your space
Make sure you clean your seat belts, armrests, tray table, screen, and the seat pocket as soon as you get inside the plane.
You can get travel size cleaning wipes on Amazon such as the LA Fresh Wipe Away Hard Surface Cleaning Wipes which claims to remove up to 99.9% of contaminants.
If you are on a long flight and have no other choice than going to the bathroom, bring the wipes with you or alternatively grab a piece of toilet paper to touch the flush button, turn the faucet on or off, and to open the door. As my father-in-law would say to my husband when he was a kid and had to use a public bathroom, "Don't touch anything!!!"
Tip: Before going into the bathroom, tuck in your shoelaces. This may sound odd, but shoe laces can drag on dirty floors and you may cross contaminate and absentmindedly touch your face.
Avoid touching your face
This is hard because we unconsciously touch our faces hundreds of times during the day. Make sure that before you touch your eyes, nose, or mouth, you wash your hands or apply sanitizer.
Constantly disinfect your hands
Bring with you hand sanitizer and remember to disinfect your hands often. Hand sanitizer should contain at least 60% alcohol to be effective. The Purell Advanced Hand Sanitizer Gel 1 OZ Travel Size or the Purell Hand Sanitizing Wipes are good choices.
Drink plenty of water
When you are traveling in a plane, the oxygen and humidity levels decrease due to the higher altitude. This causes that our mucus membranes both in our throat and nose which protects from diseases to dry up. I always buy a big bottle of water at the airport (or two if the flight is really long) and force myself to drink them during the flight.
An extra benefit of drinking lots of water on a flight is reducing the negative impact flying may have on your body. My husband's feet swell on long flights, and when he drinks plenty of water (instead of wine) the effect is drastically reduced.
We are part of several affiliate programs including Amazon and Viator which means that we will earn a small commission at no extra cost to you if you make a purchase through the links included in this post.