/
Hiking in the Bucegi Mountains: Tips, top sights and useful info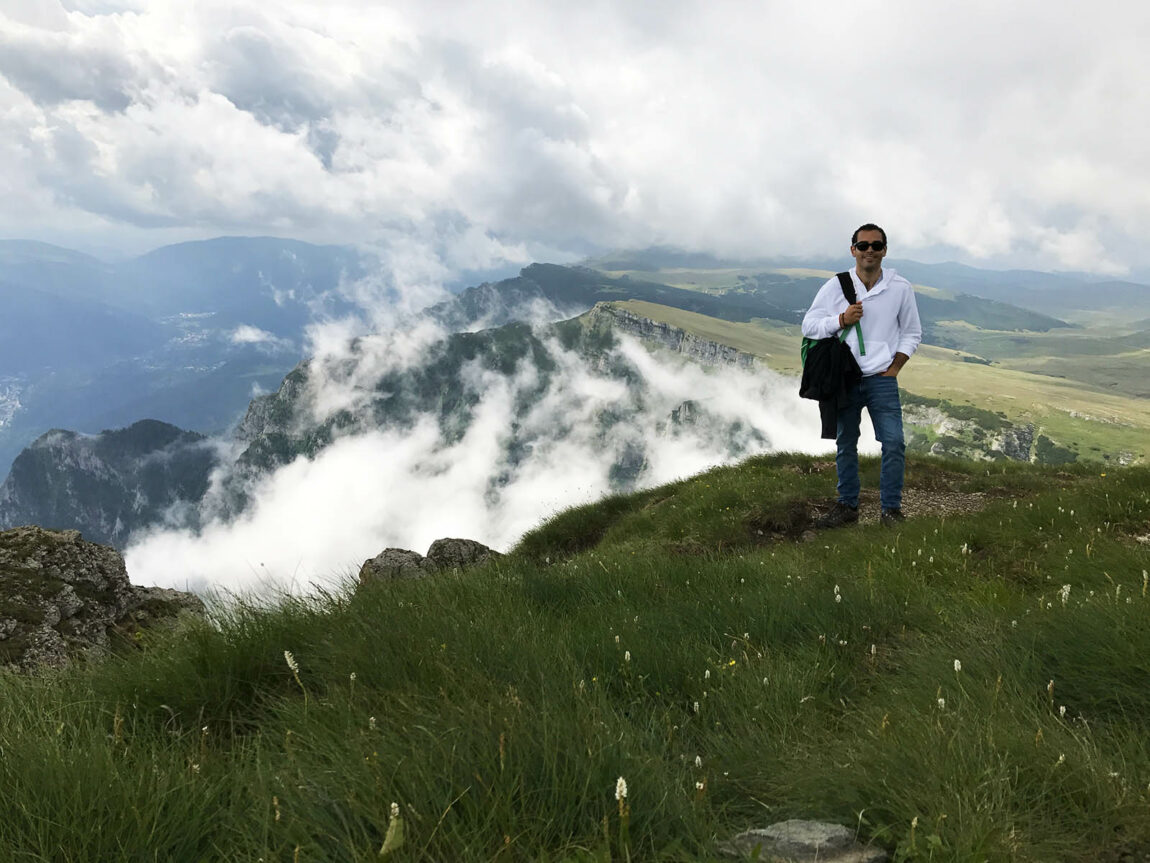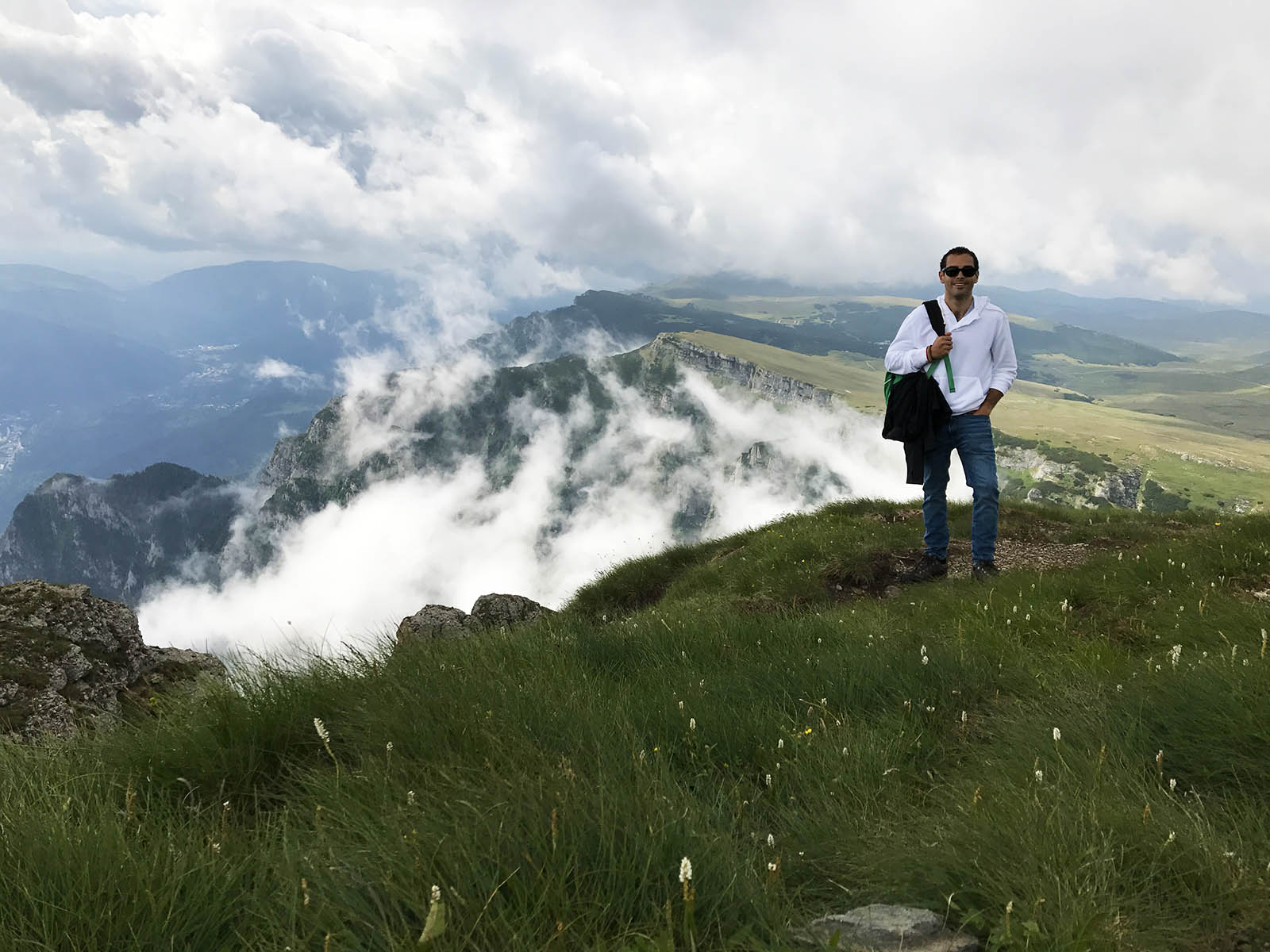 Hiking the Bucegi Mountains is a remarkable experience that cannot be missed during a trip to Romania. Not only will you marvel at the impressive Babele and Sphinx rock formations, but you will also be able to enjoy the unspoiled and breathtaking landscape all around you.
Why visit
With classic Romanian mountain scenery all around, a visit to the Bucegi Mountains allows you to breathe some of the freshest air in the country so close to the "Paris of the East", Bucharest. Once you reach the top you will definitely feel overwhelmed by the unending shades of green surrounding you.
You can't skip going on a hike when visiting the Bucegi Mountains – trails are well-maintained and easy to spot. Hiking is one of Romanians' favorite activities and the Bucegi Mountains makes it easy for everyone to partake. While hiking you will find several trails to choose from depending on your experience or fitness level. Keep an eye out on the signs, as some trails are very difficult for first-time hikers. If you are planning to hike for more than a day, there are accommodations where you can spend the night through the mountain range– just make sure you book in advance because it's a popular destination.
How to get there
Car: This is the option we chose since our time in Romania was one giant road trip. We woke up really early (we were staying at the Villa Ermitage in Busteni) to avoid crowds during our hike. It took us around 50 minutes to get to the parking lot in the Bucegi Mountains.
To get from Busteni to the Bucegi Mountains we followed the roads DN1 and then DJ713. DJ713 is asphalted but narrow and windy – and it's the third high altitude road in Romania. Additionally, it has innumerable twists and turns – thankfully not as many as the Transfagarasan road. If you are prone to car sickness, make sure you take Dramamine in advance.
Turn right when you reach the top of the road and you will immediately see Cabana Dichiu on the left – here you will find a parking lot (before the road turns right to Cabana Piatra Arsa) with an incredible view.
Start your hike to Cabana Babele, where most of the trails begin. The hike will take you approximately an hour.
Here is the map showing where we parked
Cable car: The cable car from Busteni takes you to the top of the Bucegi plateau so you avoid the 1-hour hike from the parking lot.
We heard that the waiting times -especially during the weekends- can be very long since the cable cars can only take a few people. Therefore, if you end up choosing this option you should get an early start.
The cable car is available all week except for Tuesdays. It runs from 07.30-17.45 (June 15th – September 15th) and from 08.30-15.45 (September 16th – June 14th).
The ticket costs 70 lei (US$17) for adults and 36 lei (US$9) for children (5-12 years old).
There is also the option to take the cable car from Sinaia but you will have to switch cars.
Chair lift: Keep in mind that they do not work when there is strong wind, and the wind can change on a dime. The ticket costs 15 lei (US$4). Children can ride for free.
Visit the website for more information
What to do
Marvel at the Babele (old ladies) and Sphinx: Both figures have been a source of several legends throughout history and they are located in the plateau next to Cabana Babele. While some believe that these figures are the results of a combination of erosion and powerful winds, others prefer the legend that they were shaped by humans from a forgotten epoch. The Sphinx, situated at more than 2,200 meters of altitude, resembles a human face similar to its famous Egyptian counterpart and Babele appear to be gigantic stone mushrooms.
Hike to the Heroes Cross: You can find the hiking trail right by Cabana Babele to the Heroes Cross – just follow the red cross markings. It takes 3 hours (round trip) from the start to the Heroes Cross. The Heroes' Cross was built between 1926 and 1928 in the memory of the railway heroes who died on duty during World War I. During the hike to the Heroes Cross you will be rewarded with breathtaking views over the town of Busteni, the Prahova valley and the surrounding mountains. Why are the views so stunning? For one, you'll be seeing the landscape from above the clouds – which gives you excellent photo opportunities.
Hike other trails: There are other trails available that you can take including to the Urlatorea Waterfall and Omu peak. Because we only spent a few hours in the Bucegi Mountains we skipped these hikes, but looking back it's worth taking a couple of days to explore.
Enjoy the company from the locals: Cows, sheep and the shepherd dogs. The quietness the Bucegi Mountains offer was only interrupted by the noises made by these wonderful, and cute, animals. It was quite funny to witness the dogs bark and chase after rogue sheep that wandered off from the group. When we first arrived, we were greeted by a massive heard of curious cows who stopped by the car to say hello.
What to bring for a day hike:
A backpack: To carry money, water, sunscreen, a jacket and other important stuff I recommend this backpack. It has a padded mesh back panel and offers several compartments to ensure you keep everything organized.
Water: Bring water for your hike – especially if you are planning to hike for several hours. While water in Romania is safe to drink, we recommend bottled water to save time.
A hat and sunscreen: This is key because you will be outside for several hours so take the necessary steps to protect your skin. On these mountains there is very little shade so avoid getting a painful sunburn. A hat will also help limit prolonged sun exposure.
Hiking shoes/boots: Bring sturdy and waterproof shoes to hike the Bucegi Mountains. Your hiking footwear should be made for trails of jagged rocks; one pair is all you need for the entire trip. We wore the following hiking shoes and highly recommend them:

For women: Oboz sawtooth II low b-dry hiking shoe

For men: Oboz sawtooth II low b-dry hiking shoe

Ponchos: On many Romanian mountain ranges the weather can change frequently and abruptly. Bring an easy to store poncho to stay dry.
Wear layers: You can experience all seasons in a matter of hours on Romanian mountains. Remember that because of the elevation it will be colder when you reach the plateau so make sure you layer appropriately. We visited the Bucegi Mountains in July and we were wearing light jackets during the entire hike.
We are part of several affiliate programs including Amazon and Viator which means that we will earn a small commission at no extra cost to you if you make a purchase through the links included in this post.