/
Monkey Park Iwatayama: Getting up close and personal with monkeys in Japan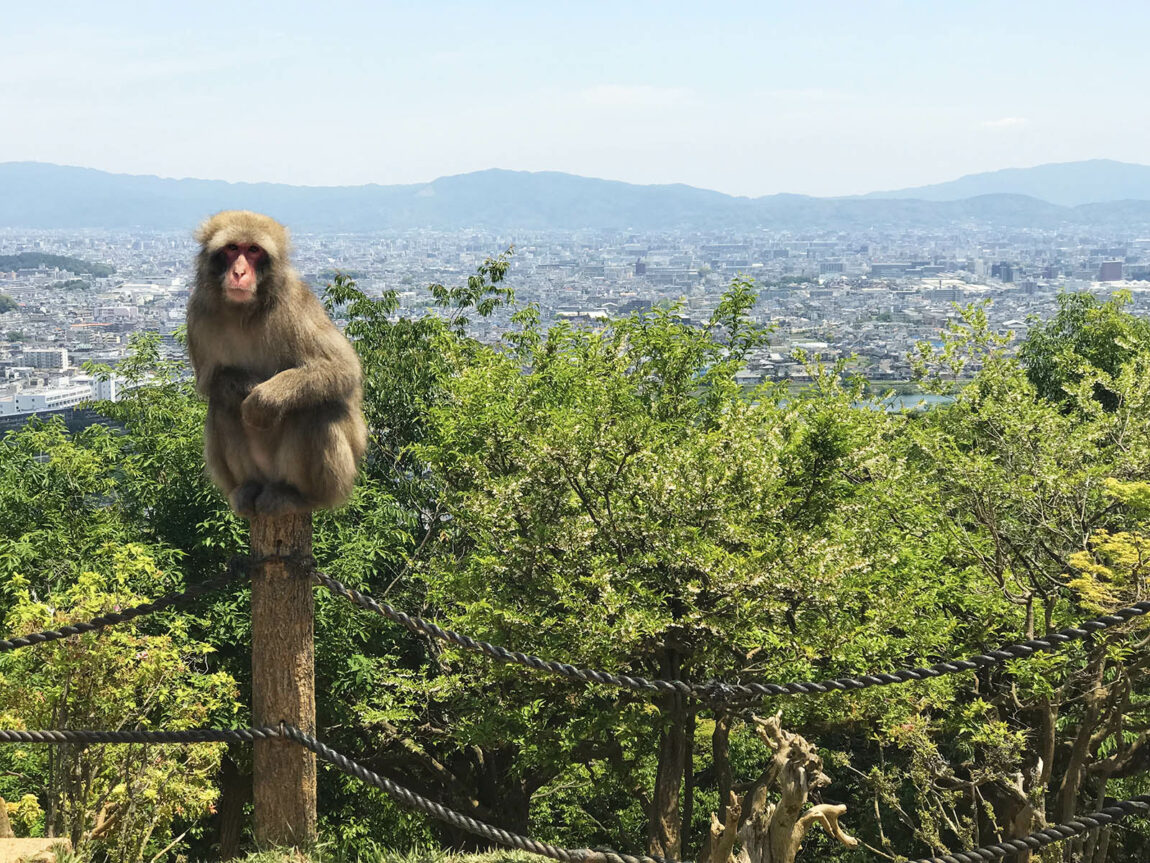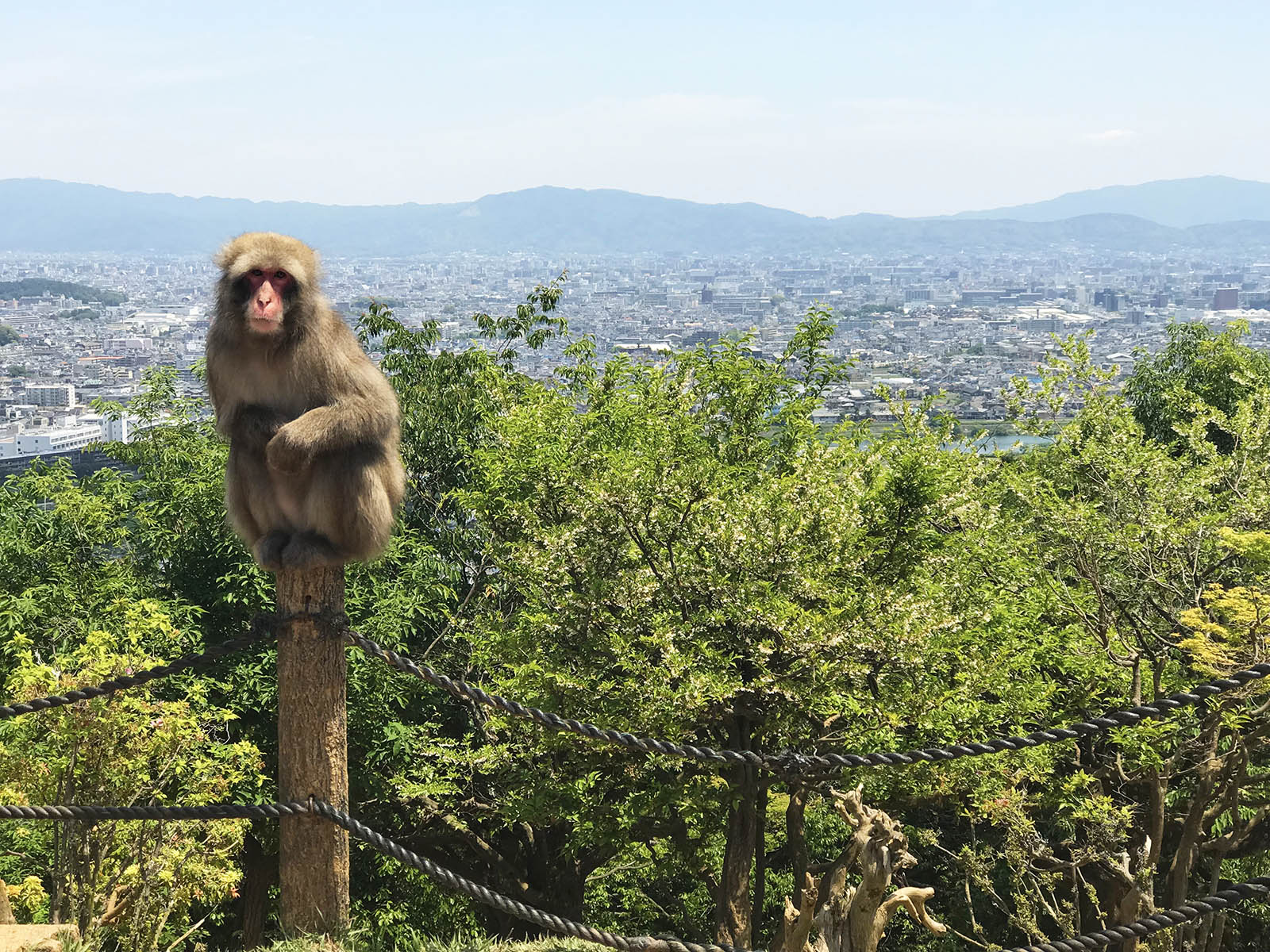 The Monkey Park Iwatayama gives you the opportunity to watch hundreds of wild Japanese macaque monkeys roaming freely while also enjoying panoramic views of the city of Kyoto.
Monkey Park Iwatayama houses 120 Japanese macaque monkeys – also called snow monkeys as these macaques are typically found in regions covered in snow for most of the year. The park, which was opened back in 1957, gives you the opportunity to witness these amazing creatures in an environment where they are free to roam around, unlike a zoo. In fact, humans are required to go in into a "cage" if they want to feed the macaques!
The park is easy an easy climb uphill via some stairs. Once you reach the top you'll find the park where you will be welcomed by hundreds of monkeys: some of them will be roaming around, others chilling on the cage roof, and hanging out in the trees. You will also see cute baby monkeys being nursed by their mothers as well as monkeys grooming each other. This is as close to interacting with animals in the wild as you'll get in a park. The monkeys are used to having thousands of tourists around, so they won't pay much attention to you.
These monkeys are adorable yet mischievous creatures. When we visited the park there was one monkey that was determined to sit in one of the wood posts of the park's terrace. The guard kept signaling him to move away, but he was persistent and kept coming back. It was really funny to witness this – at least for us, I'm not sure the guard found this back-and-forth amusing.
What to do
Witness the "feeding time"
Make sure you stay for the "feeding time" when a can-can song is played, and hundreds of monkeys, who were busy roaming around in the trees and surrounding areas will flood into the terrace eagerly waiting for their food. When we were there, a couple of fights broke out between monkeys who did not want to share the food! The not-so-best kept secret is the view: the terrace has a few benches where you can sit to enjoy looking at the monkeys, but you'll also find the most amazing view of Kyoto and its surrounding mountains.
Feed them yourself
Why watch monkeys being fed when you can do so yourself? At the park you'll find a little house (thankfully air conditioned) with a screened window for a wall. This screen, or the "human cage" allows visitors to feed the adorable monkeys. For 100 yen (US$1) you can buy snacks on-site (such as apples and peanuts) to hand to the macaques through the screen. The snacks will go fast as the monkeys are insatiable and will keep asking for more! Keep in mind that you can't bring your own food to feed the monkeys.
The monkeys already know the drill and will extend their small hands through the screen asking for snacks while looking at you with cute eyes. How can you say no…? There is hand sanitizer available to clean your hands after you are done feeding the monkeys – nothing less expected from one of the most hygienic countries in the world! Here, in the feeding house, you can also buy cold drinks if you are thirsty.
Enjoy the panoramic views over Kyoto
With an altitude of 160m, the monkey park offers an iconic panoramic view over the city, so take advantage and take a couple of shots. The view is absolutely amazing and on a clear day, you can even be able to spot the Kyoto tower.
Important things to know while visiting the park
Even though these monkeys are used to being around humans, they are still wild. Therefore, while you are in the park, visitors must follow very specific rules at all times:
Don't stare at the monkeys, or make eye contact, as it can be interpreted as a sign of aggression or threatening behavior
Don't feed them outside of the feeding house
Stay at a distance of a minimum of 3 meters
Don't crouch while taking pictures, always stand
Sometimes monkeys can become a bit anxious or feel threatened. When we were there, there was a monkey standing close to my husband and a small group by the house. All of sudden the monkey started screaming out of the blue terrifying my husband and the group to move away. The monkey moved with the group, started screaming again until the group moved…and repeated this a few more times. Once satisfied he had terrified the visitors, he threw a tantrum and ran out to the benches to relax. I guess sometimes monkeys need some alone time! My poor husband got yelled at pretty good twice that day – once by me and then by a monkey.
Visiting the Monkey Park Iwatayama is an unforgettable experience which I highly recommend, and it will give you a chance to see a different side from the ancient Japanese capital.
Getting there
Take the JR Sagano Line (also known as JR Sanin Line) from the Kyoto Station to Arashiyama. Walk for 7 minutes until you reach the entrance to the monkey park which can be found just south of the Togetsukyo Bridge in western Kyoto.
The park is easy to reach; just a 15–20-minute walk uphill. The most challenging part is the start as you will have to climb 120 concrete stairs. There are a few benches in the way up where you can take a break and catch your breath, so the walk up is totally doable. The path is really well maintained, and it's surrounded by lush vegetation – making it a pleasant walk.
It is said that it's even more beautiful in spring when the cherry blossoms are in bloom, or during autumn where the fall foliage is at peak. Keep your eyes wide open because you might be able to spot monkeys up in the trees during the hike up or catch them laying around getting sun. Make sure you bring comfortable shoes as well as a bottle of water – especially if it's a hot day.
I suggest you combine a visit to the monkey park with Arashiyama bamboo grove – these attractions are pretty close to each other and you can visit both in just one day.
Opening hours and entrance fees
Hours: 9:00 am to 5:00 pm (until 4:30 pm from November to mid-March). The entrance fee is 550 yen (US$5.2) for adults and 250 yen (US$2.6) for children.
We are part of several affiliate programs including Viator which means that we will earn a small commission at no extra cost to you if you make a purchase through the links included in this post.