/
Top attractions in Kyoto, Japan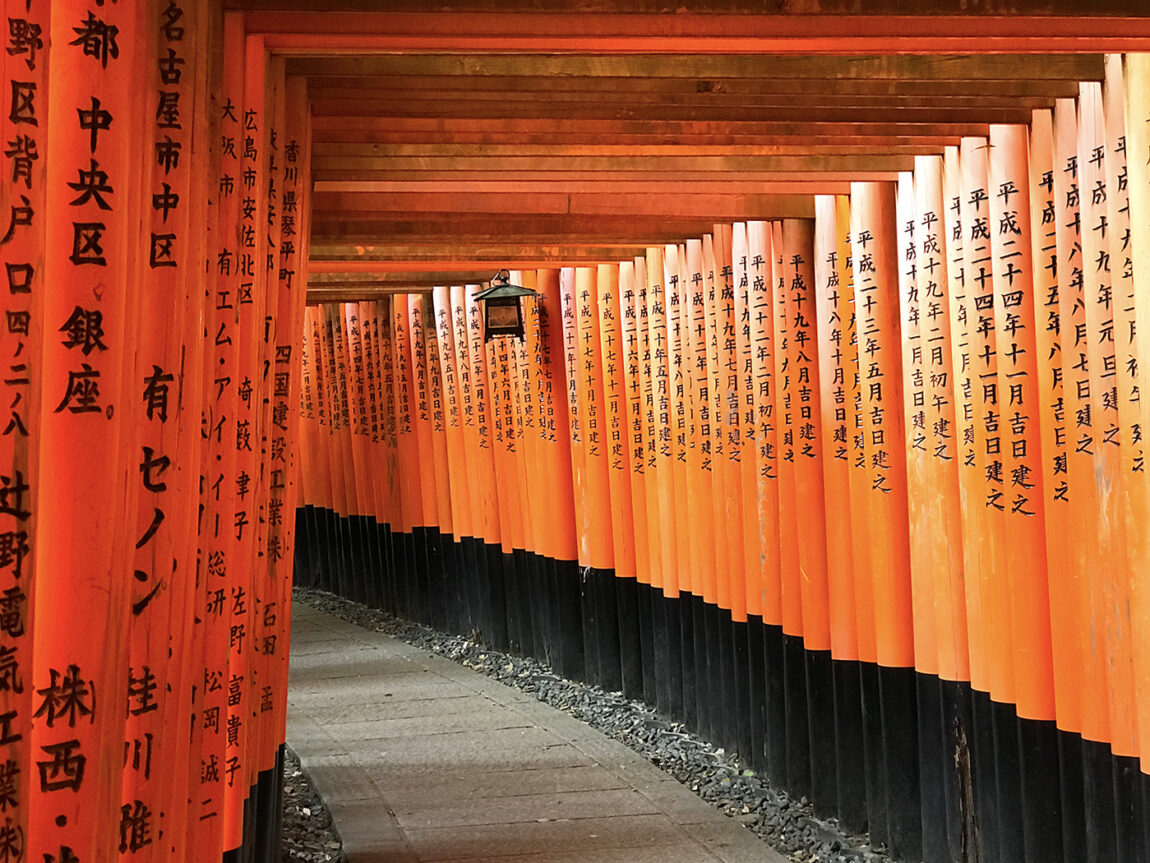 Kyoto has a lot to offer, and you can easily get overwhelmed. Here are the 10 top attractions in the city you must see, especially on your first visit.
Kyoto is quintessentially Japan – A modern/futuristic city surrounded by tradition and spirituality, loaded with the best of both worlds. Thankfully Kyoto is one of the best-preserved cities that survived WWII, featuring 17 different UNESCO World Heritage Sites, and many of the top attractions align with Kyoto's ancient past. As the Imperial Capital of Japan for over 1000 years, it was and still is the heart of Japanese culture and education; Kyoto boasts several universities, museums, shrines, Zen gardens, bamboo forests and spectacular temples where you will always find something new to experience.
It's one of the few places in Japan where aspects of ancient life still flourish – you can still see the geishas delicately rushing to their next appointment decked out in full kimonos and white makeup. You can catch Monks – who still live and work in the 2000 temples located in Kyoto – performing rituals and praying. You can venture a little bit outside the city to hills and experience the stillness of the bamboo forests. You'll walk along ancient cobbled streets as the sun sets over pagodas, like you are in an old samurai movie. Or you can head to the city center and be blown away by the future modern Japan offers.
In short, for a city that offers so much, it's hard to pin down what can't be missed. Here are the 10 top attractions we feel you cannot miss when visiting the old Imperial Capital.
Fushimi Inari Shrine
Located in Southern Kyoto, Fushimi Inari Shrine is mind-blowing. This is one of the most photographed locations in Japan, and it's not difficult to wonder why. The road to the shrine is lined by thousands of vermillion torii gates, which have been donated by business and individuals, giving the impression of a holy tunnel. This temple is considered the most important shrine dedicated to the Shinto god of rice.
It will take you around 2/3 hours to reach the summit of the mountain, but you are welcome to walk for as long as you'd like through the walkway. After a 30–45-minute trek you will reach the Yotsutsuji intersection which offers gorgeous views over the city of Kyoto.
A visit to the Fushimi Inari Shrine is a must, so it usually gets pretty crowded. I recommend that you go early in the day. If you want the iconic torii gate picture, it took us around 15 minutes to wait until there wasn't anyone nearby to get the photo we wanted.
Getting there: There are two options to get to the Fushimi Inari Shrine. You can take the train and get off at the JR Inari Station if you take the JR Nara Line, or alternatively get off at the Fushimi Inari Station on the Keihan Main Line.
Opening hours and entrance fees: Fushimi Inari Shrine is open 24 hours and there is no entrance fee.
Monkey Park Iwatayama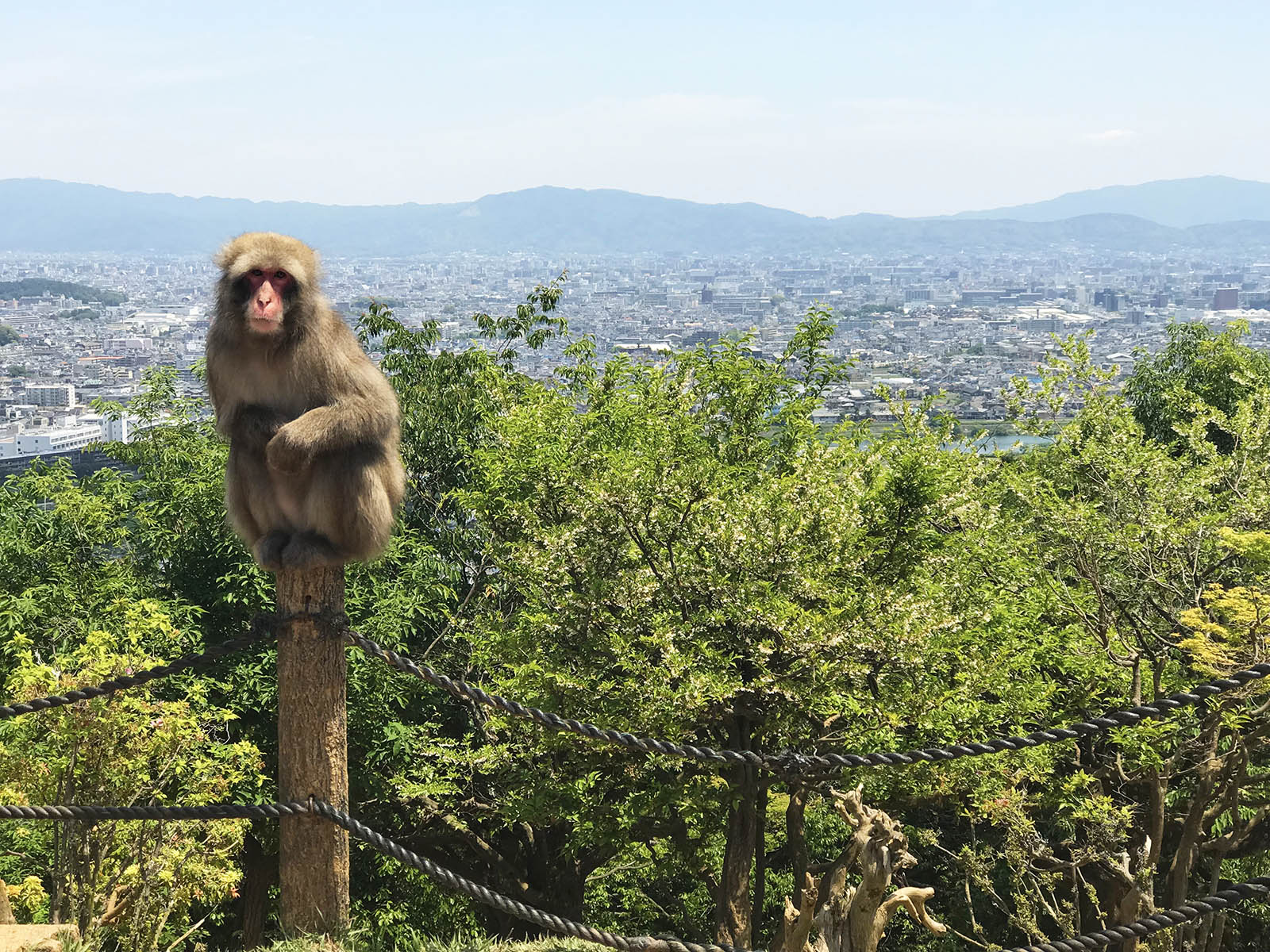 The Monkey Park can be found south of the Togetsukyo Bridge in western Kyoto. You can reach the park after a 15–20-minute walk uphill.
The park gives you the chance to witness these amazing creatures in an environment in which they are not held captive and are free to roam around. In fact, humans are required to go in into a "cage" if they want to feed them.
I recommend you buy snacks on-site and feed the monkeys. The monkeys already know the drill and they will extend their small hands asking for snacks while looking at you with cute eyes. There is hand sanitizer available to put on after you are done feeding the monkeys.
Make sure you stay for the "feeding time" – a song will be played, and the monkeys will go insane eagerly waiting for their food. The Monkey Park also offers panoramic views over the city so take advantage and take a couple of shots.
I suggest you combine a visit to the Monkey park with Arashiyama bamboo grove – these attractions are pretty close to each other.
Getting there: Take the JR Sagano Line (also known as JR Sanin Line) from Kyoto Station to Arashiyama. Walk for a few minutes until you reach the entrance to the monkey park which can be found just south of the Togetsukyo Bridge.
Opening hours and entrance fees: Hours: 9:00 to 17:00 (until 16:30 from November to mid-March). Entrance fee: 550 yen (US$5.2)
Read blog: Monkey Park Iwatayama: getting up close and personal with monkeys in Japan.
Golden Pavilion (Kinkakuji)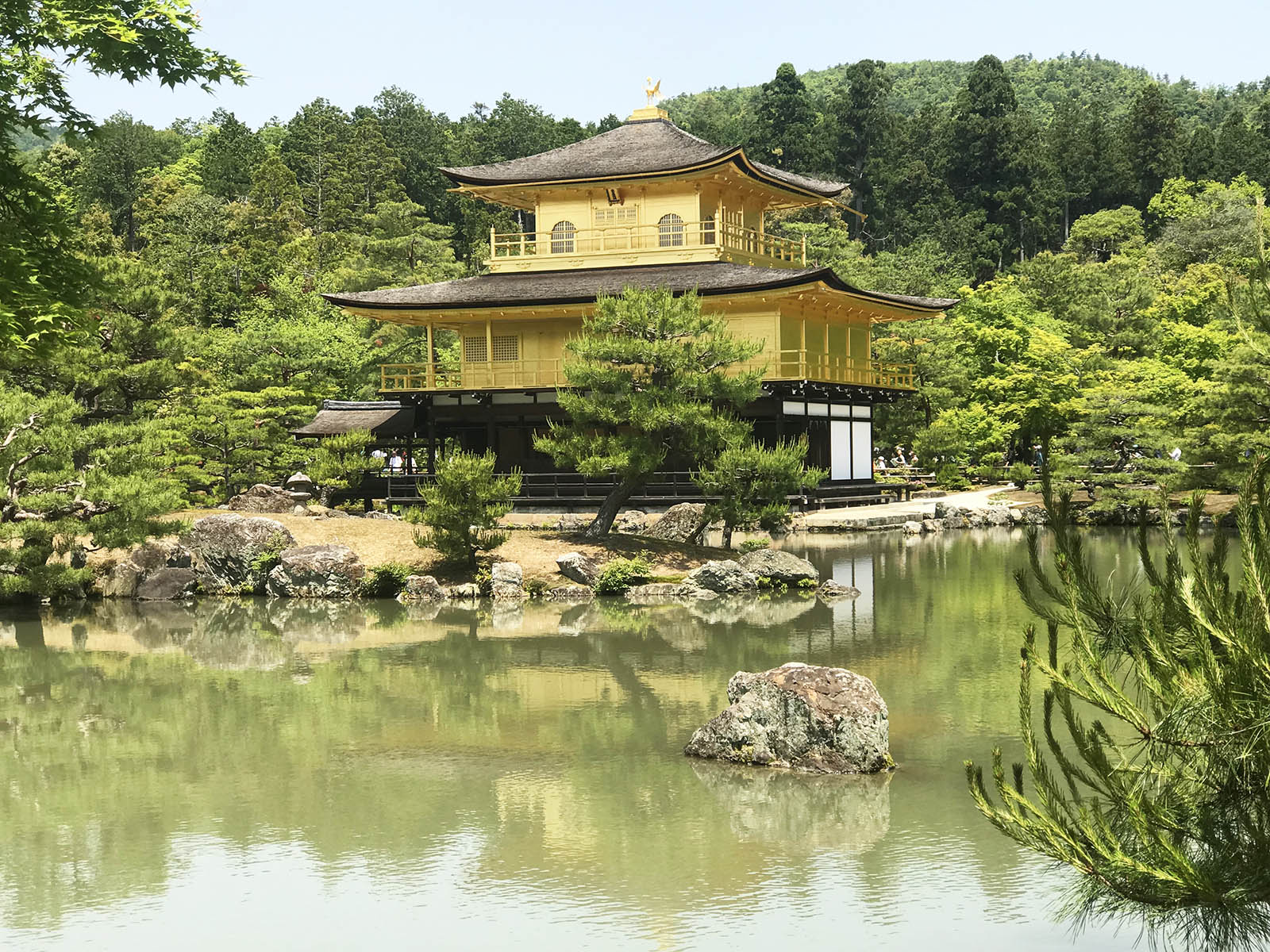 A visit to Kyoto is not complete without a trip to the Golden Pavilion. Despite its off-the-path location, the pavilion draws crowds of tourists wanting to take the iconic picture of this remarkable architectural wonder with its reflection glistening in the pond.
Located in northern Kyoto, the Golden Pavilion (Kinkakuji) is a three-story Zen Buddhist temple on the grounds of the Rokuon-ji temple complex. The gold leaf that covers the top two floors serves to spiritually mitigate and purify any pollution, or negative thoughts and feelings, towards death. The roof of the template is shingled with planks of thin sawara cypress, and on the peak of the temples is perched a shining phoenix.
The Golden Pavilion is one Kyoto's most visited temples and was designated as a UNESCO World Heritage Site in 1994.
Getting there: Address: 1 Kinkakuji-cho, Kita-ku, Kyoto 603-8361. Take Kyoto's city buses 101 or 205 from Kyoto station. The journey will take around 40 minutes. Another option is to take the Karasuma subway line to Kitaoji Station (a 15-minute trip) and then take a taxi (10 minutes) or bus (101, 102, 204 or 205; journey time 10 minutes) from there to the Golden Pavilion. If you are driving, there is parking available onsite.
Opening hours and entrance fees: The Golden Pavilion is open daily from 9:00 am to 5:00 pm. Admission costs 400 yen (US$3.60).
Read blog: The golden pavilion in Kyoto, Japan: An architectural wonder worth visiting
Gion
Located around Shijo Avenue between Yasaka-jinja Shrine in the east and the Kamo-gawa Riverin the west, Gion is known for being Kyoto's most famous geisha district. With its cobble pavement and traditional wood machiya houses, Gion will make you step back in time, evoking feelings of what it would have been like to live in Japan's Shogun Age. Gion is filled with shrines, tiny restaurants, traditional tea houses, shops and obviously attracts large crowds who love visiting its picturesque streets on foot.
This is the perfect spot for a photo of the sun setting over it's famous pagoda – when all the street lanterns are lit, and geishas walk briskly to their appointments, Gion's magic truly shines. Regardless, this is an unforgettable neighborhood and its charm and can be appreciated at any time of the day.
Make sure you stroll through the Higashiyama District, which is among the best-preserved and where you can better experience the old Kyoto, especially between Kiyomizudera and Yasaka Shrine.
Getting there: Gion can be reached from Kyoto Station by bus number 100 or 206 (20 minutes, about 230 yen I US$2.30), and get off at Gion bus stop. If you need to take the train, thee closest train stations are Gion-Shijo Station (Keihan Line) and Kyoto-Kawaramachi Station (Hankyu Line).
Arashiyama bamboo grove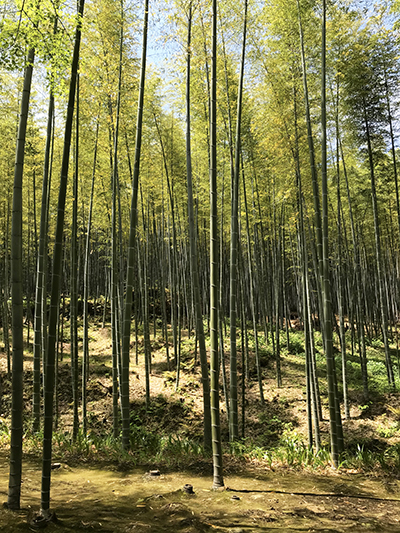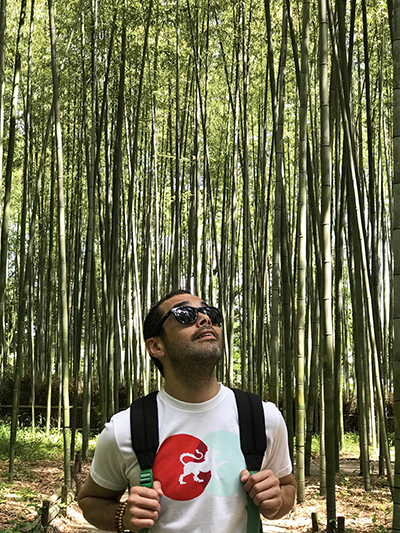 The Arashiyama bamboo grove is a spectacular experience when visiting Kyoto. There is something mystical about being surrounded by skyscraping bamboo trees. The forest is thick with the sense of otherworldliness as bamboo groves are so different than the typical western concept of a "forest". The way the light dances off the trunks and with the shadows heighten the shades of green, the bamboo grove is unforgettable.
This grove provides many chances for great photos, as it's one of the iconic spots in the city, but overall, it's a quick walk. It's not just the grove you can visit – this whole area is a temple complex, and you'll have plenty of time to get lost in the Zen atmosphere. You'll have tons of temples, a magnificent garden, villas, and even a chance to eat lunch provided by one of the shrines.
Keep in mind this is incredibly popular and crowds can be overwhelming. We went early in the morning, took our time enjoying the forest and have plenty of great photos. On our way out, we saw tons of tourists arriving, so make sure you time your experience correctly.
Tip: If you have time visit the quieter groves of Kodai-ji or Tenruan in Nanzen-ji.
Getting there: From Kyoto Station take the JR San-In line to Saga-Arashiyama Station (17 minutes) which is about a 10-minute walk from Tenryu-ji.
Opening hours and entrance fees: The bamboo grove is open 24 hours, but some of the other activities are generally open from 8 am-5 pm.
Kiyomizu-dera Temple
Founded in 778 CE, Kiyomizu-dera has a dramatic hillside location with stunning views across the city. The temple's wooden main hall was built without nails and houses the legendary statue of the eleven-faced, thousand-armed Kannon ( a Japanese Bodhisattva).
The temple complex is quite large, as it has tons of other shrines and buildings consisting of a massive entrance gate, a crimson pagoda, and many tranquil paths that lead into the forest for reflection or mediation.
In Kiyomizudera, there is secret room located within a temple, called Tainai-meguri. In this room you enter into total darkness, to resemble the female womb, and are expected to make a special wish. While this is not for everyone, it's an interesting experience to have while in the city.
Kiyomizu-dera opens earlier than other temples and it's well worth visiting it early to avoid the large tour groups.
Tip: If you go in the evening, the illuminated temples are even more breathtaking.
Getting there: It's an easy 20-minute walk from Kiyomizu-Gojo Station on the Keihan Main Line.
Opening hours and entrance fees: Open 6 am – 6 pm with a 400 yen entry fee.
Tenryuji Temple
Tenryuji Temple was built in 1339 by the ruling shogun Ashikaga Takauji and dedicated to the late Emperor Go-Daigo, to appease his rival's spirit. Tenryuiji is the most important of Kyoto's five great Zen temples – the temple is the head temple of its own school within the Rinzai Zen sect of Japanese Buddhism.
The temple complex has had a rough history, as many of its building have been lost to fires multiple times over the centuries; thankfully they have always been rebuilt to their former glory. The unique part of this temple involves the gardens, which are one of the few that have survived in their original form, as designed by the legendary landscape artist and priest, Muso Soseki.
Of all the temples we visited, this was by far the most tranquil, or Zen in atmosphere. We were lucky the crowds were very sparse and were able to take advantage to soak in the gardens.
Getting there: Tenryuji is a short walk from JR Saga-Arashiyama Station, which is connected with Kyoto Station via train.
Opening hours and entrance fees: Open from 8:30 am – 5:30 pm with fees of 500-800 yen I US$4.56-US$7.29 depending on the level of access.
Samurai & Ninja museum
So, I've always wanted to be samurai or ninja, always forcing my dad to watch old samurai movies on Saturdays instead of cartoons. I was not expecting to visit this museum, especially since I already spent a few hours dressed up in full samurai regalia in Tokyo's museum. However, it was a rainy day and with my wife was feeling under the weather so I took FULL advantage at the situation at hand. I lived my ninja dreams.
The museum is a tiny 2nd floor space but is packed with great replicas of the most important samurai. You'll get a short tour of history, battle tactics, philosophy, and all the good stuff ending with a tea ceremony. The best part was dressing up as a ninja and actually playing with their weapons! I blew some poison darts and threw ninja stars at targets, played with chained Kamas (short cycles attached to a chain) and showed off my nunchaku skills to unsuspecting tourists. It's a fun quirky museum, perfect for a rainy day and a short walk to Nikishi Market if you get hungry.
Tip: The museum offers lots of tours and activities on nice days, including using a real sword training, sword making tours, historic walking tours, and ninja training lessons.
Getting there: Literally a one-minute walk from Nikishi Market, or 3 minute walk from Kawaramachi Station (Hankyu line).
Opening hours and entrance fees: The museum is open from 11 am – 6 pm, but activity hours may vary. Tickets vary depending on activity, but start at around 2,000 yen (US$18.2).
Nikishi market
Nishiki Market, or Kyoto's Kitchen, is a very cool experience to have when visiting Kyoto, The narrow five block long market is essentially one giant shopping street lined by more than one hundred shops and restaurants. Here you will find everything you can possibly think of: from fresh products, to street food stalls to puppy cafes, restaurants of all kind, and of course lots of retail stores. We had a bunch of quick lunches while in Kyoto from this market and can't recommend it enough – it's a great chance to try new things, as many of the items are less expensive than in the typical restaurant.
Keep in mind that manners, like in the rest of Japan, should be a priority: some shops either give free samples or sell a mini tasting dish (sometimes on skewers) which are meant to be eaten on the spot. Don't walk around eating food at the market as it's a cardinal sin. You'll find many places to eat, lots which special in one dish or aspect of Japanese cuisine – you will not go wrong eating from at any of these places.
The market has been around for centuries with the first stall opening up in the 1300s; many stalls have also been operated by the same family for generations. This is one of the places you can truly live history and the impact of Kyoto's citizens directly.
Getting there: The Nishiki Market runs parallel to Shijo Avenue and is one block north of Shijo Avenue. It's easy to spot once from the street. It can also be reached via a quick walk from Shijo Station on the Karasuma Subway Line.
Operating hours and fees: The market is free to enter and open from 9am-6pm. Some places may be closed on Wednesday and/or Sundays.
Philosopher's path
The most famous pathway in all of Kyoto, the Philosopher's Path is found along a cherry-tree-lined canal. It's about a mile long and connects two of the most famous temples in Kyoto, Nanzen-ji and Ginkaku-ji.
This is a nice quiet stroll in the bustling city and gives you the chance to visit a few other temples along the way.
Tip: Make sure to visit during the cherry blossom season, as all the trees will be in bloom.
Getting there: The path is not near any train stations; Keage Station (Tozai line) is a 15- 20-minute walk.
Operating hours and entrance fees: Free to stroll the path; temples are generally open from 8am to 5pm.
We are part of several affiliate programs including Amazon and Viator which means that we will earn a small commission at no extra cost to you if you make a purchase through the links included in this blog.