/
San Juan de Gaztelugatxe, Spain: Best viewpoints, hiking info and tips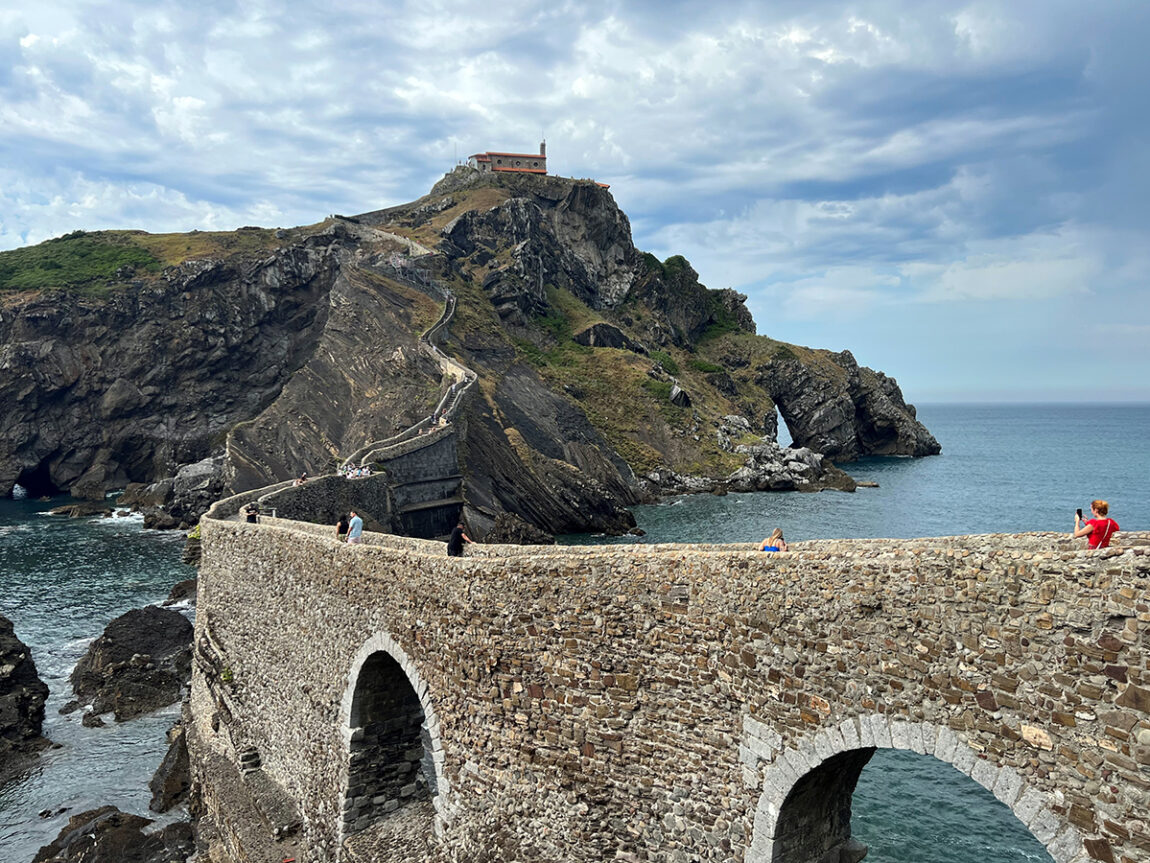 Ready to explore one of Game of Thrones most breathtaking filming locations?
The pitter-patter drizzle which slowly drenches ancient stones gives way to a timid sun as the salt hangs thick in the air. Dragons suddenly burst through the clouds, flying high above a meandering staircase leading to a cruel castle of black stone. Circling in the air, the little light glistening off their scales from the sun's desperate attempts to reflect in the water, the dragons finally land on this impenetrable fortress, Game of Throne's Dragonstone.
Like many, I was blown away by this scene which dutifully highlights the serpentine staircase jutting out into the bay and winding its way up an island to the Targaryen fortress. Little did I know it was an actual location, and once I found out it immediately became my next bucket list travel to-do. Surrounded by unspoiled beaches and cliffs, untouched San Juan de Gaztelugatxe should be on top of the list of places to visit while in the Basque Country.
San Juan de Gaztelugatxe is a magical and unique place; it looks like a mythical location straight from folklore. Its name, which is in Basque, means "castle on the rocks" – which is delightful irony for those Game of Thrones fans.
Through the years, San Juan de Gaztelugatxe served as an actual fortress during battles, including resistance against the crown of Castile or to fight attacks from pesky pirates. Despite its violent past, it's also a place with religious ties. Sailors and fishermen have packed the island with votive offerings for protecting their boats. Today, a hermitage sits atop of the craggy island, reflecting Gaztelugatxe's peaceful and spiritual evolution. Legend has it when you reach the hermitage church you should ring the bell three times so that it gives you good luck.
The weather at San Juan de Gaztelugatxe
Something that you have to be mindful when visiting is the weather. In the Basque Country it rains a lot. Sometimes every day, sometimes multiple times a day. When we visited San Juan de Gaztelugatxe, we started out with some oppressive August heat and humidity, but as soon as we reached the hermitage church we were caught in a downpour.
I should note this was not a regular storm – it was what's affectionately called "Blizzard Rain" as the wind changes directions ensuring you get soaked even under shelter. Thankfully, we were next to the hermitage church and had a place to stay relatively dry until the rain stopped. Bring a poncho as the weather it's totally unpredictable.
Tip: Bring comfortable shoes with good traction. If you get caught in the rain having good shoes is essential. The steps can be very slippery so be prepared.
Is San Juan de Gaztelugatxe worth visiting?
Yes, yes, and yes! San Juan de Gaztelugatxe is an incredible place that will take your breath away. San Juan de Gaztelugatxe is connected to the Basque coast by a narrow bridge and a winding staircase (with 241 steps). On top of the cliff, there is a hermitage church and a monastery in addition to wonderful views of the Bay of Biscay and sea arches. In fact, San Juan de Gaztelugatxe is among the most popular sites in the Basque Country so don't miss it. It's an easy day trip from anywhere in the Basque Country and you have a beach town nearby with great surf.
Tip: Note that the stairs are the only way to access the islet making it accessible for people using wheelchairs or taking strollers.
Getting to San Juan de Gaztelugatxe
San Juan de Gaztelugatxe is located between the Basque towns of Bakio and Bermeo along the northern coast of Spain. We drove from my husband's ancestral town, Bergara, which was about 45 minutes, the same time you'd have to drive if you start from Bilbao. However, we were staying in San Sebastian, and it took us around 1 ½ hours to get back. You can also take a bus (Termibus) from the Bilbao bus station that stops in San Juan de Gaztelugatxe (A3527 Bilbao-Mungia-Bermeo). If you don't want to drive and prefer to join a tour, I recommend the following:
Entrance tickets to San Juan de Gaztelugatxe
The popularity of San Juan de Gaztelugatxe has significantly increased in the past years – specifically because Game of Thrones used this as one of it's iconic filming locations. Now it's important that you book your ticket online, especially if you are traveling during the high season. Staff will only let you access the island during your allotted date and time during peak months. Tickets are mandatory during:
Easter, Christmas and official Spanish holidays
Daily from June 15th until the end of September
Weekends from the last week of March until the end of the year
The ticket is free and can be reserved on this website. We visited San Juan de Gaztelugatxe in August and got the tickets with a couple of weeks in advance. Even though we booked them earlier we couldn't get the times we were looking for. My advice? Book as early as possible and book multiple dates in case of weather.
Best viewpoints and hiking trails
When you get to San Juan de Gaztelugatxe take the Urizarreta, which is the shorter path to the hermitage church. After walking for a few minutes, head to "Begiratokia/Mirador" – where you will have a really nice view of San Juan de Gaztelugatxe. Get a couple of photos before continuing to walk. Even if you don't have a ticket, you can still take a photo from this location.
To get to the bridge and commence the ascending trail up to the church you will need to walk approximately a kilometer down to the bridge. The hike goes is rather winding but thankfully there are a few scattered benches to sit down and catch your breath if needed (the hike back can be very tiring).
Once you get to the bridge turn on your camera. This the most famous viewpoint because it was the first scene introducing Dragonstone on Game of Thrones. Like the majority of visitors, this is the best viewpoint, and it will help you capture the mysterious aura that radiates from San Juan de Gaztelugatxe.
The next photo location I recommend are the steps to the hermitage church. You should photograph the steps from above as it will give you a chance to capture the winding steps with the mountains in the background.
We are part of several affiliate programs including Viator and Amazon which means that we will earn a small commission at no extra cost to you if you make a purchase through the links included in this post.