/
Viator tours in Moorea you shouldn't miss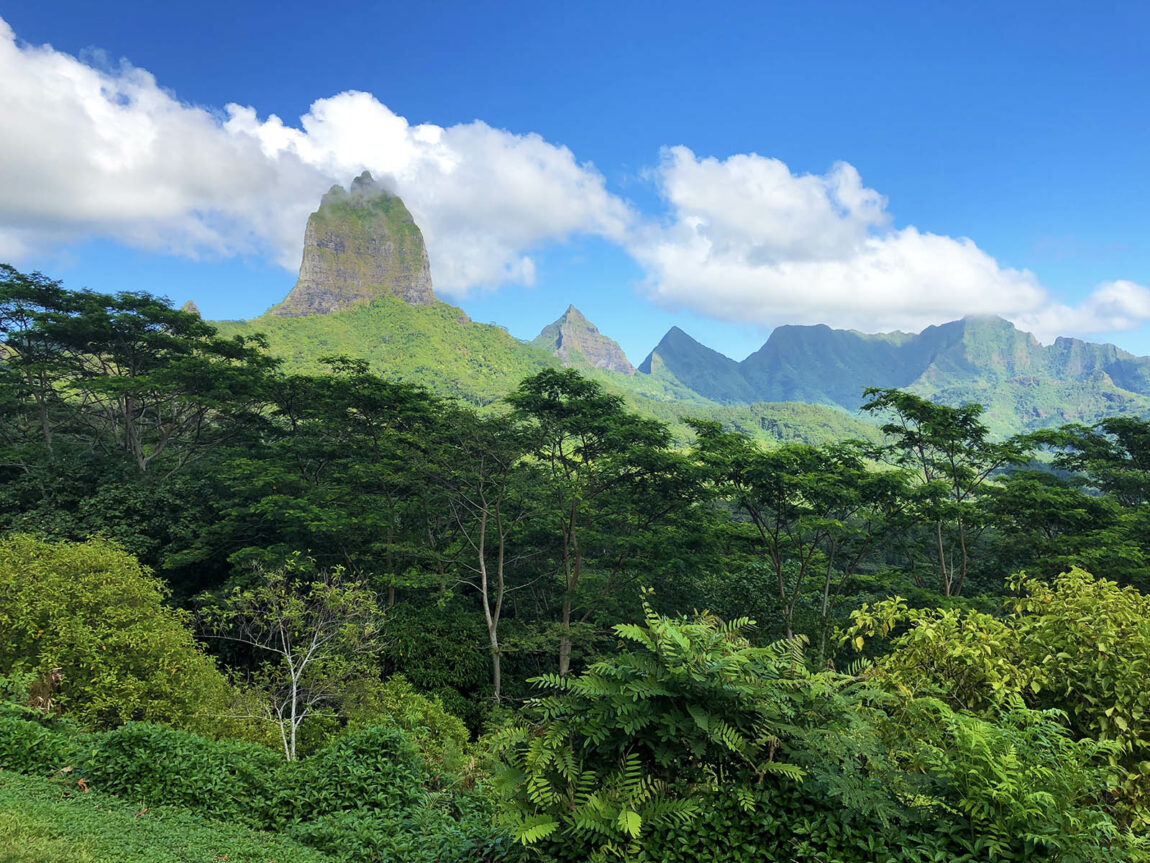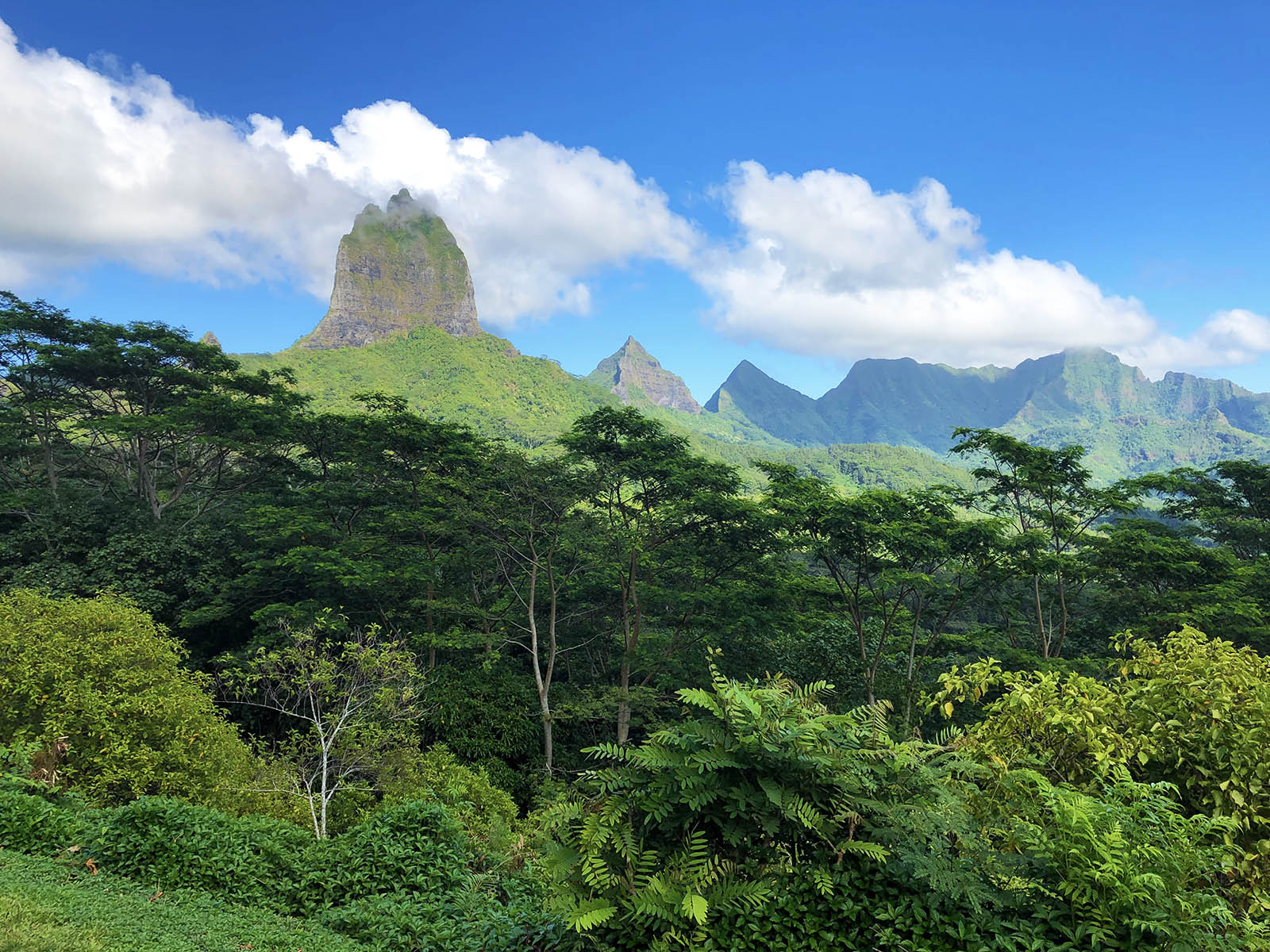 Experience Moorea's picture-perfect beauty by sea, air and land.
Moorea is an idyllic paradise and is probably among the most striking islands of French Polynesia. With its pristine beaches, white sand and wild landscapes, Moorea looks like heaven on earth.
In this post, we have compiled the best tours you can't miss when visiting this island. These tours are all conveniently offered by Viator – a website where I booked several tours in different countries and never had an issue. On the contrary, my experience has always been great.
I encourage you to take a tour or two while in Moorea, as the island offers much more than cocktails and beaches. Even though you might want to just lay down on the beach sipping up a cocktail you will be missing a lot of unique adventures if you don't venture out.
Swim with the ocean wildlife
When visiting Moorea, it's a must to explore its crystal-clear waters. I recommend you book the Ocean Wildlife Expedition; Swim With Whales, Sharks, & Rays Half-Day Boat Tour. This tour will give you the chance to snorkel close to marine animals including sharks, stingrays and whales. A dream come true for many!
This tour is limited to only 8 people, which in my opinion is a major plus; small tours give you personalized attention. Additionally, it includes snorkeling equipment, hotel pick-up and drop-off as well as beverages and fresh fruit, which you will probably crave after having spent so much energy swimming in the salty water with the wildlife. I recommend getting a GoPro to capture the underwater life. We took our GoPro HERO7 Black and were able to take really spectacular photos of sharks and fish in their natural environment.
Tip: Make sure you book any whale watching expeditions in Moorea; not only is it substantially cheaper than other islands but you will get a better chance to see these magnificent creatures.
Hang out with humpback whales
Between July and early November, humpback whales migrate through the Polynesian waters to either breed or give birth, giving you a great opportunity to watch them. Join the Swim with Humpback Whales tour to admire these wonderful creatures in their natural habit. There are few creatures that inspire such awe when you see them up close and personal.
On the way back, the tour will also stop on a shallow sandbank of the lagoon where you can stand as the water is only waist-chest high to swim with stingrays and black tip sharks. This is the adventure of a lifetime so don't miss it. This is also a small tour allowing a maximum of 12 people.
Explore the best sites on the island
Moorea is quite different than other islands on the archipelago; its known for lush vegetation, soaring mountain peaks and for it's bird eye view the heart shaped island. As expected, Moorea has some great sites with amazing viewpoints that you should explore when visiting the island. These include Magic Mountain and the Belvedere lookout. I promise these viewpoints will take your breath away!
The Moorea 4WD Tour Including Belvedere Pineapple Farm and Magic Mountain full-day tour will give you the chance to get off the beaten path and explore what the island has to offer. And don't forget your camera, you will definitely want to capture the amazing landscapes of the island.
Enjoy the crystal-clear waters on a jet ski
Hop on a solo or twin Jet Ski to explore Moorea's beaches and bays. The Moorea Solo or Twin Jet Ski Tour also offers the opportunity to swim with stingrays and sharks while spotting turtles, dolphins, and whales (in season).
This is the best way to get to beach hop throughout the island and see the sites directly from the water, like the sailors of old. You will be able to explore Cook's Bay and Opunohu Bay and be amazed by the translucent color of their pristine waters. All while experiencing the adrenaline rush from jet skiing!
Go parasailing
Ready to explore Moorea from above? The Moorea Parasailing experience – Double Flight tour offers a spectacular and unique view to experience the island of Moorea. Get ready to get a bird's eye view of the turquoise blue lagoon and the surrounding mountains and see if you can spot the ocean wildlife while soaring through the air.
Take a romantic sunset cruise
Moorea is among the top honeymoon destinations in French Polynesia, second to Bora Bora, so why don't take the chance to do something romantic? The Sunset Cruise: Moorea Sailing on a Catamaran named Taboo tour lets you sail along the northern coast of Moorea.
This small group tour will take you to Cook's Bay and into a barrier reef, where you'll get great views of the island and its surrounding waters before returning to shore. And of course, typical Moorea Cocktails and fruit juice will be served on board. Sunsets are meant to be unforgettable, and to watch one on water with your significant other is truly a memorable experience. Enjoy!
Have a Polynesian culinary experience
We always try to immerse ourselves in local customs as much as possible when traveling, and food is the best way to connect with others while traveling. Join this tour to have a truly Polynesian culinary experience – the Polynesian culinary experience tour will give you a glimpse of the Polynesian culture, the local products and their benefits, how they are cooked locally and how to cook them at home. Get ready to learn recipes, and taste delicacies and a good local meal.
Rent a roadster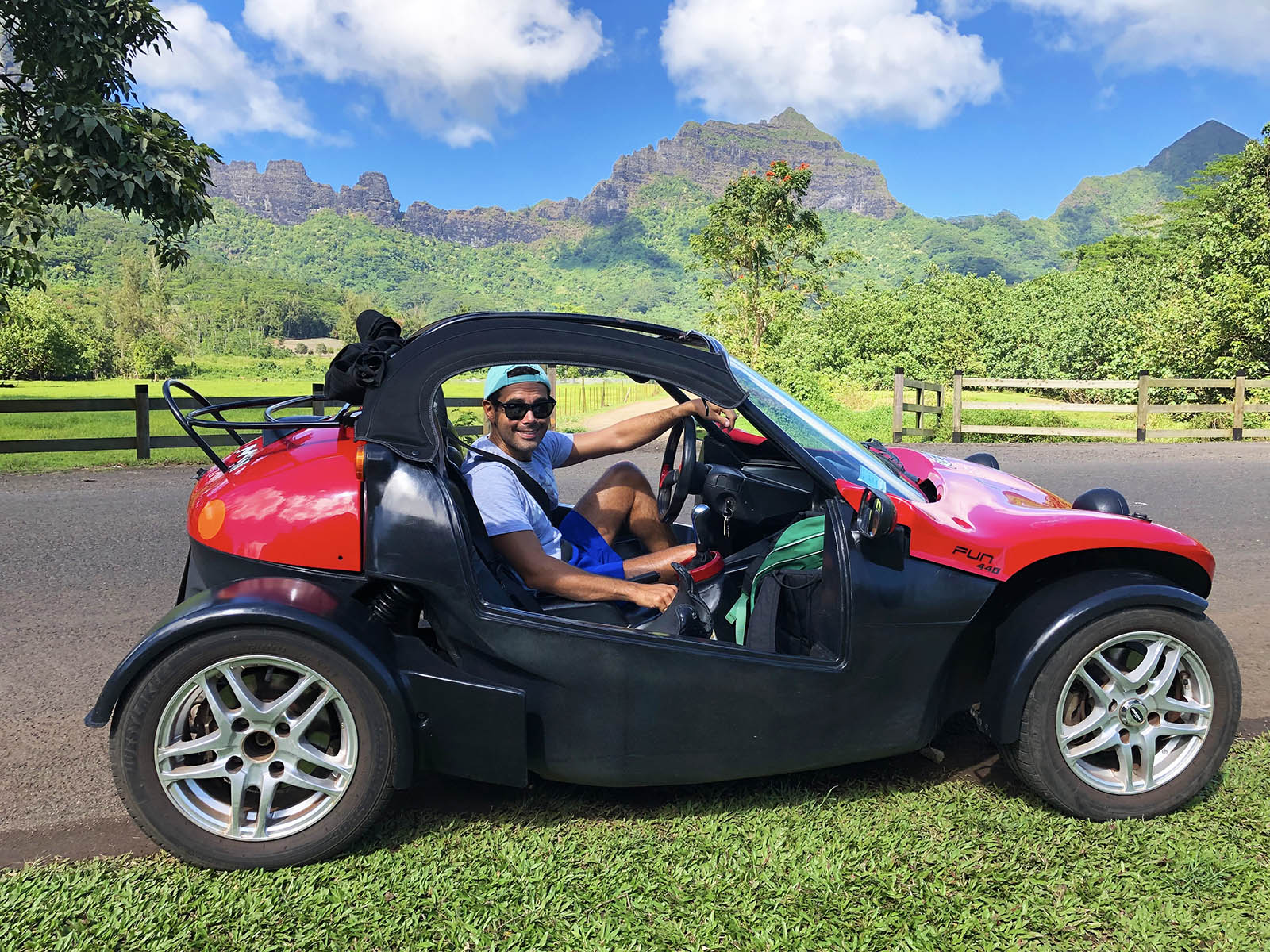 If you prefer to explore Moorea by yourself, I recommend you rent a roadster. We did this when we were in Moorea and had a lot of fun. This roadster sits two people and it's convertible – so roll the top down and let the fresh air and sun shine on you while you drive. You can rent it for either 4-8 or 24 hours. Choose the landmarks and viewpoints you'd like to visit but I highlight recommend you don't miss the Belvedere Lookout, Opunohu Bay and Magic Mountain. There is only one road in Moorea so it will be difficult for you to get lost.
Tip: the Roadster is super fun and we loved it. It's a tiny go-kart that is ideal to explore the island and beach hop.
Go sailing
If you don't get a chance to sail while visiting the island, you are truly missing out. Island life is just as much about the water as it is the beach, and a sail boat is the best way to relax and connect with nature. Climb aboard the Taboo sailing catamaran on this excursion to discover Moorea. Swim and snorkel with rays, sharks, and tropical fish using the provided snorkeling equipment provided by the tour. Get some sun on the boat's deck and enjoy snacks provided by the tour. This tour will have a maximum of 8 travelers.
We are part of several affiliate programs including Viator and Amazon which means that we will earn a small commission at no extra cost to you if you make a purchase through the links included in this post.