/
Visit El Calafate in Argentina: The gateway to the best attractions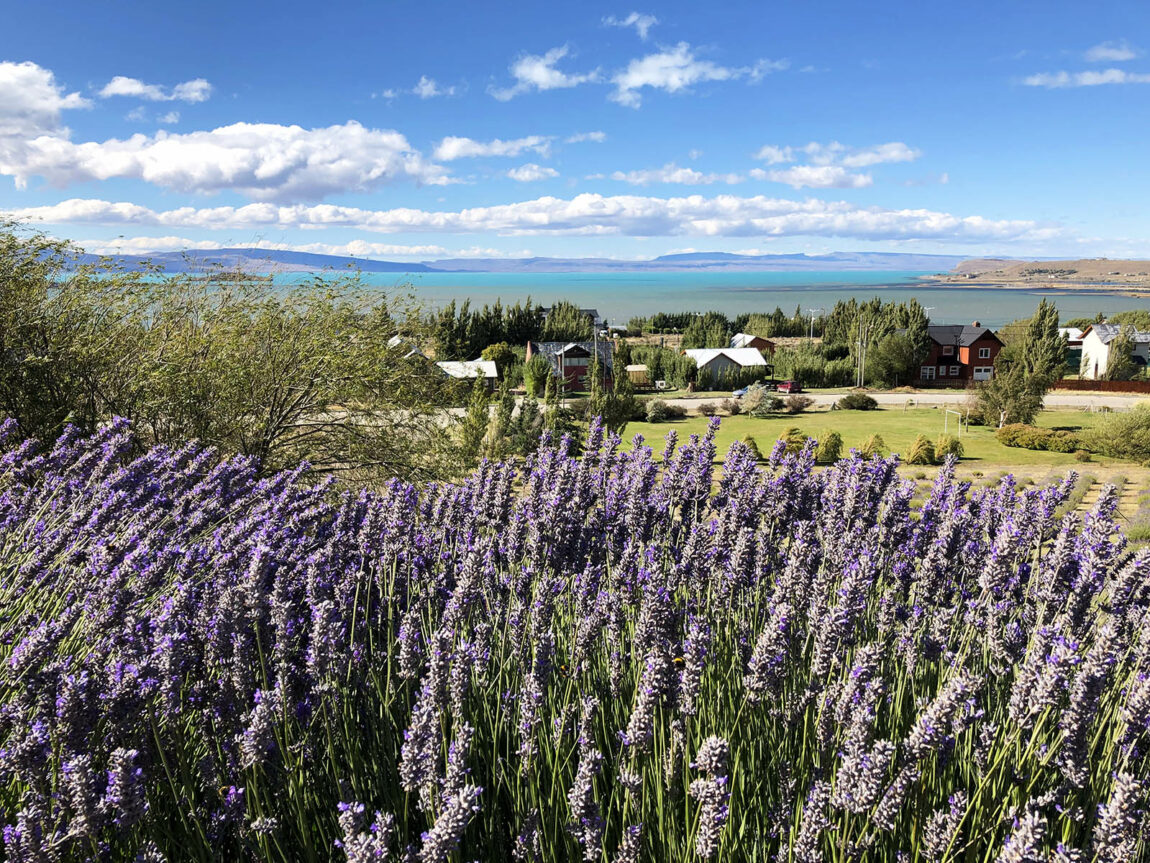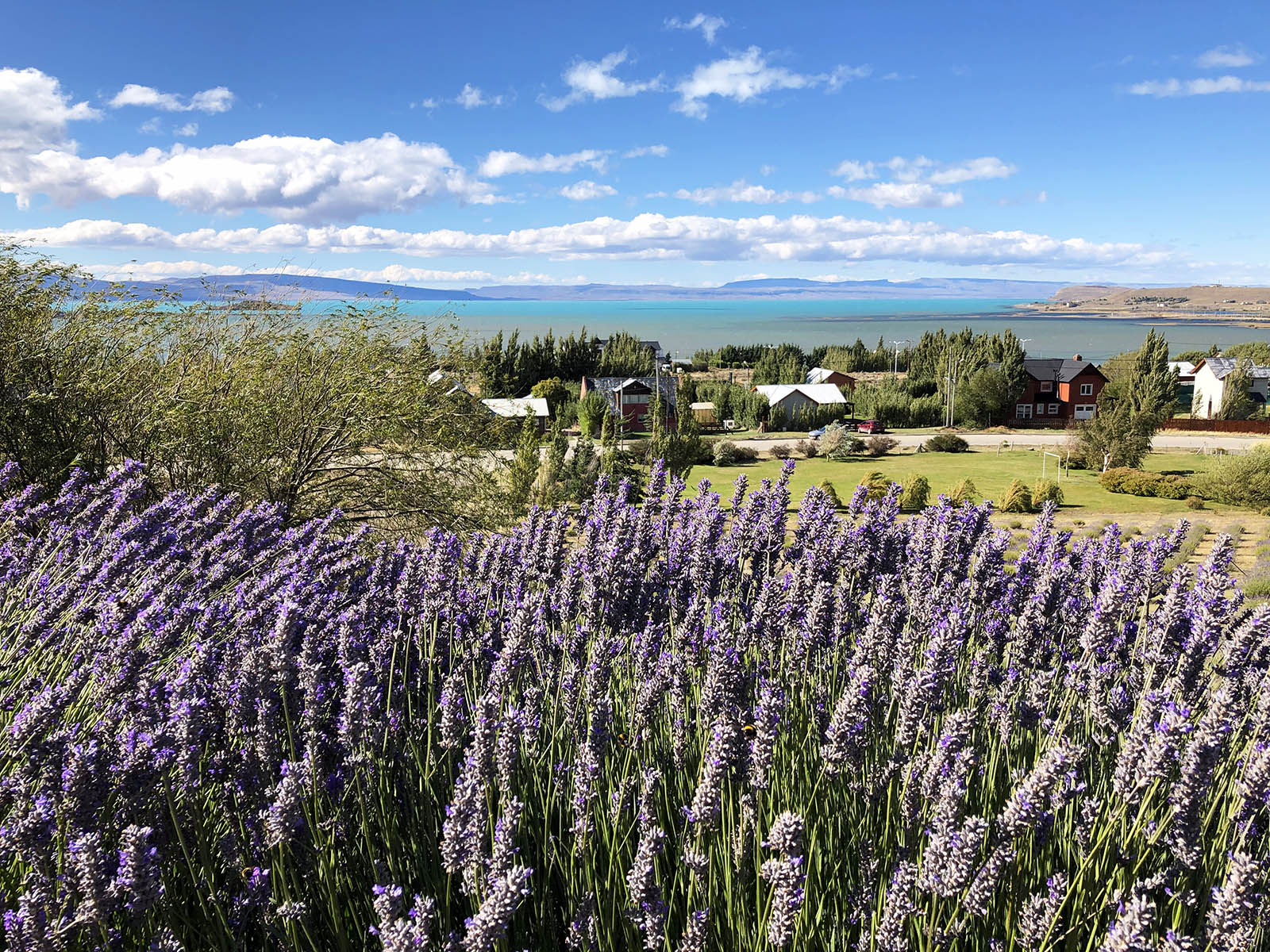 Do not miss the chance to visit El Calafate in Argentina. This town is the perfect base to visit the country's most beautiful attractions.
Our trip to El Calafate was a mini honeymoon we took immediately after getting married in Uruguay in 2019. We decided that since our closest friends purchased tickets to visit Uruguay, we might as well take the opportunity to travel together.
Therefore, we spent 3 full days in El Calafate, a very charming town strategically located close to the most famous of Patagonia's attractions – El Chaltén, Torres del Paine National Park and the Perito Moreno glacier.
Just to be clear: 3 days is not enough to experience everything that the region of Patagonia has to offer, nor is it enough to outwit the unpredictable weather. However, we couldn't take any more days off work, so we had to settle for a short trip; regardless of the time Patagonia is 100% worth a visit.
Given this short timeframe we made it our objective to do and see as much as possible. Below is our fast-paced itinerary, which I recommend if you only have a few days in this region. Keep in mind that we booked tours every single day we were there; and I have to say that all of them were extremely well-organized. I recommend that you spend 5-6 full days, because the weather may impact your experience.
We stayed at the Blanca Patagonia Boutique Inn and Cabins, a small hotel with great lake views. The lobby has large windows and a comfortable ambience that offer the opportunity to sit for hours enjoying the view. The hotel offers free buffet breakfast and free Wi-Fi in public areas. We stayed in one of the adjacent cabins; make sure to ask for extra blankets as the summer evenings can get below freezing.
Day 1: El Calafate
We flew from Montevideo, Uruguay, to El Calafate via Buenos Aires arriving in midafternoon. Since there wasn't time to book a tour, which are typically an all-day affair, we decided to settle in at the hotel, explore the town, and of course enjoy Argentina's delicious food, which included eating in a parrilla.
Tip: This region is famous for its Cordero Patagónico, traditionally grilled whole lamb over wood coals. This is a can't miss dish, with a side of cold beer, or Malbec wine, and some ensalada rusa (potato salad) to reenergize you after a long day out in the parks.  
Day 2: El Chaltén
Like I said, tours start early in the morning and take all day; the distances are long, and the rough terrain slows the journey. After being picked up by the tour operator at our hotel, we drove for 3 hours – with a few stops to take some pictures – to reach the town of El Chaltén.
We drove on Route 40, Argentina's longest road, which has inspired numerous books and songs. Unfortunately, it was cloudy, rainy and very windy – not the best weather conditions to go on hikes and see mountain peaks. This was our biggest let down as we didn't have a second day to go back and visit. This location is so iconic, that outdoors brand Patagonia uses the Monte Fitz Roy as its logo.
El Chaltén offers a lot of great outdoor activities for all levels – you can go on casual walks, hike/climb up mountains, horseback riding, kayaking, lake fishing and lots more to explore the region's beautiful scenery.
Offering magnificent views of mountains and glaciers, El Chaltén is perfect for both the inexperienced hiker and the more adventurous type, especially since it is only a few hours from El Calafate. It's a location you can do in a few hours or stay overnight to experience the striking wilderness. One of the most attractive aspects of the tour we booked is it offers three different hiking options depending on your fitness level and experience.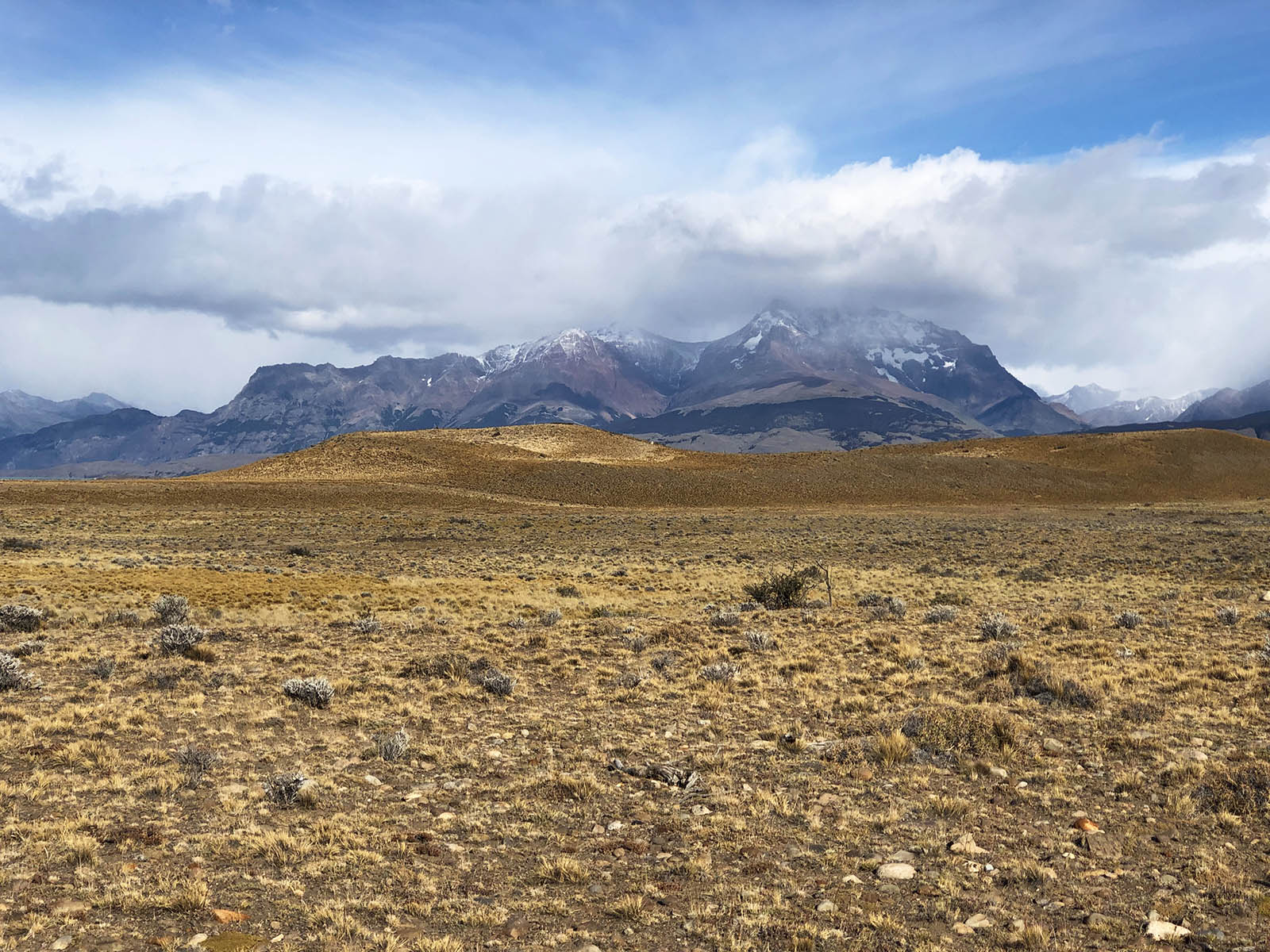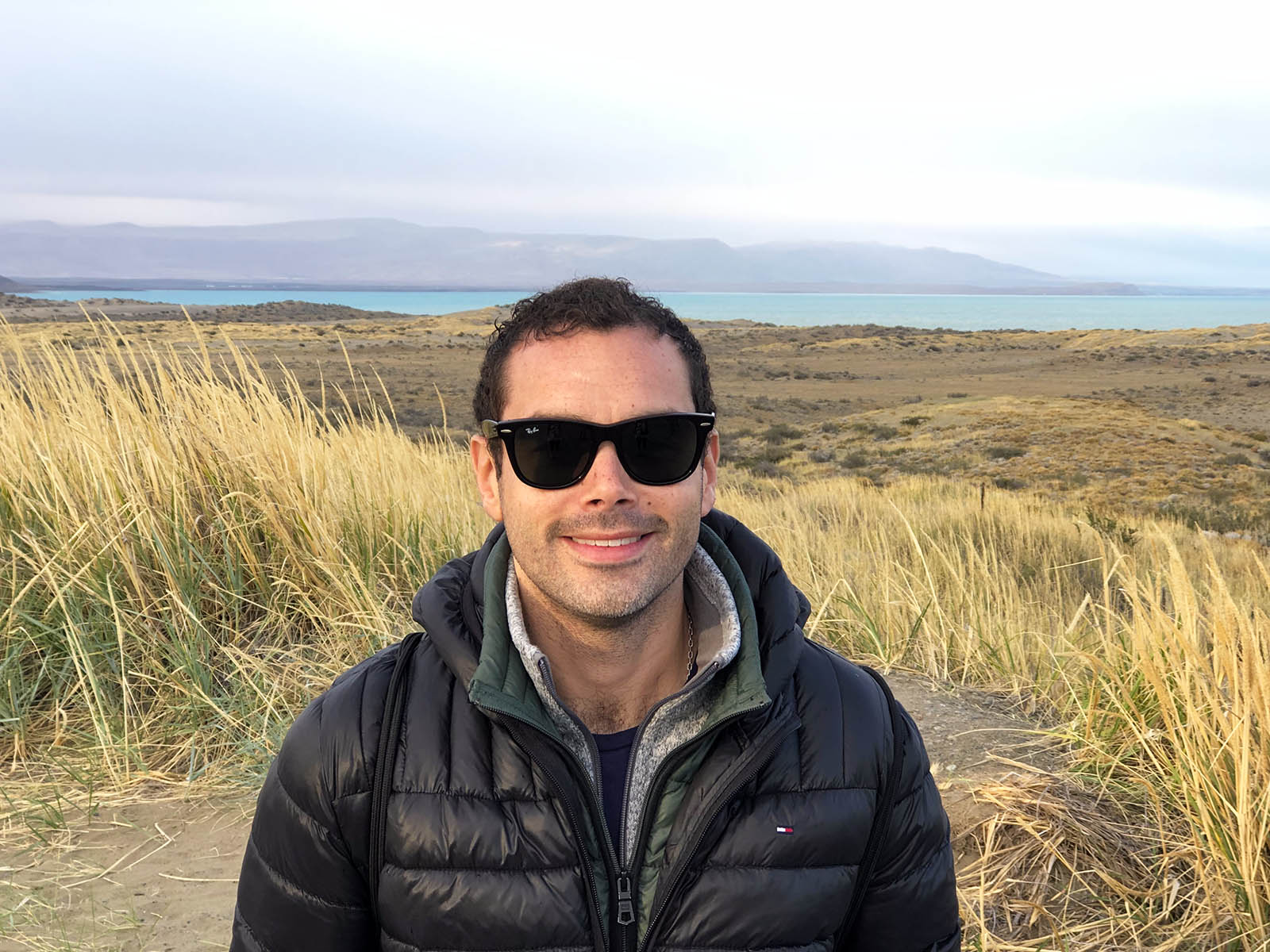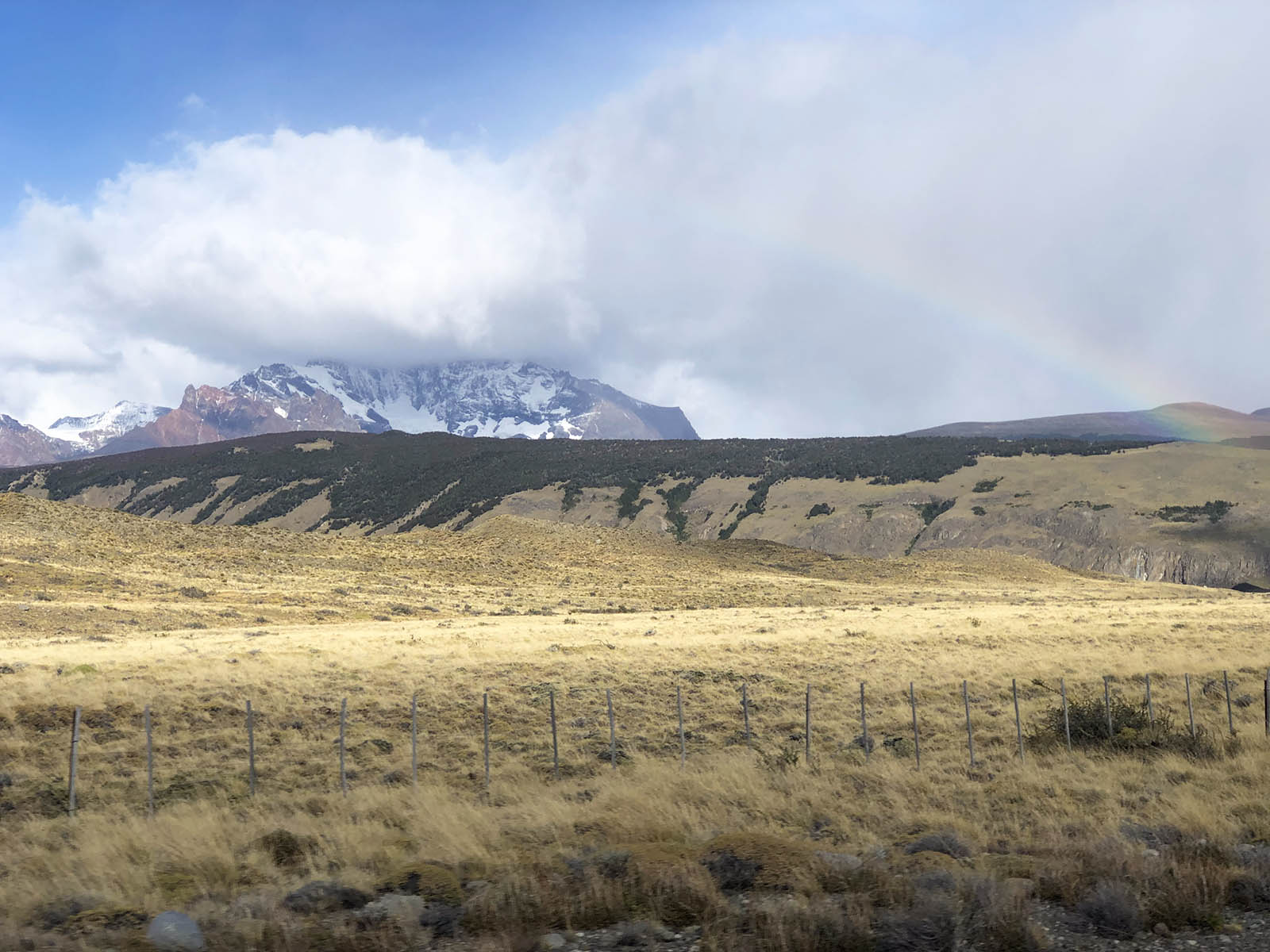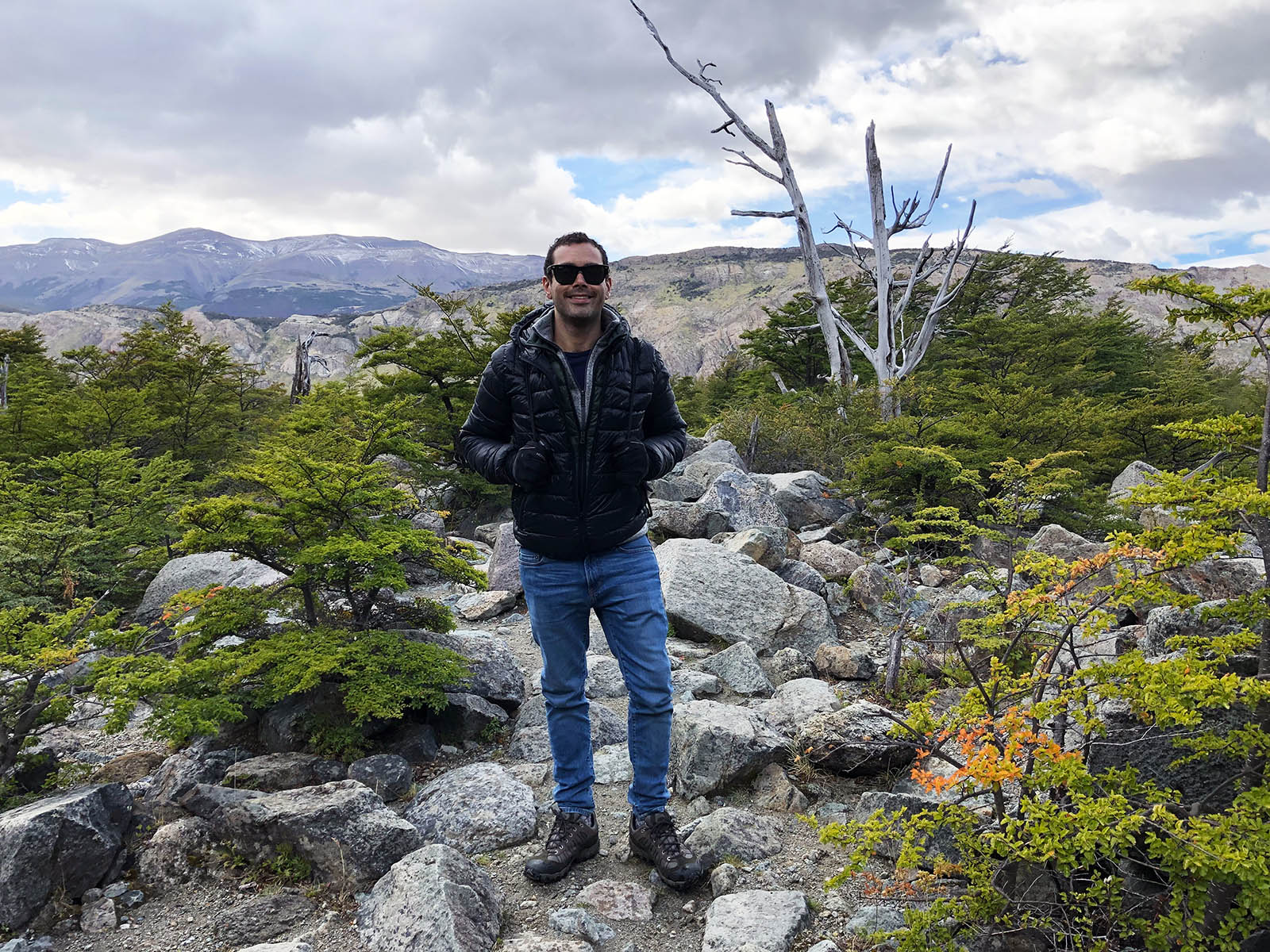 Below are a few hikes you can do during a visit to El Chaltén:
Chorrillo Del Salto: Located 4 kms away from El Chaltén, this easy and short trail ends in a beautiful waterfall of more than 20 meters drop. The surrounding landscape is beautiful and in winter, when the temperature drops significantly the waterfall is completely covered in ice.
Mirador del Torre: This viewpoint is located halfway towards Laguna Torre and offers magnificent views of Mount Solo, the Adela range and the Cerro Torre massif. This trail will take you around 3 hours (return trip) to complete.
Laguna Capri: Hiking to Laguna Capri will take you approximately 4 hours and you will be amazed by the magnificent view of the Fitz Roy massif in the background. This is one of the classic photos of El Chaltén. If you are not too tired and have 35 minutes to spare, keep walking until you reach the Mirador del Fitz Roy, a natural rocky viewpoint, where you will be able to bask in the Fitz Roy massif grandeur.
There are also longer hikes, which will take you at least 7-9 hours to complete including Laguna De los Tres, Laguna Torre and Pliegue Tumbado.
There are a few nice quaint pubs where you can get hearty meals and replenish some of the energy lost during the hikes. I had the local version of Argentina's Locro – a hearty squash and corn stew filled with sausage and chunks of beef or lamb. After a long and chilly hike this was a perfect boost to get through a cold day.
Due to the weather, which happened to be the worst day of our trip, we were not able to see the Fitz Roy but nonetheless, it was a really nice trip. Remember to always allow for a buffer day in case the weather doesn't cooperate with you.
Day 3: Torres del Paine National Park
The Torres del Paine National park has it all: turquoise lakes, roaring rivers, primordial granite peaks and massive glaciers. Considered the eighth wonder of the world, Torres del Paine offers breathtaking scenery throughout the park, which will make you evaluate your place in the world. I felt incredibly unimportant surrounded by mother nature's vastness.
The national park offers several hiking trails for both beginners and advance hikers; hikes can be a few hours to long multiday experiences. The most popular hikes are the W Trek which takes 4-5 days to complete and also the O Circuit which will take you around 7-9 days. For those who are up to the challenge, you will surely be rewarded with many magnificent views!
This tour was the longest of the three we booked during this trip, however it was also the shortest option in getting to Torres del Paine. We were picked up at 7:00 am and got back to our hotel at 9:00 pm. This tour allowed us to cut across some of the roughest terrain in the region instead of going around the mountain range; allowing for a shorter ride.
The company we used has special 4X4 tank looking trucks which can go through the rocky landscape almost as if was asphalt. This reduces the travel time by 200 kms, which equals to 2 hours less of travel time than the conventional excursion. It ended up being a very long day, but the experience made this tour totally worth it. If you are short for time, like we were, do not hesitate to book a full day to the Torres del Paine.
Tip: Dress in layers and warmly because there is a drastic change in weather throughout the park. It can go from freezing cold and windy, even in the summer, to really warm in a matter of hours.  
The Torres del Paine National Park is located 300 kms south of El Calafate. To get from El Calafate to Torres del Paine will take approximately 3-5 hours depending on the tour. However, and this is a big however, the time you spend crossing the border can make the trip much longer.
The weather did not cooperate with us again, but we had decent timing. It was extremely cold, with constant drizzle, and low clouds threatening the views of the mountains. We were fortunate enough to see part of the Cuernos del Paine, as the rain stopped, and many clouds burned out. However, we couldn't see the Towers of Paine. Even during a gloomy day the beauty of this national park is unquestionable, and we have some very mystical photos of the park in this weather.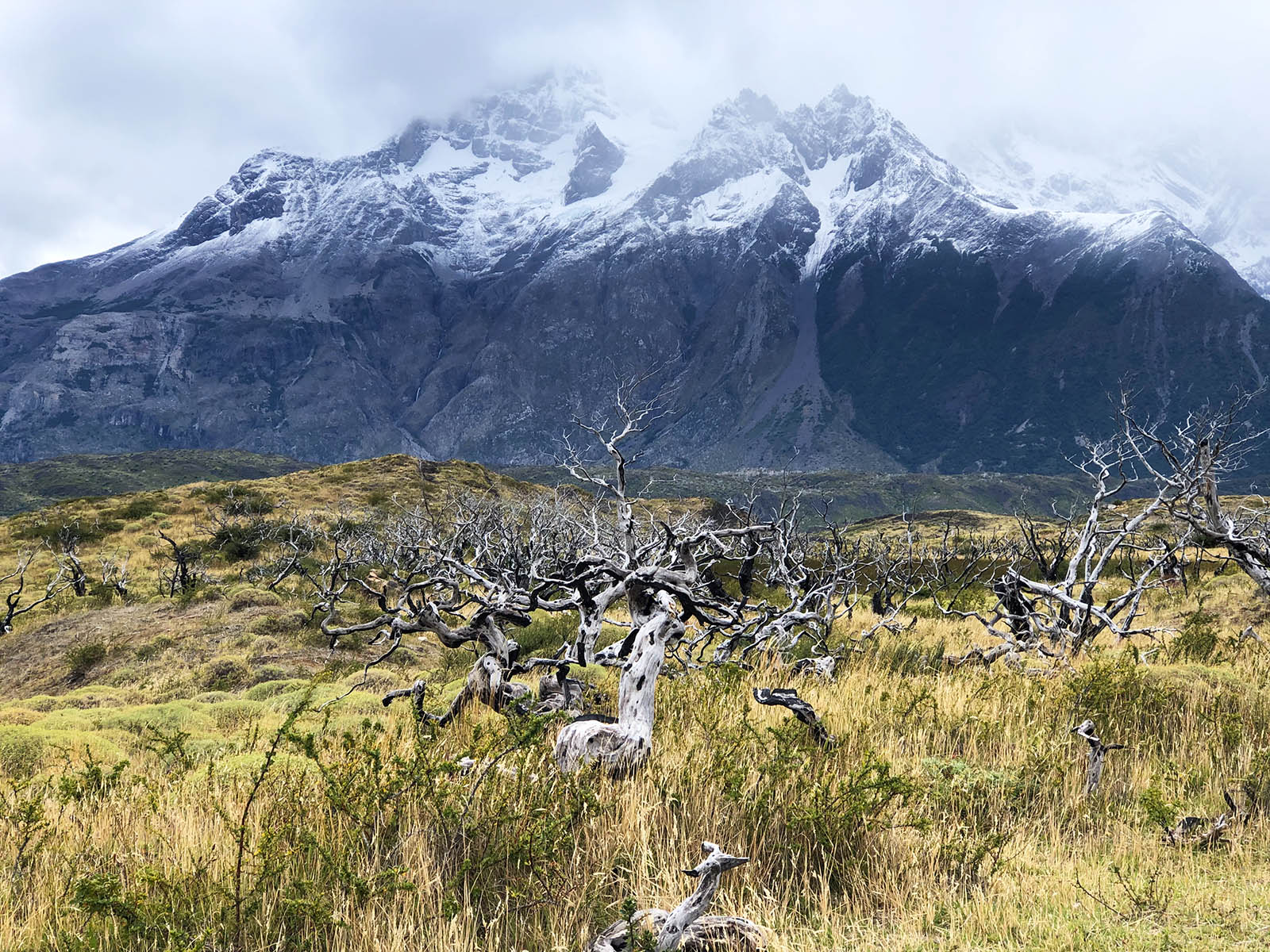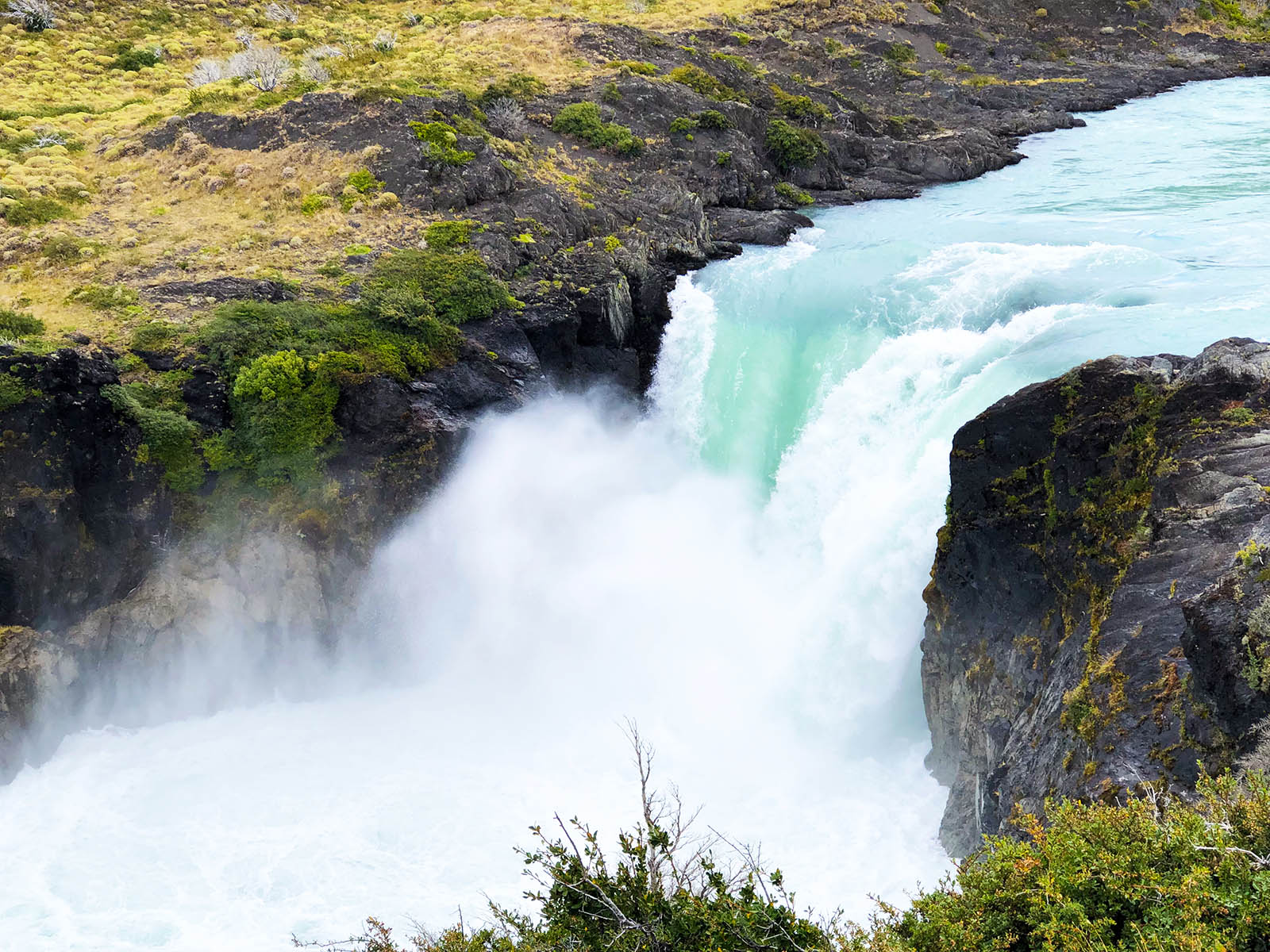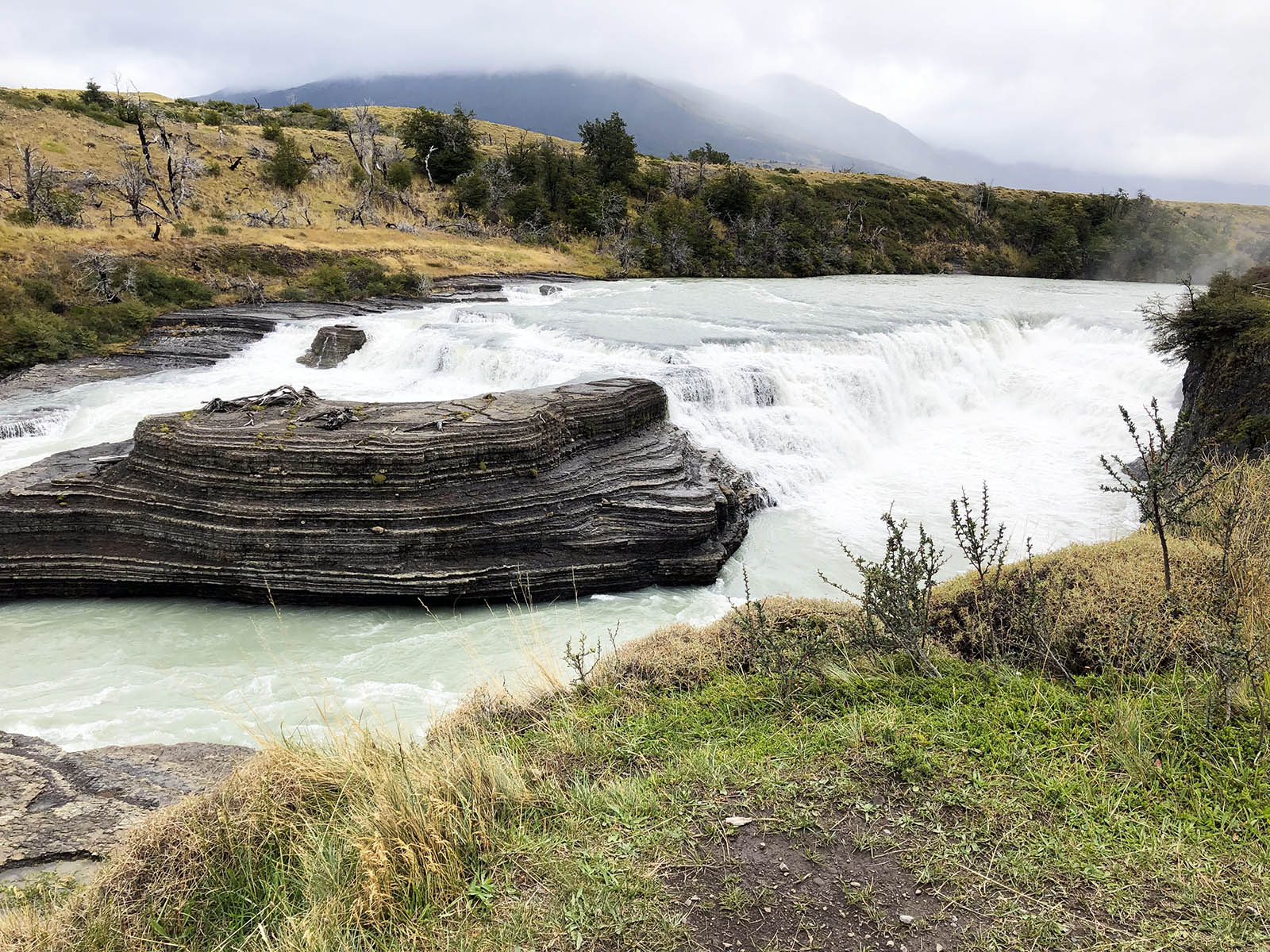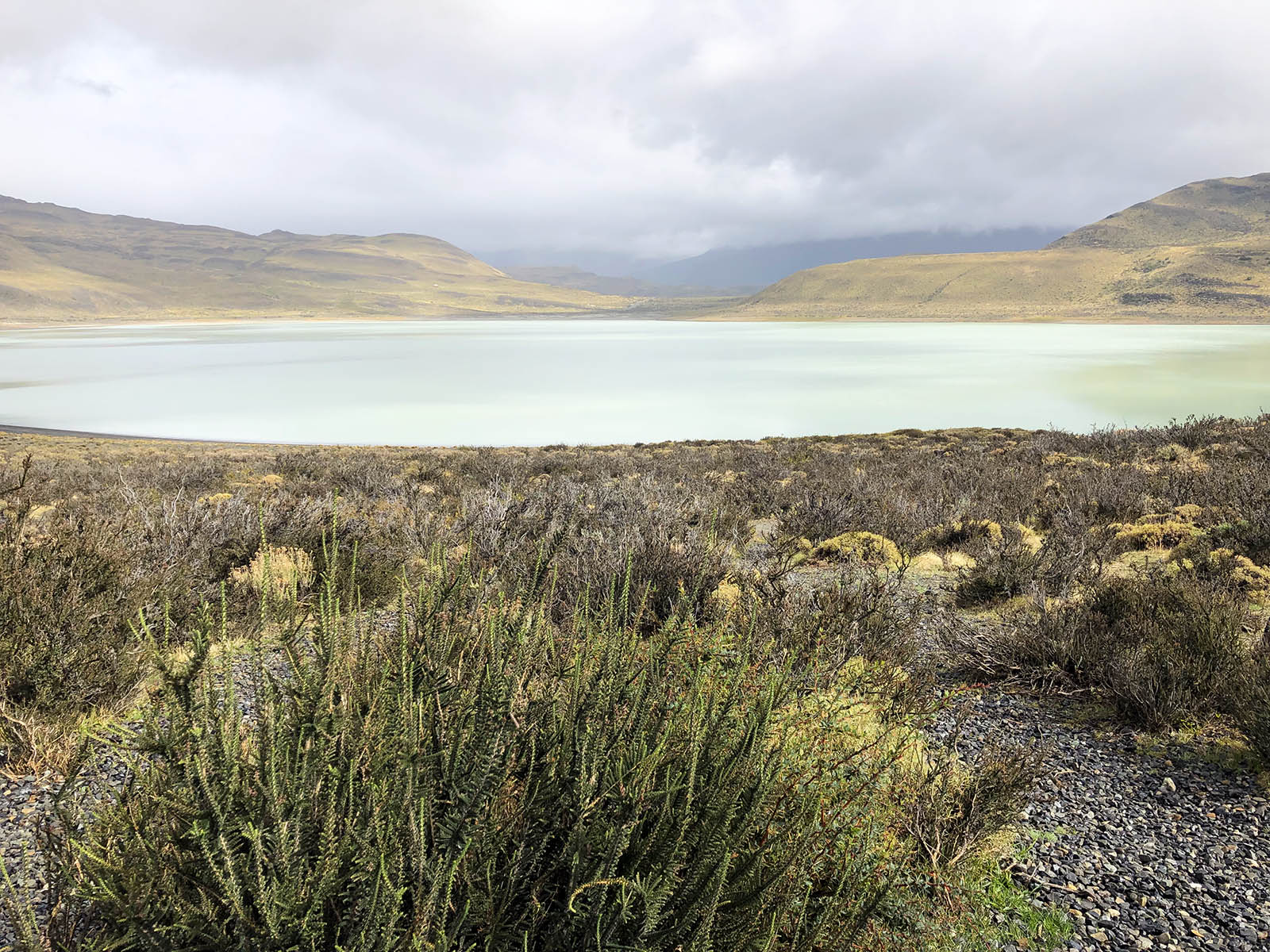 Our tour allowed us to stop at the following attractions:
Salto Grande waterfall: Salto Grande is the biggest waterfall of the Paine river, and you can reach it after hiking for 50 minutes. The path to the waterfall shows the ravages of a fire which occurred a few years ago and damaged the landscape.
Paine waterfall: Famous for its rock formations, this waterfall is also located on the Paine river. This location offers a beautiful view of the Torres del Paine in the background if the weather cooperates with you. It's a perfect spot to have a picnic while you enjoy the view.
Nordenskjold Lake lookout: This lookout offers amazing views of the French Valley and the Cuernos, looking over the Nordenskjold lake.
Laguna Amarga: The Laguna Amarga offers a great location to photograph the Torres del Paine. During summer, a colony of flamingoes vacations here. The name of this lagoon derives from the bitter taste of its waters.
Cove: After our hike to the Salto Grande waterfall we stopped by a really nice cove with black sand. There is also a great view of the Cuernos del Paine from this location.
Day 4: Perito Moreno Glacier
After marveling at the majestic of the Torres del Paine national park, I was certain that nothing could top that. But I was wrong and very lucky with the weather – a perfect sunny day. The Perito Moreno glacier left me as utterly speechless as when I first arrived at Torres del Paine.
Getting to Perito Moreno only took us 1 hour and 30 minutes from El Calafate, which was a relief since we had spent too much time on the road the previous day.
There are plenty of activities you can do when you arrive at the Perito Moreno glacier. But there is one specifically that I highly recommend, and it's trekking on the glacier surface. I know this tour can be pretty expensive, as you will need to pay extra for the trek, but it's totally worth it. This was one of the most unforgettable experiences of my life and the scenery from the hike is etched into my memory.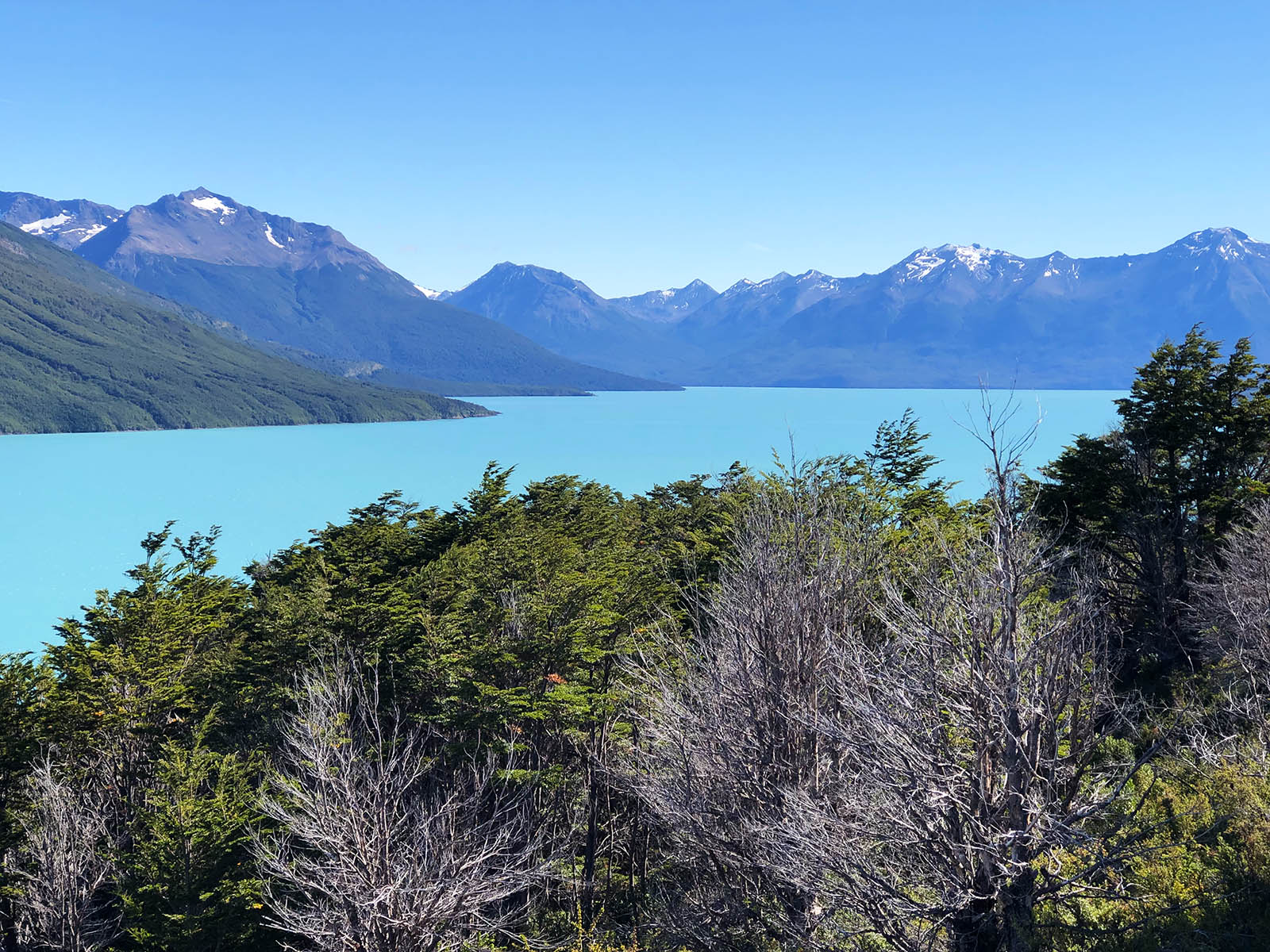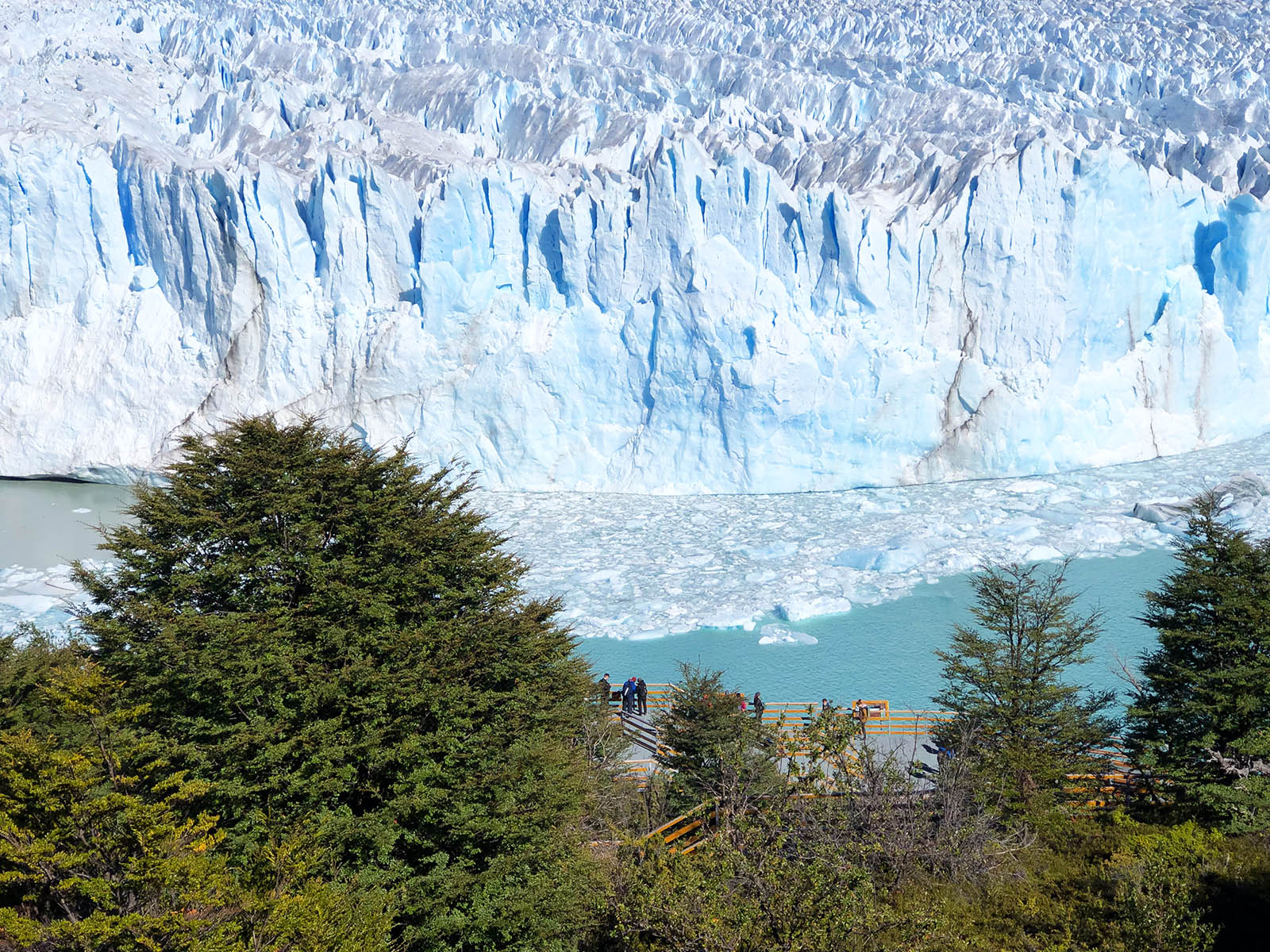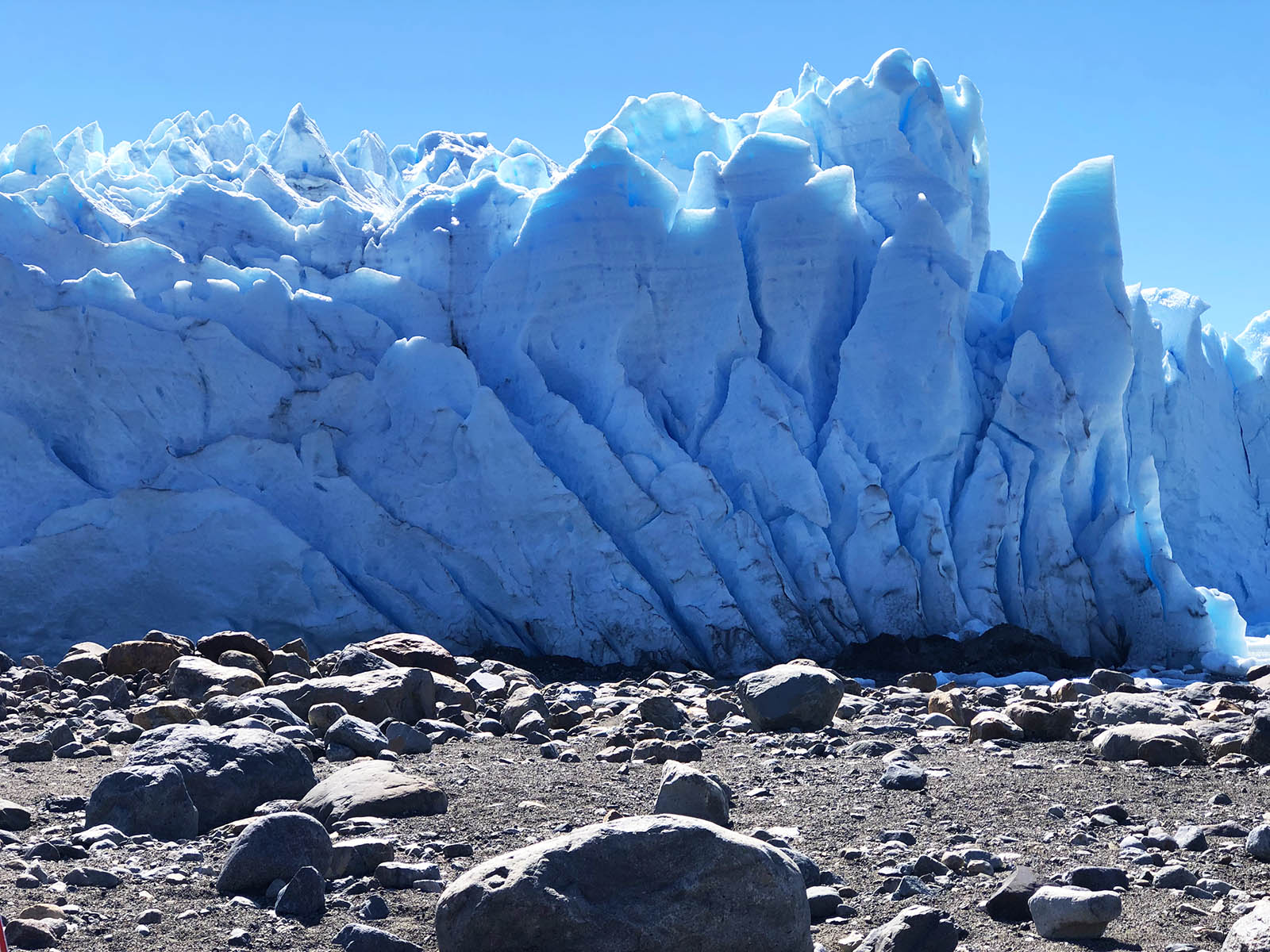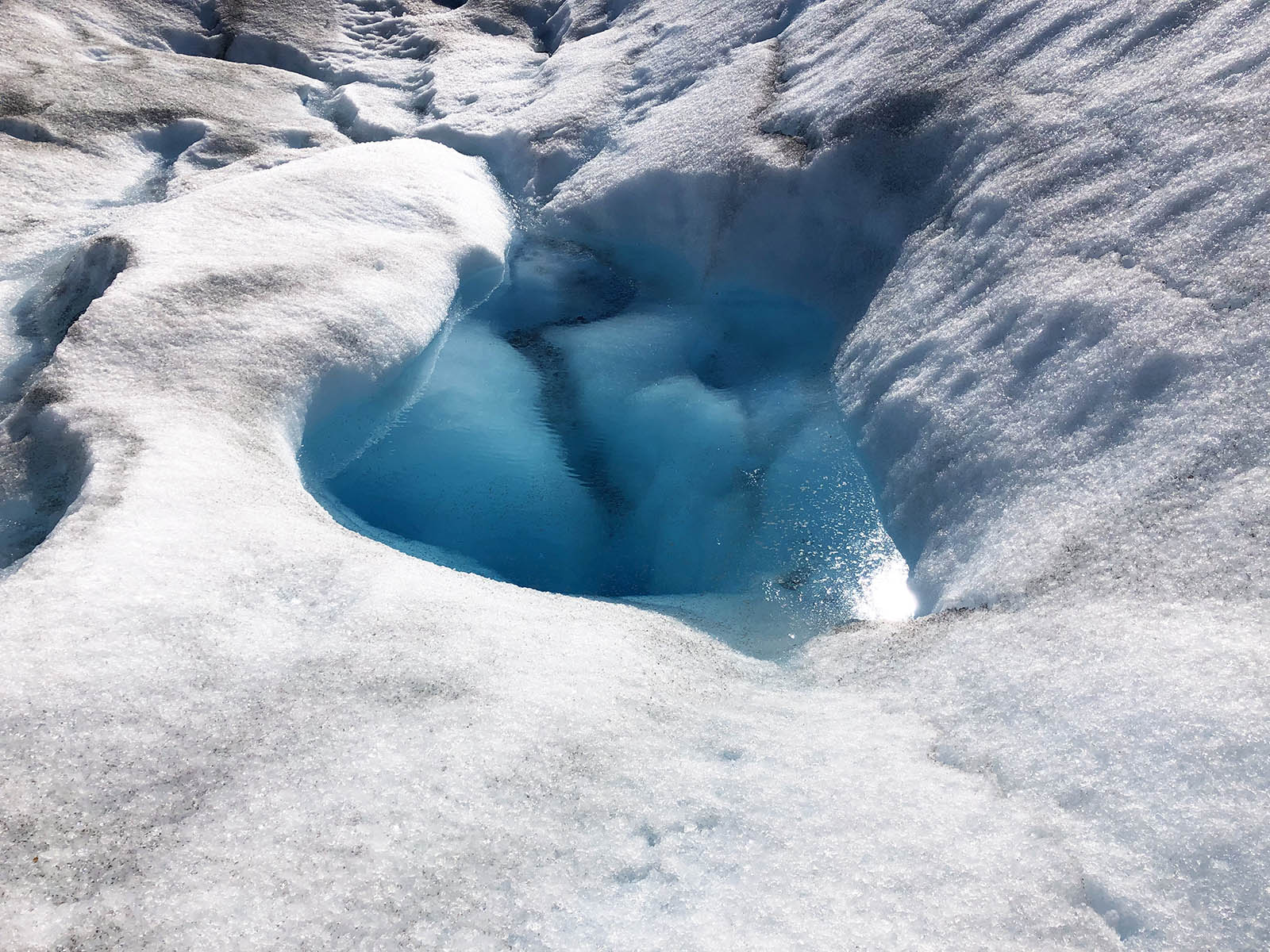 Tip: The trekking excursion must be booked in advance so plan accordingly.
After a short boat ride through the Lago Argentino to the shores of the glacier, you will get a quick safety course and have crampons strapped on to your feet. Once you are ready for the glacier, the whole trek takes about an hour and a half. You will get the chance to see the glacier up close (looking like a massive ice wall), and marvel at ice formations, ice canyons, glacier mills, small ponds, and spooky caves. There is also a longer tour available where you spend more time trekking or can camp on the ice.
Read blog: Perito Moreno glacier: Los Glaciares National Park's awe-inspiring natural wonder.
Alternative tours include kayaking; you will experience the glacier at water-level and meander by the fallen ice blocks. There is also a full hour boat excursion for a more relaxed experience around the lake.
Additionally, do not miss walking on the catwalks (Pasarelas) which will give you the chance to view the glacier from above and enjoy various vantage points. From the catwalks you can also witness the famous calving of the glacier – when large chunks of the glacier crash into the water. Even if you don't see it, you'll hear the thunderous cracking of a whip each time the ice breaks off.
Day 5: Fly home
And enjoy the post-travel activities including printing your best pictures and preparing your travel books.
We are part of several affiliate programs including Amazon and Viator which means that we will earn a small commission at no extra cost to you if you make a purchase through the links included in this post.